58 Reviews
Recommended by 100% of couples
Quality of service

5 out of 5 rating

Average response time

5 out of 5 rating

Professionalism

5 out of 5 rating

Value

5 out of 5 rating

Flexibility

5 out of 5 rating
21 User photos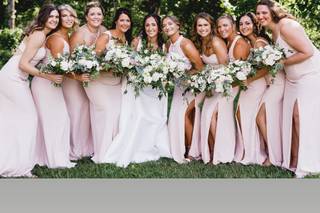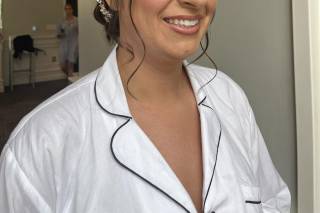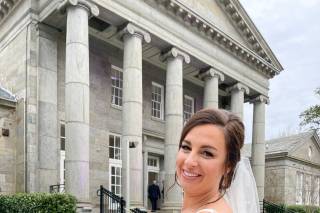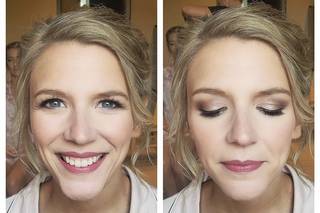 + 17

photos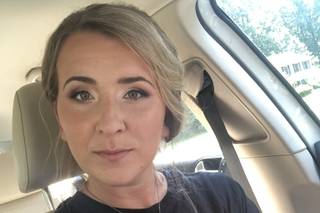 Jamie L.

Married on 10/05/2022

Perfect wedding make up

My sister had hired Jen as her make up artist for her wedding in 2017 and when she did my make up that day, I knew I wanted to hire her when my own wedding day came. Jen has an awesome ability for making people look so natural with their makeup. I am not somebody who wears makeup on a daily basis so when I do wear it, I don't want it to look fake or feel uncomfortable. Jen couldn't have done a better job applying my makeup on the day of my wedding. She did every single thing that I asked for and was accommodating in every way. She applied lashes to my bridesmaids and myself that looked wonderful and very natural. She even offered to stay past her contracted time in case I cried when opening my gifts from my fiance. This is just one small example of how Jen tries her best to make the bride feel really special. I couldn't be happier that I had Jen as my make-up artist on our wedding day. Jen was professional, clean and followed all safety protocols related to covid. Now that we have used Jen for two of the weddings in our family, I'm not sure I could ever use anybody else if I needed makeup for a big occasion.

Megan M.

Married on 08/27/2022

A wonderful experience for wedding makeup!

Jen and her partner Rene did makeup for my bridal party, myself, as well as my mom and mother-in-law for my wedding. It was such an amazing experience to work with them! Jen really took the time to get to know me and what I wanted for makeup. Everyone got very natural airbrush makeup which is exactly what I wanted! All of the girls were so happy with their makeup as well. We recently got our pictures back, and all of the girls look gorgeous and still like themselves! Jen was so great to work with and very reasonably priced. Jen and Rene were very efficient and were able to do a large group of girls in a reasonable amount of time, which was so helpful when it came to our crazy day-of wedding schedule. Aside from makeup, Jen is so kind and very personable. I've already recommended her to friends and will continue to recommend her! She's the best!

Katherine S.

Married on 07/30/2022

Amazing Work!

When choosing a makeup artist, my goal was to find someone who could create long lasting looks that still felt natural, especially on my mother. Jen did just that! She was responsive and really easy to schedule with, and the results were amazing! I would recommend Jen in a heartbeat.

Are you interested?

Send a message

Samantha V.

Married on 04/23/2022

Highly recommend!

Jen and her team did our makeup at my wedding and they were nothing short of perfect! We were all SO HAPPY with how our makeup turned out and Jen truly made me feel the most beautiful I have ever felt! She completely captured my vision and was so accommodating as we tweaked my look along the way! I would highly recommend her as your makeup artist!

Kayle B.

Married on 10/09/2021

Wedding makeup

Jennifer did an amazing job on mine and my bridesmaids makeup! We all looked gorgeous and the makeup photographed so well too! I highly recommend her!

Hannah F.

Married on 09/18/2021

So happy :-)

I actually reached out to Jen because she had done the makeup for my MOH's wedding and she had looked STUNNING! I am not a huge makeup wearer so I really needed to go with someone I could trust to still make me look like, me. Jen exceeded not only my expectations, but also the expectations of one of my very hesitant bridesmaids. Jen was so accommodating to work with and concerned about making sure everything was exactly how I wanted it. I suggested a slightly different look for my wedding day vs. my trial, and Jen readjusted and made it absolutely perfect!

Lauren S.

Married on 07/09/2021

Amazing experience!

I would absolutely recommend Jen to anyone who is looking for a make up artist for their wedding day! Jen is so kind, easygoing, and so easy to communicate with. I had 10 girls that needed to have their make up done on my wedding day and Jen went above and beyond to accommodate all of us. She was so patient and she truly did a fabulous job. Please consider using Jen for any of your make up needs. You won't regret it!

Kateryna V.

Married on 07/11/2020

Wonderful job

I am very pleased with Jennifer! She did an amazing job on my make up and it lasted me all throughout the wedding day. I appreciate that she was on time making my wedding day less anxious (one less thing to worry about).

Alecia B.

Married on 07/10/2020

Award Winning Makeup

Jen was amazing. She made my makeup look natural yet amazing. I highly recommend her to everyone. She was very accommodating to the time I needed her to be there. Very professional.

Kristen J.

Married on 11/15/2019

Jennifer was amazing!! Everything turned out amazing and looked great for my big day!!

Recommend for any bride/ bridal party.
Great prices and arrived on time and ready to go.
Met for first time on big day which was because of me. She does offer trials but I was so busy leading up that I didn't have time. And she nailed it:)

Katelyn

Married on 10/12/2019

Absolutely amazing job!

I do not wear makeup on a regular basis so hiring someone to do my makeup for the wedding day was a bit stressful until I was recommended Jen! Right off the bat she made me feel comfortable, responded quickly, answered all of my questions, and I didn't feel pressure to book with her. We did my trial (she traveled to me) which was amazing. I wore the makeup the whole day and then gave her some feedback of what I loved and what I wanted to change. She was so easy to talk to and really listened to what I wanted. On the wedding day she did my makeup, my bridesmaids and the moms. Everyone loved their makeup! I felt exactly like myself on my wedding day and absolutely beautiful thanks to Jen! She was on time and stuck to the schedule for the day which made it stress free and such a fun experience. I'm telling you, you won't regret booking with Jen! Thank you so much Jen for everything!

+ 2

photos

Stephanie

Married on 09/21/2019

Most beautiful makeup!

Jennifer did an amazing job with my makeup! I used her for my wedding, and the entire bridal party just felt utterly glamorous! I have never felt so beautiful in my life! I cannot wait until the next time I need professional makeup done, because I will be calling Jen!

Mandy H.

Married on 09/15/2019

Jen made me look naturally beautiful!

When looking for a makeup artist, I didn't really know where to begin. I'm not a big makeup girl and have never liked how I looked with professional makeup in the past. I always thought I looked fake and not like myself. I started by asking my facebook friends for recommendations. I was flooded with responses and looked through all of my facebook friends' wedding albums. The girl who had recommended Jen looked flawless and like a natural beauty!

Jen's prices were reasonable, she had a great collection of pictures on her Instagram of her work, and her demeanor was friendly and professional. Over the next few months, she answered all of my emails and questions right away and I had so much faith in her that I didn't schedule a makeup trial. I trusted that on the day of, I would look and feel my best. The day of my wedding, I showed her three different pictures that I wanted her to combine – I know, a nightmare for a vendor. I wanted one girls' foundation (probably not the right word, but like I said, I'm makeup illiterate!), one girl's eyes, and another girl's lips. Jen did it. She managed to give me the perfect combination of the looks I wanted!

Having Jen do my makeup on my wedding day was such a great decision. She made me feel insanely beautiful while still feeling like myself. It was a hot, outdoor day and at the end of the night, I still looked wonderful. Thank you for lending a hand on my big day, Jen!


Christina K.

Married on 09/07/2019

fantastic and highly recommend

I met Jen when she did the make up for my sister-in-law wedding. She was so wonderful I wanted to use her for my own wedding. Jen was so easy to work with, responsive, and nailed my make up on the big day. She kept it natural and everyone commented on how great it looked in person and in photos. Highly recommend.

Dawn M.

Married on 07/19/2019

Amazing Makeup Artist

Jennifer is an amazing makeup artist! She was so professional, responsive, flexible, and I could not have been more happy with my makeup for my wedding day! I received so many compliments on my makeup! And, we had an outdoor ceremony in the hottest day of the year & my makeup held up without touchups all night long! The look was perfect! Jennifer also did makeup for my 2 sister-in-laws and they were so happy with their looks as well! Jennifer was so friendly and easy to work with too. We will definitely hire Jennifer again for makeup needs! I would highly recommend her! Thank you for helping make my day so perfect!!

Amy K.

Married on 07/12/2019

Wonderful make-up application

Jen was wonderful! She came to my house very early on a Saturday morning to help me prepare for a day-time event. She was professional, clean and creative. She did exactly what I want and I looked fab all day! I would recommend her and use her again! Thanks Jen!

Lauren

Married on 05/25/2019

Jen is the bomb. Com

Jen is awesome and so nice to work with! She did our makeup for my friend Emily's wedding in September and I loved how she made me look. So I booked her for MY wedding! Her makeup products are amazing and she took the time to know my skin and really what I was looking for. She also made my mom look beautiful and my mother rarely wears a full face due to her skin issues. The party and I were so happy with our looks and how well they lasted through the night. I will always recommend Jen and can't wait for another good excuse to book her in the future!❤️

Danielle

Married on 04/20/2019

Absolutely Flawless!

WOW! From start to finish, my wedding day makeup experience with Jennifer was flawless. I'd never had my makeup professionally done before and did not know what to expect or how to ensure that I'd get the outcome that I wanted for the big day. Through my initial decision making process Jennifer was extremely considerate, responsive, and gave wonderful suggestions on how she could do the makeup so it would look professional; while still making sure that I'd still come out looking and feeling like myself. At my trial, she was extremely open to feedback and made sure that the colors, amount, and style of makeup were exactly what I wanted. Not only was the application on my wedding day perfect; it also lasted f-o-r-e-v-e-r! Seriously, through all the happy tears and non-stop dancing (in late summer heat); my makeup still looked perfectly applied even after our after-party was over, without a single touch-up! Jen is an absolute pleasure to work with and a true master of makeup artistry. I wholeheartedly recommend her to anyone looking to work with a skilled, friendly and talented artist who is eager to please her clients!

Samantha

Married on 02/23/2019

Amazing Makeup!

Jennifer did an amazing job with my makeup. She listened to exactly what I wanted and I was so happy with the end result. I got compliments on my makeup all night! I would recommend her to anyone.

Amy M.

Married on 10/27/2018

Amazing Makeup Artist!!

Jen was so easy to work with leading up to our wedding day and the day of. She responded to emails promptly and was flexible scheduling my makeup trial. On the day of the wedding, she listened carefully to all the girls getting their makeup done so everyone felt comfortable and loved their makeup. I wanted my makeup to be light and natural. She did an amazing job giving me the bridal touch while still looking like myself. Finally, you never know what will happen on your wedding day and things do not always go how you planned. On my wedding day, there was severe coastal flooding and the roads around where we were getting ready were flooded. Jen was flexible and stayed calm the whole time while making sure the bridal party was happy. I would recommend Jen to any friend and encourage you to book her too!

Emily

Married on 09/15/2018

Jen did a fabulous job! She was very easy to communicate with, followed up with me regularly, and is extremely talented! She did 6 members of my wedding party including myself and my mom and we were all amazed at how we were transformed so beautifully! My makeup was airbrushed and it lasted all through the day after my wedding even after sleeping in it. The false eyelashes were the most comfortable I've ever had, none of us could even remember we had fake ones on. Thank you, Jen!

+ 2

photos

Sarah

Married on 08/25/2018

Jenn is a truly talented make-up artist. She was an absolute joy to work with. She was very flexible and accommodating. She did my make-up (Bride), my mother's and my maid-of-honors. We got so many complements for how amazing our make-up looked. It also lasted all day. We started make-up at 8:00 am and our wedding reception ended around 11:00 pm!

Brittany

Married on 06/02/2018

Jennifer was the first person in my thirty years of life who actually did my makeup as I wanted. She was eager to hear feedback about her work and how she could modify it to make me happier- which resulted in exactly the look I wanted. She also did my mother's makeup so beautifully, appropriately, and to my mom's taste. She is also very reasonably priced for her services and very easy to work with. Definitely would recommend her to anyone!

Kristen P.

Married on 05/12/2018

Bridal makeup

Jen was so accommodating when setting up a makeup trial. She gave me exactly what I asked for that day and I loved it. And she was able to repeat the same look for my wedding day! She made me, 10 bridesmaids and 2 mothers look and feel so beautiful!!! I highly reccomend Jen for all of your special occasions!

Luisa

Married on 03/31/2018

I met Jen a few years ago when she did my makeup for my best friend's wedding. I was incredibly happy with the experience then and when it came time to look into makeup artists for my own wedding I knew exactly who I wanted to work with! The whole experience with Jen from booking to setting up the trial to the day of the wedding was stress-free and easy. Jen was responsive and communicative with me through all the phases of planning, in addition to being incredibly flexible when I had to make a few changes to the original plan. If I could give the quality of service more than 5 stars, I definitely would. It was a pleasure to work with Jen and I could not have been happier with my makeup on my wedding day! It was perfect!
Are you interested?
Send a message