125 Reviews
Recommended by 100% of couples
Quality of service

5 out of 5 rating

Average response time

5 out of 5 rating

Professionalism

5 out of 5 rating

Value

5 out of 5 rating

Flexibility

5 out of 5 rating
16 User photos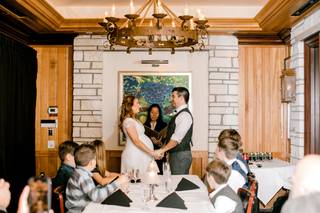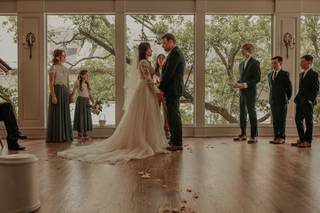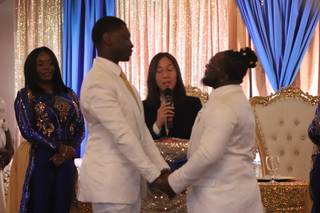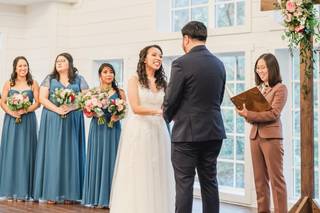 + 12

photos
Kelly V.

Married on 01/07/2023

Great storyteller and orator for our ceremony

We got married in Jan. 2023 and had a fabulous experience working with Jennifer as our officiant. We knew we wanted a short but personal, and non-religious ceremony – all of which are apparently not all that common in Texas! When our photographer recommended Jennifer, we were excited to talk to her--- and wow, did she exceed our expectations!

We appreciated her guidance explaining her methodology for crafting ceremonies – and allowing us/encouraging us to choose certain phrases in the ceremony that allowed us to hear the words we were comfortable with as we entered married life.

Jennifer was extremely intentional with the questions she asked us, and it showed in what she wrote—it was extremely personal and touching. We had multiple guests ask us how long we had known Jennifer, assuming that she had been a friend of ours for years. The ceremony was very personal, and emotional (with a few jokes thrown in as well). She is an amazing writer and storyteller and couldn't imagine anyone else officiating the wedding for us!


Astrid G.

Married on 01/06/2023

Can't Recommend Her Enough!!

I have no words for how special she made our wedding day. She told our love story in the most romantic way—weaving humor, honesty, and of course, our requests, into a beautiful ceremony. If you're looking for an officiant who will customize the ceremony to your needs, look no further. Of all the high points of the evening, Jennifer's officiating is at the very top!

Melanie R.

Married on 12/24/2022

Wonderful!!

I am a wedding coordinator of over 15 years and one of my couples recently hired Jennifer as their officiant. Within minutes of meeting her I could tell she was a true professional and that I had nothing to worry about. She was funny and kind and put them at ease and delivered a beautiful ceremony. They did spend more than initially planned when booking her, but they told me she was worth it, and I 100% agree!!

Are you interested?

Send a message

Stephanie S.

Married on 10/08/2022

Highly Recommend!!!

So thankful to have had Jennifer as our officiant on our perfect day! She took our raw stories and turned them into a beautiful and moving ceremony that had everyone smiling, laughing, and crying!

Abby M.

Married on 09/03/2022

World's Greatest Wedding Officient

I'm not even sure where to begin with this review. Working with Jennifer during our wedding process was amazing. If it weren't for her I don't think we would have been able to have the wedding of our dreams, but thanks to her painstaking work on the ceremony and open communication with us, our wedding was dreamy to say the least.

My husband and I actually met Jennifer at another wedding and knew beyond a shadow of a doubt that we needed her to officiate our wedding as well. From the moment we reached out, Jennifer was responsive, professional and accommodating. She helped us to plan and implement a ceremony that was completely aligned with our values. We worked really hard to come up with a ceremony that did not emphasize gender roles, perpetuate traditions rooted in the patriarchy or have any religious components. As you can imagine, this was challenging but what was even more challenging was to do all the above while still having a ceremony that felt sentimental, specula and ceremonious. Jennifer did all of this and more. We were approached by older, more conservative, religious wedding guests who told us it was the best wedding ceremony they'd ever seen. We were also approached by guests who don't even believe in marriage and they said the same thing. That just goes to show you the way that Jennifer was able to construct a ceremony that was so inclusive and resonated so well with all our diverse guests while also keeping our values at the forefront of her mind. Hire Jennifer! You won't regret it!!!

Christine T.

Married on 07/23/2022

Book jennifer now!

I'll try to make this brief since you're probably busy with wedding planning. If you're reading this, I imagine you are taking the time to find an officiant that fits your needs and of course, will make your day even more special.

When I stumbled across Jennifer's profile/website, I immediately stopped looking; She was the one! Our vows were AMAZING! So many of our guests asked about her, and with good reason.

If you're looking to set the tone for a super special evening with friends and family, contact her now. We had so so much fun and our guests had many laughs throughout the ceremony. If this starts to read like a love letter, well, it basically is!

People always talk about venues, DJ/photo, florals, etc but a HUGE part of your day is your officiant. Don't skimp on this! Jennifer made us both feel at ease and helped guide us along the way. Admittedly, we had no clue what we were doing in the beginning. After a meet and greet and questionnaire, Jennifer will start working on crafting your love story. Each one is personalized and I couldn't believe how well written it was. Lovely, beautiful, funny, sentimental, etc…

I could go on and on — for the TLDR crowd:
Contact her now - I promise your day will be better than you could have ever imagined!!

If Jennifer asks how you came to find her, tell her you wanted to see what all the hype was about after reading Christine's review. Trust me, it's real! :)

Christine T. (7/23/22 Wedding)

Jami

Married on 06/18/2022

The best intimate ceremony ever!

Jennifer truly brought every single person at the wedding together with her heartfelt speech she gave about us! She crafted our stories together so perfectly and everything felt REAL and PERSONAL! She did such an amazing job at speaking to our guests about us as a couple as well as us as individuals! I am so glad we hired her as our officiant, because not only did she speak of our love, but she also had a great sense of humor which sparked joyful laughter in our guests as well as my husband and I! She was also extremely helpful with all the questions we had, since this was our very first wedding. If you are looking for an officiant that will speak from the heart and create a very intimate, unforgettable ceremony, please choose Jennifer!!! She is truly the BEST!!!!!!!!!!!

Jennifer R.

Married on 06/10/2022

True Storyteller

We hired Jennifer on a last minute basis. We had discovered and been attracted to her website a few months back...it was always in the back of our minds, and when we finally decided to pull the trigger in the midst of all this COVID madness, she came through big time! She was incredibly accommodating...flexible...and gave us exactly what we wanted.
We had a video call to make sure we were all on the same page, and then we filled out our questionaires separately at the advice of Jennifer. The story was spectacular...she weaved in both of our thoughts & words....and we laughed and cried at the sweetness of surprise. Jennifer expertly weaved in our marriage plus a blended family ceremony...exactly what we wanted. We would not hesitate to recommend Jennifer to ANYONE wanting a meaningful, emotional ceremonial experience.

Alyse A.

Married on 06/03/2022

The best storyteller...

Jennifer was the officiant at my wedding. To say she made the wedding is an understatement. We didn't meet Jennifer (in-person) until the day before the wedding at the rehearsal, however our guests were convinced she had been close family friends with us for years. I could go on and on about how incredibly well she did, but most of all I am grateful for how she told our story, and how she made the ceremony even better than we could have imagined.

Kelly W.

Married on 04/23/2022

Memorable and Meaningful Ceremony

Jennifer is an experienced, professional, intentional officiant. She is a true custom ceremony officiant. Not semi-custom, not cookie cutter. She considers many items (second wedding, families blending, blessing the rings, what type of vows we are comfortable saying, uniting through candle/sand/glass, etc.) to create a ceremony that is memorable and meaningful. With her experience she makes suggestions and even goes so far to coordinate her outfit (not so she matches, but so she fits in and looks right for the pictures). We are so glad we came across the many other couples who used her and raved about her.

Stefanie F.

Married on 04/09/2022

Best Officiant in Houston!

Jennifer Luu is an incredibly talented and meticulously organized officiant and my wife and I are so happy we found her for our special day! Jennifer has a proven process as she extracted information from us that was then woven into a whimsical story that our guests have not stopped talking about! Our story was particularly important to so many of our guests some who had only just then met the significant other for the first time due to life-changing limitations of the pandemic. Jennifer is highly skilled and effective so sit back, comply with her simple homework, and let the magic happen! She is worth every penny and more for the experience that was created during our wedding.

Tessa

Married on 04/02/2022

Incredible wedding officiant

If you want a non-traditional wedding ceremony, you should definitely consider Jennifer Luu to officiate the wedding. We really had no idea how to find an officiant for our wedding, but we knew that we wanted something non-traditional. After lots of Google searches we came across Jennifer Luu and some videos of her work and we were instantly intrigued. We had a very nice phone conversation to make sure that she would be a good fit for us and we knew right away that we wanted Jennifer to be part of our team. Jennifer Luu is an amazing storyteller. She interviewed us separately and then used the results to personalize our wedding ceremony. She also helped us to involve our loved ones in the ceremony in a few ways including blessing of the rings, community vows and an exchanging of peace – we didn't know what to expect with this last one, but the room erupted as people turned to one another to show a sign of peace to each other with a hand shake or a hug. It was INCREDIBLE and almost brought me to tears. Jennifer made the ceremony so special for us and we absolutely loved listening to her share our story with our families and friends. Months later and our friends and family are still raving about the ceremony – it was so unique and many have never experienced such a ceremony and they absolutely loved how unique and personal it was. Thank you Jennifer for making our wedding so memorable and so personal – we can't wait for the video so that we can relive that ceremony all over again!

Crystal B.

Married on 04/01/2022

Jennifer was amazing!!! She made everything special for our wedding day..

Jennifer knew exactly what we wanted. And she made it happen with such style and grace. She made the ceremony very personable. We would highly recommend Jennifer to anyone who wants a truly unique ceremony.

Mckenzie W.

Married on 03/19/2022

Excellent!

Jennifer's process is fabulous. The final product was personalized, unique, and made our wedding day that much more special. Thank you so much for creating a wonderful memory for us both!

Justin V.

Married on 02/27/2022

The best to do it

Mrs. Jennifer made our day more magical than we could have ever imagined. Just listening to her recap our love story from the beginning to the end made us fall in love all over again.

Jace R.

Married on 12/19/2021

Stellar Officiant

Jennifer helped make our wedding absolutely beautiful. She put together a unique ceremony that reflected our truest selves, and she told our story perfectly. She was a dream to work with too. She made the whole process incredibly easy and is a very comfortable person to talk with. After the ceremony, everyone was talking about beautiful it was. Many of the guests even said it was the best wedding ceremony they've been to! :)

If I had to do it all again, I'd go with Jennifer in a heartbeat. 12/10

Keyonna C.

Married on 12/18/2021

I was a guest at a wedding.

Great ceremony! Very engaging and heart warming

Paola

Married on 11/24/2021

She will make you smile, laugh, and cry!

I met Jennifer almost 3 years ago at my brother's wedding. She made me smile, laugh, and cry during the ceremony all at once! Naturally, when I started planning our wedding, I knew I really wanted to have Jennifer do our ceremony. She has such a unique style and she's such a great storyteller! She was also able to incorporate a few traditions that were important to us. She makes sure that the ceremony is everything you want it to be. We got comments from our guests that the ceremony went by so fast because they were so immersed in it. Jennifer was very professional and made everything so easy! Thank you for making our ceremony a memorable one for us!

Mary

Married on 11/19/2021

Wedding Officiant Review

Jennifer Luu needs to be your wedding officiant hands down, period. She is very courteous and professional. For our ceremony, she captured our love story very well, from beginning to end. She will meet with you to get a feel of you as a couple, ask questions and fill out a questionnaire to get your background, history and emotions of your relationship. We had to reschedule 2 times due to the pandemic and Jennifer was more than accommodating in every way, never charging a fee and understands that life can have messy situations. She will also mail off the marriage license for you at the end. Highly recommend her as an officiant, one of the best in Houston, TX!

Caleb B.

Married on 11/05/2021

Absolutely stellar!

We selected Jennifer due to her high reviews on this site, as well as her professional profile presentation, humor, and the exciting prospect of a unique "storytelling" type of ceremony.

We are thrilled to report that Jennifer exceeded expectations in every aspect. She was always flexible and patient with us as plans changed, and even jumped on a last minute Zoom call or three...

She had various personal questions for each of us, such as how we met, the road to now, etc., patiently waited for our answers, and wove them into a beautiful story. I can't tell if it was 10 minutes or 30 minutes, but it told about our lives up to meeting each other, the first date, the first year, my proposal, through wedding planning, and right up to the day of the wedding itself. There were big smiles, big laughs, and happy tears. We were both smiling and crying the whole time obviously.

She was prepared in every way we could imagine; she has many, many plans for unique ideas like a hand fastening ceremony (which we would highly recommend!), passing the wedding bands around to show off during the ceremony, etc. She can do religious, secular, or anything in between. She is inclusive to everyone!

We had zero issues what-so-ever. In a stressful time of planning such a complex and multi-faceted event, it was so nice to be able to have another person that we simply didn't have to worry about.

If you can't tell by now, we can't speak highly enough to Jennifer's professionalism, organization, communication, work performance, and skill at expertly crafting such a pivotal moment that we'll never forget. Jennifer, thank you so much for helping us achieve our perfect day!

Christine D.

Married on 10/23/2021

Fantastic Wedding Officiant

Jennifer did a great job officiating our wedding. She was very communicative, gave us the option to add or subtract things from our ceremony even at the last minute, and told our entire dating timeline. It poured during our ceremony and she adapted very easily to the situation. I would definitely recommend Jennifer for any couple looking for an officiant.

Natalie C.

Married on 10/16/2021

Best Wedding Ceremony!

Everyone that attended our wedding was blown away by Jennifer's ceremony. After almost a decade together, we wanted our ceremony to really speak to our relationship and love story. Jennifer exceeded all expectations - she seamlessly went through our love story, including tidbits, quirks, fun stories that capture us. She even incorporated our favorite show couples - Jim and Pam and Cory and Topanga. People came up to me throughout the night saying it was the most genuine ceremony they had ever been to! Jennifer made our day a dream!

Joel G.

Married on 10/15/2021

Jennifer is THE best

Jennifer's biggest strength is gearing the wedding ceremony to reflect your story. She does a beautiful job of weaving a cohesive and relevant story based on your own input. Many guests at my own wedding thought she must have known my bride and I for years based on her masterful work. She is amazing and I cant recommend her enough. Thanks Jennifer!

Claire M.

Married on 10/01/2021

Book Jennifer now!! You won't regret it!

Rev. Jennifer Luu was an absolute joy to work with! We ended up delaying our wedding a year due to COVID and she was more than happy to accommodate us. She provided a detailed questionnaire to me and my husband and crafted the most beautiful story from our answers. We were blown away by her words, and our guests are still talking about what a wonderful, personalized ceremony she conducted. It was without a doubt one of the best parts of our wedding. She gave us examples of vows, readings, etc. to choose from and allowed us to structure our ceremony exactly the way we wanted. We had a non-denominational secular wedding and it was not a problem whatsoever. I would recommend Jennifer a million times over. She is professional, kind, detail-oriented, experienced, and an amazing writer and speaker to boot!

Kaylee H.

Married on 09/01/2021

Best Decision!

We planned our wedding during COVID. About a month and a half before our wedding we didn't have an officiant yet because we had not yet decided if we were going to postpone. Thankfully, Jennifer was still available and worked with us during that last month to plan the perfect ceremony. We met with her virtually and loved her energy. She was on time and helpful at our wedding rehearsal.

The ceremony itself was exactly what we wanted! Our guests loved hearing the story about us as a couple, and the ceremony was engaging for all in attendance. We have already received so many compliments about how amazing the ceremony was. I would choose Jennifer as our officiate over and over again. Thank you!!!
Are you interested?
Send a message