22 Reviews
Recommended by 96% of couples
Quality of service

4.8 out of 5 rating

Average response time

4.8 out of 5 rating

Professionalism

4.8 out of 5 rating

Value

4.8 out of 5 rating

Flexibility

4.8 out of 5 rating
Awards
21 User photos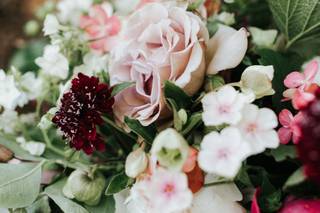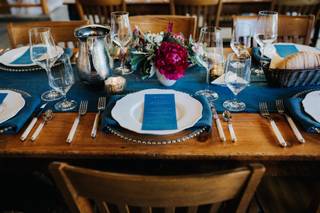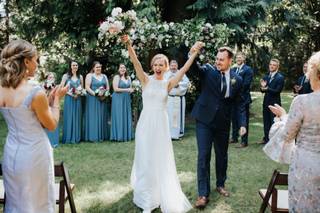 + 17

photos
Amy T.

Married on 09/14/2019

Amazing wedding planners!!

Taylor was an incredible wedding planner! She helped us put together a wedding we absolutely loved that was very us in downtown Seattle at Westland Distillery. All the details were taken care of and she constantly kept us on track even when we were delayed with decisions and chose a venue 6 months prior to the wedding!! She had amazing recommendations for all our vendors- DJs, live music, hair and makeup, flowers, Etc.. Would recommend Jen Leslie Events to anyone getting married in the greater Seattle/ Washington area! They really cater to your vision and have a beautiful portfolio of weddings (check out their Instagram!).

Jenna S.

Married on 08/24/2019

Thinks of all the details!

Jen was so great to work with. She is kind, friendly and so personable. At our first meeting, I knew she was our girl! We also had so many compliments from our guests about how approachable and friendly she was and they enjoyed talking with her. We hired Jen as a day of coordinator, but she started working with us in advance. We had meetings over the phone and in person so she could get to know us, our vision and vendors. Before meetings she shared a document with "to do" items for us and also included her to do list and what she had completed or was still in progress. It helped keep us accountable and thinking about things we may not have without her guidance. Something my husband and I both felt is that Jen was so professional and polished. This clearly isn't her first rodeo and she will think of every little detail to ensure all bases are being covered. An example of this is at our rehearsal, she had asked about mine and my dad's hand placement and how he would be passing me off to my husband. Something so small, but I knew this small gesture meant a lot to my dad and would have been passed over by us if not brought up. She made the planning of the rehearsal feel important and made our family member's roles in the ceremony feel valued. It wasn't rushed and she took the time to thoroughly discuss all big and small interactions. My husband and I have been in and a part of many weddings and rehearsals where we have seen the coordinator rush through with the line up of walking in, standing in the front and walking out within minutes, where it didn't feel important. We felt grateful to have someone to take the time to slow things down and see the value in the small gestures of a ceremony. Many of these instances occurred during our planning together. She was also willing to jump in a help anywhere she could the day of the wedding before guests arrived, she even picked up our cake and cupcakes. Her work the day of the wedding was unnoticeable. And when I say this, I mean it in the best way possible. She did her behind the scenes magic to help make every transition flawless and that movement of picture frames, guestbooks, glow sticks on the dance floor or other items seem to magically appear. Jen is truly committed to making your day the best it can be and is passionate about her work. Would highly recommend for anyone looking for an experienced, personable, and detail-oriented coordinator!

Lauren

Married on 07/27/2019

Helped make our wedding perfect!

I'm so happy we hired Jen Leslie Events for our wedding. They made the wedding planning process so smooth and our wedding day was perfect!

Are you interested?

Send a message

Caroline

Married on 07/20/2019

Hire this company!!!

I cannot believe I thought having a wedding planner was optional - I would not have been able to juggle all of the details of our wedding by myself. Jen managed a million moving pieces while being an empathetic sounding board during a crazy time. She thought of things we never would have remembered and made sure we had clear plans for everything, down to the last fork and flower. Sam and I did not have to think about anything aside from enjoying our wedding—she had the weekend organized down to the minute (she said nothing strays from her schedule, and she was 100% right!), and if there were any problems with the day, I honestly couldn't identify them because they never made it to me. She made my husband and feel at ease on the day and through the whole process. Jen created a vision board for us after learning about what we wanted, sourced vendors, and intermediated on every last detail. Leading up to our wedding she even sent "know before you go emails" to our entire vendor team and helped us put together content to prep our bridal party and families. We got so many compliments from our vendors/officiant/family that Jen was the most organized person they had every worked with. Jen also has an incredible network of freelance/independent vendors that really made our entire design come to life. Plus she is just a kickass human being.. win/win :). HIRE JEN & HER TEAM - WILL BE BEST DECISION EVER!

Julie W.

Married on 01/09/2019

The absolute BEST!!!

I can't say enough wonderful things about working with Jen Leslie Events. We decided to use Jen for the Full Service Planning and Design, and it was the best decision we made! Jen was there through the whole process with us and took so much of the stress away! She listened to our wants and concerns, even when they came at 1am. She communicated well with us and with our vendors. I always felt assured that Jen had not only our best interest, but also our vision for our wedding, always in her mind. Day of, our wedding was beautifully executed and I knew that Jen had everything under control. I had guests and family members even telling me that they were so impressed with the planning team! Thank you for EVERYTHING, Jen and team!

Josie S.

Married on 09/29/2018

Jen is truly the BEST!

My husband and I feel so blessed that we had the privilege of working with Jen to plan and coordinate our wedding. Although the package we purchased is considered her most "basic" wedding service package, it felt like she helped us with everything! Jen calmly and thoughtfully guided us through the complex process of planning our wedding, then seamlessly executed on the day-of festivities, making for a dreamy, stress-free wedding day. Not only is Jen sweet and fun to be around, she is extremely organized, professional and thorough. During the planning phases, I looked to Jen's creative mind and years of experience to confidently make decisions. As we approached the wedding weekend, Jen's full attention was on our wedding. She attended (and ran) our rehearsal the day before the wedding, and was the first to arrive and the last to leave on the actual wedding day. Jen made sure everyone – and everything – was taken care of, with extra special attention on the bride and groom. She ensured all the vendors had what they needed and when they needed it, that all the spaces were set and looked beautiful and that the festivities were running as planned. Her careful and thoughtful attention to every detail that day allowed my husband and I to truly be present with each other – and with our friends and family – and enjoy every moment of our special day. The immensity of our gratitude for everything Jen did for us is beyond what words can describe. I would highly, highly recommend Jen and her team and would definitely work with her again!

Lulu

Married on 09/08/2018

One of the best decisions in our planning process!

This is long overdue, but hiring Jen was one of the best decisions we made during our wedding planning! Our only regret is not hiring her to help on the day of the wedding as well (she was already booked, which isn't surprising). Jen was so awesome in bringing our vision to life, helping us think through everything, connecting us to the best vendors, providing advice on all our design choices, and generally being a wonderful support system through a stressful time. She understood exactly what sort of feeling we were going for and had so many great ideas about how to make our wedding feel special...but still keep costs down. :) We had family coming from the East Coast and were under pressure to make it "an event to remember" - with Jen's help, we were able to accomplish that goal. Several months later and guests are still raving about the wedding! Thank you Jen for all your help!

Courtny N.

Married on 09/08/2018

Amazingly helpful!

I am not an event planner, and I really don't enjoy trying to plan events, so when my boyfriend proposed on Christmas, I was excited but also really stressed. A friend recommended Jen to us, and she was phenomenal! Initially I was worried that it would be hard to tell someone what I wanted (I wasn't sure I knew!) and that I might have trouble telling her if I didn't like something. It wasn't like that at all! Jen know's what she is doing, knows what questions to ask, knows how to make the process seem manageable and even fun! There were decisions that were really important to us (the food) and a lot that weren't as important (the music) but she made all of it easy and translated our vision perfectly. The wedding was more beautiful than I could have imagined! Would DEFINITELY recommend Jen!!

Yuki

Married on 08/18/2018

You want to hire Jen Leslie Events!

Jen and Stephanie from Jen Leslie Events are absolutely wonderful! We had the pleasure of working with the both of them for our wedding, and Stephanie was in charge of our day of coordination. I'm so glad we hired her! Stephanie was very attentive, organized, and professional. I felt like their day of coordination package involved so much more! One month prior to our wedding, Stephanie really jumped in and took care of all vendor correspondence. I was still on all the emails, so I knew how on top of everything she was and she ensured all details were accurate and executed in a timely manner.

Day before our wedding, Stephanie and her team Erin also conducted our wedding ceremony rehearsal at the venue. They were very organized and everything went smoothly. They also added some great suggestions such as asking guests not to take photos with their cell phones during ceremony, so our photographer can capture beautiful images without cell phones in the air! I appreciated their attention to details!

Our wedding day was just perfect! Stephanie and Erin were there to direct each vendor and took care of all decorations and logistics. I was pretty nervous before walking down the aisle by myself, but Stephanie stayed with me right by myside and her calm but confident dispositions were so helpful. Stephanie and Erin made sure our reception went smooth and on time, it was flawless! It was so comforting to know that we had such an amazing team having our backs at all times during our wedding.

The wedding planning was very stressful for me, I couldn't have achieved what I envisioned for our big day without Stephanie's support throughout the planning process and the day of coordination. I truly appreciate everything that Jen, Stephanie, and Erin have done for us to ensure our wedding day was just perfect!

Julie

Married on 08/11/2018

Jen is so sweet! She was great to work with. I was hesitant about hiring a wedding planner because of budget and thinking I could do it all by myself. I am so glad we hired her! We ended up hiring her for just day of coordinating. I didn't look too much into florists but saw that she does florals so we hired her for that as well. Jen and her team are amazing! She was really good at communicating and making sure all the details were correct. There were so many things to think about and plan which was stressful but Jen eased the stress by helping us and being so organized. Even though we only booked her for the very "basic" package, I felt like she went above and beyond expectations. The bouquets were so pretty!She worked with us to make our vision come to life. I was so happy with how our table settings/centerpieces came together. They were so beautiful! I would definitely work with her again if I get the chance to!

Taryn

Married on 09/02/2017

The moment my husband and I met Jen we knew we needed her as our wedding planner. With a few months to go we needed help and Jen wasted no time jumping in. We were so thankful to have someone so supportive on our side. Jen was kind, honest, and made sure our wishes/preferences were known to all of our vendors, and always responded to questions quickly. She did a beautiful job helping with set up the morning of our wedding and coordinating the arrival of both my husband and I (since we chose not to see each other before the ceremony). Jen stayed the entire night to make sure even small things ran smoothly, like making sure guests were ready to be seated for dinner, letting us know our first dance was coming up, and she even jumped in to help our photographer's with some of their lights. We cannot thank Jen enough for everything she did from planning to execution! Our wedding ran so smoothly and we owe that to her. Thank you!

Jen Leslie Events's reply:

Thanks Taryn! It was great working with you guys and I appreciate your sweet words so much!!!

Elizabeth

Married on 08/26/2017

Absolutely phenomenal care and service! From the moment we met Jen we knew we would be in good hands. Working with Jen and Jen Leslie Events is like hiring your most organized and professional friend to coordinate your wedding. Her care, interest in our wedding, and attention to detail made us feel like she was truly invested in the success of our event. My friend and I both hired Jen to coordinate our summer '17 weddings and she executed on each wedding with remarkable skill, acting as a sounding board throughout the planning process, wrangling vendors, and ensuring every person and pre-planned detail was in its proper place day-of. I cannot recommend Jen highly enough!

+ 6

photos

Jen Leslie Events's reply:

Thank you so much for your kind words!!!!

Marisa

Married on 08/12/2016

My husband and I are so fortunate that we hired Jen for day-of wedding coordinator services, which was so much more than just day-of! We originally met Jen at the Northlake Wedding & Events Tour (which, I think, sadly is no longer offered) in October 2015 and loved chatting with her. We were then so lucky to have won a few hours of planning time with her (through a raffle, of more than 100 entries) to help us with our theme, decorations, and design. It became very clear during our meeting that we wanted to work with her as our wedding coordinator. We had a tight budget for our relatively small wedding (~70 guests) and Jen's day-of services were perfect for our budget and wedding needs. We weren't 100% sure that we were going to hire a wedding coordinator for our wedding, but we are SO happy we did, and happy that it was Jen. We started working with her about 8 weeks prior to the wedding. She was extremely organized, asked great questions about our venue and vendors, and made sure that all of the plans were clearly documented. Plus, our meetings with her were really fun and it was nice to get to know her and discuss our common interests outside of wedding planning.

Our wedding day in August 2016 was perfect. Jen was truly the first to arrive, last to leave, all of the flowers, decorations, and details looked perfect. If there were any problems behind the scenes, we had no idea.

Thank you, Jen! If you are looking for a wedding coordinator, or someone to help with more full service design or florals, definitely check out Jen Leslie Events.

Andrea

Married on 07/30/2016

Jen was absolutely amazing to have as a part of my team for my wedding! I am some one who likes to take care of things myself but I had no problem sitting back and letting her take control! She did amazing! She handled every curve ball thrown her way and kept me feeling confident in everything that was happening! I was skeptical of spending so much for a day of coordinator but I am a true believer that she was worth EVERY SINGLE PENNY I spent. Probably the best penny I spent for my whole wedding. I truly cant thank her enough!

Paige

Married on 07/16/2016

Your assistance and grace was fantastic and our special day wouldn't have been so perfect without your guidance and support. We love you Jen!

Leslie

Married on 05/29/2016

We hired Jen to be our full service wedding coordinator for our wedding in May 2016. We had a short engagement, 6 months, and there is no way we could have pulled off our wedding without her! She put in so much time, effort, and hard work ahead of the wedding and on the day-of. She took our ideas the random things we had pinned on Pinterst and turned it into a beautiful cohesive wedding design.

We were impressed with her professionalism towards us and all of our amazing vendors (that she recommended). She also took the time to talk us through our contract with her (and helped with our other vendor contracts) which protected both of us from changes in the planning process - and we definitely threw her some curve ball changes that she had to adjust for! We had a tight budget and she was able to negotiate with our caterer to a more fair price that we could afford.

I would definitely recommend Jen Leslie Events, as I spent my wedding day enjoying every moment and not worrying about all the silly little details!

We used Jen Leslie Events to provide day-of coordination services for our wedding in July 2015. We were so pleased with everything she did to both help us pre-plan for the day and think of details that us "first-time wedding planners" would never have considered.

She was professional, organized, flexible, and helped ease the nerves of both the bride and groom throughout the process. She helped us recover from an unexpected rainstorm – beautifully setting up the ceremony in an alternate location on the fly- (nothing quite ruins a bride's nerves like rain for an outdoor wedding). She also navigated a few, inevitable, family drama mishaps, while handling herself with great poise and a calm demeanor.

She helped make sure set-up, tear-down, and everything in between went smoothly. We could not be more pleased and cannot recommend her highly enough!


Mia

Married on 08/23/2014

I cannot say enough good things about Jen and Jen Leslie events! She is the perfect mix of creative, fun, organized, calm, and professional and just born to do this work. We hired her for day-of coordination but it was really so much more than that (month of, at least!). She definitely understood our vision and I felt so comfortable having her take the reins running the show. It was really helpful to have her ideas and to thin

Well worth it and Jen is so nice! Great to have her as our day-of coordinator to make sure everything went smoothly!

Kelsey

Married on 07/19/2014

Jen was amazing during the planning process and day of. Everything ran smoothly, and if it didn't, I had no idea...and that's a good thing. At one point we ran out of wine and Jen put on her running shoes (literally) and ran to the store to replenish our supply! What a lifesaver. Not only is she attentive to detail, but she has a a bright smile and a wonderful personality. It's easy to put your trust in her abilities. I highly recommend her to my friends getting married.

We hired Jen Leslie Events for a day of coordinator for our wedding. Jen was incredibly professional, patient and very helpful. We planned our wedding across the country and she was there to make sure we had every detail covered. I appreciated her creative problem solving (Skype meetings!) to our challenges and how understanding she was of our circumstances (strong personalities in the family, budget restraints, DIY projects, untraditional vendors); nothing seemed to phase her! She was also helpful in supporting me in my choices whatever they were and totally undaunted by a special decoration project I invented at the last minute! The only thing I would change would be to have her do the whole event package, rather than just the day of!

Ammara

Married on 09/17/2016

I booked Jen for my ceremony and wedding stage and signed a contract and paid a $900 deposit back in April with my wedding being in Sept.
Then a month before my wedding date she decided to up the prices by $500 for the ceremony stating that the labor costs will be more and she didn't take the tear down time into consideration. Hello your lack of planning shouldn't be my reason to pay more last minute. Everything was already budgeted out for my wedding and no I don't have an extra $500 just laying around. Then when we asked if she could give us our deposit back or if she could put our deposit money towards something like flowers or linens she wasn't accommodating at all and said NO you'll be losing your entire deposit if you don't want to move forward with the NEW price she had upped. She also mentioned we could take out things to cover the extra labor cost she had decided to put on us last minute. Just to be clear we were ONLY getting our ceremony stage and wedding stage done from her nothing else; no flowers, cake table, sweetheart table to save money. What else can you cut out from a stage? Its a backdrop, a sofa, and some drapes; nothing fancy at all.

We signed a contract agreeing to a price and the services you were going to provide and now your refusing to do them in the contract we signed so we definitely deserve our deposit back. Nowhere in the contract did it say you can raises prices unexpectedly. She then said the deposit money was to cover all the design work she had done which is total BS considering I told her what color theme I wanted and sent her exact pics for the backdrop. Apparently our deposit money was to cover the back and forth email communication we had. Umm hello that does not add up to be $900. I would highly NOT recommend her to anyone wanting a stress free wedding and found her to be very unprofessional.

Jen Leslie Events's reply:

Thank you for your feedback. I'm so sorry you feel like you had a bad experience with us. Unfortunately the scope of the décor you requested, and the parameters of the event (restricted set-up/tear-down times) changed from what we originally agreed to (and what was stated in the contract). To adjust for the changes we needed to increase the price to accommodate the additional fees. I truly feel that we did everything we could to work with you and be accommodating per the details in the emails we exchanged and the phone calls we had. We wish you the best of luck with your wedding and marriage!
Are you interested?
Send a message