334 Reviews
Recommended by 100% of couples
Quality of service

5 out of 5 rating

Average response time

5 out of 5 rating

Professionalism

5 out of 5 rating

Value

5 out of 5 rating

Flexibility

5 out of 5 rating
60 User photos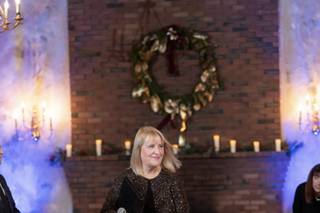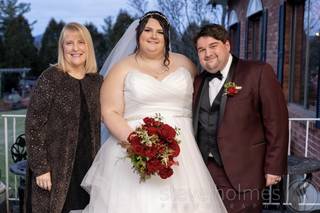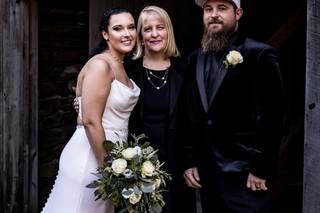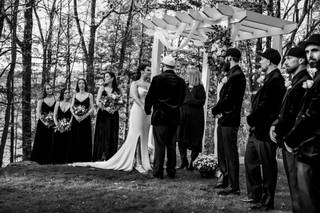 + 56

photos
Abbie C.

Married on 12/10/2022

We love Jane!

Jane was so amazing to work with. The ceremony she wrote for us was absolutely beautiful and she took the time to get to know us so what she wrote was so personal and thoughtful and a great representation of our life together. She was easy to talk to, quick to answer questions, and incorporated everything we wanted to make sure we had the Christmas ceremony of our dreams! Can't say enough good things about Jane. We love you!

Jane E. Rokes, NH Justice of the Peace / Wedding Officiant's reply:

Hidden Hills was the venue for Abbie and David's gorgeous December nuptials - family first for this beautiful couple - can't wait to see what the future holds for them. Christmas will never be the same for them!

Tylah H.

Married on 10/22/2022

Jane is amazing!

Jane does a great job! I highly recommend her for your ceremony she makes it stress free and organized. I got so mang compliments on my ceremony. She makes everyone feel involved in it and its very personalized to you and your spouse. Janes energy really helps a nervous bride and groom infront of all those people. We loved her work!

Jane E. Rokes, NH Justice of the Peace / Wedding Officiant's reply:

Tylah and Greg married at Stonewall Farm, a gorgeous venue in Keene, NH, and the same spot Tylah attended camp as a child. It was a black and white wedding - very classy! They included their dog in the ceremony as their ring bearer - so perfect - every detail!

Shannen H.

Married on 10/15/2022

Justice of Peace

Jane was amazing and we are so glad that she was a part of our special day. She was recommended to us by a friend and during the time of our engagement she really went out of her way to get to know us. She continued to check in during the wedding planning and made sure to add personal details. The ceremony was exactly what we wanted and she even dressed to match our wedding party! Jane has continued to stayed in touch with us on Facebook and has become a friend of ours. We would recommend Jane to anyone getting married. She was great!

Jane E. Rokes, NH Justice of the Peace / Wedding Officiant's reply:

The Barn on the Pemi in Plymouth was the venue where Shannen and Knox tied the knot. Just loved standing with them as they shared their vows and exchanged rings - Glad that we are friends now based on our incredible working relationship. Shannen was a gorgeous bride and it showed in Knox's face when he saw her start down the aisle. Perfection!

Are you interested?

Send a message

Karina C.

Married on 10/08/2022

Jane was fantastic to work with

I loved working with Jane, we had the most perfect ceremony! She was so easy to talk with and accessible the duration of the planning. She took extra time to ensure that she really got to know us and picked out the most special details of our lives to share with our friends and families that day. Her delivery of information is so calming and comforting and she still delivered the funny points with great ease. I feel so lucky to have found Jane for our ceremony.

Kristin N.

Married on 10/07/2022

Absolutely Amazing!

From the very first meeting we had with Jane, we knew our wedding was going to be everything we dreamed of. She really took the time to get to know us, what ours strengths were, how much we care and love about each other and then some. I can't even describe the amazing job she did with our ceremony, she had everyone crying and laughing! She knew my (now) Husband and I love to make people laugh and she ran with it. She made our ceremony so personal and special to us. Everyone could not believe how beautiful of a job she did and were talking about it all night long and are still talking about it today! I've had the pleasure of knowing Jane since I was in High School and when I found out she was available for our wedding, I was so happy. Jane is the most caring, confident and heartfelt woman. We are forever grateful for her!!

Jane E. Rokes, NH Justice of the Peace / Wedding Officiant's reply:

Kristin and Ryan's wedding was steeped in happiness and fun and family! I was so happy to be just a small part of their big day! I'll always remember it fondly as a time of pure honor! Hidden Hills in Rindge, NH provided some great vistas for their pictures and their other vendors were easygoing and great to work with!

Rebecca K.

Married on 10/01/2022

The best of the best!!!

JANE WAS AMAZING!! From the first moment we spoke, we knew she would be the perfect fit! Jane was extremely personable and really took the time to get to know us. She answered all of our questions with ease and put in so much effort to write our ceremony so beautifully. We cannot thank her enough for all the time and effort she put into our special day!! HIGHLY RECOMMENDED!! :)

Jane E. Rokes, NH Justice of the Peace / Wedding Officiant's reply:

Thank you Rebecca! Waterville Valley was the perfect venue to celebrate your love story! And, that husband of yours, couldn't wait to kiss you! Thank you for the honor!

Autumn M.

Married on 09/25/2022

Knows how to tell a love story ❤️

Jane is one of the friendliest sweetest people I know! She put a lot of work into creating a ceremony that perfectly described us & included everything we wanted. She really knows how to tell a love story! Everyone enjoyed it, we are so grateful to have her be part of our special day!

Jane E. Rokes, NH Justice of the Peace / Wedding Officiant's reply:

Autumn and Robert's wedding at the Elks Camp in Keene was a celebration of a blending of families! I loved getting to know their new large family. I have known Autumn since she was in high school and now she is a beautiful, mature wife - and Robert is a wonderful and smart husband - a perfect pairing!

Brianne H.

Married on 09/24/2022

Jane is great!

Working with Jane was an absolute joy. Though we had only met once before, as soon as we started talking with her, we felt immediately heard and understood. She was very receptive to all of our ideas, while also quick to offer thoughtful advice based on her extensive experience whenever we weren't sure about something. She has a wonderful way with words, and we were delighted with how our ceremony turned out. Thank you, Jane!

Jane E. Rokes, NH Justice of the Peace / Wedding Officiant's reply:

Brianne and Dave's wedding at Brianne's parents' lake house in Fitzwilliam, NH was emotional and fun! Every detail was thought out and lovely. Their music was good for the harp (pun intended) and perfect. I officiated for Brianne's brother, Phil and his wife Cait last December so being back in the company of their family was a true honor.

Chris A.

Married on 09/18/2022

9.18.22 Wedding

Jane was our officiant for our wedding in September, and we loved working with her! Our ceremony was exactly what we were looking for: simple and short but also meaningful. We appreciated the fact that we were able to give our feedback to include certain aspects to it as well. She was incredibly responsive and extremely nice. Our guests raved about the ceremony after too! It was truly perfect.
Photos taken by Whiting Photography

Jane E. Rokes, NH Justice of the Peace / Wedding Officiant's reply:

Zorvino Vineyard is always great for a fall wedding. Chris and Morgan were an absolute pleasure to work with - always staying right in touch so that everything about their ceremony was seamless. I wish them a lifetime of happiness.

Paige

Married on 07/24/2022

Choose Jane to officiate your wedding!

Jane was the perfect choice for our small wedding. She took the time to get to know us and kept us on track. She made sure that our wedding ceremony was exactly what we wanted-personal and intimate. Jane patiently guided us through the entire process. Thank you for everything and for making our day so special!

Sarah M.

Married on 07/23/2022

Wonderful Justice of the Peace!

Jane was a pleasure to work with through out our wedding planning. She is full of wonderful ideas to make your ceremony unique and special to you as a couple. She really took the time to get to know my (now) husband and I in order to represent our full journey as a couple through out our ceremony. She crafted a beautiful ceremony that encapsulated all that is important in our relationship. We got MANY compliments on her through out the night! A few people asked if we had known her already because she was able to make our ceremony so personal. If you are looking for a knowledgeable, eloquent, and warm officiant - please work with Jane! You will not regret it!

Charity

Married on 07/08/2022

Jane is a very passionate, compassionate beautiful person who puts all her love, care, time and individuality of each couple into her ceremonies!! A friend gave me a list of potential Wedding Officiants & when I saw Janes information, and her description I knew that she was the perfect one to Officiate our special day!! Janes ceremony was so beautiful & our family & friends are still talking about how beautiful the ceremony was. We shared laughs, & when I broke down with happiness during my vows Jane was there every step of the way helping me regather myself so that I could say her beautiful vows she had written for us audibly :) :). If you do not live in an area Jane covers, I would tell anyone to consider their wedding planning in an area she does just so you can experience working with such a amazing, genuine, and wonderful person as her!! Thank you Jane for all your time, love, flexibility, compassion & care you put into our special day. The ceremony was the most touching, memorable piece & Mike & I will hold your wisdom & love in out hearts always!! As you say... GO LOVE!! :) :)

Jane E. Rokes, NH Justice of the Peace / Wedding Officiant's reply:

Charity and Mike got married in the Marble Room at Hidden Hills in Rindge. Charity's mom and her godmother walked her down the aisle to Mike and and Mike's dad was a groomsman. Family is simply the most important part of their lives - a family member made their cake and the list goes on. I was happy to be in the company of wonderful people as two lives and two sets of family and friends were joined together!

Pen

Married on 06/25/2022

Amazing officiant

From not knowing where to start about picking an officiant, we got so lucky to find Jane! Jane was one of our favorite parts of the wedding day. She brought so much positivity, meaning, and joy to the ceremony. She became a friend in the process of working together, and we were honored to have worked with her. She took the time to really design a custom ceremony that was deeply meaningful. Would strongly recommend her to future couples - she is a special person!

Jane E. Rokes, NH Justice of the Peace / Wedding Officiant's reply:

Meeting Wei and Drew was immensely good for the soul - to watch the regard they bring to their union was and is palpable. They married at The Newfound Lake Inn, and despite Wei's parents, who live in China, not being able to be there, it was a beautiful ceremony. I am a happy Officiant! All the very best Wei and Drew!

Tessa M.

Married on 06/18/2022

Awesome. Just awesome.

Jane was the officiant for my wedding. From the very beginning she was extremely responsive. She took the time to write back to us to answer any questions we had and to meet with us by phone and in person. She is extremely organized and knows the ins and outs of officiating and the process for getting your marriage license, etc. Overall, Jane was extremely organized, great to work with and I felt that my ceremony was in good hands. 10/10 would definitely recommend.

Jane E. Rokes, NH Justice of the Peace / Wedding Officiant's reply:

Tessa and Aaron were so easy to work with! They made clear their vision for their ceremony early on and we built a wonderful working relationship and now a friendship. Watching them with their families and bridal party made me realize how much value they place on relationships. All the very best Tessa and Aaron. They married at Lakefalls Lodge in Stoddard/Munsonville, NH

Aubree S.

Married on 06/12/2022

Awesome ceremony

Jane was wonderful to work with. She molded the ceremony to fit us and our styles. My husband and I were thrilled with our ceremony as were our guests. We had to move our ceremony time and Jane was able to accommodate our changes with no issues.

Jane E. Rokes, NH Justice of the Peace / Wedding Officiant's reply:

Backyard weddings are a favorite for me! This wedding was gorgeous, though not as gorgeous as Aubree! Stunning bride! Wonderful groom! Here's to a life of love!

Kristie H.

Married on 06/04/2022

Jane is Amazing!

Jane was an absolute pleasure to work with. She was cheerful and thoughtful and listened to what we really wanted. She did such an incredible job with working a Blended Family Sand Unity into our ceremony so that our kids could be included. We enjoyed every moment of working with her. Thank you Jane for everything!

Jane E. Rokes, NH Justice of the Peace / Wedding Officiant's reply:

Kristie is so organized. She has to be with a beautiful blended family, and a busy job. She left no detail out when it came to her wedding and I was happy to be part of her vision, but writing and officiating her ceremony. Her husband, Josh, is easy going and wonderful too - a great partnership that we were able to celebrate. They were married at The Elks Camp in Keene, surrounded by their families and friends.

Caitlyn D.

Married on 12/26/2021

Personalized ceremony

I reached out to Jane on WeddingWire and she replied quickly and we had a brief chat over the phone to get an idea of what we were looking for and what her process was going to be. From there my groom and I filled out a detailed questionnaire together, which Jane used to draft a personalized ceremony for us! Her pricing was very reasonable and her correspondence professional. Come wedding day, she blended right in with the group and brought a wonderful energy to the ceremony. We would highly recommend her and my sister-in-law, who witnessed the ceremony, is planning to hire Jane if she's available!

Jane E. Rokes, NH Justice of the Peace / Wedding Officiant's reply:

Blending right in is important, but more often than not, by the time I get to a ceremony, I have forged a relationship that goes beyond business. It's my job to get to know a couple and Caitlyn made the process seamless. She got married at her husband's family lake house in Fitzwilliam, NH.

Gwen B.

Married on 10/03/2021

Beautiful Ceremony

Finding a wedding officiant was the ONE thing I was so unsure about when planning our wedding, so we turned to wedding wire where we found Jane. Jane is a wonderful person who curated our wedding ceremony and made it so perfectly tailored to our relationship & families. She spent a great deal of time making sure it was everything we wanted and did not disappoint. I would highly recommend to anyone else getting married in New Hampshire. She can make the ceremony as religious as you want, or not at all! It's all up to you she is there to give you great ideas and certainly her expertise. Thank you Jane!

Jane E. Rokes, NH Justice of the Peace / Wedding Officiant's reply:

Gwen, you are so bright and articulate. Your input made me a better Officiant. Gwen got married at Cathedral of the Pines, the "Altar of the Nations" in Rindge, NH. You knew what you wanted to impart for sentiment to tell your love story, which made our working relationship easy as we grew your ceremony. Best of luck.

Jessica

Married on 10/02/2021

Loon Mountain Wedding 10.2.21

I had to write a review for Jane because she was the best officiant I could ask for! We planned the wedding from out of state so it was sometimes hard to contact and book vendors. I reached out super early to her and she was so responsive, sweet and so helpful. Unfortunately, we had to postpone the wedding a year and she accommodated us without issue which was a huge relief. The day of our wedding was actually the first time we met! Prior to she had us fill out a worksheet that was very thought provoking and allowed us to really think about our relationship and it's meaning. Also, by completing the worksheet, she got to know us more and was able to personalize our vows. On our actual wedding day, I was stressed because the weather was not fully cooperative and our ceremony was outside on the summit of Loon Mountain... However! When we lined up the rain had cleared in just enough time for our ceremony. Like I said, the vows were personalized, sweet and funny. Jane did a great job in providing a really unique ceremony that was perfect for us. And she was a true MVP for sticking it out with us even when the rain started back up. I wish I could relive that day again and again. If you are thinking of booking her, do it! Thank you so incredibly much Jane ♥

Jane E. Rokes, NH Justice of the Peace / Wedding Officiant's reply:

Certain things you can't change, and the weather is one of those things. I seldom let things affect my ability to keep a ceremony on track. It's my job, most especially since working with a couple over the course of a year, in some instances, has been a labor of love. We got Jessica's ceremony in through an occasional raindrop, and there were smiles all around. Thanks for trusting me to tell your story Jessica!

The C.

Married on 10/01/2021

Simply perfect

I got married at Alyson's Orchard and Jane was one jp that was recommended. I had heard through my sister-in-law she had done a wedding for a friend of hers and how great it was. I met with Jane with my husband and she really took the time to get to know us. Our ceremony was perfect and all our family and friends felt it was beautiful. It was memorable for us and our friends and family!

Danielle K.

Married on 08/28/2021

Keith wedding 2021

We have known Jane for 10+ years! She was able to take small pieces of our life and create a beautiful and meaningful ceremony for us!! It was truly the most special day!

Jane E. Rokes, NH Justice of the Peace / Wedding Officiant's reply:

Danielle and Brett got married in Keene, at the Best Western. The courtyard at the venue was abuzz with family and friends, a lot of whom I knew, so it was extra special. Danielle, I can still remember how beautiful you looked and I am writing this response to your review months after you got married. Brett was so handsome and so happy to see you! It was my honor to share your love story in a way that I hope was memorable.

Cheryl F.

Married on 08/21/2021

Jane is absolutely wonderful!

Jane is absolutely wonderful and a joy to have had Officiate our wedding. She pays great attention to detail and puts a personal touch into our ceremony and vows. Everyone that attended raved about how beautiful our ceremony was! Thank you Jane

Olivia

Married on 07/31/2021

Jane works collaboratively and expertly with you to make your ceremony the highlight of your wedding

From our first phone call with Jane, we knew that she was the officiant for us. There is a reason why she has so many five star, rave reviews - she is amazing at what she does, and she genuinely cares. Jane took the time to get to know us as a couple, and helped make our wedding the best day ever. She has an amazing structure and flow to her ceremonies, and she had ideas that we had never even considered or seen done at any other wedding. At the same time, she was extremely patient and flexible. She was always 100% open to making changes and customizing our ceremony to make it exactly what we wanted. She helped guide us in writing our own vows, which ended up being a highlight of the entire day. By far the number one thing that we have received (and continue to receive) compliments on was was our ceremony. We are so grateful that we had the opportunity to work with Jane, and cannot recommend her more highly.

Sarah W.

Married on 06/26/2021

Kind, Creative, and Feels Like Family

Our wedding date was originally planned for June 27, 2020. We had met with Jane in our local Starbucks the previous fall to write our ceremony. She was incredibly thorough in learning about family dynamics, members of our bridal parties, and the things that made our relationship uniquely ours. We had planned a unity piece, reciprocal vows, and a children's book at her guidance, everything was beautiful and perfect.

Then, like many COVID brides, we had to plan and re-plan our wedding multiple times. We made the difficult decision to postpone the wedding we had planned for the safety of our families. We were legally married on June 26, 2020, but still wanted that ceremonial piece and to celebrate with all of our loved ones. We replanned our wedding for June 26, 2021, our one year anniversary. We reached back out to Jane, and she was thrilled to be able to join us for that day.

A lot of changes occurred in that year with our families, our relationship, and what we desired in a unity piece. Jane was incredibly flexible and went back to the drawing board, rewriting our entire ceremony with new reciprocal vows that reflected a renewal of our marriage values thus far, a handfasting unity piece which allowed our bridal parties to participate, and a new children's book that fit our story. I read it probably a million times, happy tears every time, leading up to our renewal of vows day.

Jane is loving, she is patient, she is flexible, and so incredibly creative. Every ceremony she does is entirely unique to that couple's journey. I know this from personal experience, but also from when we were in our dear friends Skyler and Kyle's wedding. When she did their ceremony in 2019, we knew that we wanted no one but Jane to marry us.

My favorite thing about Jane is that she truly connects with every individual, not only us, but our families and bridal parties. The way she fosters genuine human connection makes her feel like another member of your family when that special day arrives. I highly recommend Jane to anyone looking to get married or renew their vows and would happily be a referral for anyone who would like to know more about our experience.

Thank you Jane for everything! We enjoyed every moment of working with you.



Samantha C.

Married on 06/26/2021

Dream Come True

From the moment I met Jane and learned she was a Justice of the Peace, I knew she would be the one to marry me - even before I had someone to marry! Jane wrote the most beautiful ceremony for Vinnie & I, weaving humor and love so eloquently. I could not have imagined a better experience and can not say enough good things about Jane! She is and will continue to be the first name out of my mouth when asked for recommendations for an officiant!

Jane E. Rokes, NH Justice of the Peace / Wedding Officiant's reply:

Samantha and Vin's wedding was the perfect counterbalance of lightheartedness and seriousness. The cadence of every part of their ceremony was perfect! I'll always remember how beautiful it was - and it was an honor to receive an email from her dad a few days after saying sharing the same sentiment!

Are you interested?
Send a message