26 Reviews
Recommended by 97% of couples
Quality of service

4.9 out of 5 rating

Average response time

4.9 out of 5 rating

Professionalism

4.8 out of 5 rating

Value

4.9 out of 5 rating

Flexibility

4.8 out of 5 rating
Awards
20 User photos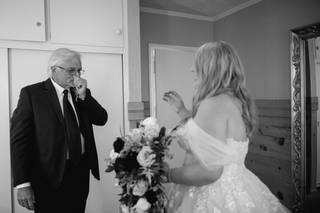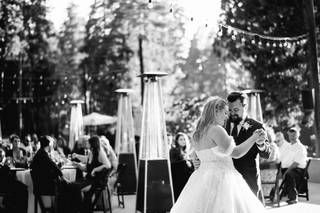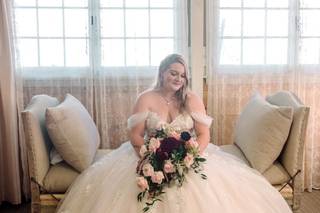 + 16

photos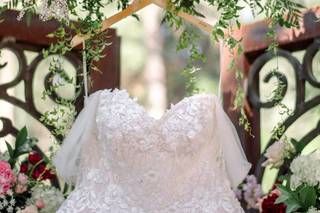 Victoria S.

Married on 09/17/2022

Thank you!

We've only received our preview photos so far, but I'm blown away by James' talent! James is super professional and was patient with me as the self proclaimed bridezilla! He calmed my anxiety day of and captured so many beautiful memories!! We cannot wait to see all the photos

+ 10

photos

Marley R.

Married on 09/10/2021

James is AWESOME! 10/10 would recommend

James is an absolute pleasure to work with! He shot our engagement photos and our wedding and everything came out incredible. He is so kind! We got married at Pine Rose Cabins and I, half, joked a bit about him making me hike through the woods in 4inch heels; He remained so nice and professional through it all and once he got the best shots made sure my flat shoes were near by for changing into. If you need a wedding/engagement photographer look no further!

Marissa R.

Married on 06/26/2021

Mind-blowing.

James is the most talented photographer you will find.

We were lucky to have James as our photographer for both our engagement and wedding photos. We took our engagement photos in Yosemite - and they are so meaningful + mind-blowingly gorgeous. Our wedding photos turned out equally stunning, but what really stood out was how kind/fun James was throughout the entire day. We loved hanging out with James as much as we loved having him as our photographer.

His photos speak for themselves, but I would genuinely recommend James to all friends and family.

+ 3

photos

Are you interested?

Send a message

Kristy P.

Married on 09/09/2019

Best photographer ever in my opinion!

Wow what can I say about the amazing and talented Mr. James Tang! He was such a joy to work with! The thing I loved most about James Tang is that you can truly tell that wedding photography is his passion! If you look at all of his work the passion he has for capturing the love between two souls is just majestic, and really comes out in every photo! Even if your a shy bird like me and my husband he just makes you feel so natural and his personality is just so inviting so can't help but to always have a smile on your face! If you want beautiful pictures and memories that you will never forget I would definitely choose James Tang Photography!

Ashley P.

Married on 07/05/2019

Amazingly talented

I still can't believe how amazing our wedding photos turned out! James has an extraordinary talent for taking stunning, romantic photos. I could look at them every day! He was able to capture the beauty of the venue as well as help us look amazing and natural, capturing our love so beautifully! I feel so grateful to have such wonderful photos to remember this special day forever. And our amazing photos were only made better by the fact that James and his assistant were so fun and easy to work with!

Taylor

Married on 08/04/2018

I found James years ago on pintrest and started following him on Instagram before I was engaged. I told my self I would use him for our wedding, and we did! Our venue is strict with their vendors and luckily James was on it! I immediately called James and pretty much Picked the wedding day based off his
availability. James is absolutely amazing. He's not like any other wedding photographer I have seen! He has professional, focused and most importantly makes you feel comfortable in front of the camera. Thank you James ! We can't wait to see the rest of our photos :)

Jennifer

Married on 04/28/2018

Amazingly Talented Photography

My wife and I knew from the first meeting with James that he was the perfect photographer for our wedding. He was incredibly professional and showed almost as much excitement as we did for our wedding day. He gave us as much control as we wanted, but at the end of the day we let his creativity take control and we could not be happier with the results.

James truly is a one of a kind photographer who loves his job and helping make your special day something you can always look back on. His passion for photography shows through his work and our wedding photos could not have come out any more perfect. My wife and I would recommend James Tang's services without hesitation to anyone who is looking for a photographer who can capture your special moments in a way that no one else can and provide service and a final product that is beyond expectation.

Nicole

Married on 10/13/2017

My husband and I just finished reviewing our wedding photos and albums, and we are extremely happy. The photos are stunning! I'm so in love with them! It seems like he has endless energy and so much fun to work with. I'm particularly camera shy and I was completely comfortable being in front of James' camera. In fact, I had so much fun during the photo session on my wedding day that I actually didn't want it to end. I wish we also booked an engagement session with him and his adorable row boat. Thank you so much for the amazing experience, James. You are the best of the best! We owe you all the caramel frappacino's you want! ;)

Melissa

Married on 06/11/2017

I had a few choices for photographers at my Pine Rose wedding and I'm so glad I chose James! From the start, I loved his fun personality, obvious professionalism, and his portfolio of images were stunning. He went above and beyond the day of the wedding: he arrived early and very prepared for the weather, which ended up being frigid, misty, and rainy at the end of the night. He had a clear umbrella and a backup plan ready to go. James also was very accommodating when I gave him a bunch of pose requests - he's extremely thorough and detail-oriented which is my exact personality. We were a perfect fit. After seeing my sneak peek pics, I know I made the right choice. I would recommend James for anyone's photo shoot - you won't be disappointed!

Jannet

Married on 05/07/2017

We love James!

I have been following his work for a while and immediately booked him when I got engaged. Not only that he's a great photographer, he was also a great help in many aspects of my wedding planning. He's very professional and fun to work with. His assistant was equally easy to work with. Both of them made my wedding day such a fun experience. I'm so in love with my wedding sneak peeks!!!! I highly recommend James! My only regret is that I didn't book him for the engagement session and use his rowboat. Thank you James for everything.

Dan

Married on 10/01/2016

We absolutely loved having James as our photographer for both the engagement shoot and the wedding. He's incredible to work with and the photos were all stunning. We met up with him prior to the shoot and no location or idea was out of reach and he shared in every bit of our excitement as we planned the direction. It also helped that he was fun to hang around with, as we spent a loooong time with him between the engagement shoot and wedding, but hey, we ain't complaining!

We were especially impressed with his process, craft, and effort on the engagement shoot. We chose Big Sur as the location, and he got there before us and scouted everything ahead of time. As we hiked up the trails to all the cool spots he discovered prior, he helped my wife and I across log bridges and up difficult terrain, while taking beautiful photos.

James and his team wowed us again with the wedding photography. We had impossibly high expectations of the entire experience, and he obliterated them. We've gotten so many compliments on the photos and we couldn't be any happier with the results.

Kyle

Married on 06/12/2016

James and his amazing team are unbelievably talented behind the camera. My wife and I couldn't be happier with the results and we feel truly blessed that he was able to shoot our wedding day. When we received the photo's we realized that he essentially shot a story. A story of our wedding day. From prep time, to ceremony time and beyond. James even offered to stay late and shoot longer than we originally agreed on. This was great because we busted out the LED hoop for late night reception shenanigans. Thanks James! You captured everything we were hoping for!

Joanna

Married on 05/14/2016

James and his team of Teri and Ann Marie were an absolute pleasure to work with. The day of the wedding they were running around trying to capture the best shots and not wasting any time. I got our photos back and absolutely ADORE them. They captured the fun of the day, but also the romance and beauty. What makes James unique is that he edits just enough. All the shots look realistic and natural with candid emotion. I personally want to feel like I am back in the moment of our wedding day and he and his team absolutely achieved that. I highly recommend James to capture your wedding day!

Katie

Married on 08/01/2015

I can't even begin to express how happy I am with James's work. He has a fun and friendly personality, making it very easy to work with him. He does a great job leading the group and making everyone feel comfortable. We recently got our wedding photos back and they turned out beautifully!! I can't stop looking at them! I highly recommend him.

Cassandra

Married on 03/21/2015

James and his team are true artists at their craft. Not only is he and his team extremely friendly and approachable, he is passionate and ridiculously talented. His skills and experience show in his work and his level of professionalism. He was recommended to us by a friend and we would highly recommended him for anyone looking for a fabulous wedding photographer. Plain and simple, James is the best!

I can't stop looking at my wedding and engagement photos!! Both the posed and the candid photos were spectacular. James is very friendly and does his job very well. I highly recommend him for your photography needs!

James has a lot of energy and is very fun to have at your wedding. Several of our guests mentioned how much they liked James at our wedding. He's funny and is willing to bend over backwards (literally) to get that perfect shot. When we got our pictures it was great to relive the whole day. He captured so many precious moments and for that we'll be forever grateful. James is a great photographer and we're so glad we had him with us on our special day.

Nikki

Married on 03/23/2014

James tang was amazing. He was early for all our meetings and he made us feel comfortable. Would highly recommend him.

Kan

Married on 08/03/2013

James and his assistant are so amazing ! They worked so hard for our wedding and provided us a lot of wonderful pictures! My husband and me feel so lucky that we chose him to be the photographer! Please don't be hesitate to call him!

Carly

Married on 11/10/2012

Where can the praise begin for James Tang Photography?! Our engagement and wedding photos are unique works of art. We really had a vision for our themed wedding, and James definitely captured the magic. He doesn't just take pictures, he captures moments that can be treasured. He helped us with unique settings, backgrounds, angles, poses and even suggested props for us to purchase to enhance our theme. On our wedding day, James endured 60 mph freezing desert winds with a smile on his face. He seemed to be everywhere at once, and there's nothing he won't do to get a great shot. Looking through the photos is like reliving the experience. Our wedding day was so busy, I'm so glad James took so many wonderful pictures so I can look at them and really see the whole beautiful story! Let James Tang Photography capture one of the best days of your life too!

Amanda

Married on 09/22/2012

James was amazing to work with! At first we were not going to do engagement photos, but after reviewing his portfolio decided to use his services and the pics turned out amazing!!! Please contact me if you'd like to see a sample of our engagement pictures.
Thanks James, not only for amazing pictures, but also for a fun-filled day!!!

Stephanie

Married on 10/28/2016

James and his team produce absolutely gorgeous photos! He captures a lot of intimate moments and knows how to get the best lighting. I wanted to do a hair change after some of the photos and James was very patient with me even though we were losing light outside. He continued to work with us to get the best images before the sunlight was totally gone and I couldn't be happier with the images!

Aubrey

Married on 07/24/2015

What can we say about James... He is an incredibly gifted professional with a fun and spunky personality that makes everything a blast. We were lucky enough for James to be one of the photographers included in the wedding package that we chose at Arrowhead Pine Rose. I was so thankful that they had a handful of fully vetted, fantastic photographers to choose from so that I didn't have to hunt around for someone. James exceeded our expectations. He is fun and light hearted... and a joy to work with. He takes all the stress out of the day, and because he has such an incredible talent and eye, we didn't feel any need to try to make sure we got specific shots of this or that... we were able to fully enjoy our day and trust him to capture the emotions and events beautifully. His work speaks for himself, but his personality is one of a kind!!

Kate

Married on 06/14/2014

James was wonderful! We haven't gotten our pictures back yet, but on the day, he was thorough, he was friendly, and he took many shots. I was confident he had fully and artistically documented the day. Our only complaint that we heard was with his assistant. Some of my bridal party had said she felt a little young, asking for poses that felt child-like... thumbs-ups, etc. We are a more mature wedding party, so that felt a bit odd for some people.

Sarah

Married on 08/14/2016

We hired James and his assistant for our wedding at Pine Rose Cabins, and I was absolutely stunned by the subtle details, the jokes, and the love he managed to capture. He has this dynamic energy about him, so the photo shoots are a whirlwind, but we really got all the shots we wanted and more. The photographer is so important, because if they capture the feel of the event, you can experience it again and again. One important detail - since James professionally touches up every single photo, it takes months to get the full package, especially if you are getting married in a popular time of year. But if you're lucky, you might get a few teaser photos to tide you over ; ). He was a pleasure to work with, and I can't recommend James highly enough.
Are you interested?
Send a message