44 Reviews
Recommended by 100% of couples
Quality of service

5 out of 5 rating

Average response time

5 out of 5 rating

Professionalism

5 out of 5 rating

Value

5 out of 5 rating

Flexibility

5 out of 5 rating
9 User photos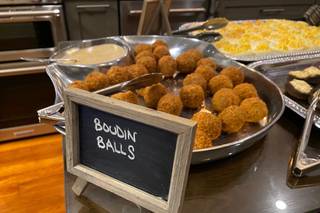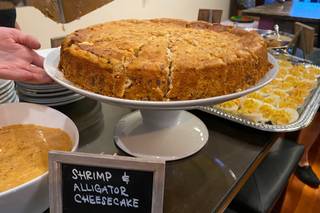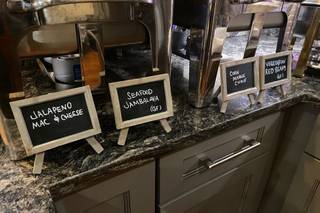 + 5

photos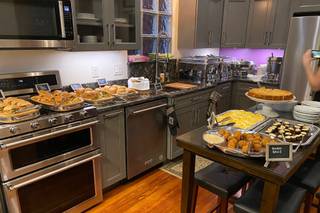 Jorie S.

Married on 11/19/2022

Tasting passion in each dish served!

Jacques-Imos was the first vendor we secured for our wedding day. We had gone to the restaurant a handful of times, and knew this would be our caterer when we got married. We chose New Orleans as our destination city, and wanted our guests to fall in love, and be treated to traditional 'Nawlins cuisine.
Monique the catering manager was more than helpful when picking the menu and offering suggestions, and answering numerous questions posed to her with rapid response. She was never too busy to schedule a call or to try and work with our budget.
On our wedding day, the catering staff was super interactive with our guests, explaining the cuisine, making conversation, and consistently one step ahead with replenishing our buffet. It was repeatedly said, not only how incredible the food quality was, but, how stellar the service was that night. You can see how Monique's staff has experience, how much they love their work, and how customer driven they are.
The best decision we made was to have Jacques-Imos as our caterer!

E Harmon

Married on 06/24/2022

People still talk about the food!

Jacque Imo's was an amazing wedding caterer! Monique was very communicative and really helped us through each step of the process. People still rave about our wedding food. The Chicken Tasso Pasta was to-die for! 100/10 would recommend!

Lovin'goodfood

Married on 05/20/2022

Stupendous, top to bottom!

The restaurant was already known to us. Monique, however, was not. She was great to work with, starting with a tasting so that we could set our menu, and ending with an outstanding crew she oversaw at our reception that was hard working, friendly, and who served such fantastic food!

Are you interested?

Send a message

Erin M.

Married on 05/12/2022

Thank you!

All of our guests said how awesome the food was! Everything was delicious and gave our guests a true taste of New Orleans! We had passed hors 'derves, cheese and fruit, a good variety of entrees and sides for the buffet. Thanks for everything.

Regan M.

Married on 04/30/2022

Great Choice!

If you are looking to showcase traditional New Orleans soul food for your wedding or event, look no further. Jacques Imos has all the dishes you're looking for and then some. They also have very yummy vegetarian dishes and salads to accommodate all palates. Monique was wonderful to work with and they didn't break the bank! Still getting compliments from our guests months later. Thanks Jacque Imos!


Lauren J.

Married on 03/12/2022

Wonderful experience with Jacques Imos!

They had a delicious and versatile menu, especially loved the crabmeat ravigote, the fried chicken, and the shrimp pasta. They were extremely attentive and flexible on the front end and the execution was excellent as well! Even when there were issues the week and day of (the venue's ice machine was broken, wedding moved from outside to inside), Monique and her team handled everything like (calm and collected) professionals!

Jennie B.

Married on 02/04/2022

Food all our guests still talk about.

Monique with Jacques-Imo's was really wonderful not just to work with, but to talk with. She had so much experience and was patient with us asking beginner questions, requesting minor exceptions for our family members, and modifying the menu several times. She brought us food in the Green Room before the reception kicked off and boxed up generous bags of leftovers for us to take home afterwards (and it reheated after we froze it shockingly well). But my favorite part, besides getting to work with Monique, was how much people have talked about the food after the wedding. Our friend shared that as soon as they got upstairs, another friend said "f*** yeah, fried chicken, let's go!" and even my Midwestern mom, who thinks green peppers are too much spice, really enjoyed the maque choux and my dad inhaled everything. My stoic brother-in-law said he loved the food, and that to me was huge because he's not very outwardly enthusiastic about anything. It's accessible, authentic, crowd-pleasing dishes, and there's enough range that you can check off all the dietary restrictions your guests might have. We'll be seeing them again, on our anniversary!

Andrea B.

Married on 12/11/2021

Best food in New Orleans

Jaques-imos worked with me diligently to make my wedding awesome. about a month ago I hired them and they took care of the food and bar and I am still hearing from my guest how they have not tasted anything better in New Orleans. They have tantalizing menu items to choose from and Monique was very helpful in figuring out the perfect amount of food/drink, and on the day of, the staff was very professional and punctual. I would hire Jaques-imos for any other catered event in my future, and I am already looking forward to my next visit to their restaurant on whatever occasion I can.

Justine H.

Married on 11/13/2021

Could not possibly ask for more!

The easiest and best choice we made very early in our wedding planning was to book Jaques Imos for our catering. We've always loved Jaques Imos and were pleasantly surprised by how affordable they were. Not only was the food delicious (most people said it was the best wedding food they had ever had) but Monique is a super star and made the execution of the overall event a breeze. It's also a great option if you have a lot of out of town guests as it's iconic New Orleans and is sure to impress!

Beyond the food, Monique's staff were above and beyond amazing. If you are looking for event staff that are professional and FUN, they are the people. If you have the option I would recommend letting them staff your bar as well. People are still talking about how much they loved the bartenders at our wedding, something I had not even thought about but made all the difference the night of our wedding!

I can't imagine having any other caterer for our wedding.

Susan H.

Married on 11/13/2021

Excellent food, professional and fun in every way. The perfect NOLA wedding caterer.

Jacques-Imo's did a fabulous job in every way catering our destination wedding in a non-traditional NOLA mansion wedding venue. Monique is a miracle worker, a pure joy to work with and makes everything come together seamlessly and professionally. All her staff was as professional as they come, did a perfect job, and were a delight to have at our wedding. The bartenders were fun, charismatic and did a GREAT job, and had some great dance moves, clearly enjoying themselves as much as all of our guests. Oh and the food: everything was top quality, delicious and perfect in every way. We had a great time at the event and thoroughly enjoyed the experience of working with Jacques-Imo's before, during and after. Thank you, Monique and Jacques-Imo's for being a major part of the dream wedding of a lifetime! We cannot recommend Jacques-Imo's more highly.

Ashley

Married on 11/06/2021

Perfect New Orleans wedding experience!

Our experience with Monique and team was fantastic! Our guests— both out of town and local— raved about the food. Everything was delivered and served perfectly and stress free. The price was also quite reasonable for the quality of food. Highly recommended if you are looking for authentic New Orleans food to please a crowd!

Tyler M.

Married on 06/19/2021

Utterly Unmatched

This was hands-down one of the best decisions we made in terms of vendors for our wedding. Not only is Monique a delight to work with, the food options and flexibility of the menu are not even close to anything else we reviewed. With access to an a la carte menu, you get the freedom to choose what you truly want, rather than be confined to some package with upcharges to mix-and-match to get what you want. The food was tremendous and the price even better. Can't thank or recommend the experience we had with Monique and Jacques Imos enough!

Lisa F.

Married on 04/10/2021

Amazing food, incredible service

Start to finish I was impressed by Jacques imos. They've always been a favorite of mine so I was delighted to find out they catered. Monique made everything so simple and seamless, including many changes. She was an absolute joy to work with. And, yes, the guests are still raving about the food :)

Mark C.

Married on 01/18/2020

Awesome service for awesome food!

We were extremely impressed with Jacques Imos for our daughter's destination wedding in New Orleans. We wanted the guests to have a taste of New Orleans cuisine and we were certainly not disappointed! The setup and cleanup happened quietly while were were enjoying visiting with family and friends. Extremely professional. The food was excellent and they even packed up the leftovers so we could enjoy the next day. They left the place as clean as they found it. I would highly recommend Jacques Imos for your catering needs. BTW get the Alligator Cheesecake - amazing!

+ 6

photos

Anna

Married on 11/09/2019

Amazing Caterer & Bar!

Amazing experience with Monique & Jacques Imos as our wedding caterer & bar! We looked at many different options and deciding on them was a no-brainer. We were able to have the familiar awesomeness we already loved about the restaurant and they were able to add unique elements per our request. They were organized and friendly and the food was DELICIOUS! Our guests were very complementary of the food & we're still enjoying the left overs. We'd definitely recommend working with their great team (and get the oysters--it's a crowd pleaser!).

Allison

Married on 10/05/2019

Went off without a hitch

Couldn't have been easier or worked out and better. Picked the menu, did a walkthrough, they showed up and set up on time, food was fantastic, cleanup was a breeze.

Peryn S.

Married on 10/05/2019

The Best!!

It was such a pleasure to work with everyone at Jacques Imos. From the moment I contacted them they took care of me with the utmost attention and care. I was shocked that this restaurant, as popular as it is in New Orleans, is as affordable as it is for catering. Based on everyone else I priced out (and I priced out a lot) this was absolutely the best value for the money. The food was delicious and my guests loved it. The service they provided throughout the reception was top notch. At the end of the night my guests were full and there was plenty left over. The wrapped it all up for us to enjoy over the next several days. You won't be disappointed with this choice! Thank you Monique, Sherri and everyone else who made this day a dream!!

Jillian

Married on 09/14/2019

Excellent service

Jacques-Imo's catered my wedding and it was fantastic! The guests were all raving about the food afterwards! The food was great, the staff was great, the presentation was beautiful! Monique went above and beyond meeting with the manager of the reception location several times and was patient and professional. Monique was even kind enough to take a big group photo of all my wedding guests. The whole experience was perfect and I could not recommend this business more!

Cortney

Married on 04/20/2019

Book Jacques imos!

The guests absolutely raved about the food. We wanted unpretentious comfort food presented in a high class way. Jacques imos delivered! It's safe to say we made a lot of people fall in love with New Orlean's charbroiled oysters. And it was wonderful to be able to entrust one vendor with our food catering and bar. Monique is an absolute gem who made us feel at home from the tasting to the big day.

Lisa G.

Married on 12/11/2018

Amazing food and service

Jacques Imo's was amazing for our wedding! Monique was incredibly helpful with selecting the menu and was super responsive. The tasting was amazing and they were willing to make changes to items on the menu based on our taste. It was really affordable and there was lots of food, which our guests absolutely loved!

Rob S.

Married on 12/01/2018

Great Food Great Coordination Great Price

From the moment I spoke with Monique and Jaques about our wedding needs, I knew they were on our side. It helps to have a history with the vendor but I imagine they treat everyone with respect and care. We changed numbers - no problem. We changed some foods - no problem. We added coffee service. No problem. No one can touch their fried chicken and gumbo and for value and authentic New Orleans cuisine they knock it out the park!!
Thanks for being part of our most memorable night.

Devin

Married on 11/09/2018

Excellent! Very nice and made it easy!

Everyone was great, everything went smoothly and they made adjustments when we needed them done!

Chrissy C.

Married on 11/03/2018

Great food and great people!

Jacques Imos provided delicious food at our wedding. All the guests raved about. The staff was incredibly helpful, accommodating, and easy to work with.

Sarah N.

Married on 11/03/2018

Amazing food, staff and experience!!!!

My husband requested one thing for our wedding and one thing only - that was we had Jacques Imos as our caterer. They did not disappoint. We had so many people tell us how it was the best food they've ever had at a wedding! From the start they were so easy to work with and put together an excellent tasting menu so you are sure you made the right decisions with your menu. The staff the day of the wedding were amazing and I'd like to give a special thank you to Monique, their Catering Manager, who goes above and beyond to make sure your day is perfect! I would not think twice about having them as a vendor and would pick them again in a heartbeat.

Thanks for making our day so special!!!

Alden

Married on 11/03/2018

Can't go wrong with Jaques-Imo's!

Jaques-Imo's catering made our rehearsal dinner such a success! Everyone is still raving about how delicious everything was (obviously, it's Jaques-Imo's!). The food was SO GOOD and perfect for our group. Monique and her team made everything so easy. She was very responsive to our questions, including the ones about allergies. Thank you again!!
Are you interested?
Send a message