106 Reviews
Recommended by 97% of couples
Quality of service

4.9 out of 5 rating

Average response time

4.7 out of 5 rating

Professionalism

4.9 out of 5 rating

Value

4.9 out of 5 rating

Flexibility

4.8 out of 5 rating
10 User photos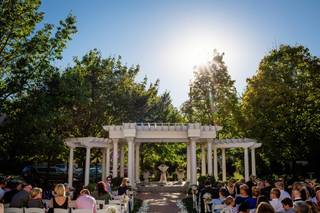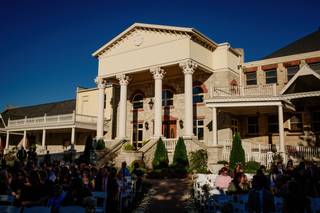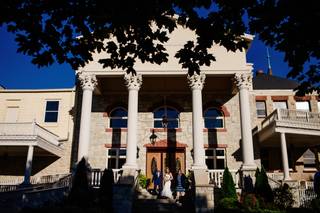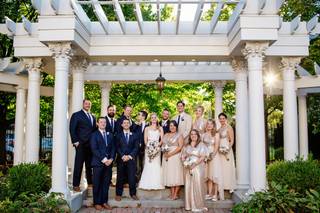 + 6

photos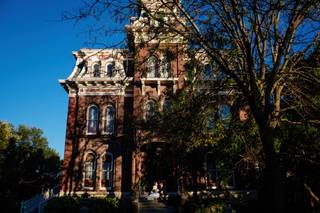 Tim K.

Married on 05/21/2022

Perfect venue

From the Father of the Bride...I can not say too many great things about the Mansion and the staff. It's a perfect one-stop shop: the church is beautiful and historic, the mansion is dazzling, and the reception hall is one of the best wedding venues I';ve experienced. I received several compliments about the venue, food and drink, and that the service was top-notch. The staff was extremely helpful, going above and beyond. We had some hiccups due to COVID, but they helped us through it all. I would highly recommend the Jacob Henry Mansion.

Rachel S.

Married on 05/15/2021

The Perfect Ceremony!

Sue was our Godsend to clear up any uncertainty or provide my bridal party with necessary guidance during our chaotic day. She made sure to always be present and ready to corral our rowdy bridal party during the rehearsal and at the wedding. She is excellent and patient at what she does, and she has a calming demeanor that kept our day stress-free. Our heart was set on having our ceremony outdoors in the Mansion's gardens, and Sue made sure to make this happen despite intermittent rainy day sprinkles.
She and our Reverend Jeremy, who we also hired through the Mansion, work great together and really know what they're doing.

I met with Amanda today to discuss possibly having my wedding at the Jacob Henry mansion and fell in love instantly with the estate and Amanda she showed me around and explained everything i think I'm going to book my wedding there

Are you interested?

Send a message

Shannon

Married on 11/24/2018

Jacob Henry Mansion provides a fairytale experience!

Susan was great to work with provided amazing attention to detail to help create a flawless fairytale experience for my daughter's wedding. Great food and flexibility! Anything we needed she was there to help provide it. She was kind, helpful, and her experience was certainly evident. I cannot say enough good things about her and this venue which is stunning inside and out. One important thing to mention is there is an indoor and outdoor option taking the stress out of the unpredictable Illinois weather, this was a big factor in our choosing this venue and everything else was a bonus. This venue won't disappoint!


Katie

Married on 10/08/2017

After reading a ton of reviews and looking at a ton of photos of the Jacob Henry we ended up making an appointment with Amanda, who is an amazing woman! From the very beginning she listened to what we wanted and respected our wishes and our budget. She worked with us closely and became what I will always refer to as my day-of coordinator. She and her family run the mansion with dedication and grace and they made our day feel like a truly special event. We started with a full tour of the grounds, quickly learning that a wedding of our size meant having a reception in the Victorian Hall instead of the mansion itself. We were fine with this though, since the Hall and its connected spaces are also very beautiful (that full porch!!!)
Amanda answered every single annoying email I threw at her and at all times made it clear she was on our side in all things. She was flexible with us too and was also upfront about all things, as far as costs and style goes. If I suddenly had a tacky idea she would save me from it and explain what might work better. Overall the venue was perfect and almost everything went off without a hitch. Amanda was perfect and was working hard throughout the night.
On a sadder note, something unfortunate was brought to our attention by some of our guests and family members, including my mother-in-law and sister. I have already brought this to the attention of Amanda and I told her I would be mentioning it here just to be clear to future couples. There were two bartenders at our bar and one of them, younger and blonde I believe, was consistently RUDE to my wedding guests. I heard about it from many different sources and when I brought it up to Amanda she was apologetic and understanding and disappointed to hear it, although not surprised. The bartenders rude behavior ranged from shortness to having an attitude. That is the only disappointment from the Jacob Henry.

+ 7

photos

Jenn

Married on 09/03/2017

Having our wedding ceremony at Old Central Church was a dream for me- Absolutely the most beautiful wedding chapel I've ever seen, and completely affordable. Payton was so sweet and accommodated us above and beyond what we needed and patiently answered all my questions leading up to it. We only had 2 hours on the grounds since we had only booked our ceremony, but that ended up being plenty and we took loads of pictures on the beautiful grounds around the property before and after the ceremony. Overall, I can't recommend JHM enough for its accommodations, helpful staff, beauty and general air of romance which makes it the perfect location for a wedding!

Amber

Married on 07/29/2017

If it was possible to give more than five stars, I would. All of the staff at jacob Henry mansion went above and beyond for our wedding. Everything was absolutely perfect, down to the tiniest of details. The staff was an absolute pleasure to work with each and every time we had contact with them, and they made all of our dreams and crazy visions come true. From the amazing venue itself, to the food, to the staff, they truly made our wedding day the best day of our lives. Everyone is still talking about it!

Tina

Married on 07/22/2017

The Jacob Henry mansion is amazing! I would recomend them and their staff to anyone looking to have an amazing wedding. I worked with Amanda and she was awesome. The day if the wedding I had an extra coordinator as well and they both did everything they could to make sure that my wedding was perfect. My court yard wedding had to be moved inside due to inclement weather but we were moved into the church for no extra charge. How is that for amazing customer service? My wedding was everything I wanted it to be and I owe it all to them!

Kim

Married on 07/15/2017

We had our reception here in the Victorian Ballroom in July and worked with Amanda and every step of the planning process Amanda was extremely helpful and professional.
The grounds of the mansion are absolutely gorgeous and so well maintained and we stepped outside just at sunset to get a few gorgeous pictures but the inside was what wowed us. The ballroom was just so beautiful and our décor came together so beautifully with the aesthetic of the room. We couldn't have been happier with how everything had turned out on our big day and how all Amanda had helped all of our vendors work seamlessly together. We are forever grateful! If you are thinking of having your wedding at Jacob Henry, you will definitely be in good hands with this family owned business!

Anthony

Married on 06/23/2017

Our Wedding Ceremony was set in the very beautiful Lawn and Gardens area. Everything was clean and neat and made a wonderful place for our guests to enjoy. The staff was very kind and attentive. The even coordinator was very responsive to our needs and did a very splendid job of putting everything together. Food was great! Drinks were great! Scenery was even better! We were very satisfied with our experience at Jacob Henry!

Storm

Married on 06/10/2017

I had such a wonderful experience with JHM! The staff is wonderful, our planner Anna was very detail oriented and helped make our day perfect. The grounds are so pretty for pictures, I love mine! And I got so many compliments from my guests on how much they loved the venue, the food and atmosphere! I would suggest this place to any bride!!!

Brittany

Married on 06/03/2017

I could go on and on about how much I loved this venue and the staff. Our planner, Sarah, was awesome! She dealt with all my silly questions and last minute panics. The wedding day went so smooth and I could not be more grateful. The grounds are gorgeous and perfect for an outdoor ceremony or photos. I also received many compliments on the food! The price is very reasonable and they take care of so many details!

Antonett

Married on 04/22/2017

I can't say enough nice things about the staff and the service at the Jacob Henry Mansion. My husband and I currently live out in San Francisco but grew up in the the south suburbs. Naturally, we decided to plan our wedding to be close to our friends and family at home. I fell in love with the Victorian aesthetic of the mansion pretty instantly, while it took my husband a couple days to be sold on it. I appreciated that this venue only had a dollar minimum to meet instead of a guaranteed guest minimum that most of the other wedding venues in the surrounding areas had. We also liked that this venue doesn't tend to hold two events at the same time, so there would be no chance of any of our guests crashing another wedding or vice versa. Since we were planning out wedding long distance, it was really important that the vendors we chose knew our venue well. The list of recommended vendors was super helpful for us, and a lot of friends and family had also recommended the vendors on their list. We used their recommended florist, bakery, and photographer and everything worked out great since everyone knew this venue so well. Last, but not least, booking with this venue also means that you have a point person/event planner to help guide you through planning and all of the arrangements for your wedding. This was super valuable to my husband and me because we live so far away. We frequently exchanged emails or phone calls with our planner, Anna. She was very attentive and answered our questions right away. She let us know if our suggestions were possible, and if not, she'd suggest a solution. She drew up a projected invoice for us based on all of the things we wanted and how many guests we planned to invite so that we had an idea of how much everything would cost right away. We would call frequently to pay that balance off in small increments, and she adjusted this balance once we got the final guest count. This made paying for and planning everything stress-free.

Amber

Married on 10/02/2016

I want to keep this short but there's seriously no short way to describe how amazing this venue was, and how amazing my coordinator Kim was, and how great and smooth the day of my wedding went thanks to everyone who helped put it together for me. I was so happy when i walked into the Ballroom and saw all my tables/centerpieces, and how they'd set everything up at all surrounding tables. I couldn't have done it better myself and wouldn't have changed a thing.

and of course a special shout-out to Kim. She was amazing, and really did an outstanding job. Everything I asked for, she made it happen, and also added some wonderful suggestions that definitely took my vision, and made it even better.

I have zero regrets, and would recommend this place a million times over. Not that anyone would tell the bride if the wedding was horrible, but I have gotten nothing but rave reviews.

Erin

Married on 10/01/2016

From start to finish, our experience with Anna and the staff at JHM was awesome. We loved everything! Staff was laid back and down to earth and helped us through every step of the craziness of wedding planning! We would love to get married here all over again! ?

Lisa

Married on 09/24/2016

This place is fantastic! Our ceremony (church) and reception (ballroom) were great! I was a little frustrated with response times to emails at some points but let me tell you, it doesn't matter because the day of my rehearsal and wedding Sue was a mind reader and knew what I was going to say or needed before words even came out of my mouth. Seriously, she is amazing. They are so flexible and open to ideas. Sue and her team make things soooo easy and the day of your wedding you just go for the ride, they have it handled. The pricing here is awesome as well! So book your date and don't stress, JHM staff have it covered!

Amber

Married on 09/23/2016

Me and my now husband booked an appointment with a few different mansion type places. Jacob henry being the first meeting and the last. We were blown away by the property. Sue who we meet with was very professional and informative. After booking them for the wedding they were always very involved with the planning. We met Amanda the daughter who took over for sue for our wedding and she was GREAT! Very accommodating and went above my expectations. We had ordered donuts for our reception and we weren't sure how we were going to pick them up prior to the ceremony. Amanda offered to pick them up for us. Our ceremony and reception went smooth and to me PERFECT. The food was awesome and so was the service. Everyone there is great to work with and I have been getting compliments from my guests on this venue. You won't regret picking this venue!

Gina

Married on 09/17/2016

For anyone dreaming of their perfect wedding & wants to avoid the traditional cookie-cutter-banquet-hall type experience (without breaking the bank), the Jacob Henry Mansion is exactly where you need to book! The Mansion, grounds, chapel, and Victorian Ballroom are all so picturesque and create the most amazing atmosphere for your big day. I first found JHM flipping through a catalogue with my mom and then hours later my then fiancé texted me their web address – fate?
The moment we met Sarah and took a tour, immediately my husband and I knew we found the place. The chapel is gorgeous and the woodwork & stained glass windows provide a beautiful warm backdrop to your ceremony. We opted for a string quartet instead of the organ which created such a beautiful experience & the acoustics are fantastic. The Victorian ballroom is spacious enough to fit all 200+ guests, yet at the same time it felt very intimate and cozy. Don't even get me started on the grounds. Your photos will be some of the most beautiful you have ever seen, along with inside the mansion if you get the chance. Everything has a vintage/ antique feel to it, which not only amplifies a romantic/ classic vibe, but what I loved MOST about the entire estate is that I hardly needed to do any additional decorating. The history and beauty speaks for itself, and kept my guests talking about our wedding location.
We were lucky enough to work with Sarah & Amanda during our wedding planning experience. This place is family run and you get treated like family, not like a customer. As the past reviews have said, they go over the top to do anything you need, offer helpful advice ( think about it… they've done this hundreds of time, and you & I are only planning this once!) do all the set up/ break down for you and everything in between.
The food is outstanding (Stuffed Chicken with Asiago cream & Salmon Penne (!!!))& they even went over the top to bake Funfetti cupcakes for our dessert since I am not a cake fan. (The

Monica

Married on 08/26/2016

I have nothing but good things to say about Sue and the Staff and the Jacob Henry Mansion Estate. I was a very calmed bride knowing they had everything under control. I had a unique vision for my wedding and they went above my expectations. Thank you for making our day the best ever! Love you guys!

Kelsey

Married on 07/09/2016

Look no further, the wedding venue of your dreams is right here! When we first got engaged we knew right away that we wanted to get married and have our reception at Jacob Henry Mansion. The grounds are absolutely beautiful, the food is delicious, and the service is amazing. Amanda is so helpful, answered every question I had, and even asked me questions that kept my timeline on schedule. We have received so many compliments about this venue. We had our ceremony outside and the pictures turned out perfectly. Our cocktail hour was also outside and inside the ballroom. I did not have to worry about any details because the Bornhofen family was able to fulfill my every need. Thank you Jacob Henry!

Ellen

Married on 06/24/2016

The staff at the Jacob Henry Mansion are incredible. We got married there in June and there is no way to express my gratitude and appreciation for all they did to make our day so amazing. We used their chapel for our ceremony and the Victorian Ballroom for the reception. Our guests can't stop raving about how gorgeous the venue is and how great the food was. JHM is a family run business and you can count on the entire staff to help at any given moment. I would use JHM again and again!

Nancy

Married on 06/05/2016

Our youngest daughter got married outdoors here in June. What a beautiful event! Sue was attentive and flexible with our needs in every step from planning till the day itself. Having the church on property provided a great back up plan in case of inclement weather for an outdoor ceremony. Our reception was in the Grand Ballroom. Accommodations were made for guests with food allergies. We danced the night away on the large dance floor. So many compliments were received from guests about the beauty of the venue.

Rebecca

Married on 05/15/2016

I could not be more pleased in choosing the Jacob Henry Mansion as the backdrop for my wedding. The staff was very flexible with planning and were always super helpful. I worked with Sarah and she was always pleasant quick to answer any question I had. One of the great things about the estate is that it not only has a beautiful historic mansion, but also a lovely church and pretty outdoor area. There are so many options that can really make your day special. I received several compliments on my choice of venue and it seemed to be a hit with everyone. My guest also greatly enjoyed the food! I would highly recommend the mini deep dish pizzas. My guests couldn't get enough! Overall I would have nothing negative to say about the Jacob Henry Mansion Estate. It was the perfect backdrop for such a special day.

Kelly

Married on 12/05/2015

Amanda, her entire family, and staff are miracle workers! My sister used the Jacob Henry Mansion for her wedding and I knew immediately after seeing how wonderful Amanda was, this was the venue we wanted to use, as well. Amanda took our vision of our perfect day and made a dream become reality. She was extremely accommodating to all of our requests, especially when it came to any dietary restrictions that we had in our family. The food was delicious and all of the staff were very professional. Amanda was always available to talk either by phone or e-mail whenever we had a change of heart with ideas for the wedding, and she would graciously offer her suggestions as to what she thought would look and work better with the venue. On the day of the wedding, she made sure that everything and everyone was accounted for. It was refreshingly relaxing for it being the biggest day of our lives. I would recommend this venue to anyone looking to get married in the Chicagoland area. We have used it for my sister's wedding, my bridal shower, my wedding, and I will definitely come back again for future events!

We can not say enough good things about this venue. My daughter and I considered several other venues but when we met with Amanda, we knew this would be the venue to choose. We had 7 months to plan and Amanda was with us every step of the way guiding us and accommodating our numerous and out of the ordinary requests. Even when we changed our mind about our food selection she went out of her way to accommodate us. We had a specific rustic look in mind and she not only help us solidify our plans but she also executed them by setting everything up exactly how we had envisioned them and although she was at the last stages of her pregnancy she was there throughout the rehearsal and the day of the wedding to make sure that everything went well. We got nothing but compliments about the beautiful vintage surroundings of the church, the pub and the Ballroom as well as the food (the pot roast melted in your mouth!). This is the greatest value we found for all the extras that are included in the price. I would recommend this venue to anyone.
Are you interested?
Send a message