Jaclynn Kate Hair & Make Up Artistry Reviews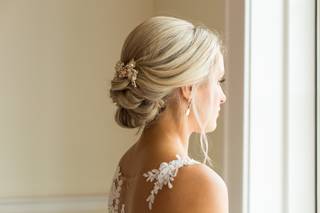 Jaclynn Kate Hair & Make Up Artistry
East Greenwich, RI
View more information
34 Reviews
Recommended by 99% of couples
Quality of service

Rating 5 out of 5

Average response time

Rating 4.9 out of 5

Professionalism

Rating 5 out of 5

Value

Rating 5 out of 5

Flexibility

Rating 5 out of 5
Awards

17 User photos
+ 13

photos
Kyah G.

Married on 10/30/2021

Amazing experience!

Jaclynn and her team were absolutely wonderful to work with! They did hair and makeup for a group of 9 of us the morning of the wedding and they were so timely and efficient - even leaving time for extra touch ups for everyone! I did a trial with Jaclynn a couple of months before the wedding and we were able to tweak and make minor adjustments to the hair and makeup for the day of. It turned out so great! Both my hair and makeup did not budge the entire night- even through taking pictures in the rain! Absolutely would recommend Jaclynn and her team to anyone looking for excellent, second to none hair and makeup for their wedding or any special event.

Leanne C.

Married on 10/08/2021

Beautiful Hair - Lasted all night!

Loved working with Jaclynn and her team! Jaclynn was quick to respond to my emails and questions, and she was flexible with the timeline when I needed to adjust it. Caitlin did our hair and everything came out so beautifully! I did not have time to do a trial before the wedding and came with a few photos to show the styles I liked. Caitlin took the photos and created something new for me that was stunning.

Sammantha G.

Married on 08/22/2020

The Perfect Block Island Hair & Makeup Artist

Jaclynn and her team traveled to Block Island during the Pandemic for my wedding! They took care of everything so I didn't have to worry about a thing! It was a stress free and absolutely amazing experience! They were so fun, easy going and made my wedding morning seamless! They had a huge wedding party to complete and they did it quickly and flawlessly! My hair and makeup was perfect! Jaclynn made some weather recommendations because it was so windy and I'm so glad I trusted her!! She even gives her brides their own personalized lip color free of cost. All of the little details were thought of and they made an already amazing service that much better and in the middle of a pandemic!! All of my girls absolutely loved their hair and makeup! I highly recommend Jaclynn and her team to any bride but especially ones on Block Island!

I wanted a natural look but also looking like I was wearing Makeup and she nailed it! My hair and makeup even lasted until the next day for my trash the dress photo shoot with slight touchups!

+ 4

photos

Christina

Married on 11/02/2019

Great Makeup Team!

I am so happy that I booked Jaclynn Kate and her team for my hair and make up the day of the wedding. I was most concerned about having a smooth, stress free day getting ready and Jaclynn made sure that was the kind of day I had. We did not have to spend all day getting ready because of the team she brought and their efficiency, professionalism and talent. Every one of my bridesmaids loved their hair and makeup and they looked absolutely gorgeous. I had a huge wedding party- 14 people getting ready and there was not one moment during the day where we felt rushed, stressed or not taken care of. So many of my bridesmaids have said how they couldn't believe how easy it felt getting ready that day. I was not sure exactly what I wanted for my hair and make up and had to have several trials and Jaclynn was patient as I figured out what I wanted. She wants her brides happy and listens to what you want and executes what your vision is. My day of hair and makeup turned out beautiful and I looked like a glamourous version of myself which is exactly what I wanted. Jaclynn and her team were so professional, down to business and executed the day of beautifully. I am so thankful I booked them for my wedding.

Katie M.

Married on 09/29/2019

11 ppl hair and makeup

Wow. Where to begin! Jaclynn and her team were absolutely incredible! To start I'm the most indecisive person ever so I did two hair trials! And then on top of that I changed my mind a third time on the wedding day and Jaclynn just rolled with it. She gave me just what I wanted!!! I have never felt more beautiful in my life. The air brush was perfect and so light feeling. It lasted until the next morning; I still looked great when I woke up!!!
So, we selected them based off of her other great reviews and that she had such a large team. They did myself, 2 moms, and 8 bridesmaids hair and makeup in 3 hours. It was nice being able to sleep in and not have a 4-5 hour ready experience other salons quoted us for.
Myself, the moms, and all my bridesmaids were constantly being complemented all night. Some of the girls even said they felt more beautiful than they did on their own wedding days.
You must book Jaclynn and her girls for your wedding! You will not be disappointed they are worth every penny!! Ten Stars from us!!!

Kristina

Married on 09/20/2019

Fairy Glam-ma

Jaclynn and her team are amazing and the only people you should even look at to hire for your wedding. Jaclynn's communication was great from the pre-consultation to the day of, making you feel less stressed. During the trial, she asked a lot of questions and took notes to understand what type of look you were going for and what products she used so it could easily be replicated. The morning of our wedding, her and her team were on-time, professional but fun, making sure myself, the 4 bridesmaids, and 2 mothers loved their looks with plenty of time of touch-ups. By the end, I kept referring to her as my fairy glam-ma!

Marissa

Married on 08/17/2019

Wedding 8-17-19

Jacklynn's team was amazing on my wedding day. My hair and makeup lasted through the night and the rain during my ceremony! The team was recommended by a friend and I am so happy that I listened to her and booked the team. I think that the fact the bride gets to pick and then keep a tube of liquid lipstick is an amazing touch! Thank you for making me look amazing on my day!

+ 3

photos

Brianna

Married on 06/01/2019

Highly recommend!

I could not be more happy with my decision to go with Jaclynn Kate Hair & Makeup Artistry. I absolutely loved my hair and makeup done by Caitlin. She took the vision I wanted and made it come to life. My bridesmaids hair and makeup all looked gorgeous. The team got there on time and did an amazing job getting a large bridal parties hair and makeup done beautifully and efficiently. I would highly recommend!

Jaylene

Married on 04/06/2019

Actual wizards!

Caitlin and Jaclynn were amazing! Jaclynn was very responsive and helped me book hair and makeup for my bridal party. Caitlin was my stylist and absolutely killed it with my hair and makeup. I have never felt more beautiful! This salon came recommended to me by my photographer and I can see why. You can be sure if you choose Jaclynn Kate you will get the best service and feel incredible on your big day!

Shilyn C.

Married on 03/30/2019

Wonderful, Talented Ladies! Stress-Free Experience

I worked with Jaclynn for scheduling and Caitlin for hair and makeup for myself and my mother-in-law. They are both such sweet, down to earth ladies and Jaclynn is the only vendor that reached out to me with a phone call to introduce herself and ask me about what I wanted. They made the experience stress-free and were very flexible. I originally wanted only hair and to do my own make-up, and they were so sweet in offering to give me a consultation to help me with figuring out what makeup look I wanted to achieve. After seeing Caitlin work her magic, I knew it would be better to have her do it and both her and Jaclynn were so understanding about the last minute change.
The day of the wedding was anxiety-free! Caitlin is so much fun to talk to, and really puts you at ease. My mother-in-law speaks no English, but Caitlin was very patient and sweet about working with us to figure out exactly the look my mother wanted. Both the hair and makeup were beautiful and fit the look of the dress and ceremony. Caitlin was awesome at creating a look that was very glamorous, but was also still very me and not overly done. I would definitely recommend her to anyone, and will be going back if I need to get glammed up for other formal events!

Laurel

Married on 12/08/2018

Lovely Team

The team at Jaclynn Kate is wonderful. From the first, yes first, consultation, we were laughing and having a good time. You may not know it at this stage of planning, but this is important! You only want happy, positive people around you this day. The girls were sweet and willing to listen which is huge. They don't do your makeup the way they want it, they do it the way you want it. My two consultations were great but day of, Caitlin really outdid herself. I felt so beautiful but still so myself. Its a hard balance to be wearing so much makeup, having your hair professionally done and still look like yourself just that much better! She did it. It was exactly what I imagined...what was even better was that they made my mom feel so beautiful, my mother in law, sister in law and my friends. Everyone was stunning and they felt it. It was so special. We hired them to stay until after the ceremony, as I thought I would be a big mess...they not only were hired, but their attitudes made it appear as if they wanted to be there and that was really nice. Thank you girls for making me feel the way every bride should feel. Sincerely, Laurel

Christina

Married on 09/02/2018

Fantastic Ladies!

Jaclynn and her team are the best! I live in California but got married on the East Coast, which can cause some added planning/stress, but Jaclynn was really easy to work with -- super responsive and worked with me to find a time that would work out for a hair/makeup trial. I had my trial with Caitlin, who also did my hair/makeup on the day of -- let me just say, Caitlin is the greatest. Not only is she extremely talented, but she is also extremely kind. She made me feel completely at ease and also clearly understood my vision. She really goes above and beyond to provide amazing service to her brides. My bridesmaids (and mom / mother of the groom) felt and looked gorgeous as well thanks to this awesome group of ladies! While the group is easy going and creates a stress free experience, they are also very professional -- everyone was on time and on schedule! I definitely recommend booking Jaclynn Kate for your special day -- you won't regret it :) ! Love them!!

Suzanne

Married on 08/11/2018

The make up and hair team did a fantastic job. I wanted everyone to have a hairstyle and makeup that they felt comfortable with. Everyone looked gorgeous and totally natural. The women were friendly, professional and efficient. I would definitely recommend Jaclynn Kate's team.

Marina

Married on 08/03/2018

Jaclynn and her team is awesome! I was an out of town bride, and she was extremely attentive and responsive to all my emails, changes and requests. I had a trial with Caitlin at the salon a few months prior to the wedding, and on the day of the girls arrived at the hotel and took care of myself, my mom and bridesmaids. Everyone looked fabulous and they were so easy going, flexible and really made the morning so stress free and fun! It was such a great way for us all to relax and start out the day. Thank you Jaclynn for your amazing girls and for making me and my party look fabulous on my wedding day! :)

Gloria

Married on 06/24/2018

I am very happy that I chose to work with Jaclynn Kate's salon and team. Caitlin was such a pleasure to work with! From my first trial she knew exactly what I wanted in my bridal makeup - simple, natural, elegant. Caitlin loves what she does and is a true artist. I felt gorgeous and special, yet comfortable in my own skin. Caitlin also did my two bridesmaids' hair and makeup, which were absolutely lovely. Despite an exhausting weekend having worked three other weddings prior, Caitlin came prepared, patient, and smiling. You can't go wrong working with Caitlin and the Jaclynn Kate team!

Jenna

Married on 09/09/2017

Jaclynn and her team were amazing! Not only were they professional, on-time, and able to come to us, they are truly creative and talented at what they do. Some of my bridesmaids asked for similar styles they'd seen in pictures, while others let them do whatever they wanted; all were happy with their up-dos and makeup. The makeup lasted all day and all night, too. I highly recommend Jaclynn Kate and her team of hair/makeup designers for any occasion.

Jill

Married on 06/24/2017

Do not hesitate to hire Jaclyn Kate and/or her team of professionals to do hair and make up for any special event.
Right from the start JK shined over the other vendors I contacted. I read a ton of reviews - some vendors arrived late and unprepared. Not JK's team. They were prompt, professional, efficient and friendly. They provided individual attention to each and every one of us. The price was competitive. If you need someone to do hair and make up - I would book JK now. They do a fabulous job and you will have the piece of mind knowing that their team is reliable and talented.

Katie

Married on 10/09/2016

Jaclynn Kate and her amazing team did makeup and hair for myself, my mom, and bridal party. They were very professional and fun to work with, not to mention we all looked beautiful for the big day! I had met with Jaclynn for two hair/makeup trials because I just couldn't make up my mind. Both looks I asked her to do, she absolutely nailed. She even did hair extensions on me a few days before my wedding so I could have a fuller look, and I am so glad I had them done, because now I can have awesome hair that actually holds a curl for the next 6-8 months too!!!!! Thank you Jaclynn, you made me feel beautiful on my most important day!



Chelsea

Married on 08/27/2016

Jaclynn Kate and her team were absolutely wonderful! They arrived right on time and were so amazing the entire time they were with us at my hotel. All of my bridesmaids and flower girl loved their hair and makeup. As for my hair and makeup, Caitlin was phenomenal. I didn't even do a trial with her and she did my hair exactly how I wanted it. It was perfect!! Would absolutely recommend Jaclynn Kate and her team to all brides in the RI area.

Cassie

Married on 08/13/2016

I used Jaclynn Kate Hair & Makeup Artistry for my wedding this past August in Newport, and I could not have made a better choice! Jaclynn and her team did an absolutely amazing job on my girls and myself, it is clear that they all are extremely skilled at both hair and makeup! They were extremely knowledgable and were able to create any style that my bridesmaids wanted with ease. The makeup and hair lasted all day and night, despite the fact that this was one the hottest/most humid days of the summer!

Jaclynn was amazing to work with throughout the planning process and on the actual day. She was super organized, flexible, and always available with any questions and concerns. She helped make the planning process a little bit easier! She was also so approachable and easy to work with when trying to decide between different styles. I highly recommend hiring her and her team for your wedding!!

Libby

Married on 07/02/2016

I absolutely adored Jaclynn Kate and so did my bridesmaids! I am so lucky that I had her as my make-up artist. She was very flexible, personable and responsive. I was an out of town bride and live about 7 1/2 hours from the venue. Jaclynn Kate was very quick to answer emails/phone calls and found time to do a hair and make-up trial for me after she had already done the hair/make-up for another wedding!

She was able to capture exactly what I wanted for my hair - classic, elegant, and sophisticated. I have relatively fine hair, and had it in a low bun up-do, and all night people kept asking me if I had put in extensions because she was able to make it look like I had a lot more hair than I do! It looked perfect and did not fall the entire evening (even with a lot of dancing).

My make-up was also beautiful and didn't budge through crying/laughing/etc. She uses air-brush make-up and it looked completely natural and blended in perfectly with my skin tone. She was even able to make sure that my freckles still showed (I like my freckles!). She listened to all of my concerns and questions, provided really great suggestions, and basically made me look like a model.

The bridesmaids also liked Jaclynn Kate and her team. All of my bridesmaids had completely different hairstyles and Jaclynn Kate and her partner were able to look at a picture on pinterest, listen to some alterations the girls wanted, and pretty much create the perfect hairstyle. All of the girl's hair stayed up for the hour long ceremony and 6 hour reception! Pretty awesome.

Jaclynn Kate was extremely professional, showed up early, and was able to complete all of our looks (even when my sister had to re-do her hair somewhat), within the time frame that it needed to be done. She was super positive, friendly, and made the getting ready process really fun.

Thanks Jaclynn Kate!!

Christina

Married on 07/18/2015

Jaclynn did the hair and makeup for me, my 2 bridesmaids, and my mom for my July 2015 wedding. As I live in NJ I didn't know where to begin looking for a hair and makeup artist. I found Jaclynn on The Knot and she had great reviews. After exchanging emails with Jaclynn I found I was very comfortable booking her because she is very responsive. I scheduled my hair and makeup trial and was very pleased. On the day of my wedding, Jaclynn and her assistants were right on time. They were very professional. My bridesmaids and mom looked beautiful. I was concerned about my curls lasting the entire day especially since I knew it would be humid. Jaclynn made sure to put a special product in my hair to ensure that my curls lasted all day. Not only did my curls last all day, but they were still intact the next day too! I would recommend Jaclynn for your wedding. She did a great job!

Kristen

Married on 06/06/2015

Jaclynn and her team are absolutely AMAZING. Jaclynn was also super flexible – she came into work early for me so she could do my hair and makeup trial the day of my shower! It was perfect and exactly what I wanted. She also is very organized and extremely prompt – she was messaging me while on vacation to answer questions about my wedding when it was a few weeks away! She is so dedicated and truly helpful to her clients, it is so reassuring (especially during the stressful wedding times!)

The day before my wedding my bridal party and I had pedicures and manicures done at the salon, and everything was great! We had so much fun in the salon, and everyone loved how their nails looked!

On the wedding day her and her team did hair and airbrush makeup for myself, 6 bridesmaids, and my mother-in-law, and also my mom's makeup. I had sent her photos of the hair styles all 6 of my bridesmaids wanted, and her and her team executed everything perfectly and exactly like I envisioned! Jaclynn was so calm and collective on my wedding day, and made sure everything stayed on track and that everyone was in love with their hair and makeup (which we were!). When we asked for any changes (like darkening eye liner or adding blush) she did everything immediately and made sure we were in love with our looks. She truly is a magical makeup wizard!

The airbrush makeup was unbelievable, and it lasted all day. We had our hair and makeup done starting at 8:30 am for a 2 pm ceremony and reception that went from 7 pm – midnight. At the end of the night we were still looking just as beautiful, after hours of taking photos and dancing – I couldn't believe how great everything stayed!

Jaclynn is not only extremely talented, but she is passionate about making her customers feel beautiful and have their wedding day vision come to life. I am SO happy with her and her team, and would recommend her to anyone. Thank you so much for everything!

Amy

Married on 05/31/2014

Jaclynn Kate was great to work with from the first email right through to our wedding day! She was responsive, flexible and incredibly talented. I booked my hair and makeup trial a year out and had a great experience. Then the morning of the wedding, Jaclynn and her team showed up early and got right to work. My three bridesmaids and I were all happy and everyone looked fabulous! Thanks so much Jaclynn Kate!!

My best friend had recently gotten married in Middletown, Rhode Island. I was the Maid of Honor in her wedding. When she first came to me about Jaclynn Kate Hair & Makeup and asked what I thought about not going to a salon... I said lets try it. We were first introduced actually through a photo shoot where the bride got her hair and makeup done...Everything came out beautiful then!! So why not!!! The wedding was on a Sunday and everything went as planned! Jaclynn and her team showed up promptly at 9am! They had their work cut out for them with seven girls to do hair and makeup. Airbrushed makeup was offered, I didn't part take, I just did traditional. However it was just perfect! I was asked what I liked and Jaclynn's team member knew exactly the direction to go! I never wear tons of makeup but everything was light and beautiful. All three girls were so nice and energetic and so much fun!! I was the last to get my hair done. Mainly because my hair is so fine and there just isn't much there and it always seems to fall out anyway. But I went for an up-do, I really wanted to do this rose inspired up-do but with the lack of hair and tons of layers my dream was not a reality. Although I wasn't able to get that specific up-do the girls still knew exactly what to do. My hair turned out so beautiful I was amazed and it passed the test of staying up the entire night!! That is a first for this gal! I was so impressed!!! In all the entire experience was just amazing!! I can say for when or if I get married I know who to call!! Thank you so much!!!