41 Reviews
Recommended by 100% of couples
Quality of service

5 out of 5 rating

Average response time

5 out of 5 rating

Professionalism

5 out of 5 rating

Value

5 out of 5 rating

Flexibility

5 out of 5 rating
1 User photo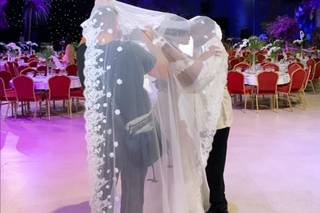 Eline M.

Getting married on 05/01/2023

Impeccable social skills + jaw-dropping videos in YOUR unique style: Iris Films will be your favorite wedding vendor

Professionalism and reliability, great social skills, and high excellence in the end result: these were the main elements we were looking for with every wedding vendor. Tony and Nick from Iris Films surpassed our expectations in all of the above.

Your videographer and photographer are going to be around all day, so pick someone that will add to the celebration, not subtract from it or add more stress to it. Tony made us feel at ease in front of the camera, made our friends laugh, and treated our parents with the utmost respect. They were hiding as polite fly-on-the-walls when the moment called for it, and directed us for the perfect shot when we would have been lost or awkward without it. Tony was communicative every step of the way, very flexible even in the midst of our crazy last-minute changes and COVID-related bumps in the road, and kept a positive attitude throughout the whole adventure.

Tony captured every important moment, and even those we hadn't noticed on the day itself. We wanted an authentic, genuine video that didn't feel fake or posed, and Tony delivered. We've watched the 1-minute teaser and 5-minute highlight video countless times, amazed at how well he captured the heart of our day. The videos feel like it was shot by a friend who has known us for years: that's how well it reflects our personalities and values!

I believe that hiring your wedding videographer/photographer is the one thing you shouldn't try to save money on. You'll watch these over and over again, and they will become more valuable each year. You won't regret investing in a highly-skilled team that knows their craft both technically and artistically like the back of their hand, so they can focus on capturing YOUR unique love story.

Take this from Mr. and Mrs. Picky - we genuinely couldn't recommend Iris Films more!

Morgan H.

Married on 10/22/2022

Can't recommend Iris Films enough!


When I made the decision to get videography for our wedding, I knew exactly who I wanted to hire. I was elated to find out that he was available for our dates, as I knew he was highly sought out. From the very beginning, Tony was professional, easy to work with, straight forward and I could sense his friendly and personable spirit even through our email exchange. We even had to modify our wedding date due to unforeseen events after signing our initial contract, and the change was made with no issue. When our wedding day came, he was enthusiastic and eager to get started and we all were able to feed of if his energy which made the process super easy.

But the magic happened when we got our videos back. Tony posted a teaser on Instagram, and I could not believe my eyes! His work is unmatched! Our family and friends kept saying how "it looked like a movie!" He is able to bring moments to life like I haven't seen anyone do for a wedding video. Whenever I watch, I find myself smiling by the end just reliving our special day. We are beyond grateful for the memories Tony was able to capture in time—and are blessed to be able to have that forever!

Lanae

Married on 03/06/2022

The Best Experience

Where do I start?...Tony was very personable and a blessing to work with from the beginning. We hired him for our wedding and his work is beyond amazing. The results were impeccable. We absolutely LOVED our wedding videos. Our family and friends can't stop talking about how great it was. I would highly recommend booking Iris Films for your next event. We will definitely be working with Tony again.

Are you interested?

Send a message

Arnaud B.

Married on 10/08/2021

Forever grateful! Absolutely amazing

As I'm writing this review, I'm still lost for words and amazed by the way Iris Films Atlanta captured our wedding day. Although we knew full well we hired one of, if not the BEST in the business (The best as far as I am concerned until proven otherwise), Tony and Christian still managed to not only exceed expectations but leave us in awe and speechless. We are French, living in the UK and celebrated with our entire family in the Paris.. but we wouldn't have anybody else as videographer. But by all means, don't take my word for it and have a look for yourselves (instagram, vimeo, youtube...) and tell me those are not the dopest wedding videos you have ever seen!! I'm not only a fan of our videos but a fan of his work, always keeping an eye on his posts. I could keep going like that for ever. I can't recommend them enough, you won't find better anywhere else.
Ps: I'll be hired them again for my kids weddings guarantee!!

Nicole D.

Married on 09/05/2021

Must-have videographer! 🮥🴥🴥

Tony from Iris Films is extremely talented at what he does! You can truly tell that he is passionate about his work! From the moment he arrived to our wedding, he made sure to go above and beyond to get the shot. He was great to work with and does everything in his power to make his clients feel comfortable in front of the camera. So thankful that we were able to have him as our wedding videographer. We have received so many compliments about the quality of our wedding videos. Everyone thus far has told us that this the BEST WEDDING VIDEO THEY HAVE EVER SEEN! Thank you again Tony for being a part of our big day! We will definitely book again for future events! 👏🏽🥰🎥❤️

Anjali

Married on 08/07/2021

100% Worth It!!

When my husband and I started looking for videographers for our wedding, we looked at a TON of wedding videos. We saw many that were sweet and nice but had a hard time picking among them. When we stumbled across Tony's videos, he immediately stood and out and we both were in agreement - we had to have Tony and his team as our videographers! The wedding videos were all so fun to watch - the storytelling was just amazing and we knew we had to have him be the one to tell the story of our wedding. 

Tony's personality was also a great fit - not only is he extremely talented and skilled at his craft (and incredibly hardworking!), at the same time he is also very personable and fun to be around. He wasn't just our videographer but felt like our friend and hype man. He was genuinely a joy to have around at our wedding.

When we got our same day edit and wedding diary, we were both blown away. Even with our extremely high expectations, he did not disappoint! It feels like a perfect retelling of the highlights of the wedding with all the emotions captured so perfectly. He did a great job of capturing both the sentimental moments, as well as the joy and fun.  These are videos that will be cherished for a long time, not just by us but many of our family and friends. We are so grateful to Tony and the Iris Films team for capturing our memories so perfectly!

Donielle W.

Married on 07/24/2021

The Best in the Business!

Tony Pombo is the GOAT! If you are looking for a quality wedding videographer with lots of experience, professionalism, and a creative eye, look no further! My husband and I used Tony for our July 2021 wedding, and we were so, so pleased! Tony beautifully captured our big day and he brings great energy and attention to detail. Furthermore, he worked extremely well with our wedding photographer and the entire wedding party. TONY MISSED NO DETAIL in capturing our big day. All of our family and friends have commented that our wedding video has been one of the best they've ever seen! Looking back, the only regret I have is not booking Tony for our other wedding events (rehearsal dinner, bridal shower, etc). He is THAT good. Wedding videography is definitely an investment but Tony is worth every penny!

Efua O.

Married on 07/17/2021

The BEST cinematographer EVER!

Iris Films is truly an amazing cinematography company! I am so blown away by everything he's delivered for my wedding. Iris Films shot my wedding in the most perfect way and my husband and I are truly grateful. First and foremost Tony has an amazing personality. He adds such positive vibes to your special day. Secondly his talent is unmatched. I am
Beyond pleased with his work. I got exactly what I wanted. My videos are just to die for. My family and friends keep raving about how awesome my videos. Thank you so much Tony! You have really made our dreams a reality with your amazing work. I really wanted my wedding videos to be a movie and Tony gave me exactly what I asked for.

Eryn H.

Married on 06/28/2021

Celebrity videographer

nice quality and quick responses. They have done a lot for celebrities as well. They do not offer photography.

Omolara

Married on 06/26/2021

Hire iris films now!

All I can say is TONY TONY TONY! He is absolutely amazing. He has a beautiful spirit and truly captures the essence of weddings. Tony sent me our wedding video yesterday and it has already been sent to London and Nigeria. Do not hesitate or think twice if you are considering Iris Films. Just hire him. I guarantee your heart will be filled with absolute joy when you watch your wedding video. If I had to do it again I would hire him and pay him more than what I did because it is 10000% worth it! Thank you so much Tony. You truly made my wedding day absolutely perfect!

Celine M.

Married on 05/29/2021

THE best decision we made!

When my husband and first I began planning our wedding, videography was not something we intended to invest in. We had intended, like most couples, to find someone who would do a decent job and create a nice video that we may or may not watch on our anniversary. But then we met Tony and Iris Films and everything changed!

Never in our wildest dreams did we imagine that a video would be able to capture so much of the essence of our wedding day - but that's exactly what Iris Films did! Since our wedding we have watched our trailer and video countless times! They've allowed us to re-live all the most beautiful, heartfelt, and priceless moments from our wedding. On top of this, Tony and his team are truly incredible at what they do! They are absolute professionals in every sense of the word, but also THE most down-to-earth people you will ever meet! They are flexible and immensely creative. They combine the work and final product of a multi-million dollar production company with the attention and feeling of a family business. We felt immediately comfortable and at ease welcoming Tony and his team into our most intimate wedding moments. It honestly felt as if they were simply our friends enjoying and celebrating our love alongside us!

Trust us when we say that you will NOT regret investing in Tony and his team come wedding day. It was the best decision we ever made!

Lawrence B.

Married on 10/17/2020

Phenomenal work + Amazing attitude = Winning!

Tony's work speaks for itself, but what makes him the best is his personality. Don't get me wrong, his work is phenomenal, creative, and beautiful. But with it comes a great spirit and energy which enhances your day and your footage. Our wedding was a special day and Iris Films captured it perfectly.

Shani C.

Married on 08/29/2020

Absolutely amazing!

Tony is absolutely amazing! He has an energetic spirit and soul, and brings all the positive vibes needed on your wedding day! His work speaks for itself— he has great attention to detail and captures all of the special moments!!! We absolutely love him and can't wait to work with him again for our reception next year!

Allison S.

Married on 06/20/2020

The BEST around!

Tony is the BEST hands down! He and his team were so friendly, funny, and professional. They rolled with a packed schedule we laid out for the day and seemed to capture our spirit from the songs they chose to the moments they wove together into beautiful keepsakes! Their turnaround time is also very impressive. You won't be disappointed with this crew, guaranteed!

I X

Married on 01/01/2020

Wow! Genuine; an absolute pleasure to work with

Six words to summarize: TONY IS AMAZING; HIRE HIM IMMEDIATELY!!

After going back and forth on whether we wanted a videographer at all, we decided to hire Tony upon recommendation of a friend even though the company wasn't on my planner's preferred vendors list (yet — he's on it now).

This might have been one of the best decisions we made vendor-wise because Tony was SO amazing. He has a great personality, and made it feel natural to be in front of the camera. He is so genuine and we got the sense that he loves his job and craft so much.

On top of that, he's incredibly responsive and he works with you to make sure you love the final product. When we had a few special requests after he sent us the video, he listened to what we said and made our changes (to perfection, I might add) that very night.

If you're on the fence about hiring a videographer, I say: "Just hire Iris Films!" You won't regret it.

Mariya B.

Married on 10/26/2019

Iris films = best. Decision. Ever!

Tony is the real MVP! I cannot even begin to describe how thrilled my hubby and I are with our wedding footage. Tony possesses a sheer talent that is unmatched. Hiring Iris Films to capture our special day was one of the BEST decisions we made for our wedding, if not THE BEST decision. We are so grateful that we get to relive the magic of our wedding over and over for the rest of our lives - all thanks to Tony. If you are contemplating adding videography, DO IT. If you are contemplating who to hire, HIRE IRIS FILMS. Had we not made this decision, I can guarantee it would have been our greatest regret. I cannot explain the amount of joyful tears my husband, family, and friends have cried playing back our highlight reel. Being able to look back at the most memorable moments of our lives is absolutely priceless. Speaking of price, I got several quotes from vendors, and Iris Films was beyond fair for the quality of work they deliver. All of my vendors were incredible, but if I could only recommend one, Iris Films would be it. Can't thank Tony enough!

Laura

Married on 09/07/2019

Creative & FUN Videographer

Tony did an amazing job with our wedding trailer and highlight video. He was so much fun to work with on my wedding day and Tony has great attention to detail to capture all of the key moments. He is very professional, responsive and works with you to accommodate on special song requests and other details that were important to us. I highly recommend Tony to do your wedding cinematography/videography, you will not be disappointed!!

Ashley W.

Married on 08/17/2019

Amazing from start to finish!

Seriously gets NO BETTER than Tony and his team! Tony's passion and expertise for his skill is so noticeable and appreciated; this is just one reason as to why he is the best. The day of, I didn't have to ask him to do anything, he got EVERYTHING and is truly a professional. His energy is contagious, and you can tell he loves what he does. The end result is beyond words, and I'm so thankful he was one of my dream vendors. I would recommend Tony 1000 times over, and say you're crazy if you don't book him for your big day!

Renee

Married on 10/07/2017

Tony from Iris Films completely exceeded my expectations. He and his team were professional, timely and the attention to detail was second to none. Honestly I felt they were so engaged and so invested in our wedding day. everytime I looked around they were there filming, and never missing a beat. It is quite honestly the best money I have ever spent and will cherish my film forever. thank you Tony for your impeccable expertise and really raising the bar when it comes to videography.
for soon to be brides you definitely need to hire Tony and Iris FIlms for your special day you will not regret it!!

Allison

Married on 09/15/2017

If I could give Iris Films a 10, I would, because they really deserve it! Great videography was very important to me on my wedding day. I searched high and low to make sure that I found the best person for the job. I was not disappointed either, because Iris delivered a product that was far beyond my expectations- and I have a keen eye for videography/cinematography. I've watched our wedding diary numerous times. Each and every time I see it, it brings tears of joy because Iris Films captured ALL of the special moments on our wedding day.

Not only was the film quality and the final product excellent, but Tony is also an amazing person to work with. He was extremely professional, always on time and is one of the nicest and most pleasant people that you would ever want to meet. Hiring him to film our wedding is hands down one of the best investments that we made.

Wendell

Married on 05/20/2017

I would say that over 20K views and 200 shares of our wedding video on Facebook, in 2 months, is an excellent indication of Tony and the Iris Films team's brilliance. Tony and are Dream Catchers. There is such poetry to their artistry. They captured every special moment of love, joy, happiness & pride on our special day. They easily navigated through the complexity of our day by simply capturing our hearts. There is nothing more pleasing than experiencing our wedding day again and again, through the lens of Iris Films. We were as emotional watching the video as we were on our wedding day. Tony and the Iris Films crew are very special people and are now part of our family. The best experience ever!

Umangi

Married on 04/29/2017

Tony and his team were fantastic! They did a SPECTACULAR job in filming our 3-day Indian wedding! We (and all of our family and friends) loved the highlight vide and coverage. From beginning to end, Tony was very accessible, understanding, and flexible to work with - I would recommend him to all my family and friends!

Lily

Married on 08/13/2016

Tony is not only an incredible and talented videographer, but he is also a kind, outgoing, and wonderful person. From the moment we met I felt like we were meeting an old friend. Neither my husband nor I enjoy being in front of a camera, but Tony made it feel so easy and natural. It seemed like he really understood us and what we wanted. Our video captured our wedding exactly how we wanted it remembered, with lots of love and laughter. I cannot thank him enough for making us look like movie stars while still staying true to who we are! THANK YOU TONY!!

Kristina

Married on 05/29/2016

I scoured the internet for a videographer knowing that I wanted something unique and then I found Tony. I watched nearly all his wedding videos and loved each one; each time I watched one I felt as if I was there and I wasn't bored either. I knew I had to him apart of my wedding day. Tony and his team were phenomenal on my day and he captured everything beautifully. I highly recommend his services; Tony thank you for helping make my wedding unforgettable!

Melissa

Married on 04/30/2016

All my dreams came true when I found out that Iris Films was available to document our wedding day! I had not even met Tony, but after watching one of his brilliant wedding videos, I knew our wedding day would not be complete without him! Meeting Tony and his assistant Nick for the first time on our wedding day was an absolute joy! Their positive energy was infectious as soon as they walked through the door. I could tell instantly that they were genuinely excited to be there filming with us. Watching our wedding video for the first time was literally unreal, we were completely blown away! We never thought that we would ever get to feel the same emotions again that we did on our wedding day....until we watched our video. Getting to relive the best day of our lives whenever we want is truly priceless. Iris Films (Tony) surpassed all of our expectations and we are so blessed that you could be there to capture the best day of our lives! Saying thank you could never be enough!
Are you interested?
Send a message