24 Reviews
Recommended by 100% of couples
Quality of service

5 out of 5 rating

Average response time

5 out of 5 rating

Professionalism

5 out of 5 rating

Value

5 out of 5 rating

Flexibility

5 out of 5 rating
61 User photos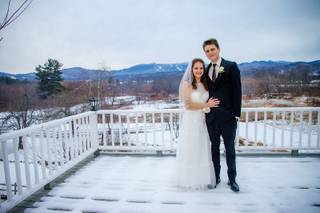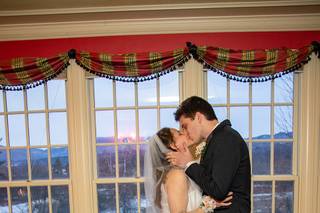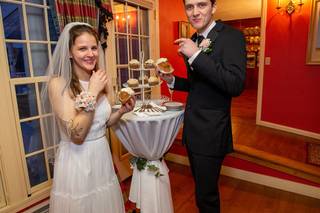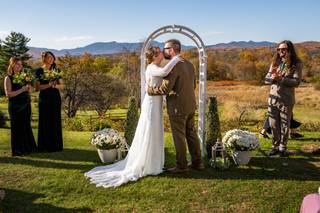 + 57

photos
Lexie G.

Married on 01/17/2023

J&L 01/17/23

Intimate Weddings Vermont helped us achieve our dream wedding. A small gathering filled with love and surrounded by our favorite people.
Everyone that took part in making our day happen was very friendly, professional, flexible and supportive. Thank You Intimate Weddings Vermont :)

Jessica S.

Married on 10/15/2022

Stunning Location & Impeccable service

Our wedding was everything we could have hoped for and more. Marcy & Linda were quick to answer any questions that we had and to make sure that all of our needs were met. Every aspect of Birdsong Farm is simply beautiful. The food was amazing; from the delicious local cheese board to the incredible cake our guests couldn't stop raving about! It was truly a day that we will never forget. We absolutely recommend booking your wedding with Intimate Weddings Vermont!

+ 2

photos

Kellyn B.

Married on 10/08/2022

Everything was perfect!

Words cannot express how amazing our wedding was through Intimate Weddings Vermont. Marcy and Linda were well organized, thoughtful, and kind. The venue was quaint and beautiful and made for amazing wedding photos. My husband and I needed a small intimate ceremony that was unique to us and Marcy created just that. The cupcakes provided were baked by Vermont Sweet Tooth and were absolutely delicious. We feel really lucky to have had the experience we did through Intimate Weddings Vermont.

Are you interested?

Send a message

Vanessa B.

Married on 10/01/2022

Amazing!

We had a micro wedding with 13 people total and it was the most amazing experience. The venue is gorgeous and the cupcakes are delicious (which my sons adored). Marcy and Linda are so sweet, caring and thoughtful. Marcy took so much time helping us decide what we wanted and helped create our vows exactly how we wanted them. Katie and her mom are phenomenal photographers and we received our beautiful photos promptly. I cannot recommend this place enough. Truly amazing!

Cybill

Married on 09/24/2022

Wedding Champions

I will be forever grateful to Marcy and Linda for making the dream of an intimate wedding a beautiful reality. As soon as we saw pictures of Birdsong Farm on their site, we knew that's where we wanted to be married. I trusted Marcy and Linda from our very first conversations and at no point did that trust waiver. They made the planning process easy and fun, they were incredibly responsive and clear on every question I had, but nothing compares to how they are on the day. They were organized, kind, and accessible while also letting us have room to mingle, take pictures, etc. But above all, we saw the way they took care of our guests and it truly touched our hearts. Marcy and Linda were our champions on our wedding day and I was so glad that we never considered anyone else. We will never be able to thank them enough for giving us the day we had dreamed of.

Valerie M.

Married on 08/01/2022

We could not be happier with our experience with Intimate Weddings, Vermont!

Linda and Marcy did an amazing job tailoring our special day to be exactly what we wanted. They helped us personalize things each step of the way and the result was a beautiful wedding that we will remember for a lifetime.

Suzanne S.

Married on 07/02/2022

Perfect venue for a small wedding

We wanted to have a very small wedding and struggled to find a venue that was only for small groups. A lot of places would accommodate us but the price and size didn't make sense for a group of our size. I found Intimate Weddings Vermont and it was just perfect for our group. We ended up with 32 people. We had a beautiful outdoor ceremony in the afternoon in July. The weather was absolutely amazing but we had a tent set up off to the side (which was nice because it gave us a seating area and shade for our guests). Linda and Marcy handled everything we needed - the ceremony, the food and drink, cake, flowers, and photographer. They also recommended a few restaurants to have a wedding dinner at later and we chose Michael's on the Hill which was phenomenal as well. There are a lot of logistics and decisions to make even with a small wedding. It was almost like having your own wedding planner because they coordinate with the vendors and everything for you. It was absolutely our dream wedding everything about the day was perfect!

Mackenzie J.

Married on 06/03/2022

Perfection!

Marcy and Linda were AMAZING! They were so helpful and made our wedding better than we could have imagined. Even though we had a private ceremony, planning even a small wedding can be stressful and they made it so easy, answered all of my questions, and were an absolute pleasure to work with. They even booked our photographer for us. I cannot recommend them enough! The venue itself was absolutely beautiful. We requested to have the ceremony by the pond out back (although the deck and indoor ceremony space are also very lovely) and it was unbelievable.

Alicia P.

Married on 03/19/2022

Everything we could have asked for

Marcy and Linda were a pleasure to work with and captured our vision perfectly . From the cupcakes, venue, and flowers it was spot on. We couldn't have asked for a better wedding .

Rick A.

Married on 03/05/2022

Just perfect in every way

As the groom of this wedding, I am so happy about how this all came together, how the home owner hosts welcomed us into their home, and how Marcy and Linda handled this from start to finish.
Such an amazing venue and now I want to renew our vows already and it's only been less than a month. Plans for the future.
I highly recommend this for anyone who really wants a special and intimate wedding. Rick.


+ 4

photos

Monika A.

Married on 02/26/2022

Beautiful place for a small wedding.

I contacted a few other wedding venues, some of them were booked, some others were available. They were the first ones to respond, and after looking at their pictures of previous weddings, and talking to them on the phone, or by email, I didn't even hesitate! They were the perfect place for us, as we decided to have a small celebration with just the two of us. Linda and Marchelle were amazing! They were very thoughtful and caring. They made us feel so excited about our ceremony. I also think they were very professional. We were organizing everything by ourselves, and they saved me a lot of time and stress by providing a lot of services at once. They even recommended us an experienced great flourist and connected me to an amazing photographer. Marchelle called me to go through every little detail and planning. That was a relief for me so I could focus on other things. I strongly recommend Intimate Weddings Vermont for any small gathering. The views will not disappoint you! We couldn't get outdoors too much because of the winter season, but I'm sure it is even more beautiful during the other seasons. We are very satisfied and happy with them!

+ 5

photos

Laura M.

Married on 02/12/2022

Perfect small Vermont Venue (all inclusive)

My husband and I wanted a small beautiful venue in Vermont that we could host our close family and friends to join in our special day. As a family that skis; the views of Stowe were a bonus! We stayed the whole weekend and truly made it special with skiing and family/friends get togethers. Perfect day. Everything was seamless! It was such a special day, vows, cake, musicians, and photographers. I would recommend to anyone looking for a small, intimate, and meaningful wedding. The cost was very reasonable for everything. They made it easy as it was all done as a package with the great team that put everything together. Thank you for making our wedding exactly what we wanted! Aaron and Laura Jeskey

Julia P.

Married on 11/20/2021

Small Wedding

Intimate weddings Vermont made my wedding experience easy stress free and wonderful! Marcy and Linda were responsive, flexible and took all the stress out of my wedding planning. They took the time to get to know me and my now husband and personalized our ceremony and reception to perfectly fit us. I would highly recommend them!

Michael G.

Married on 10/08/2021

Best time ever! Highly recommend

Everyone went above and beyond for us. We can't get over how nice everyone was . It truly was the best day ever. The property is gorgeous and the view is a bonus. Marcy, Linda, Marion. Thank you again and we hope to see you all soon!

K G

Married on 10/08/2021

Stowe Elopement

Had an amazing experience using Intimate Weddings and having our elopement at Birdsong Farm in Stowe. Marcy and Linda were so accommodating and easy to work with and made the day truly special and tailored to us. Would recommend to anyone looking for an intimate and romantic elopement/wedding.

Heather J.

Married on 09/26/2021

Amazing place

This place was amazing! Picture perfect for our wedding! The service was great!! Communication was great. Guided through the whole process!

Seamus M.

Married on 06/18/2021

Seamus & Tara's Wedding

We were interested in a small ceremony just us two and a location with beautiful scenery, mountains, and great hiking trails. That is what got our interest in Vermont and we came across Intimate Weddings and seeing the pictures at Birdsong really got our interest. Linda and Marchelle were absolutely fantastic with communication, made the planning so easy, and gave us a wonderful & beautiful ceremony! They also connected us with an amazing local photographer and we couldn't be more thrilled with the pictures. Highly recommend using them as your wedding coordinators and team!

Joslyn R.

Married on 05/18/2021

Perfectly Professional & Phenomenal

Marcy and Linda were exceptional from initial contact and contract discussion, to ceremonial details and the execution of our ethereal gothic wedding day! The amount of care conveyed to portray our perfect day (even down to our allergies and the placement of my DIY dried flower arrangements and lanterns,) was unlike any other attention I've pleasantly encountered before. Even when I had moments of anxiety, Marcy provided immediate comfort and ease regarding the meticulous details that consumed me.

Needless to say- if I could get married to my husband again in our wonderfully dark and sultry wedding adornments among the beautiful spring atmosphere of Birdsong farm with our loved ones, Marcy, Linda, and Sarah by our sides, I would.

+ 4

photos

Nicole C.

Married on 03/21/2021

Amazing from day 1 of planning!

We had to plan a wedding in less thank 2 weeks due to my husband deploying. Not only did they help me through the process and deliver an amazing experience- they made it customized to us. I would give more than 5 stars if I could! From our vows to the gluten free cupcakes this place nailed every detail. They also recommended a great photographer who captured our personalities and the feelings from that day.

+ 2

photos

Karolyn A.

Married on 10/10/2020

The most intimate, beautiful, magical day ever!

I am so grateful and delighted to have found Marcy and Linda at intimateweddingsvermont.com! My husband and I had the best day ever because Marcy and Linda made everything so easy and effortless!

Marcy took the time to meet with us a couple of times online to get to know us and the story behind our journey. She expertly wove the most important details of our talks together into our ceremony, truly creating a personal and one of a kind ceremony.

Linda helped us navigate all of the practical aspects of the day; the timing, the food and drink, ensuring social distancing of our tiny group was in place, musical selections, the cost, photography, flowers, and helping us to virtually rehearse.

The setting is just right but most important, I felt as though I had a small team of angels helping to guide our day. Marcy and Linda's attention to detail ensured the only thing we needed to think about was enjoying our beautiful day!

We are SO grateful for the care and attention Marcy and Linda provided to us! They thought of everything, and answered questions that came up along the way. They offered support, suggestions and ideas, and most of all, made us feel comfortable and welcomed us to the next chapter of our story.

Thank you so much for creating with us, the most magical day ever!

Rachel W.

Married on 08/01/2020

Beautiful Vermont Wedding

Absolutely Amazing! It was more than I could ever dream of! Marcy and Linda are truly amazing! Personal, Professional, kind, so organized. Truly thought of everything down to very simple yet meaningful details. My husband and I were just amaze at how they translated our vision into a dream wedding celebration.

Please contact them for a perfect, romantic, timeless and beautiful Vermont wedding

Patti M.

Married on 06/21/2020

Perfect Vow Renewal

Our experience with Intimate Weddings and their staff was outstanding. They attended to small details such as greeting me at the car with a giant umbrella as it began raining upon my arrival. Marchelle was a thoughtful officiant, taking the time ahead of the ceremony to listen to what was important to my husband and me which made for a lovely personal feel to the ceremony. Her calm but joyful demeanor put us both at ease. After the rain ended, the Birdsong Farm deck offered the stunning backdrop of Mt. Mansfield and the ponds with the resident swan added a lovely and romantic touch...a deer even made an appearance! The hors d'oeuvres were delicious and the cake was an incredible work of art and one of the best I've ever tasted. I cannot recommend Intimate Weddings Vermont highly enough...thank you Marchelle and Linda for the perfect vow renewal that my husband and I will remember forever.

Michael W.

Married on 01/08/2020

Marcy and Linda are wedding Rockstars!

Incredible! My wife and I were married August 1, 2020 and Marcy and Linda are an outstanding team! Professional, kind, understanding, thorough and so much fun! They made planning a wedding fun and the wedding itself was a dream-come-true experience.

Please contact them for a perfect, timeless, and classic Vermont wedding!

Thank you Marcy and Linda!

Gretchen S.

Married on 05/03/2018

The best decision we made (aside from getting married!)

This amazing duo of women who specialize in intimate weddings and elopements helped us pull together a beautiful and amazingly personalized ceremony in a very short window of time. Not only was our ceremony site beautiful, but our hosts were very COVID-conscious and kept our families safe. They went above and beyond to ensure our ceremony and celebration suited our needs and reflected who we are as a couple. Our families were blown away by the beautiful setting and fantastic officiation of the ceremony. Some said it was the best wedding they'd ever been to, as it was sweet, sentimental, and perfectly executed. We are eternally grateful to our gracious hosts and talented photographer for making our day so very special!
Are you interested?
Send a message