Reviews
5.0 out of 5 rating
Quality of service

5 out of 5 rating

Average response time

5 out of 5 rating

Professionalism

5 out of 5 rating

Value

5 out of 5 rating

Flexibility

5 out of 5 rating
100%
Recommended by couples
11 User photos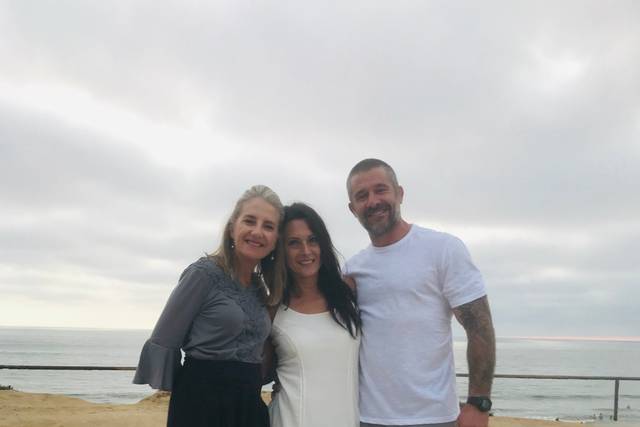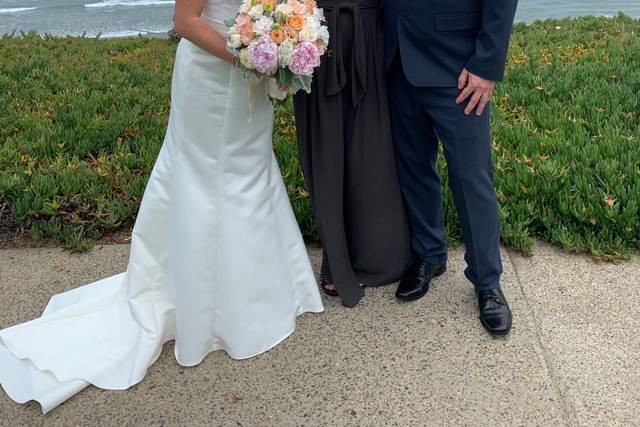 + 7

photos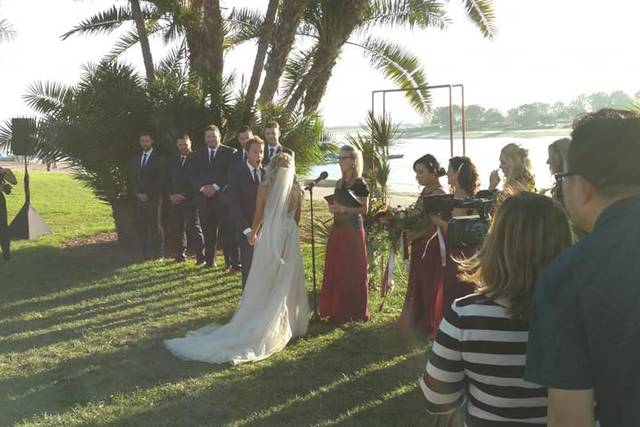 Kristen M.

Married on 06/24/2023

Glad to have this beautiful soul unite us

Kristin is so communicative, kind, and caring. Her gentleness and love for the couples she joins in matrimony made our day even more heartfelt and beautiful. I highly recommend her for couples who want a personal, meaningful, and beautiful ceremony.

Intimate Ceremonies San Diego's reply:

Thank you beautiful Kristen. I loved getting to know you & Thomas and uniting you in marriage. Yours is a beautiful love and I will remember you always ❤️

Alessandra Z.

Married on 11/03/2022

Beautiful ceremony thanks to Kristin!

We were so honored to have Kristin Quick officiate our ceremony. She is so genuine, emanates positive energy, and is just a calming soul to be around. There was rain in the forecast for our wedding, but she was adaptable to any changes and assured me everything would turn out fine regardless of the weather. The sun came out and she delivered a beautiful ceremony and was also able to incorporate my favorite poem upon my request. So grateful that we found the perfect person to marry us!

Intimate Ceremonies San Diego's reply:

Thank you so much lovely Alessandra xo. I am very grateful that you & Kevin invited me into your love story and most special day. And happy that the sun came out for you! I will hold you in my heart and happy memories always. ❤️

Alison

Married on 10/07/2022

Wonderful Officiant!

Kristin was the absolute perfect fit for our ceremony. She was warm and friendly from our very first email exchange to our special day. We met via Zoom to discuss how the ceremony would look to us, our needs and wants, and to go over our love story. She provided ample reading selections to chose from so our ceremony could be unique to us. She truly was amazing and I cannot say how at ease she put both my husband and I. Thanks so much Kristin, you were wonderful ❤️

Intimate Ceremonies San Diego's reply:

Thank you so much Alison ❤️ It was a joy to unite you and Matt and meet Rhino and your wonderful family & friends. I am still floating in your love bubble! Thank you for choosing me, you will be in my happy memories always!

Are you interested?

Send a message

Elizabeth

Married on 08/13/2022

The perfect officiant!

Kristin officiated our August 2022 wedding and did a fantastic job! We met with her ~9 months prior to the wedding to talk about our story, our vision for the ceremony, and walked through the general flow of the ceremony. Kristin was extremely easy to talk to and we felt like friends by the end of the call. To create our ceremony, Kristin provided us with an extensive list of readings that we could choose from and she would incorporate into the script - we ended up choosing two and she perfectly wove them into the ceremony. On the day of, Kristin checked in with both of us prior to the ceremony to see how we were doing and give us some tips on how to stay present in the moment. Her ceremony script was exactly what we wanted - short and sweet, while focusing on our friendship and love for one another. I was initially nervous about standing in front of 150 people and reciting vows, but she made us feel calm and comfortable at the altar. Our experience with her could not have been any better and we are so happy to have had Kristin be a part of such a momentous occasion in our lives!


Gracie J.

Married on 12/18/2021

Great experience with Kristin!

Kristin is wonderful! Because our wedding was postponed twice due to Covid, our ceremony ultimately was very different than we originally planned. Throughout all the uncertainty of the postponements, Kristin was extremely flexible and understanding. She helped us to create a ceremony that celebrated our marriage with all of our friends and family. I highly recommend her as an officiant!

Danielle L.

Married on 09/12/2020

Beautiful Ceremony

Kristin was wonderful to work with. She was extremely helpful with getting us information on how to get our marriage license and made sure we knew of updates from the county, on office openings and closures due to Covid-19.
She gave us lots of suggestions and put together a beautiful ceremony for us. She was able to attend our rehearsal, which made us more comfortable for the actual ceremony.


Intimate Ceremonies San Diego's reply:

Thank you Dani, it was a joy and privilege to be a part of your ceremony celebrating your 13 years of love! ❤️ You and Bob are meant to be together and I wish you a lifetime of love, laughter and best friendship. Take good care of each other xo

Tyler K.

Married on 07/19/2020

Truly blessed to have Kristin officiate our wedding!

Kristin was supportive from day one on our initial phone call as we shared our love story. Throughout the whole process of coming up with our ceremony script, we could tell that Kristin really loves what she does and celebrates our love for each other.

During our wedding ceremony, we were both nervous wrecks. Luckily we had Kristin by our side to warmly and calmly guide us through everything. After the ceremony, we received a lot of compliments from our guests on how true and touching the ceremony was.

We were truly blessed to have Kristin officiate our wedding!

Intimate Ceremonies San Diego's reply:

Thank you Tyler for your kind words, and thank YOU both for the privilege of being a part of your most special day! You and Quynh were a delight to know and unite in marriage :). Many blessings to you and your family always :)

Andrea D.

Married on 10/25/2019

Kristin is a Total Sweetheart!

Kristin came highly recommended to us by a friend. We met with her so she could get to know us as a couple and the type of ceremony we wanted. She suggested so many blessings and had several templates we could choose from. Together, we created our perfect ceremony script. She has such a calm and loving energy about her which was perfect for our ceremony!! Thank you so much Kristin for being part of our special day! We will always remember you!! 

Intimate Ceremonies San Diego's reply:

Thank you for the lovely review Andrea :). Working with you and Patrick was a joy. Experiencing you both taking your ceremony and marriage to heart and bringing back some traditional aspects was wonderful to be a part of ♥️. I will remember you both always with gratitude. Thank you for inviting me into your "Happiest Day Ever!"

Mallory S.

Married on 09/21/2019

Kristin Is Wonderful!

My husband and I couldn't be happier with our decision to have Kristin officiate our wedding back in September. Kristin truly cares about all the couples that she officiates for and it really shines through in her kind, calming, and positive demeanor. She immediately put us at ease from the moment of our introduction call all the way till the big day. We both commented that after the introduction call, we felt like we had known her for years. She made an effort to really get to know us, tell us about her background and walk us through what the ceremony would look like. She offered helpful suggestions that we hadn't even thought of. One in particular, which we really loved and did was for our unity ceremony - we put the vows that we would have said to each other on the day of and 2 bottles of beer (which fit in nice with our wedding at Stone Brewing) into a box that we will then open and read on our 1 year anniversary and repeat for the years to come. She also walked us through all the steps involved with getting the marriage license and after the ceremony, she took care of submitting the marriage license back to city hall which really made the entire process seamless. She even gave us breathing techniques to help remain calm and present in the moment – which I needed:) We got so much positive feedback from our guests about how great Kristin was and we can't recommend her enough!

Heather H.

Married on 08/24/2019

Absolutely who we needed to meet in our process!

Kristin provided and facilitated an intimate process. Exactly what we were looking for! Kristin made our special moment together so simple and beautiful. Thank you Kristin for being so calming and pleasant, and helping us set everything up so effortlessly :)

Alicia C.

Married on 06/25/2019

Kristin Gave us the Perfect Wedding Ceremony!

My husband and I love Kristin! She was extremely supportive and helpful guiding us through the process of preparing for our ceremony. I really appreciate how astute she is on our cultural background and coordinate colors to match our wedding. On the day of our wedding, she was a champ and delivered the perfect wedding ceremony incorporating our love ones, and our fur babies. Kristin gave us the perfect wedding ceremony! We couldn't recommend her enough to others.

Victor P.

Married on 06/25/2019

Made our Wedding Perfect!!!

Kristin did a fantastic job of marrying me and my wife Alicia in small intimate ceremony with our family. Ahead of the wedding she provided great advice on the marriage process and solicited our personal touches to the ceremony. On the wedding day itself, she was terrific in being patient with us, our dogs and our photographer. When it came to the ceremony she knocked it out the park with a touching and personal ceremony. She totally made our wedding ceremony everything we could hope for. We can't recommend Kristin enough.

Linda

Married on 06/23/2019

Great experience

It was so easy to work with Kristin for our wedding ceremony! From the initial consultation with her, it is clear that she wants to get to know the couples that she works with personally in order to make the ceremony special for them. We had a pleasure working with her!

Sarah F.

Married on 12/08/2018

Kristin is the BEST officiant in San Diego!!!

Kristin is one of the warmest and kindest people we have ever met and we are so fortunate to have had her officiate our wedding in December 2018!!! My husband and I are from the Bay Area and we were planning our wedding a year out from our destination coastal wedding in La Jolla. Another one of our incredible wedding team highly recommended Kristin to us so we reached out right away! We heard back from her immediately and we arranged a date to meet with her as we were heading to SD for the New Year holiday to see family and friends. We met Kristin at our hotel in La Jolla and my goodness, we were both immediately taken by her positive energy and kindness. She took at least an hour to get to know us and to begin to sculpt the perfect ceremony to meet our needs. She is such a GEM and we knew we had found our perfect person to wed us the following year. We stayed in touch with Kristin over the following year and as the date approached, she sent us the ceremony she had designed specifically for us. IT WAS ABSOLUTELY PERFECT!! Every word she had written completely captured what we had wanted and then some!! We cried when we read it!! At the day of our wedding, Kristin was such a calming force for both myself and my husband before and during the ceremony. Her calm presence and uplifting and powerful words had us all in tears!!! WOW! It was so incredibly special and we will forever express our deepest gratitude for having met this incredibly special human being. Thank you, Kristin from the depths of our hearts!

Logan

Married on 11/10/2018

Wonderful experience

Kristin made our ceremony incredibly special. She was super flexible and made sure that our ceremony truly reflected both our individual personalities and also our relationship. She asked great questions and helped us think through what marriage meant to us as we planned our ceremony. Kristin was also incredibly responsive throughout the entire experience.

Jessica

Married on 10/13/2018

Kristin is amazing!

My husband and I are so thankful for the work Kristin put into our wedding. We live in Las Vegas and had a beautiful destination wedding in sunny San Diego, and Kristin really worked with us to make sure our ceremony was perfectly tailored to who we are as a couple (without even meeting us in person yet). Our guests had rave reviews about how wonderful/special the ceremony and vows she put together were. We are so happy she was a part of such a special moment - one we will NEVER forget.

She even matched her outfit to the colors my bridesmaids wore - it's the little things!

Intimate Ceremonies San Diego's reply:

Thank you beautiful Jessica 🙏 Being part of your wedding day was an honor and I enjoyed every correspondence with you from our first call to finally meeting in person on your wedding day (And was in awe of your beauty inside and out)! :) It fills my heart to know that you and Andrew and family and friends enjoyed your ceremony, and you are right, "The little things truly are the big things".
Thank you for inviting me into your love story, I wish you and Andrew a lifetime of love, joy and best friendship ❤️

Janelle

Married on 09/22/2018

Kristin is so great. We were looking for someone who had a very good, mellow vibe to officiate our wedding, and Kristin was perfect! We had an initial phone call with her, and she covered everything and even provided a full script that we were free to edit however we'd like. She was very flexible and totally open to our edits, suggestions and questions.

We later met her in person at our venue so she could see the setup since it was a bit non-traditional, and we had such a great time. She made us feel so at ease and offered great advice. A friend had remarked to me at one point that vows should be similar, like my vows shouldn't be super serious if my hubby's vows were more playful and fun. I asked Kristin about this and she basically encouraged us to just be ourselves and not to worry about whether our vows had a different tone—that they would reflect us and our personalities. I thought that was great response.

I had also shared with Kristin that I was terrified of attention, and was genuinely worried that I might faint or something before or during the ceremony. She had great advice and her presence is so calming that it really helped on the big day.

Part of our vows included a goofy song lyric thing that my hubby and I repeated to each other during the ceremony before the "real" vows, and it got a good laugh. I appreciated that Kristin was open to including our goofiness on our special day.

Kristin was totally professional throughout the entire experience and such a breath of fresh air during a stressful time. She is the best!

Isabel

Married on 07/28/2018

Kristin did an excellent job officiating our wedding ceremony. She was easy to work with, and was able to adjust the ceremony script to reflect our personal tastes, such as our definition of love and personal vows, as well as incorporate a Jewish tradition into the ceremony. Since my husband and I planned the wedding ourselves, we had a lot of last minute edits and requests, and she was able to work all of them in and provide us with guidance where needed. We would recommend Kristin for anyone in the San Diego area looking for a professional and personable officiant for their upcoming nuptials!

Sarah

Married on 06/21/2018

My husband Seth and I could not be happier with the experience of having Kristin officiate our wedding. We chose to do a private elopement on the beach at Coronado Island, alongside our beloved pug Violet.

When we met with Kristin to plan the ceremony, her warm and open demeanor immediately put us at ease. She seemed genuinely interested in getting to know us and learning about our relationship and what we envisioned for our ceremony. She then sent us her lovely script for the ceremony, which offered numerous options to allow us to customize it to our liking (for example, she offered many different "definitions of love"; we chose the beautiful Apache Wedding Blessing).

The day of the wedding, Kristin was very organized and professional. At the same time, her easy-going nature helped calm our nerves. The ceremony flowed beautifully and was even more lovely than we had hoped. As an amazing bonus, Kristin also has an extensive background as a florist. She designed a gorgeous bouquet for me in my favorite jewel tones along with an adorable floral wreath for Violet. Finally, her service of hand-delivering the completed marriage certificate is just one more example of her going above-and-beyond for her clients.

We can't recommend Kristin highly enough. She was a very important part of a day that we will always treasure.

Fion

Married on 05/12/2018

Kristin has a genuine comforting demeanor that kept us centered and at ease. Her guidance during the wedding was a welcome blessing for our for our wedding team. Thank you Kristin!

Jeff

Married on 03/27/2018

Kristin was a delightful and professional officiant. My wife and I chose to do a low-key elopement on the beach, and Kristin not only conducted a beautiful ceremony—she even helped us find the perfect spot.

Her easy-going manner also helped remove whatever stress we might have felt. Can't recommend highly enough!

Jeff & Amy

Intimate Ceremonies San Diego's reply:

Thank you Jeff and Amy for the honor of officiating your wedding and creating your sweet and simple San Diego elopement. Your energy together is beautiful and it was fun to design your bouquet & boutonnière as well :)
Kristin (photographer) and I enjoyed our time with you both!
Wishing you a lifetime of love, joy and best friendship ❤️❤️

Tracey

Married on 03/09/2018

Kristin is such an amazing person and beautiful soul. We felt so lucky to have crossed paths with her and have her officiate our wedding. She really cared about making this experience about us down to how the vows were structured, the ambience of the location and connecting with our family and friends. I feel like we can call her family now too. If we could do it again, we couldn't pick a better person to guide our wedding ceremony.

Jennifer

Married on 11/19/2017

We are so grateful to have found Kristin to guide us through our ceremony. She is professional, kind and compassionate. Her presence and energy on our special day made the experience way more meaningful than we could have imagined. Thank you Kristin!
Jen and Mike

Mariana M.

Married on 11/16/2017

I am from Brazil and decided to get married in San Diego! I started looking at officiating websites that could celebrate my marriage and that's how I met Kirstin!
She was my best choice. A kind, caring, gentle, calm person who gave me all the security necessary to make the moment of the ceremony unforgettable for us. Everything was so beautiful and I will be eternally grateful for all of Kirstin's attention to us in the preparation of the ceremony, participating in our history and our vows. It was beautiful and unforgettable!
Kirstin, thanks so much for your love and attention with us!
You are now part of our story!

Nicole

Married on 10/14/2017

We are so glad to have had Kristin officiate our wedding! Her calm, sweet, and loving disposition brought such a bright and peaceful atmosphere to our wedding ceremony. Kristin also walked us through customizing our ceremony with the vows and crowning ceremony we wanted, and was so flexible and encouraging with our requests. From our initial phone conversations to all our email correspondences, Kristin's patience and genuine kindheartedness gave us so much ease through both the wedding day and the less glamorous marriage forms and documents! She made our wedding ceremony so beautiful and special, and we are so grateful to have had her be a part of our day.
Are you interested?
Send a message