42 Reviews
Recommended by 100% of couples
Quality of service

5 out of 5 rating

Average response time

5 out of 5 rating

Professionalism

5 out of 5 rating

Value

5 out of 5 rating

Flexibility

5 out of 5 rating
Awards
20 User photos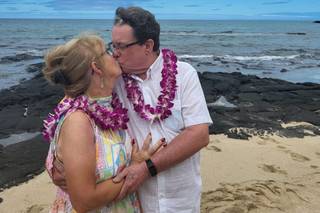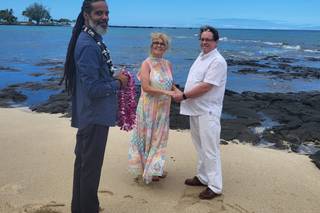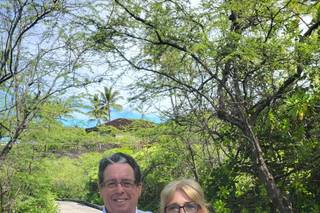 + 16

photos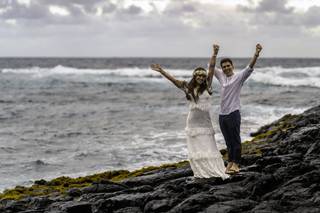 Robert C.

Married on 09/29/2022

Our vow renewal

Alison and I were celebrating our 20th anniversary by taking a cruise to Hawai'i. On our actual anniversary we were docking in Kailua-Kona and I wanted to arrange something intimate and special for the two of us. I was so lucky to get in touch with Sophorn and Ajani. Sophorn was wonderful, she took time to know us, she was responsive, walked me through every step, and was a delight to deal with. On the day Sophorn and Ajani picked us up at the cruise terminal and drove us to our preferred location on the beach at the Four Seasons. Our service with Ajani was wonderful and so personal to us. It couldn't have been a more perfect day. I would highly recommend these two professionals if you are looking for something simple and intimate. Mahalo and Aloha.

Marisol R.

Married on 08/26/2022

Look No More!

Ajani and Sophorn are the sweetest, most genuine team of best friends, partners, and professionals! My husband and I had the most amazing time in Hawai'i, and Sophorn really helped us feel like we had a pair of friends looking out for not only us during our time there, but also the entire community. They are both avid advocates for the respect we all should show the beautiful island and the residents, and I think that was the best part of trusting them with my husband and my very special day. Ajani did not read any of his ceremonial speeches from a book, or paper, or anything like that. He smoothly and confidently spoke from the heart, and my husband and I felt incredibly special the entire ceremony. Thank you so much Ajani & Sophorn for this incredible experience, for the love and friendship you offer and reciprocate, and for meeting many couples at the gates of a wonderful chapter of our lives. With much love, Marisol & Jose Gabriel!

Kristine

Married on 01/08/2022

Kris and Gavin's Tie Knot Day❤️

It was a blessedly beach wedding with Ajani! He is highly recommended. Overall experience was amazing❤️
Mahalo Nui Loa Ajani and Sophorn for making our big day possible🌺

Are you interested?

Send a message

Alex S.

Married on 09/12/2021

A wonderful way to be married

We used Infinite Bliss Weddings for our elopement in Kona and it was all we could have asked for. Sophorn was so caring and kind and understanding over the phone when coordinating the wedding, and she and Minister Doug went out of their way to accomodate us in our limited availability. They found an amazing location for the ceremony and Minister Doug delivered a truly impassioned yet humble service for us that really made the moment so much more precious than we could expect. They were reasonably priced and worked well with our agent, ensuring our license far sooner then we could expect. We were so pleased with IBW and can't recommend them enough.

Mary M.

Married on 08/20/2021

Perfect small ceremony

These two were so easy to work with. It was just my husband and I getting married on a secluded beach on the big island (mind you, covid is stil going on) they were both great at what they do, reasonably priced, and very just genuinely nice people. Can't wait to see the pics!

Mary M.

Married on 08/20/2021

Perfect small ceremony

These two were so easy to work with. It was just my husband and I getting married on a secluded beach on the big island (mind you, covid is stil going on) they were both great at what they do, reasonably priced, and very just genuinely nice people. Can't wait to see the pics!

Kristie B.

Married on 05/27/2021

An Enchanting Ceremony

Sophorn and Ajani were such friendly and charismatic people. We traveled from NY to have a private ceremony with just the 2 of us, Sophorn was so good at helping us to coordinate and plan everything so it would go smoothly. She made the most beautiful leis for us and Ahani was wonderful when it came to our handfasting. The images are mind blowing as well.

Autumn M.

Married on 02/26/2020

This is exactly who we imagined for our special day!

We could not have been happier with Minister Doug and Sophorn! Although we wanted a simple ceremony, this choice felt important to us. It felt like the person who we chose to marry us would have a big influence over how the whole experience went and the person who we chose to capture it in photos would influence our memories of the day. We skyped with Minister Doug and Sophorn once before deciding they were the ones. There is a serenity about both of them that was so wonderful. For us, the ceremony struck a perfect balance of spiritual rather than religious. They are a beautiful couple that had such an impact on the kind of day that we had. We were so fortunate to have our families celebrate with us and everyone absolutely loved having them there with us. They are the kind of people that you want to friends with and their experience and calm nature is perfect for what they do. We're so grateful!

Rachelle R.

Married on 11/23/2018

Best wedding day ever!

Sophorn and Doug are amazing! They did such a great job on my big day. I was planning my wedding from the mainland and my biggest concern was how everything would work out the day of as well as getting my marriage license together. They made everything too easy, as I could imagine everyone one who is planning from a different state (especially when its over seas) could be pretty stressed out about just arriving on the beach the day of your wedding and meeting with your wedding officiant for the first time, just praying everything will go as planned. Well it did! I couldn't imagine my special day going any better than it did. Doug and Sophorn are amazing at what they do, definitely five stars, I would give more if I could:)

Olga

Married on 09/14/2018

The moment I heard Sophorn's voice on the phone - I felt immediate connection and there was no question in my mind who we wanted to officiate our special moment. We stayed in touch until our arrival to Paradise and Sophorn was so sweet to move the date of our ceremony because of our flight delay. So when the special day arrived we met Minister Doug and Sophorn at the beach and I almost started crying when I saw how much love she put into making my beautiful plumeria crown and bouquet! I can still smell it and it makes me smile. When we met I felt so very connected and comfortable and had so much fun taking pictures with Sophorn - she almost hurt herself trying to capture our love. It was just two of us at the ceremony, but truly we felt like part of the family. The ceremony that Minister Doug led was so heartfelt and beautiful and it came from his heart. We loved being a part of the Hawaiian culture and love the Tahitian kiss, shell blowing, lei exchange and throwing flowers in the water! We had the most beautiful sunset and had so much fun splashing I. The water for the pictures. After the ceremony we didn't want to say good buy to this amazing couple who went above and beyond to make our special moment magical. Words cannot express our gratitude! Aloha!!!!!

Jesse

Married on 08/18/2018

Very special

Ajani and Sophorn are so good at what they do. The ceremony was so beautifully spoken and laid out. Ajani has such a passion for what he does, it shines through. Sophorn truly cares about getting the best shot, she has so many great tips. I am so happy I chose infinite bliss and had Ajani's and Sophorns great spirt, professionalism and passion guid me through out the process and on our big day. ( the photo I added is from a friends iPhone) it's my favorite because you can see Ajani and he is truly happy for us.

Lupe A.

Married on 07/28/2018

Sophorn and Minister Doug are a great team, very down to earth and helpful! Thank you for an amazing experience! It was exactly what we envisioned! It was so easy to work with Sophorn on the preparations and I appreciated that they took to the time to get to know us to incorporate that into our ceremony. I would recommend them hands down! I wish them all the success in the world! Not only with their wedding services but also with their ministry and community services.
You will not regret working with them and will have a great experience, like we did!

Kelly

Married on 06/16/2018

My husband and I got married in June 2018 at Daylight Mind in Kailua-Kona. Sophorn and Minister Doug were both so great throughout the planning process, and Sophorn was so easy to talk to! They really took the time to get to know us and really personalized the ceremony.
Sophorn also took pictures for us, and she did a great job of capturing how happy we were on our big day! They are wonderful people, and I can't say enough how great they are! Thank you again, Sophorn and Minister Doug!!


Valerie

Married on 05/05/2018

Minister Doug and Sophorn went over and above on our wedding day. They made us feel so special and truly connected with our story. We couldn't have been happier with the whole beach wedding experience. Our photos turned out stunning! Sophorn went out of her way to get the perfect shots. We appreciate what you do for the community and what you did for us! Mahalo

Rodney and Valerie Pannell

Katie

Married on 02/08/2018

Minister Doug and Sophorn far exceeded our expectations for our wedding ceremony. Months prior to the wedding I communicated with Sophorn and she was always very responsive and answered any questions I had. We were a little nervous because we didn't really know what to expect for the ceremony. Doug did a beautiful job and also incorporated
some of the Hawaiian culture. Doug and Sophorn are both great people and exceeded our exceptions. Our ceremony was beautiful. Our friends and family were so impressed. Thank you Doug and Sophorn for a beautiful ceremony. We couldn't have asked for anything more!

Caity

Married on 12/29/2017

We are so happy we selected Sophorn and Doug to be part of our sweet and super simple wedding. They exceeded all expectations and the love for what they do shines through in the services they offered.

Sophorn made the initial process extremely easy and painless and Minister Doug delivered the most perfect words to us during the ceremony. Not to mention they were beyond accommodating since we contacted them 2 days before.

If we had to do it all over we would pick them time and time again. Highly recommend!!!!!!

Steffen

Married on 10/10/2017

My wife and me were looking for an easy, relaxed and casual way of getting married. We wished our ceremony to be reduced to it's core: the love and the bond between the both of us. No hollywood like event, no pretentious kitsch and over all no stress.

We're truly blessed that we got to meet Minister Doug and his wife Sophorn. They both are such wonderful people - warm and welcoming. And they provided the best ceremony we could have ever imagine: pure and full of love and meaning! Sharing the same mindset, they really understood our expectations and what this was all about for us.

Scheduling and communicating was easy.
The location was the perfect choice: stunning sight, totally calm and no other people.
The Leis - handmade by Sophorn - are absolutely beautiful and added nice aloha spirit to our wedding.

This was exactly what we were looking for and we're absolutely happy and thankful.
Mahalo Sophorn and Doug!

Eric

Married on 08/08/2017

Outstanding! Working with Infinite Bliss Weddings was amazing. They helped make sure everything was planned and worked out perfectly. The pictures and video are top notch and we couldn't be happier. Infinite Bliss Weddings helped make our wedding unforgettable and we are grateful for that experience!

Tanja

Married on 07/24/2017

I can't say enough wonderful things about minister Doug and his wife Sophorn!! We booked the Jade package because it was both of our second wedding and we came to Hawaii alone so we wanted a video to show the family! From the start they were very professional and always answered any questions I had in a very timely manner (almost immediate)! The ceremony was gorgeous, we picked the sunset wedding venue and the pictures are breath taking! The video is the best, great quality, I love the way they filmed the ceremony and put it all together with music! These two are the best and we couldn't be more pleased! Tanja & Mike Marchese

Jinette

Married on 07/09/2017

We had a wonderful experience. Sophorn and Minister Doug are good people and it shines through during the entire process to plan your wedding. I can't say enough about the ease of access to customize the package, and flexibility when things change. I highly recommend this for anyone who would like to plan from a distance!

Susan

Married on 06/21/2017

This experience was perfect minister Doug and his wife were exceptionally nice!

Stephanie

Married on 04/01/2017

My now husband and I were looking for months for an officiant for our wedding to take place on the Big Island, but couldn't really find a good fit. That is, until we found Sophorn and Minister Doug from Infinite Bliss Weddings. I cannot speak highly enough of these two. They were professional, with Sophorn answering all our emails promptly. They were knowledgeable regarding location, and they had an intuitive understanding of what would work for us. They made us feel very comfortable, and it felt like they were old friends. I should also mention that Sophorn is an extremely talented photographer. We truly had the perfect wedding, and this is thanks to Minister Doug and Sophorn. If you are having a wedding on the Big Island, you will be in good hands with them, and I highly recommend them.

Kelvin/Chaleena

Married on 03/29/2017

Sophorn and Minister Doug are the best. I would recommend their services to anyone! We got the Plumeria package and the recording was nothing less than professional! They are local to the Kona area and share their knowledge and experience on what location to choose for the ceremony and even outside of the ceremony. Sophorns attention to detail in her photography is a testament to how perfect she wants everything to turn out for you. Minister Doug spoke the most beautiful words during the ceremony and added a Hawaiian sparkle to the ceremony. They are so friendly and just made everything so perfect - So personable and unlike a big huge company just like we were looking for.

Lehua

Married on 03/18/2017

I cannot express how grateful & happy I am to have found Sophorn & Minister Doug. They made us feel like family and gave quick responses to any of my questions or concerns. Their work is high quality & our photos and videos are AMAZING! I highly recommend them. They truly love what they do, and vested in their clients. They aim to capture your special day and make it a memorable one. You won't feel like just another number. I was surprised that I got such quality work for a great price and the location was perfect! Thank you again. We are so blessed to have found them. <3

David

Married on 03/11/2017

We had a lot of fun and a great wedding thanks to Sophorn and Pastor Doug. The video's and the pictures were outstanding. I could not have asked for a better wedding day or a better officiant and photographer. They were awesome to work with!
Are you interested?
Send a message