Reviews
5.0 out of 5 rating
Quality of service

5 out of 5 rating

Average response time

4.9 out of 5 rating

Professionalism

5 out of 5 rating

Value

5 out of 5 rating

Flexibility

4.9 out of 5 rating
99%
Recommended by couples
Awards
6 User photos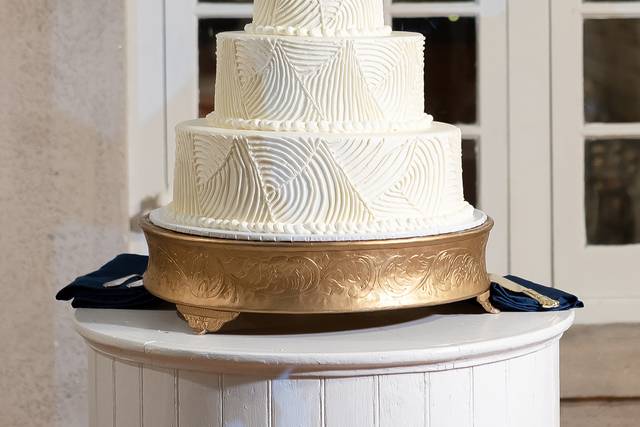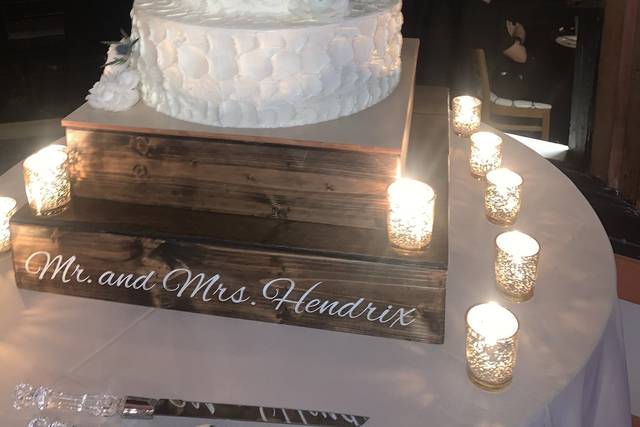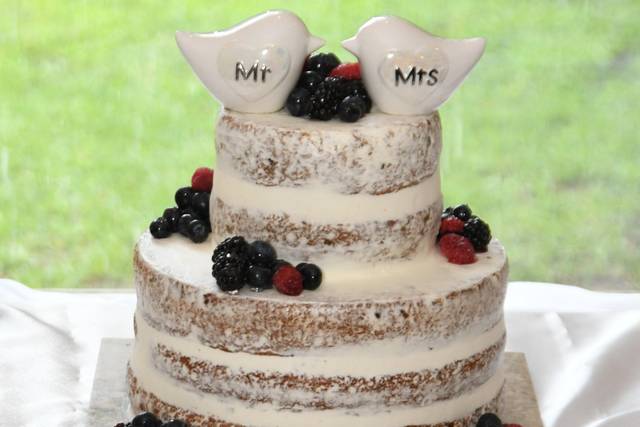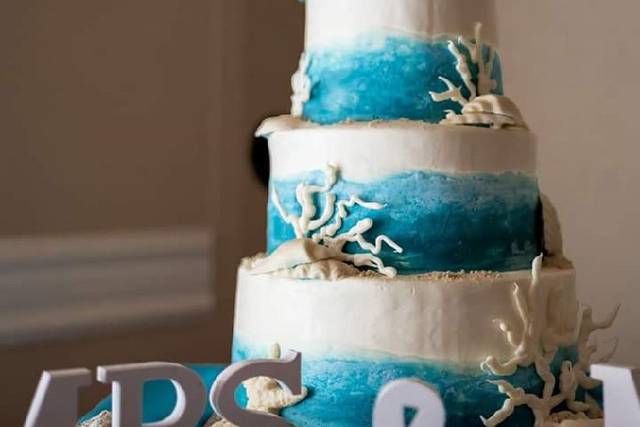 + 2

photos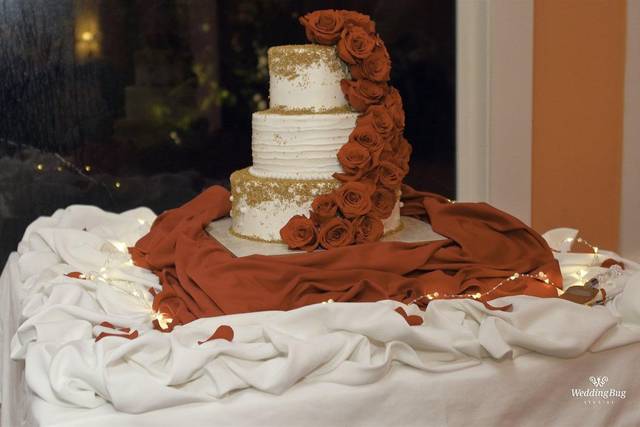 Scott P.

Married on 11/12/2021

Simply the best!

Our experience with Roberta was A+ from the start. She went above and beyond at our tasting and the only difficulty we had was choosing our cake flavors because they were all delicious. We chose a lemon cake tier with cheesecake mousse filling and chocolate tier with chocolate fudge filling , they were both perfect. I changed my design idea and Roberta was very easy going, she created the exact design I was hoping for. She's the best!

Incredible Edible Cakes's reply:

Kim & Scott….thank you so much for taking the time to give your feedback. It is very much appreciated and I am so glad you were pleased with your wedding cake…..my very best to you both!

Lisa

Married on 03/15/2021

Best cake ever!! BOOK HER!

Roberta made the most delicious wedding cake I have ever had! I am a picky person when it comes to Cake and icing, Her cakes were deliciously moist and the frosting perfectly buttery sweet! I shopped around because most cake places the frosting is way too sweet! Our wedding guests couldn't rave more about our cake! She wasn't the cheapest quote we got but the taste of those cakes are WORTH EVERY PENNY! It was gorgeous and delicious! Don't hesitate to use her! We did her vanilla almond cake with cheesecake and strawberry filling on the main layer and it was my favorite!

Incredible Edible Cakes's reply:

Thank you so much, Lisa, for taking the time to write a review. My goal ALWAYS is to provide both a beautiful AND a yummy cake....sounds like that was accomplished! And the bonus for me is that you were such a pleasure to work with. Much future happiness to you and Matt.

Jaime

Married on 10/04/2019

Amazing cake

Delicious cake and friendly baker. I love that she personally delivered the cake and provided a cake stand. I would highly recommend her.

Incredible Edible Cakes's reply:

Thank you Jaime for taking the time to write a review and I'm thrilled you were pleased with your cake! You were a pleasure to work with. Have a wonderful marriage!

Are you interested?

Send a message

Elizabeth T.

Married on 06/01/2019

Wonderful Work

Roberta did an amazing job with our wedding cake! It was delicious and beautiful. We really enjoyed working with her, from the great cake tasting to the day of our wedding. I would highly recommend Incredible Edible Cakes to anyone looking for a beautiful, tasty cake!

Incredible Edible Cakes's reply:

So happy you were pleased Elizabeth! Thank you for the review.
Roberta
Incredible Edible Cakes
"When it's time for a change from the ordinary!"

Melissa

Married on 03/23/2019

Delicious cake

Living out of state is difficult but Roberta still was able to nail our cake...Not only was the cake delicious she designed it exactly how I wanted. We went with a strawberry cake for the first tier with a chocolate ganache filling and then the top two tiers were a chocolate fudge cake with white chocolate mousse filling. All the guests loved it.

Incredible Edible Cakes's reply:

Thank you for taking the time to write the review. I'm so glad you were pleased. Have a wonderful marriage!

Marianne

Married on 10/21/2017

If you want your guests to rave about your wedding cake, beg for leftovers, & eat your wedding cake for breakfast, then Roberta is the first and only person you'll need to call. To give you some appreciation for this review, let me start my saying that I am not a dessert person and never eat cake. More specifically, prior to the cake tasting with Roberta, I hadn't eaten a piece of cake in 10 years. After the tasting with Roberta, I couldn't wait to eat & see our wedding cake. Roberta was a joy to work with, and she is a skilled professional. We had to have a gluten free tier of the cake for our 60-person wedding for me, and it was the best cake I've ever had in my life. The flavors were fresh, natural, and perfectly sweet. We had a 3-tier cake, and each tier was the following: chocolate fudge, almond, and gluten free vanilla. The beautifully decorated cake had raspberry buttercream filling and vanilla buttercream icing. It was absolutely delicious! The chocolate fudge was gone before the dancing started, and our guests begged for any leftovers to take home. I have been enjoying my leftovers for months now, and it has been challenging for me to save that last piece for our anniversary. Roberta's efforts were flawless from the start, and we were so glad to have found her in Tavares. Thank you Roberta for being so fabulous on such an important day for us!

Sabrina

Married on 10/13/2017

Yay, Roberta! My original cake vendor fell through (thanks, Hurricane Irma) and we were down to the wire when I visited Roberta's shop and she came to the rescue. Phew, can I just say that Roberta makes an AMAZING tasting cake? Most wedding cake is nothing to write home about -- eh, it's cake -- but I can't tell you how many of my guests (and one who is a chef!) came up to ask me about the cake because it tasted SO GOOD! (We went with an amaretto cake + cherry cream filling for one tier and a pink champagne cake + strawberry cream for the other tiers.) Roberta does not make a bland wedding cake. It's delicious!

And in addition to being delicious, it's also beautiful! When you go for a tasting, she talks to you about what you want and gets a feel for you and your wedding vibe. I felt like the cake she delivered really reflected what I wanted. Her price was really reasonable, and it included delivery and setup. Roberta is also super sweet! When she isn't baking her amazing confections, she takes care of elderly friends. I loved knowing that my tasty, beautiful cake was baked by someone who had so much heart!

I will definitely be ordering more cakes (birthdays, anniversaries, other special occasions) from Roberta!

Brittany

Married on 03/24/2017

Not kidding... INCREDIBLE. People could not stop talking about how amazing our cake tasted and looked and I don't blame them, I literally ate some for breakfast the next morning! I am not a big cake person to be honest, but after doing a tasting with Roberta, I am totally hooked! My husband requested that we get a cake from her for every event now - we are slightly obsessed! I had some customizations I wanted and she totally pulled through! We are so so thrilled with how things turned out, thank you Roberta!

Kimberly

Married on 01/16/2016

I love Roberta and her cakes!! She was super sweet to work with, and she worked so hard to perfectly capture our wedding vision. The cakes were beautiful. Plus, they were absolutely delicious. Our wedding cake was alternating layers of red velvet and cannoli, and the groom's cake was double chocolate. My dad, who has eaten a lot of cake, said it was impossible to have good wedding cake. Roberta proved him wrong. All of our guests raved about the cakes. And my mom loved Robert and her cakes so much, she has even used her for other events.

Kim

Married on 08/07/2015

Delicious! We used them as they were highly recommended to us. We visited them at a bridal show and then they mailed us samples of cakes to try as will live out of town. At the last minute we changed things up and they accommodated us with some extra desserts. Everything was delicious.

Roberta, owner of Incredible Edible Cakes is so great- she was one our our most thorough vendors and explained everything in detail and delivered in every aspect. we had a 4 tier cake that fed 150 people including 4 different flavors and my AWESOME grooms cake! She was very prompt on the delivery as well, as the cake looked perfect the day of. The wife was very happy= great success! :) Take some stress out of cake shopping and stop by Roberta's place in Mt. Dora- you won't regret it.

Stacey

Married on 03/28/2015

We sampled a lot of cakes before deciding on a bakery, and while there were a lot of good candidates, my husband and I both found Incredible Edibles to be the best. Roberta Haupert, who is the baker there, was really friendly when we met with her and she provided a good variety of samples to try and explained exactly just how she makes her cakes. She has her own special recipe. It doesn't have as many air pockets and stays fresher longer. We both found the texture of the cakes to be really unique. It was really moist and the frosting wasn't too sweet.

We got a red velvet and rum cake. My mother-in-law said that at the reception everyone at the table was raving about the cake. It was really great cake and we can't wait to have some again on our first anniversary.

Sarah

Married on 02/08/2015

This is the best cake ever!!! Roberta is positively amazing at making the cakes look great, but more importantly , taste great!!! She doesn't make her cakes with nasty fondant, but with a butter cream that tastes like whipped cream. Best of all , she smoothed the cream so well it looks as smooth as a cake covered in fondant but with a taste so good all your guests will be asking for more. Thanks again Roberta!! Jim and Sarah Morris!!!

Roberta at Incredible Edibles run a lovely (one woman!) bake shop and does a FANTASTIC job! You will get careful attention and a personal experience! My mom who is a discriminating baker herself did A LOT of shopping around before I got involved and she said hands down these cakes were out of this world, just a step above a lot of other larger shops in Central Fla. It was proven when we received SO MANY compliments on the 'amazing' cake! Thank you for creating a beautiful cake that was out of this world delicious!

Kymberlee

Married on 03/01/2014

Roberta is absolutely wonderful to work with. We changed a few things throughout the planning process and she made everything we wanted happen! Our wedding cake was absolutely amazing! It looked better than we could have possibly imagined! The texture and flavor of the cake couldn't have been more perfect. All of our guests said that is was the best wedding cake they have ever tasted! Incredible Edible Cakes is where I will go to get any specialty cakes! Thank you Roberta!

Jefferson

Married on 02/17/2014

This was the cake at Les & Judi Jones's wedding in Mount Dora.... and folks, let me tell you... I have eaten an awful lot of cake in my lifetime, and this cake was the BEST I have ever had!!!

Simply Incredible!!

Jeff Jones
Cape Cod, MA

Kellie

Married on 10/12/2013

Cake was delicious and beautiful

Crystal

Married on 02/16/2013

Roberta was so nice and a doll to work with. Everyone loved the cakes and talked about how yummy they were. Thank you so much

Roberta did a lovely job with our wedding cake. Not only did it look beautiful it tasted amazing! We got many compliments on the wedding cake and how great it tasted! Roberta listened to what we wanted and delivered!

Jessica

Married on 05/12/2012

Loved working with Roberta at Incredible Edible Cakes! She was very flexible, managing to squeeze me in for a last minute tasting over Thanksgiving. Our cake was unbelievably delicious and exactly how I wanted it to look. I hated to cut into it and ruin her masterpiece!

Marcy

Married on 03/24/2012

So tasty and beautiful. She overdelivered and understressed. I had a destination wedding; I am from Ohio and never once did I worry about how things would turn out!

Jmie

Married on 09/01/2011

Go see Roberta at incredible Ebible if you want something different and delish! Her cakes are so full of flavor and such good quality! Me personally, my favorite that she makes was the red velvet with cookies and cream filling. I want her to make every cake I need. :)

Gary D.

Married on 11/06/2010

On a scale of 1-5 ...... she rates a 10! The cake tasting/selection process was extremely helpful and the Groom's cake (golf ball) and Wedding Cake were Outstanding!

Crystal

Married on 10/30/2010

Our wedding cake was amazing! Roberta was so easy to work with and made us a dream cake! She did exactly what we wanted, we went in for our tasting and we were hooked! Her cake was soooo amazing, we had so many people compliment our wedding cake and ask for Roberta's buisness cards to make cakes for their events! I have never seen such a gorgeous cake that tasted so good! She made my cake dreams come true! She was super easy to work with, delivered the cake and had it set up beautifully! The price of the cake was actually less than what places like Publix quoted me at! The value of price for the cake we got was amazing!

The cakes Roberta "created" were WONDERFUL!!! The Grooms cake was fun and delicious. The Wedding cake was very impressive. She took each detail requested and transformed it into a beautiful and tasty confection. Our guests were impressed with the taste as was the whole family. She is truly an artist.
Are you interested?
Send a message