Reviews
4.8 out of 5 rating
Quality of service

4.8 out of 5 rating

Average response time

4.8 out of 5 rating

Professionalism

4.8 out of 5 rating

Value

4.8 out of 5 rating

Flexibility

4.8 out of 5 rating
96%
Recommended by couples
Awards
39 User photos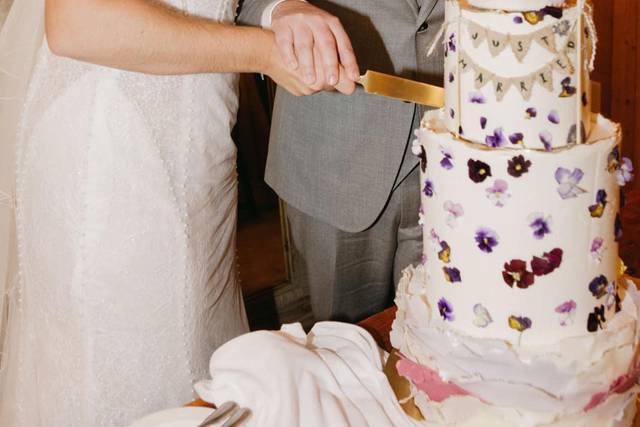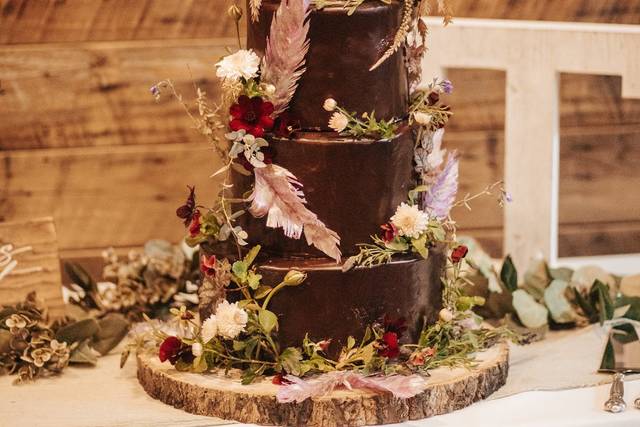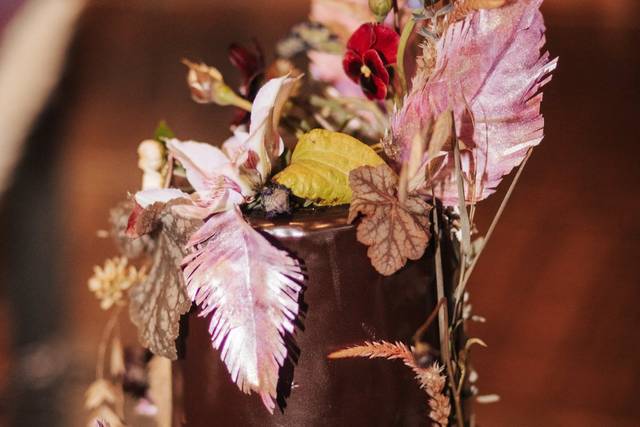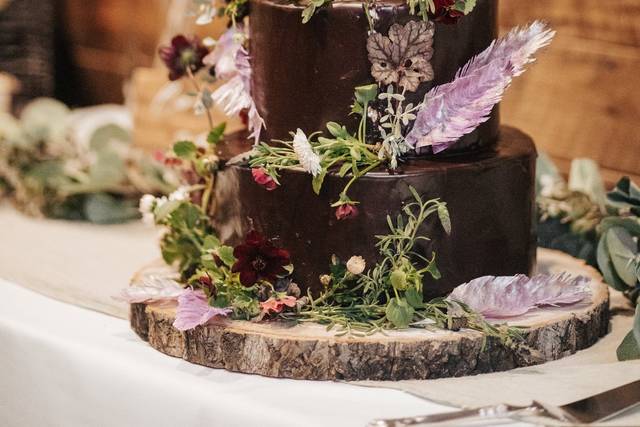 + 35

photos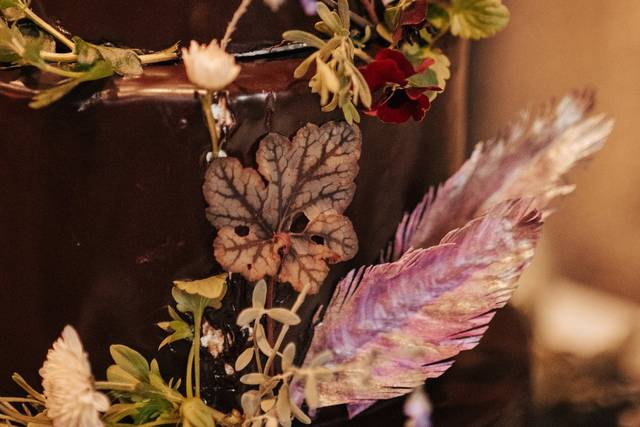 Vanessa

Married on 12/21/2021

Very beautiful and delicious

Our cake was absolutely gorgeous and delicious. All of our guests commented on how actually great the flavor and quality was(especially for a wedding cake). It was as pretty as it tasted as well.

Jessica F.

Married on 10/23/2021

Flexible and creative in making the personalized cake of your dreams!

My husband and I hired Deb for our wedding cake. Deb responded promptly and helped arrange a tasting for us to come and try different flavors. At the tasting, she asked us about our love story and our cake goals. She was flexible enough to make slight revisions to her normal cake flavors to give us our beauty. On top of that, she crafted from wafer paper, the most delicate and beautiful purple feathers (as purple feathers have special significance for my husband and me).
If you are still searching around and not sure whether you should pull the trigger with Deb, take this review as your sign to do yourself the biggest favor and just reach out! Your guests will thank you at your reception!

+ 2

photos

Lauren

Married on 09/25/2021

Amazing cakes by Deb!

Debbie made us a beautiful and tasty wedding cake! We gave her some ideas and she ran with them and created a masterpiece of textured of icing. It came out better than I could imagine. The flavors were also perfect and delicious! She has a great artistic eye and love for baking; it truely shows in her cakes!

I do's by Deb's reply:

Lauren, it was a pleasure. I loved the mauve pink shades as a backdrop the the very romantic and moody florals. We waited a long time for this to happen… Blessings!

Are you interested?

Send a message

Phylicia G.

Married on 09/19/2021

Sweet Bliss

Deb made the most beautiful and delicious cake for my wedding! She even sent me a couple sneak peek photos of her making the cake. Her years of skill in her craft show not just in the aesthetics of the cake but in the taste too! Couldn't have asked for a better cake for my wedding!

Dominique Y.

Married on 08/15/2021

Most incredible Wedding Cake Artist!

We are so glad we chose Deb to design our wedding cake--she made an epic piece of art that we will never forget! It was a 5 story cake tower with moroccan decorations and she even was willing to cut out parts of the cake on the bottom and make it look like our pets were eating out of the cake. You will never regret choosing Deb, she is the cake artist of a lifetime!

+ 4

photos

Ariel G.

Married on 09/05/2020

I Do's by Deb Creates Magical Moments!

Debbie is amazing and so are her cakes! I Do's by Deb created our wedding cake with only a month's notice. Due to COVID our wedding plans changed over a hundred times. Last minute, we needed a smaller wedding cake for our intimate family wedding. I contacted Debbie and she made magic happen! Debbie is professional, friendly, and truly a lifesaver. Her cakes are flavorful and beyond beautiful. When Debbie arrived to the wedding with cake (it had to arrive last minute due to the heat) all things stopped- the cake was so beautiful everyone was in awe! It was a dream come true and it truly made the wedding complete. I highly recommend hiring I Do's by Deb, you will be thrilled with the results!

Kristina L.

Married on 11/04/2018

Mmmm sooooo yummy!!!!

The cake, the service, the love and energy put into our baby shower far surpassed any expectation I could have created. Debbie is a real gem and she has the gift of capturing the vision. She made us a delicious 3 tier cake and I am dreaming for more right now. 2 of the tiers were Lemon BlackBerry and the other one was a Vegan Chocalate. Both were so delicious. The vegan chocolate was moist and rich. I probably didn't need to announce that it was vegan became one would have never known. The lemon oh the lemon that was my favorite!!!! Lemon desserts will always have my heart, but this one has definitely left a lasting impression.
I would highly recommend Debbie to all my friends and family and look forward to enjoying another one of her creations again soon :)


Sherri

Married on 10/13/2018

Daughters wedding

I contacted Deb only 2 1/2 weeks before our event and I was surprised she accepted the task. We ordered a small 2 tier geode cake with fondant. It turned out beautifully and just what my daughter wanted. Deb made the geodes that were used as decorations for the cake and they were beautiful. She delivered the cake on time and it was delicious! Overall it was a exceptional experience. Thank you Debbie!!

I do's by Deb's reply:

I love doing geode cakes! It was a pleasure. Sherri. Did a fabulous job of pulling off a beautiful wedding! So many cute well thought out details.

Tess

Married on 08/11/2018

Delicious wedding cake!

Our cake was so delicious and looked exactly how we imagined!! Very beautiful! Highly recommend!

Hannah

Married on 07/20/2018

Amazing! Out cake was perfect and tasted even better!

We would highly recommend! Our cake came out better than we could have imagined and it tasted great! We still get compliments on how amazing it was!

I do's by Deb's reply:

I loved making Hannah and Jason's realistic wood stump wedding cake ! Hannah and her tribe of women (3 generations) were so fun to talk with at her cake tasting!

Jessica

Married on 06/16/2018

Debbie was such a wonderful person to work with! We asked her to make two separate vegan cakes, and vegan cookies. The main cake was a lemon, vanilla, and lavender cake. All I can say is that it was incredible, and most people couldn't believe it was vegan. The second was a gluten free blueberry and lemon "cheesecake", and it was light, refreshing, and delicious for our gluten free guests. We gave debbbie our vision for a flower and herb themed wedding, and she made it a reality through her desserts. I highly recommend her!

Dee

Married on 06/07/2018

Deb created a gorgeous wedding cake and sweet tables for our wedding and reception. Truly an artist with her creative dessert offerings and wonderful flavors. Thank you, Deb, for the excellent service and treats, we wish you had a local shop we could visit to purchase the goodies you make.

Kristin

Married on 06/01/2018

Definitely book Deb! After realizing that me planning to do my own wedding cake was a bad idea I reached out to Deb. Deb not only got us in last minute she provided a cake that was everything I could have hoped for and tasted even better than I could have imagined! You will not be disappointed. Thank you so much, Deb!!!

I do's by Deb's reply:

Thank you Kristin! It was a pleasure! Your little naked cake was very sweet and pretty. The props from Wild and Lovely Events created lovely romantic vignette..... hiring pros makes a difference in your overall event and enjoyment!
We all love to hear that we helped make your dreams come true!

Mayra

Married on 04/07/2018

OMG where do I start....everything about Debbie's art is amazing, from the delicious cake to the spectacular look of the cake she made for my husband and I for our wedding day. Her attention to detail is marvelous and gave my cake that special something all of us brides want. It also helps she is very easy to work with and one of the sweetest personas I've ever met.

I do's by Deb's reply:

Mayra believed in the power of a fairytale cake and I was so excited with the prospect of making it! The wait included a Chang in date with the birth of an unexpected bundle of joy and stormy morning on the wedding day. As I drove to her lovely Park Winters venue, the clouds had subsided The sun shone brightly and everything was perfect!

Nikki

Married on 03/24/2018

Our venue first recommended Debbie for our wedding cake, then we met her at a wedding fair and her cakes were AMAZING! One taste and I was sold. I knew I wanted our wedding cake to be one of Debbie's creations. When we met with her for our cake tasting, each cake was delicious. It was so hard to choose! Debbie was so sweet as my fiance and I were tasting each cake. We ended up choosing a Chocolate Cappuccino and Lemon Raspberry. At the reception, everyone raved about the cake! The best part that Debbie created a cake top for us to take up for our one year anniversary! It was a complete surprise and so sweet of Debbie!

Debbie thank you so much for the delicious cake!!! It was delicious!

Kyndra

Married on 10/07/2017

Our cake was amazing! We don't even really like most cake, but this one was so moist and not overwhelmingly sweet. It was tasty and beautiful!

I do's by Deb's reply:

Cakes don't need to be overly sweet. In fact, too much sugar drowns the shuttle flavors of cake and fillings, fruity or chocolate. As an experienced pastry chef. I strive for a complimentary balance of flavors and texture. Wedding cakes are the best cakes of a lifetime and are meant to be fantastic inside and out!

Leah

Married on 09/09/2017

Debbie's cakes are amazing! They taste like a dream, and are above and beyond anything else I sampled in the area. I ordered the tres leches with a tropical fruit salsa for my late summer wedding, and my guests raved about it. Plus it's fun to know Debbie has made cakes for Oprah and several US Presidents!

Nicole

Married on 08/12/2017

Amazing does not even begin to describe the cake we got from Debbie for our wedding; Our cake was a literal work of art! She listened to our every desire and provided us with a cake that was not only beautiful, but DELICIOUS! To give you an idea, my hubby's lunch and dinner the day after our wedding were pieces of her cake. For those interested, the flavor we chose was Candy Bar. Additionally, her pricing is very affordable. We will definitely be asking her to make a cake or dessert for us for other special events in the future. I feel you need more proof, check her out on Instagram at Idosbydeb...You will not be disappointed!

Jenni

Married on 07/15/2017

I Do's by Deb made a beautiful cake for Sierra Nevada Memorial Hospital Foundation's Starry, Starry Nights Event! She was very easy to work with and very professional.

Vanessa

Married on 07/08/2017

We loved Deb! She is a pleasure to work with. She was flexible in meeting us in the bay area for our cake tasting which is a MUST. All her flavors are perfection and I surprised myself by going with the tres leches option. It is the best tres leches I've had yet and our guests RAVED about the cake!! Deb also listened to our needs, provided us with a number of recommendations/options, and didn't pressure us to go in any one direction. Made the process an enjoyable one. On top of that - the cake looked gorgeous!

I do's by Deb's reply:

I was happy to meet with Vanessa and Jared in the Bay Area which I often visit.

I also agree with her about my Tres Letches which has been perfected over many years!
Thinking about it makes me want some right now!

Flexibility is key and it is fun to mix business with pleasure!

Beth

Married on 06/21/2017

Debby did a great job at working with us to zero in on the look and feel of the cake we wanted. Also, the cake was amazing! We received a lot compliments from our guest about the cake.

I do's by Deb's reply:

I loved the classy minimalist theme of this Lake Tahoe forest wedding cake. It was fun to capture the elegant simplicity that Beth was dreaming of.

Sandi

Married on 06/10/2017

Debbie made the cake for my parent's 60th anniversary party. My mom has been baking cakes for me and my 3 sisters (and so many other family members and friends) since we were born so we wanted to make sure we had a special cake for their big day. Debbie did not disappoint. My parents LOVED the cake and Debbie even used their homemade limoncello in the frosting. Her cakes look as good as they taste and she's a pleasure to work with. You should say "I do" to Deb!

Olivia

Married on 06/10/2017

Deb was so amazing to work with and the cake was so delicious and looked exactly like I️ had dreamed it would! She did an amazing job and I'd definitely recommend her to anyone!

Monika

Married on 06/03/2017

I searched for only Debbie to make my wedding cake. She made my brother's cake and it was the best tasting wedding cake I had ever tasted. I ordered small desserts from her as well and she performed miracles when my florist completely messed up what I wanted for the cake flowers. She took them all apart and made the cake table amazing. Thank you Debbie!! I recommend her to anyone and the almond cake is a must to try!!

I do's by Deb's reply:

I made Monika's brothers wedding cake around 10 years ago when I had my business "Debbie Does Dessert" in the Bay Area. A friend of mine overheard her talking at a bank about what ever happened to Debbie Does Dessert because she wanted a wedding cake from me. My friend gave her my phone number and serendipity played it's course. That's what I mean when I say I strive to create sweet memories long after the event! It was an honor to go back to the Bay and make Monikas vision come to fruition.

Carolina

Married on 05/28/2017

Debbie is friendly and professional and (best of all) her cakes are delicious!
Are you interested?
Send a message