Reviews
5.0 out of 5 rating
Quality of service

5 out of 5 rating

Average response time

5 out of 5 rating

Professionalism

5 out of 5 rating

Value

5 out of 5 rating

Flexibility

5 out of 5 rating
100%
Recommended by couples
24 User photos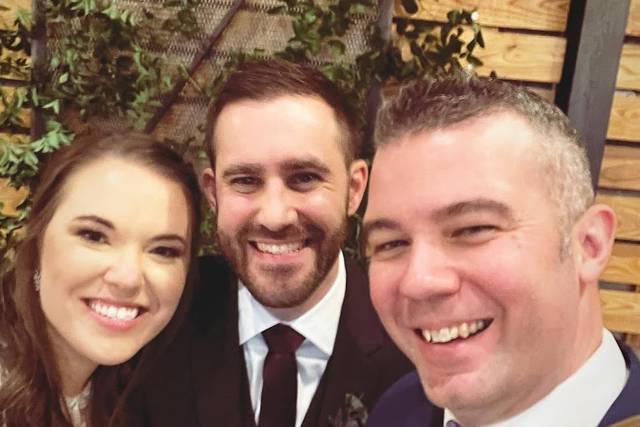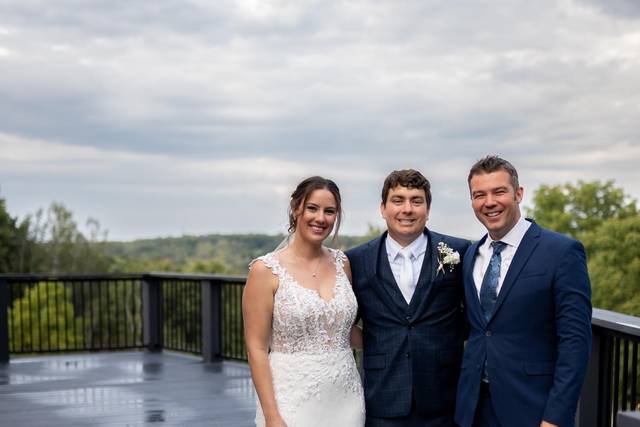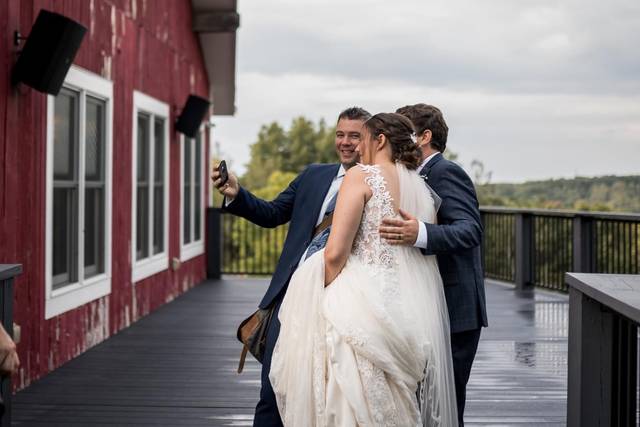 + 20

photos
Justin B.

Married on 11/04/2023

Perfectly personalized!

Brad made the whole process easy & fun. He truly created a ceremony personalized to us.

Katelyn J.

Married on 09/16/2023

Brad is the best!

We are so thankful we decided to select Brad as our officiant. From our initial meeting, to the drafting of our ceremony, up through the submission of our marriage license, Brad made the process so incredibly easy. We received so many compliments on our wedding ceremony with many of our friends and family saying it was the best ceremony they've ever attended. Brad crafted the perfect version of our love story that allowed our family and friends to connect to it emotionally. He was fun to work with and is more of a friend than a wedding vendor. We're so grateful to have found Brad and can't recommend him enough!!


I do.'s reply:

Katelyn and Tyler - thank you so much for your review! I had so much fun working with you both on your ceremony. Your love story was truly special and I really enjoyed telling it. Your ceremony was so heartfelt and I loved your vows that you spoke to one another, so many laughs and so many tears! You are going to do great things in your marriage and I'm so honored I could be a part of the beginnings of what I'm sure will be a great forever story.

Kelsey O.

Married on 07/08/2023

I Do Officiant

Bradley is the absolute best officiant! He made our ceremony so special and memorable. We received so many compliments from family and friends saying it was the best wedding ceremony they've ever been to. We laughed, we cried, and we also felt like we made a new friend in the process!

I do.'s reply:

Kelsey and Logan, thank you so much for your review! I loved working with you and I was so honored that you chose me to share your story and officiate your ceremony. I look forward to staying in touch and can't thank you enough for sharing your experience when working with me.

Are you interested?

Send a message

Michaela D.

Married on 10/29/2022

Memorable experience

Brad made our ceremony perfect. We were able to build a relationship with him and be ourselves as we worked with him. He made everything so easy.

I do.'s reply:

Michaela and Eric,

Thank you so much for your review - it's been amazing getting to know you all and having the opportunity to work with you on your ceremony. Thank you so much for allowing me to share your epic journey as a couple and to officate your ceremony!

Sean T.

Married on 09/10/2022

Our personalized story was amazing!

Not everyone who attends a wedding truly knows how a couple came together. Fortunately with Brad Schnell, rest assured, your family and friends will walk away with a story for the ages! The ceremony that Brad wrote and delivered for us was heartfelt, inspirational, and entertaining. He created an incredible balance between tearful moments to laugh-out-loud points of levity. It's important to highlight the fact that pulling off a powerful message did not just happen overnight. The amount of time and energy he puts into the ceremony is truly incredible. Bottom line, Brad cares about the customer. He's an excellent listener who does his best to understand how a couple met and why they want to spend the rest of their life together. He then gets to work on perfecting the perfect story and obtain feedback along the way. Then it all leads up to the BIG DAY where Brad really shines. In our case, we made our ceremony memorable and special. Overall, we enjoyed his process, professionalism, and passion to deliver the absolute best ceremony possible. If you're looking for an officiant, we highly recommend Brad Schnell from I do.

I do.'s reply:

Sean, being a long term friend of yours, it really is true, we don't know the whole story all the time but I'm so happy that you and Jamie shared yours with we so openly and honestly. Then to be able to share that story and see the way that you and your congregation connected with it is truly what makes this practice so special. It's a memory I won't soon forget. Thank you for choosing me for this honor to join you all together in marriage. Here's to a lifetime!

Katie

Married on 09/04/2022

Brad is amazing!!

Brad was amazing! He gave us the exact ceremony we were looking for. He is extremely flexible and values honest feedback, so you don't have to worry about not getting what you want. On top of that, he is just a super nice guy and so easy to get along with! For a strange situation (finding a random person to talk intimately about our relationship) he has a solid process that works super well. We couldn't have been happier with our wedding ceremony, and all the shared meetings we had along the way getting to know each other!

I do.'s reply:

Katie and Tanner, thank you so much for your review and for sharing your experience in working with me as your officiant! It was such an honor to preside over your ceremony. I LOVED your story and how it exemplifies how love can truly be around any corner and that random small events can create larger impact on our lives. Thank you for sharing your story with me and having the faith in me to tell it to your family and friends!

Amanda M.

Married on 07/22/2022

1 of the best decisions we made for our wedding!

Having Brad as our officiant for our wedding on 7/22/22 was 1 of the best decisions we made for our wedding! Brad was extremely personable and told our story, as if he was there for every memory he told about us. After every meeting with him leading up to the wedding, we both said to each other how lucky we were to have had him as our officiant. Of course the day of, Brad absolutely blew us away with telling our story. After our wedding, we had numerous guests ask us how we found him because he was truly the best officiant they ever saw at a wedding! (We couldn't agree more!) We will never be able to thank Brad enough for helping us have the best day of our lives. 🤍

I do.'s reply:

Thank you so much for sharing your experience! I had such a great time getting to know you, Lucas and your love story together. You had such a magical day and I was honored to be a part of it!

Corissa G.

Married on 07/01/2022

A ceremony to remember

Picking Brad Schnell as our officiant was one of the best and easiest decisions my husband and I made while planning our wedding. In the end, Brad detailed our love story through words in the best way and our guests could not stop raving about our ceremony and still do to this day. The perfect balance of laughter and tears filled us and our guests with a ceremony to remember.
Brad was extremely thorough and really listened to us to understand our story and how we got to the point of deciding to spend the rest of our lives together. Brad was extremely flexible along the way and his attention to detail is unmatched. My husband and I weren't sure about writing our own vows, but thanks to Brad's recommendation and tips for writing great vows, we now have personalized vows that we will cherish forever.
If you're looking for an officiant that will give you a personalized ceremony to remember, look no further. Brad Schnell is your guy!

I do.'s reply:

Thank you so much for sharing Corissa! I was so happy when you all asked me to be your officiant. Your love story was amazing and I was so excited to be able to share it in such a fun and unique way. I am so happy for you and Eric. Congratulations on amazing day.

Kayla M.

Married on 04/23/2022

Most personalized ceremony

Finding a wedding officiant is hard, but Brad makes it easy. He is so personable, friendly & truly cares. He does his absolute best to get to know his couples so that he can put his all into personalizing each ceremony. He even spent time getting to know our friends & family at our rehearsal dinner to put a little more love into it. He was in touch throughout the entire process & very open to any edits that we had. We even were able to make changes the night before. After our ceremony, our friends & family could not stop raving about how amazing he was! It was truly unique, as he told our very crazy love story & everyone, us included, loved that. Brad is changing the tune of hired wedding officiants, by truly becoming a friend.

Alyssa F.

Married on 10/30/2021

Best officiant!

Bradley made planning our ceremony fun and easy starting with the first meeting. He responds quickly to questions. Many guests commented on how they enjoyed the personalized ceremony. We loved it!

Sydney T.

Married on 09/18/2021

Officiant turned friend - couldn't have asked for more!

Where to even start...? When looking for an officiant we had a pretty long checklist of qualities we wanted in the person who was going to stand up in front of all of our loved ones and tell the story of Jake and I. It was hard for both Jake and I to envision someone we had never met before taking on this role. Brad literally knocked it out of the park. Jake and I were both blown away by how many compliments we received about Brad and our personalized ceremony.

From the beginning, when we had our first video chat with Brad we knew it was going to be a good fit. He took the time to get to know us and understand why marriage was so important to Jake and I. This initial conversation felt more like talking to a friend than an average "getting to know you call." Needless to say, I was so relieved.

Once Brad delivered our first ceremony draft, it was even more apparent that we had made the right decision to have Brad handcraft our ceremony. He included so many details that were so important to Jake and I and in that moment, we could see our ceremony come to life. We could envision ourselves standing up there with all our friends and family listening to our story. One that we were so proud to have shared and have Brad share it at that.

Leading up to our wedding day, Brad was always professional and helpful through every step of the way. When we finally got to meet Brad in person to go over the final draft and any other details surrounding our day Jake and I literally 'high-fived." We both had full confidence that our ceremony was going to exceed every one of our expectations both professionally and intimately telling our story.

On our wedding weekend, Brad even blew our venue manager out of the water with his ability to run through the ceremony rehearsal so smoothly and so personably. He asked the right questions and explained everything to our wedding party which calmed our nerves leading up to the big day. On our actual wedding day, Brad was phenomenal. He made Jake and I so comfortable and truly felt like we were being married by a longtime friend.

From Brad's personality to his amazing ability to craft such a personal ceremony, we couldn't recommend Brad enough. We not only had a wonderful officiant to share our day with us, but we gained a friend through the process and we can't wait to continue our friendship with Brad!


Kristen G.

Married on 07/24/2021

Beyond Awesome!

We had heard of Brad when asking around for finding an officiant. Once meeting Brad we knew he was the perfect fit for our wedding!! Brad seamlessly created our ceremony and flawlessly handled the legal paperwork! We cannot thank Brad enough for his time and effort in making our ceremony wonderful. Everyone loved our ceremony and our marriage paperwork was completed in no time!! Thank you Brad we are so lucky to have had you as our officiant!

Taylor V.

Married on 07/10/2021

Dream Officiant

Working with Bradley was an absolute dream. My husband and I knew we wanted something different than a typical ceremony, specifically something that was specific to us and our journey together. After our very first meeting with Bradley, we knew he was the perfect man for the job. That initial meeting, he wanted to know every detail about our story, no matter how minute. As a result, our ceremony was 110% tailored to us and told our love story in a way we could have only ever imagined.

That was a year before our wedding date, and as the date grew closer Bradley continued to keep in contact and ensure we had everything we needed. He was incredibly responsive to any questions we had or changes we wanted to make with the ceremony. By the time he joined us at our rehearsal dinner, it was more like hanging out with a friend than a vendor! As for the wedding itself, there was not a dry eye in the place when Bradley was reciting our ceremony. After the fact, he was still incredibly responsive and helpful in ensuring everything was taken care of for us to receive our marriage license. I would recommend Bradley to anyone planning a wedding! Thank you so much for making our day perfect!

Ashley B.

Married on 04/24/2021

Hired an Officiant, but gained a friend!

Seriously, I can't explain how amazing Brad is! We had so many people compliment us on our Officiant. He really takes the time to get to know you, and customizes your service to be personal (instead of a stock script like others use). He was so flexible when covid threw a wrench in our plans. I would 100% recommend him to every person planning their dream wedding. We hired an Officiant, but gained a friend. Love everything about him.

Ashley M.

Married on 11/07/2020

Without a Doubt, THE BEST!

Brad is wonderful and truly made our ceremony so special. He is thoughtful, dedicated, well versed, and organized. Speaking publicly comes naturally to him so ceremonies is the perfect fit. Brad took a lot of time to meet with us and really get to know who we were as individuals and as partners. He asked some really tough questions that helped to strengthen our love and commitment and amidst the craziness of wedding planning, reminded us on why we are doing this. Brad was extremely communicative through the time leading up to the wedding and especially great the week of and after. Brad helped take care of the paperwork for filing by letting us know exactly what we had to do, and exactly what he would do. We received so many wonderful compliments from our guests on the amazing job he did. Seeing our families laugh, cry tears of happiness, and smile, we really felt like the ceremony was what it should be: wonderful. Thank you Brad for everything, and we can't wait to do it all over again in 2021 after this insanity of COVID!

Samantha

Married on 10/02/2020

Absolutely Perfect!

My husband and I got married this past October and through the whole process Brad was amazing. He was open to the different ideas and things we wanted for our wedding. He captured our story perfectly and even made sure we felt comfortable and involved with the ceremony process as much as possible. He was responsive to any questions or comments we had and always willing to share thoughts with us. We highly recommend Brad to anyone who is looking for an officiant that not truly cares about your wedding, but also giving that personal touch to your special day!

Mark M.

Married on 08/22/2020

Personal, professional and fun

Brad was an amazing officiant for our wedding! He was very organized and helpful on our wedding day and did a great job in all aspects. He did a really good job getting to know us and our story and made the ceremony very special for us. We had lots of guests compliment us on how well Brad did. We'd definitely recommend Brad!

Jake P.

Married on 06/26/2020

Jake and Marisa.

With the curve balls of COVID our wedding process was not an easy thing to navigate. Brad did everything he could to make this aspect of our wedding as easy as possible. He was able to lay out exactly what to expect both from his end as well as legally with our state. He took the time to get to know us, our story, what our values are and tailored a beautiful and intimate ceremony for us. Cannot recommend him enough, thank you Brad!

Elliot F.

Married on 04/09/2020

Genuine, Fun, Professional

Bradley was so much fun to work with! When we met with him, he genuinely cared about our story and designed the perfect custom ceremony for our wedding. Although he is one of the most sought after officiants in the area, he made us feel like we were his only couple throughout the whole experience.

John D.

Married on 12/22/2019

A Gifted Storyteller

Bradley Schnell is a gifted storyteller of love stories, personable love stories. He genuinely wanted to know about our story of how we met, what attracted us to each other, how our relationship grew, how, as individuals, did we come to realize we wanted to commit to each other as life partners and lastly, how did I propose to Michele.

He attentively listened to our answers while jotting notes. Aterward he shared the importance of not only hearing our story but also, watching the interaction and reactions between us as a couple. It was equally important for him to see that we were ready and understood the committment were undertaking.

After the initial meeting, Bradley continued to stay in touch through email giving us ample time to read through his message and work through any revisions we may have wanted to make. We also met a second time to finalize the details and timing of the ceremony in addition to a rehearsal that weekend.

Day of, the ceremony was amazing and throughout Bradley was a calming energy for the entire wedding party. He went above and beyond, staying to give blessing at dinner AND even offered to dismiss dinner tables! Bradley beame in our minds and heart, more than an officiant, but an added friend.

Thank you Bradley, and to your family, for the sharing of your time and your gift with us, our familes and friends.

John and Michele



Allison

Married on 10/05/2019

Amazing Experience!

Bradley was the best officiant we could've asked for! He was incredibly thoughtful and creative with his ceremony writing. He took the time to get to know us and make the ceremony very personal. Very quick to respond to communications and all around fun to work with. I would definitely recommend using Bradley as your officiant. You won't regret it!!

Danielle R.

Married on 06/29/2019

Perfect Ceremony!

Working with Brad was amazing from the start! We knew we wanted a personalized ceremony, but never imagined it being as perfect as it was. Brad took the time to get to know each of us, and all of our history as a couple. He made us feel comfortable with the whole process and made sure to answer any questions we had. Our family and friends had GREAT things to say about our ceremony, and loved how it reflected our relationship from the beginning. It was full of perfect little details, and a few laughs as well. I would recommend Brad to everyone looking to have an amazing, personalized ceremony. Thanks again, Brad!

Victoria D.

Married on 05/31/2019

We Highly Recommend Brad!

From start to finish Brad exceeded our expectations. The time he took to learn our story and background of our relationship gave him the ability to tailor the script to us, which we sincerely appreciated! His knowledge of wedding ceremonies is unparalleled with all his experience. Brad was professional, easy to work with, and was open to honest feedback.  I would HIGHLY recommend him to any couples looking for an outstanding officiant for their ceremony. So many guests at our wedding complimented us on Brad's performance!

Renee A.

Married on 05/04/2019

Beautiful Ceremony! :)

It was so great working with Bradley! He did a phenomenal job officiating our wedding ceremony. He was always very responsive throughout the planning process. He really captured our story and customized our ceremony to make it deeply personal. Thank you Bradley for being part of our special day!!

Kelly

Married on 11/17/2018

Perfect Ceremony!

When we met with Brad we were immediately impressed by his warm personality, humor, authenticity, and with his desire to not only make us feel comfortable but to provide us with our version of the perfect ceremony - which he did! Brad tailored our ceremony to us and was able to capture and reflect the feel of our relationship to our guests.

Not only was the ceremony well crafted and executed the pre-wedding planning, coordination, and legal process was seamless thanks to Brad's thoughtful organization and communication with us.

We received nothing but compliments from our guests and can only sing Brad's praises!
Are you interested?
Send a message