48 Reviews
Recommended by 98% of couples
Quality of service

4.9 out of 5 rating

Average response time

4.9 out of 5 rating

Professionalism

4.9 out of 5 rating

Value

4.9 out of 5 rating

Flexibility

4.9 out of 5 rating
28 User photos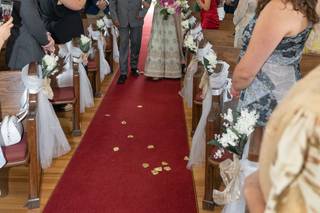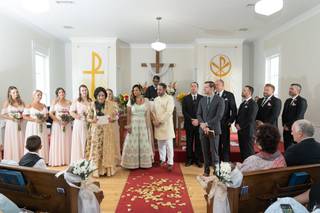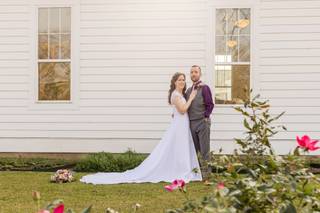 + 24

photos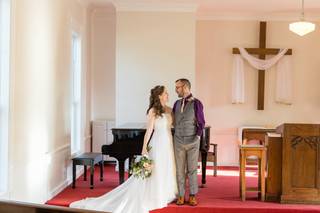 Natasha R.

Married on 09/03/2022

Beautiful Church & Wonderful Wedding Experience

We were married at Hyde Park Presbyterian over Labor Day 2022. The church couldn't be more perfect. It's an adorable, picture perfect, white chapel. We chose to have a small wedding with 60 guests, but the church aboyt 200. There's also plenty of parking outside and of course, it's in a beautiful, historical neighborhood.

Karen was really amazing to work with. She responded to our every question immediately, met us at the church at our request, & was very detail oriented. We knew there would be no surprises on our wedding day when working with Karen- and we were right!

Jane

Married on 06/11/2022

Wonderful experience

MS. Karen is very accomodating, great at explaining everything and willing to work with your time;.

Ben K.

Married on 04/10/2021

April 2021 wedding at HPPC

Full disclosure: my wife and I are actually members of the HPPC, but we originally looked at it first as a potential ceremony site.

Having a church ceremony was important to us and HPPC checked off some pretty big boxes. We toured a lot of venues after we got engaged (Dec. '19), but one thing my wife kept bringing up was how much she wanted to get married in a church. We were both brought up Presbyterian and had been searching on and off for years to find a church. So when we came across HPPC it piqued our interest. And after meeting Karen and touring the place, HPPC was the easy front runner when it came time to decide on a venue.

We joined as members a few months after signing our ceremony contract because we felt that if we're getting married here, we should try to become embedded in the community. On that note, it's been a really rewarding decision.

But that's just us. HPPC is a great even if you're just looking for a venue. And I'm guessing if you're reading this, you're at least considering a church wedding, too. Karen worked well with our month-of coordinator and everything went smoothly on the day-of. Karen had pretty bows she put on the pews to help separate groups for COVID-19 protocols.

The bridal suite in the next building is big enough to accommodate a decent sized group. The groom's area is the multipurpose room behind the chapel. You could get ready there, but we chose to do it at my hotel room nearby and then go back there for pictures.

While it checked off a lot of personal boxes for us, I also think HPPC offers something aesthetically. It's a small, quaint but very pretty chapel in a beautiful historic neighborhood. The white siding, the little steeple, the old pews (I believe they are original), the grass lawn & playground. On a beautiful day -- it was 82 and sunny on our wedding -- it's picturesque.

Which leads to another point: it's a great spot for pictures. I've included some below from our photographer, Eryn Chandler, who I would wholeheartedly also recommend you hire if you're in the market.

Happy venue hunting. It can be the toughest part of planning because it's usually the thing you try to tackle first. Whether or not a church wedding is important to you, I happen to think the HPPC was a nice setting for ours. It was very us. If you want a shabby chic hill country wedding, the HPPC isn't going to be for you. But I believe there's something to be said for a cute spring time church wedding.

If you chose HPPC, I you won't be disappointed.

+ 7

photos

Are you interested?

Send a message

Caring and Considerate

Hyde Park Presbyterian was the island of calm and beauty in our COVID wedding journey. The sanctuary provides a simple, yet beautiful and intimate setting in which to stage the wedding of your dreams. The staff was thoughtful and capable, helping us plan and coordinate our efforts.

Angela

Married on 12/15/2018

Above and beyond the best!

My husband and I were married at Hydepark Presbyterian Church in December 2018. We had the challenge of organizing a wedding out of state. However we were amazed by how stress free this part of the journey was for us. The wedding coordinator Karen Laffer went above and beyond to make sure the church was open and available for the flower delivery and set up. Karen is hands-down the most responsive, helpful, organized, and calming coordinator I have ever met. She graciously walked us through our options in terms of church decoration, music, guest capacity, rehearsal and day of wedding expectations, and even provided us with tips for how to go about making the most out of ceremony experience. The church itself is beautiful and very versatile. The grounds are radiant and make for the most natural and unique pictures.
Our wedding was made very special by the people at Hydepark and we will forever treasure this in our hearts. Highly recommend this beautiful church to you my reader friend.
Cheers!

Violet

Married on 07/22/2017

This was the most picturesque church wedding we could have possible imagine. The coordinator was a pleasure to work with- and we were able to pull together a small wedding in a short amount of time. They were also very flexible on the decorations that we wanted left in the church or taken away. Beautiful little white chapel, great acoustics for sound, and a perfectly intimate wedding venue. Loved getting ready in the house next door also!

Elise

Married on 04/08/2017

My husband and I could not have picked a more perfect place! From the moment we saw it we knew this was where we'd say "I do". The sanctuary at Hyde Park Presybyterian is absolutely stunning. The beautiful hardwood floors and windows create an iconic view for both you and your guests. The beautifully landscaped grounds are picturesque and make for gorgeous photos. This quaint little church is nothing you'd expect !

Elise

Married on 04/08/2017

My husband and I could not have picked a more perfect place! From the moment we saw it we knew this was where we'd say "I do". The sanctuary at Hyde Park Presybyterian is absolutely stunning. The beautiful hardwood floors and windows create an iconic view for both you and your guests. The beautifully landscaped grounds are picturesque and make for gorgeous photos. This quaint little church is nothing you'd expect !

Rachel

Married on 11/12/2016

When my now husband and I started planning our wedding we knew that we wanted to find a small church for the ceremony. When we originally met with Karen, we quickly found out the date we wanted was not available. We almost walked away, but went back to Karen and asked if we could work around the conflict to make this church work for us. She agreed and we are so happy she did.

While we loved the idea of the church, we really knew we made the right decision when we met with Linda. Linda required that we schedule 4 pre-marriage counseling sessions with her before our wedding and we never hesitated to say yes. When we met Linda, we immediately knew we were home. She is one of the kindest, loving and most compassionate people we met during this entire process. I was very worried about crying during the ceremony and the day we got married she took extra care to make sure that I was okay during the entire ceremony. She spent a lot of time getting to know us and in turn used that relationship to make our ceremony loving and sweet. She made the ceremony something we will never forget. We highly recommend this little church to anyone looking for a special place on their wedding day.


Cassandra

Married on 10/15/2016

Can't say enough good things about Hype Park Presbyterian. Wonderful service, intimate sanctuary AND photographs beautifully!
From our first inquiry to our wedding day, wedding representative Karen Laffere was responsive, professional and just great to work with. We didn't have an officiant selected, so we also attended service a few times to get to know Pastor Linda Bourianoff, and immediately felt at home with her, the church and its members. Ultimately, we chose to have Linda officiate (which included 4 pre-marital sessions which we truly enjoyed), had a morning ceremony and rented the Wooten Hall for a short coffee reception immediately after.
Leading up to the wedding, coordinating details with Karen was probably the easiest part of the whole event! She and Linda were super flexible with the rehearsal schedule, and making sure our day was just as we hoped; Linda even took the time to run through our vows multiple times until we felt comfortable that we could hold it together the next day! Linda made our ceremony truly personal, and we got such great feedback from those in attendance about the ceremony and the way she spoke about us. We can't imagine getting married anywhere else, or by anyone else. It was perfect.

I cannot say enough good things about Hyde Park Presbyterian Church. This was a wonderful venue for our wedding ceremony. Karen, the venue coordinator, was very responsive and welcoming to us -- right away we knew we had found the right place. The quaint little white chapel is beautiful on the inside and gives you a cozy, traditional feel. We rented Wooten Hall and Mavis House as well (which are right next door) for a day-of breakfast gathering and as a bridal suite. I could not have asked for a better day or place to celebrate it!

Courtney

Married on 06/04/2016

BEYOND satisfied with the experience I had with my wedding at Hyde Park Presbyterian. The church is beautiful - I hardly decorated because I loved the simplicity and historical uniqueness of the building. It was a perfect size for our group - 65 people very comfortably fit in the pews. The church coordinator, Karen, was always so sweet, and we really appreciated the level of freedom we were given. I highly recommend this little gem to anyone looking for a laid-back, comfortable and absolutely beautiful venue, not to mention the VERY affordable prices!

Meghan

Married on 05/20/2016

Karen was so sweet and helpful as we planned our wedding on very short notice. She was readily available with answers to any questions we had, and she made it so easy to put together our big day. The church was perfect for our rather small, intimate wedding. Beautiful natural light, and a picturesque, historic quality that really lent to the ambience. So many of our guests commented on the natural beauty of the church. Parking was not an issue. We elected to make use of the bridal house, as well. It made for a relaxed, easygoing morning of preparation, and there was enough space for me, my bridesmaids, my mom, my grandma, and a few other guests to hang out and get ready comfortably. Absolute best value, hands down. If you're planning a small wedding, I highly recommend Hyde Park Presbyterian Church!

Paola

Married on 05/07/2016

Our wedding experience was wonderful at the Hyde Park Presbyterian Church. Karen was so helpful and sweet and always available for questions. Her husband as well! The church was a great size for us (50 guests). The setting was serene and beautiful. We used their pianist and we were able to have our favorite songs played for the ceremony (Beatles and Beach Boys songs). We loved everything about this experience.

Hyde Park Presbyterian Church is beautiful and I am so glad that we had our wedding ceremony there. It is simple but elegant and just what I was looking for. The pastor and Karen, the wedding representative, were gracious, kind and very helpful and did everything possible to ensure that our ceremony was just as we wanted it to be.

The yard is gorgeous and very well kept. The tall trees and flowers add to the beauty of the church. I would highly recommend this church for your wedding day.

Hyde Park Presbyterian Church was a wonderful setting for our wedding! The charm of the historical church was evident and many of our guests commented on how lovely the church looked. Karen and Pastor Linda were so kind to us and amazing to work with in the planning and preparation of our wedding. I would highly recommend Hyde Park Presbyterian church for weddings!

Emily

Married on 10/17/2015

Hyde Park Presbyterian Church has left me with some of the fondest memories of my wedding day. I always wanted to get married in a small, picturesque church. Karen was responsive, helpful, and best of all the location was absolutely affordable- especially for Austin standards. Linda, the minister at Hyde Park, also provided so much love and support through the whole process and we were so happy to have her up there with us during our vows. I would recommend Hyde Park Presbyterian church to anyone who was having a small to medium size wedding and wants a beautiful, traditional, church setting; it was absolutely the best!

Danielle

Married on 04/18/2015

I couldn't be happier with how my wedding turned out at The Hyde Park Presbyterian Church! I always wanted to be married in a little white church and with the help of Google, found this one! It's nestled in a small corner of Hyde Park with great parking and even a small playground for the kids. When planning the wedding, we were very aware of our strict budget, so I loved that they had their rates including deposits clearly listed on their website. The staff was amazing to work with and very accommodating! Any changes or questions I had, they responded to them quickly. I admit, I was a little worried when we had our first visit at the church. My husband and I are heavily tattooed, have two kids together and are not the "normal" family. I wasn't sure how or even if we would be accepted, but it was never an issue. The staff was so kind and helpful! I loved every bit of our wedding and I'm so glad that we chose The Hyde Park Presbyterian Church as our ceremony venue!

Kari

Married on 04/11/2015

We highly recommend Hyde Park Presbyterian Church for a small to medium size wedding venue! We had approximately 60 guests, and the space was perfect. The sanctuary is a gorgeous historical building on nice grounds. Karen Laffere, HPPC's wedding contact, was very informative and helpful from start to finish. Pastor Linda, HPPC's pastor, was fantastic - so kind, and such a blessing to our relationship and our special day! We also rented the building next door to the sanctuary, Mavis' House, for me (the bride) to get ready in before the wedding. It worked out great! Karen was able to recommend pianist Jim James for our ceremony, and he was also really great - thorough, flexible, patient, and a very talented pianist! We had a very positive, well-priced experience with Hyde Park Presbyterian Church as our wedding venue!

Jenny

Married on 03/28/2015

It's was an amazing experence. Thank you,Karen and Linda for making it a truly wonderful wedding.

Karen was very flexible with us. She was always on time and understanding of our disorganized family and scheduling. The church was beautiful, inside and out. It's a very quaint church, which was perfect for our small wedding. The church looks small, but we couldn't even fill it! It was so elegant and simple that we didn't even bring decorations, although Karen offered decorations from within the church, which was a nice option to have. Overall, it was the perfect experience!

FANTASTIC in every sense! I had to plan a wedding in ONE MONTH exactly and Karen was super responsive and helpful during the whole process. The building has been beautifully redone to have a old charming appeal. Because it is an old treasure- they will not allow any lit candles (heads up)- Also provided is a whole house for the bridal party to get ready in- (cute house next door) as well as a very affordable and talented pianist if requested. I would HIGHLY recommend this venue!!

Blair

Married on 06/28/2014

We are so grateful for our experience at Hyde Park Presbyterian Church. The church is beautiful- perfect for an intimate wedding. Our guests loved it. The pianist did a fantastic job. The best part of our experience was going through pre-marital counseling with Reverend Linda Bourianoff. I know that sounds surprising- analyzing your relationship isn't how most people enjoy spending their time!! But it was truly so positive and helpful for us. Linda's advice was sincere, honest, and hopeful. Getting to know her was a blessing in itself. I strongly recommend the church and her as an officiant. Thank you to the entire Hyde Park Presbyterian team!!!

Melody

Married on 06/07/2014

Our experience with Hyde Park Presbyterian was outstanding! It was the perfect chapel for us: simple, small, and beautiful! Karen took great care of us and made sure all details were perfect! Many of our guests commented on how perfect the chapel was! Just wonderful!

When our daughter found Hyde Park Presbyterian Church in Austin she knew it was where she wanted to have her wedding! It is such a beautiful location with a simple elegance and the type of church she had always dreamed of having her wedding! So we called the church and were really hoping they would let us use the church for her wedding. We were all so excited to find out that it was possible! The Pastor Linda Bourianoff and Karen Laffere met us and it was on. They were always very sweet and helpful whenever we ever had any questions or whatever we needed. We also were able to use the Mavis House next door for our daughter to get ready at before the wedding. The wedding turned out absolutely fantastic!! All our friends and family were so impressed with how beautiful and yet simple it was and we are still getting compliments over a month later! We were so glad that we found the church and will always remember the day with wonderful fond memories! It couldn't have been better any where else!
Are you interested?
Send a message