Reviews
3.8 out of 5 rating
Quality of service

3.8 out of 5 rating

Average response time

3.8 out of 5 rating

Professionalism

3.9 out of 5 rating

Value

3.9 out of 5 rating

Flexibility

3.7 out of 5 rating
76%
Recommended by couples
14 User photos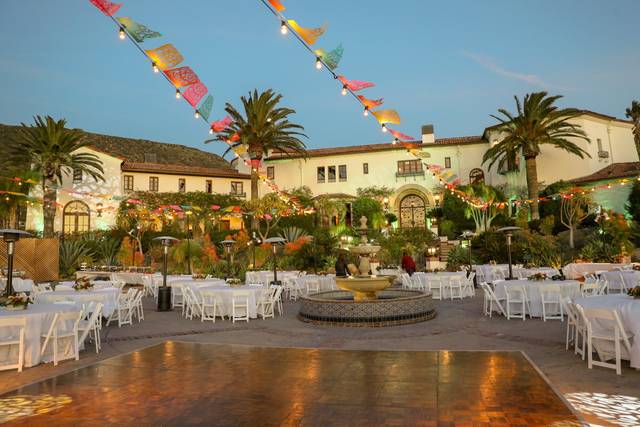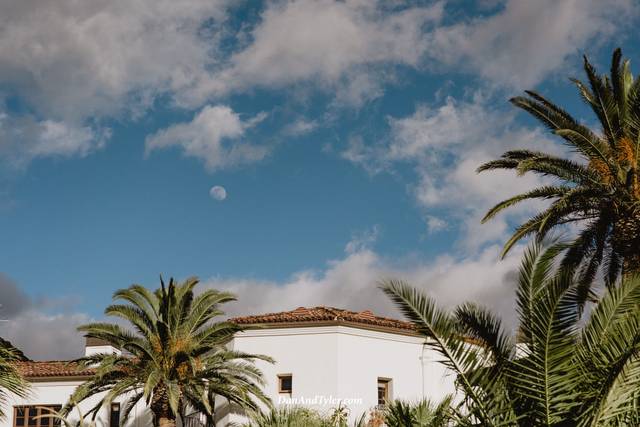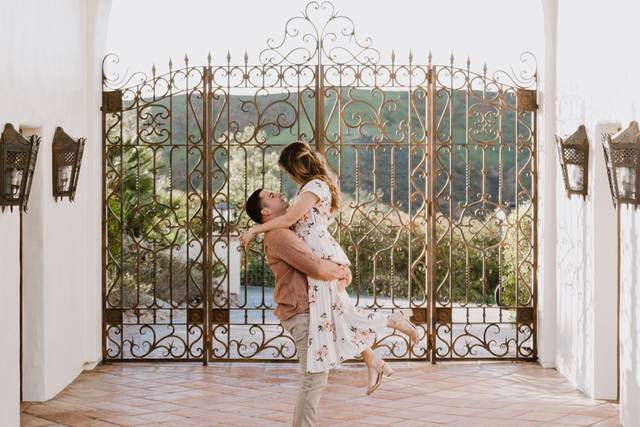 + 10

photos
Brenda

Married on 01/19/2019

Beautiful Venue

We had a very specific vision for the type of venue we wanted for our wedding and this place exceeded them! We had already pre-decided that this was the place for us just from the images that were available online but we still wanted to see it in person and make sure it was for us. It did not disappoint the moment we got to the venue for our tour and saw it in person my husband and I knew that this definitely was the place for us! Apart from how stunning it was we really loved that we could book the venue alone without any packages as we had very specific vendors in mind for catering and so forth. The staff was also very friendly and easy to communicate through email (my preferred form of communication due to my long work hours).

Tyler

Married on 05/31/2018

Stunning Venue

If you're a bride looking to get married at Hummingbird Nest Ranch we 100% say go for it. As wedding photographers having worked here, the whole day is an absolute dream from start to finish. Not only does the venue have beautiful, well manicured grounds, but it's incredibly functional and convenient for everyone involved with your wedding.

This place has it down and knows how to run weddings. We were so impressed with Hummingbird simply because they have some of the most unique grounds in all of Southern California, we photograph 30 weddings a year and nothing else compares to Hummingbird Nest Ranch. Out of the 5 different choices to hold your wedding at, our bride chose the Sitting Bull which has stunning brick architecture and sweeping Italian landscaping. On top of that, Hummingbird is nestled in a private canyon which allows for outstanding opportunities for sunset photos in front of mountainous vistas.

We would hands down recommend Hummingbird to brides looking to hold a 5 star wedding.

Written & Photographed by Dan and Tyler Photography
www.danandtyler.com

+ 10

photos

Life

Married on 05/29/2016

On June 2016 Life.Film was a providing photography and videography services for a wedding in Hummingbird Ranch.
We had a chance to visit the venue a month prior the event and the event manager kindly showed us around and pointed the best locations for the photo session which was very helpful for our creative team.

On the day of the wedding a bride and a groom were getting ready in the separated villas on the territory- nice rustic interior gives us opportunity to make a beautiful shoots.

The venue is ideal for areal videography. The venue located in the Simi Valley and surround by beautiful mountains- a great background for the romantic photo session.

For the bridal party pictures we choose the green grass by the main Villa and the pictures turned out just amazing.

The reception set up was gorgeous- very elegant and and classy. All guests were just amazed by the sunset and we didn't missed out this opportunity and sneaked out with the bride and groom for the photo session as well.

We highly recommend Hummingbird Ranch for the wedding event and guarantee that you will have the most beautiful pictures and video from there. Looking forward to work there again!

http://life.film/wedding/

Are you interested?

Send a message

Anjanette

Married on 05/31/2014

Having our wedding at Hummingbird Nest Ranch was a dream come true! This is the most beautiful venue for a wedding. Our ceremony was held in the Olive Grove, and the reception at Sitting Bull around the pool deck. I recommend this venue highly, but you must check it out for yourself...you will fall in love!

www.hummingbirdnestranch.com

Danielle

Married on 08/29/2009

Hummingbird Nest Ranch was one of the most amazing places to have a wedding. Our wedding turned out to be everything we had hoped for. The venue is absolutely stunning and we get to see it everyday when we look back at our photos. We wouldn't have changed anything for the world and the greatest complement we could get is from all of our guests who have all told us it was the best wedding they have ever been to and I attribute a lot of this to the location. I wish we could go back and relive that day but hopefully we will be able to come back to the Ranch to celebrate an anniversary sometime in the future!

Kirby

Married on 07/03/2011

Yes, this was a budget-buster. But it was sooooooo worth it! I don't know of ANYWHERE else like HBNR in all of Los Angeles (and I looked!).

What I loved:
*It's simply gorgeous.
*There are on-site accomodations.
*No noise curfew.
*You can work with any vendors you want.

Cons:
*You have to bring EVERYTHING in. If you decide to do a wedding here, I recommend working with vendors who have done weddings there before: Jami from 24 Carrots, Bob from A Rental Connection, and Taryn Leach as your wedding planner will be your dream team!

Honestly- you won't find anything else like it!

Elaina

Married on 09/13/2014

Magnificent outdoor venue. We got married at the Villa site. Ceremony, cocktail hour and reception. They only provide you with the venue itself and you are required to use their security and valet parking. They offer preferred catering and rentals, however you may bring in your own. Everything else must be brought in: catering, rentals, liquor, flowers, music...
You may have amplified music until 2am. They also have a few casitas on site for you and some of your guests to stay the night. You must be out by 10am the next morning typically.

Joseph

Married on 04/30/2016

Both my partner and I came to Hummingbird Nest Ranch last year for a wedding and fell in love with the place. We agreed on the spot that this is going to be our wedding venue, but unlike the wedding we attended, we are not going to do it in summer and torture our guests with insane summer heat.

A month later we booked Hummingbird Ranch for a late April wedding after going to visit the grounds again. Let me just say that the grounds here are absolutley amazing. Everything is so well kept, the field, the house, just everything. It was simply a perfect backdrop to our wedding and we could not be more happy that we chose Hummingbird.

For photography, we used David with Blacktie Photography and it was just another perfect vendor to compliment Hummingbird.

Friendly tip, this venue is all outdoors, so be careful when planning a summer wedding. Your guests will hate you if you call it for earlier in the day.

i had my wedding at HNR and absolutely loved the venue. the service and communications while planning was a little shaky and nerve-racking, because there was a disconnect with bookings and with the venue coordination, but overall, i was very pleased with the venue itself.

Shankar R.

Married on 06/23/2022

Aarti-Tarit Wedding

Great location! Venue comes with nothing. Need excellent coordinator to pull events together managing multiple vendors. Expensive!!!

Anna G.

Married on 08/14/2022

Read this before you sign with them

PLEASE READ THIS BEFORE SIGNING WITH THEM!!!

we had a wedding here about a month ago in August.

1. No grooms room as agreed because the AC was broken

2. A/C was also broken in the bridal room when it's 100 degrees outside with 6 people inside the room, you can only imagine the heat and the sweat dripping from your forehead when you are trying to get your makeup and hair done. Thanks to them I was so sweaty from no AC situation that all my pictures in the bridal room/first look came out like I just worked out:)

The lock was broken in the bridal room so all your valuable items inside the room is basically available to anyone around while you step out.

3. you can't turn on the Hairdryer to get your hair done while the AC is running so you need to move to a separate room with NO AC!! what even is the point of a bridal room if you can't get your hair done in it?

4. The lock was also broken in the Casita where the groom needed to get ready instead of the grooms room with his family so you need to enter from the balcony, and the distance from there to the actual venue is a drive distance.

5. the worker, who was basically in charge of getting us around the venue didn't have the key for one of the doors to give us an access to the bridal room without letting our guests see us, we spent almost 45min standing locked between two areas with no AC until the manager answered her phone to give us the code for the door.

6. Be ready to pay approx 20% more for your vendors since the venue takes a big chunk from them.

And what's really disappointing is that no one called us to let us know about all those issues and find solutions prior to our arrival. Especially after we heard from the worker there that the event they had the night before had the same issues!!

We didnt accept their generous offer to stay one night in one of their Casitas for free as a compensation.

Don't be fooled by the look of the venue, it was all downhill after we signed and put down the deposit. We looked at all the google/yelp reviews after what we experienced and it looks like a lot of people suffered from hosting their wedding at Hummingbird. From what I can gather the management changed or the rules became extremely strict about a year ago.
Do your research before signing with them.

They are literally THIEVES

**IMPORTANT TO READ IF YOU WANT TO HAVE A PARTY HERE**

I've been here a few times for events. I've always thought it's pretty and a nice, blank canvas to host your dream party. However, my thoughts have drastically changed.

Less than 2 months ago, my best friend hosted a 55-person, very COVID-safe (outdoor, social distanced) wedding. She signed a contract with Hummingbird just a couple of weeks before the wedding, all during COVID. For some UNKNOWN reason, on the MORNING of my friend's wedding, the people at Hummingbird decided to completely change the rules for her. They limited the number of people on the dance floor to 10 people at a time, they changed the location for one of her events that day, they changed the table arrangements, they shut off the music!! and they were fully harassing the guests (my husband almost got kicked out of the party for dancing with me..) ALL of which was done without prior consent or warning. They also were standing in the party watching us the entire night like we're dangerous or untrustworthy people. Who wants to deal with that the day of their wedding?!

Had Hummingbird notified my friend of these obnoxious rules when signing the contract just a couple weeks before, it would have been OK. The fact is that they took my friend's money, signed the contract, fully changed the rules on them the DAY OF and then now completely refuse to acknowledge their wrongdoing or give any money back. My friend paid for a full band that wasn't even allowed to play music that night!

Hummingbird's latest response to my friend was that they're not allowed to host parties as of June 18th due to county restrictions because of covid. If that was the case then why did they sign contracts with people, including my friend, for a party?! All of which happened after June 18th. They are literally THIEVES.

Oh and Hummingbird hosted at least 2 (we have photo and video evidence) weddings the week of my friend's wedding with no covid restrictions, one of which had 300+ guests. My friend had 55 guests...

STAY AWAY FROM THIS PLACE. They will take your money and change the rules on you and then deny it all.

Tiffany H.

Married on 01/10/2020

Do not make this mistake

ATTENTION BRIDES: Do not trust this venue with what is supposed to be the most memorable, special night of your life. On August 8, I attended a close friend's wedding and my heart broke for the couple and their families. The wedding was an intimate event of about 60 guests - all socially distanced outside, equipped with masks and every single guest had tested for COVID-19 per the bride and groom's strict instructions.

Though the venue signed a contract (I am a lawyer and have read the contract) allowing the party and not restricting dancing or having a live band, they went out of the way to ruin the evening. Multiple security guards were stationed by the venue who were incredibly rude from the first moment guests arrived. They threatened to end the wedding from the beginning of the night when dancing began and cut off the music completely at 11:00 pm, though my friend's contract allowed music until 2:00 am. They yelled at guests constantly and berated me, a pregnant woman, for standing up at my table without a mask (though we were allowed to sit at our tables without masks on).

HERE IS THE PROBLEM - THIS VENUE ALLOWED 150+ PERSON GATHERINGS IN THE DAYS BEFORE AND AFTER MY FRIEND'S WEDDING. I SAW FIRST HAND THAT THEY ALLOWED HUGE CROWDS AND DANCING BEFORE AND AFTER MY FRIEND'S SMALL, 60 PERSON, COVID TESTED EVENT.

I have been outraged since August but kept quiet, thinking that the venue would somehow try to right their wrongs (though, in reality, the bride and groom can never get that night back). Instead, the venue's position is that weddings and receptions haven't been allowed per the county since June 18. If that is the case, WHY DID THE VENUE ALLOW MY FRIEND TO SIGN A CONTRACT FOR A WEDDING AND RECEPTION IN AUGUST? Why did the venue allow other parties that occurred after June 18 to take place without issues?

Do not trust this venue with the most important night of your life. They will say anything to get you to sign the contract and then they will treat you like garbage on the one night you've looked forward to your whole life.