Reviews
5.0 out of 5 rating
Quality of service

5 out of 5 rating

Average response time

5 out of 5 rating

Professionalism

5 out of 5 rating

Value

5 out of 5 rating

Flexibility

5 out of 5 rating
100%
Recommended by couples
2 User photos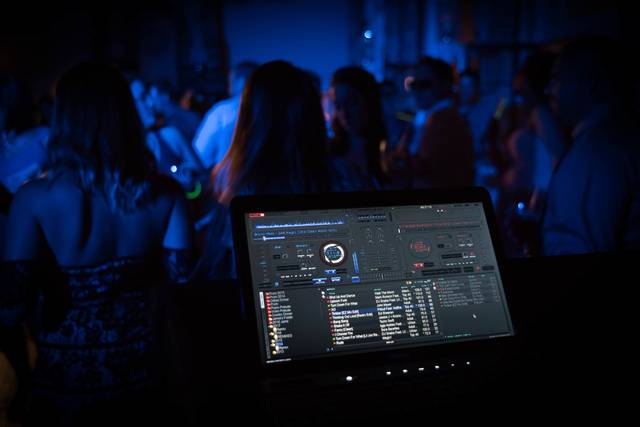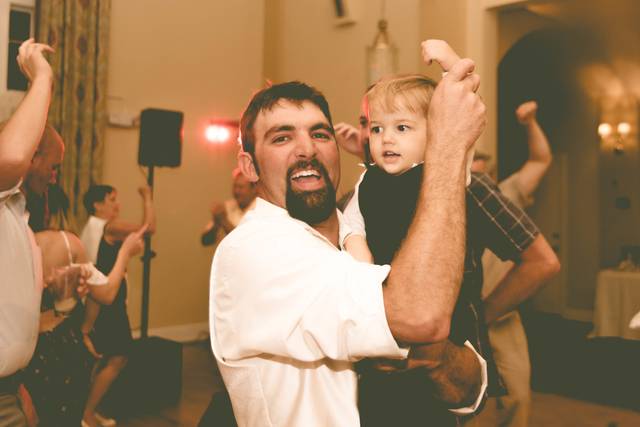 Carly G.

Married on 07/23/2022

Best dj ever!

Jamie was absolutely amazing! A friend of a friend recommended him and I'm so glad they did! He was very responsive and super helpful with planning process! He gave great suggestions and was really able to grasp the type of event we were going for! His energy is unmatched and he was able to keep everyone on the dance floor and the party going for hours! You can tell he has a great deal of experience and knows exactly what he's doing!
We cannot thank him enough for helping make our day absolutely perfect! I would recommend him to everyone!!

Ashley S.

Married on 06/25/2022

The best out there!

Jamie is AMAZING!! In the words of my husband, "He is THE MAN!!" We actually changed our original wedding date based on Jamie's availability. He took care of all the logistics when we got to the reception so we did not have to worry about a thing and could just relax, have fun, and most importantly dance!! AND dancing is exactly what everyone did! Jamie had the dance floor filled for the entire night. We could not image our wedding day without Houserockers DJ!

Marissa P.

Married on 10/16/2021

STOP looking and get Houserockers DJ

Ryan Troupe from Houserockers DJ was absolutely awesome. Our dance floor would not stop!! He kept the floor moving the whole night and was great to work with. Houserockers DJ has an online Event planning program that helped us plan our entire reception and the option to pay online so we didn't have to worry about it on our day. Ryan even called us multiple times the weeks leading up to our wedding to make sure we didn't have any questions and everything was going exactly how we wanted. They even brought huge light sticks and glasses for the dance floor which was an awesome surprise!
Super easy to work with and super fun!
Check him out on Instagram @dj_ryantroupe

Are you interested?

Send a message

Daneka E.

Married on 10/12/2019

Easy to work with! Organized and professional!

Houserockers is the best DJ there is!! Jamie had done our proms in the past as well as I'll my sister's wedding so we knew we had to have him! He was the first person I contacted when we got engaged! He gets the crowd excited and makes it fun for all the guests! He is very organized and professional! I can't get over how easy it was working with him on planning the ceremony details as well as the reception! All I can say is Jamie is the best of the best!

Jason B.

Married on 09/14/2019

Amazing Experience!

I have been to Jamie's events in the past and had an absolute blast! He just always had a way to keep the party going. So when our wedding was coming up, he was first on my list and I gave him a call. He told me that there was the standard package and the customized package. We thought, wait - isn't the DJ customized already since he plays our songs, etc? Then we met him... and then we found out how Jamie works and what he brings to the table! What makes Jamie great is that he cares about one thing and one thing only... you and your wedding, that's it! He made our wedding, OURS! He gave us ideas we never thought of - a tailgate party and uplighting! He was professional, creative and full of energy! There wasn't a moment when there weren't people dancing and having a blast! Over the last few months - people keep saying how much fun they had at our wedding - and a huge reason on that is Jamie! When you're looking for a DJ - Houserockers shouldn't just be on your list - they are the list!

Dan G.

Married on 06/01/2019

Simply the best!

Simply the best! Every step of the way, from our first discussions when we were trying to find our DJ, to our pre-wedding meeting, to our special day, Jamie was top notch. Jame is very professional, organized and down to earth. What sold us on selecting Jamie as our DJ was his demeanor and his goal of building a relationship with us during the wedding planning process. You can see through his instagram account that he loves what he does and really makes an effort to know his clients and deliver for them on their special day. Being that we were planning our wedding from out of state, we only had a few dates to meet and discuss details. When we met with Jamie at our pre-wedding planning session, he came ready and organized, was ready to answer all of our questions, and most important, asked about us. Needless to say, when we left our meeting with Jamie, we were so impressed and relieved that we made the right decision.

In the weeks leading up to our wedding, Jamie checked in with us to make sure everything was going well, and that all the details were finalized, including working extremely hard to find a very specific version of the Mother-Son dance song. Jamie provided a wireless speaker and microphone for our ceremony - which was certainly needed (and not thought of before Jamie recommended it). Without this suggestion, our guests wouldn't have been able to hear our ceremony and our vows.

Finally - the party! Jamie knew the right mix of music to play to keep the party going all night long. He mixed in some fun dances, and also kept to a strict do-not-play list. A month later, our guests are still talking about how amazing our DJ was. Jamie ROCKED THE HOUSE. 100% recommend you choose Houserocker's DJ for your wedding.


April R.

Married on 12/01/2018

Rocked all night!

Jamie was AMAZING!!! I've never seen so many people stay on the dance floor! He listened to everything we wanted as our DJ was our #1 priority! He helped us make our timeline and how we wanted our reception to go!! He even announced when my college football team won that night!! He was perfectly amazing!

Amy

Married on 11/03/2018

Houserockers rock the house!

When we got engaged, my husband and I agreed that no matter what else we did for our wedding, we HAD to hire Jamie as our DJ. We literally scheduled our wedding around his availability! Any previous wedding that we've attended and Jamie was the mix master, he never disappointed us so he was a must have for our special day. Jamie is very professional and keeps the party going, you don't have to worry about the dance floor being empty when he's your DJ.

Katie

Married on 09/15/2018

I would rate it 10 stars for everything if I could. Hands down the best DJ. We had Houserockers (Jamie) DJ our wedding on 09/15 & the amount of "this guys the real deal!" and "this DJ is AWESOME!!" comments we received are uncountable. My husband and I can completely agree. From start to finish, Jamie was great to work with and made planning our wedding SO. MUCH. EASIER. Jamie's very professional and way to work with.

Good music & dancing is one of our favorite parts of weddings & let me tell you: THEY DID NOT DISAPPOINT & Jamie made it one of the best dance parties ever. We highly recommend Houserockers to everyone!!

Chelsie

Married on 09/02/2018

I can't even begin to express how awesome Jamie made our wedding! He kept the party going, got EVERYONE on the dance floor, and had the crown going wild! Not only that- he was so personable, professional, responsive, and helpful throughout the wedding planning process! Best Vendor we could have ever had!

Morgan

Married on 07/07/2018

Jamie was fantastic and made our wedding reception fun, energetic, and most importantly, stress free. He made planning incredibly easy-we met and went over details, and he provided some great suggestions for how to proceed with our night. Similarly, he was incredibly flexible and accommodating, and was able to adapt well to the ebb and flow of the night. Thank you for everything-you played a large role in our amazing night!

Maurielle

Married on 12/30/2017

Jamie was amazing for our cold, snowy wedding day in December. Jamie brought so much energy into the room and kept everyone on the dance floor well into the night. Not only did he keep the dance floor full all night he was great with keeping everyone updated and on track for the night to make sure everything we wanted was accomplished. Jamie was very easy to work with and went out of his way to meet me in person just a few days before the wedding to make sure everything was how we wanted. Phenomenal person and so wonderful to work with! Would highly recommend for your upcoming wedding!

Alli F.

Married on 11/04/2017

Simply the best!!!

My family's relationship with Jamie began 10 years ago when he performed an unforgettable wedding reception for my brother and sister-in-law. My other brother and his fiancé, who were recently engaged, were so impressed with Jamie's performance that they contacted him that next morning to book him for their wedding the following summer (I should note that they did this without having a church or reception hall booked, yet). The following summer, once again, Jamie helped our family throw another unforgettable party. Over the past 10 years members of my family have spent countless Saturday evenings at wedding receptions, some of which Jamie has performed and others he has not. The phrase, "It definitely wasn't a HouseRocker's wedding!" has been recited at many Sunday family dinners to describe those receptions where Jamie was not the DJ; his parties are simply on a different caliber! He is so interactive with the crowd. He brings props and has a great talent for reading the crowd and playing whatever will keep the party going.

His performance at our wedding last November was no different! After getting engaged on Christmas Eve in 2016, it was only fitting that contacting Jamie was our first step in our planning process (We, too, contacted Jamie before we had a church or reception hall booked). I just knew our wedding wouldn't feel right without Jamie being part of it!

He makes it such a personal experience for the bride & groom, while remaining so professional throughout the planning process. The thing that may be most impressive about Jamie is that he never forgets a former bride and groom; if you've ever been on the HouseRockers Facebook page (@djhouserockers), you'll see that he often posts pictures of former couples as guests at weddings he performs. Once you are involved in a HouseRockers wedding, you become part of this awesome family! In fact, one of my favorite memories from our wedding was when Jamie approached me toward the end of dinner and said, "I've rounded up every couple whose wedding I performed and we are meeting on the dance floor for a group picture in 5 minutes." When I got to the dance floor for the picture, there were 8 other couples waiting for the picture. No, he did not have our guest list, he just mingled with the crowd recognized everyone.

If you haven't booked Jamie for your wedding yet, I highly recommend doing so ASAP. He's worth every penny and more!!!


Maria

Married on 10/14/2017

Jamie brought so much fun to our wedding and we loved having him there to keep us on schedule, listen to our needs, and make the day feel very personal. He was super responsive and was very willing to chat on the phone to get the most detailed idea of what you are needing/wanting for the wedding. I would highly recommend him! Thanks for all you did for us and we hope to see you again at more family weddings, Jamie!!
- Maria and Grant

Kelly

Married on 09/23/2017

Jamie is an amazing DJ! He was so easy and fun to work with, and really kept the party going during our wedding reception. He kicked off the reception by getting everyone on the dance floor and getting the party started, and ended by suprising us with a special exit. He was very professional, organized, and responsive to calls/e-mails. We felt very confident having Jamie as our DJ and he definitely delivered! I knew we did not have to worry about a thing! We also heard from guests how awesome our DJ was! Would definitely highly recommend Houserockers!!

Emily

Married on 08/12/2017

I can't say enough about Jamie! I knew from our first interaction, that I was in good hands for our wedding. Jamie keep in excellent communication in all months leading to the big day. I loved the client portal on the Houserockers webpage, and our over the phone meeting. You really made me feel at ease during the stressful planning process, with your knowledge and guidance. It wasn't until the wedding that I was totally swept off my feet (not by my husband). Jamie really helped us so much, from the ceremony, making sure we know when and where to go, to dinner, making sure we had drinks, and every step in between. You are so much more than a DJ. We were so blown away by your help and professionalism through the whole day. Oh yeah....and the dancing....Rocking the house for hours!!! I couldn't believe how everyone of every age was dancing and entertained the whole time. I can't say anything else other than it was perfect! Thank you, Houserockers DJ. You are truly one-of-a-kind! I would recommend you to anyone!

Katie

Married on 08/05/2017

Jamie was great! He came highly recommended friends of ours! He was the first vendor we booked. His website is very easy to use and conveient for planning! He kept the dance floor full for our 6 hour reception and did the lighting for the reception venue. Everything was awesome! Worth every penny!

Casie

Married on 07/22/2017

Words can't describe how wonderful of an experience Jamie makes all aspects of your wedding day!!! He is professional yet friendly and my husband and I truly enjoyed working with him! Even when rain screwed up our schedule, he made sure everything still happened seamlessly! One of my favorite wedding moments was standing in the middle of a packed dance floor and looking over to see Jamie rocking out with a huge smile on his face! Any bride is crazy not to use Jamie! He keeps the party rocking all night!!! You truly won't be disappointed in him!!

Abbey

Married on 06/10/2017

Jamie is absolutely incredible! I can't say enough about how perfect he made our day. He makes sure every detail is impeccable! I'd recommend him to anyone! :)

Eric

Married on 05/06/2017

Jamie is a GREAT DJ! We had him for our wedding and couldn't of been more pleased with how easy he made the whole process. Working with him was totally stress free and he took care of everything, even things we didn't even think about. His charisma and great music selection got everyone at our reception on the dance floor, even people we had never saw dance before. Everyone let us know after the reception how much fun they had and how great the DJ was, if your in the market for a DJ for any event Jamie Simpson and House Rockers should really be your only chioce.

Adriana

Married on 05/06/2017

Amazing! Amazing! Amazing! No one left the dance floor all night. He truly is so good at what he does! We can't say enough great things about our wedding because of him!

Tom

Married on 01/07/2017

Jamie is the absolute best. He helped us with every detail. Anything we wanted, he was happy to provide or assist. His professionalism was second to none. I am forever humbled to call Jamie my friend and wholly recommend him to everyone for any event.

Kelsey

Married on 10/29/2016

Phenomenal experience with Jamie! He kept our wedding moving and tailored it to make it special to us!! We would recommend him to anybody for any celebration!!

When planning our wedding, my husband and I never even considered another DJ other than Houserockers. Jamie Simpson is unbelievably talented at what he does. Our reception ran smoothly and the atmosphere he created was perfect. Jamie knows how to get a party started and how to keep it going all night! HIGHLY request booking Houserockers for your event - I can promise you he will not disappoint!

Cybill

Married on 08/13/2016

The Best DJ there is out there! He has the wedding reception run so smoothly and has so much energy that it keeps everybody dancing and having a good time! He also has an awesome personality and will tailor the wedding to suit whatever need you may have! I would highly highly recommend him for any wedding, party, or any event at all that you want to have a great time at!!!
Are you interested?
Send a message