147 Reviews
Recommended by 98% of couples
Quality of service

4.9 out of 5 rating

Average response time

4.9 out of 5 rating

Professionalism

4.9 out of 5 rating

Value

4.9 out of 5 rating

Flexibility

4.9 out of 5 rating
45 User photos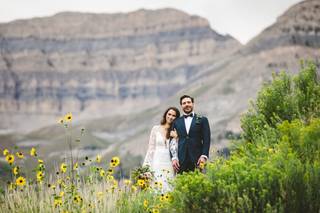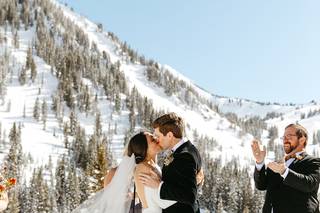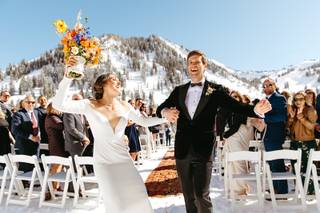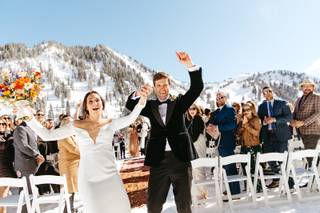 + 41

photos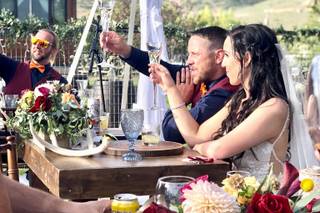 Sarah B.

Married on 10/01/2022

Excellent Wedding Coordinator! Glowing Review!

Tonya Hoopes of Hoopes Events is the best wedding coordinator you can possibly find. Whether it's Tonya who provides the wedding coordination, or someone from Tonya's team, you will without a doubt be in the best of hands and in the best of company. My husband and I hired Tonya in the months leading up to our wedding events — all of which occurred at Sundance Mountain Resort from 9/30/22 - 10/1/22 — and we're so glad we did. We don't know what we would have done without Tonya.

Tonya is a wealth of experience and knowledge, and she really helped us think through, plan and execute EVERYTHING. All of the details came together because of Tonya. She asked fantastic questions, shared her invaluable perspective in the moments we most needed her to, and turned our dreams into a reality. She listened to our vision, and really made it happen.

I simply can't say enough good things about Tonya - she's incredibly organized, on time, polite, creative, confident, good natured, patient and professional. Tonya was particularly calming and grounding, in the more stressful or rushed moments of our wedding weekend, and Tonya kept everything moving beautifully and flowing perfectly. If you have a wedding coming up, Tonya Hoopes is without a doubt the woman for the job!

Tonya hit everything out of the park, and impressed us (as a person and a wedding coordinator) every single step of the way -- in the days and weeks leading up to our wedding weekend, during the events themselves, and in the days following our wedding. I'll always cherish my time working with Tonya. I can't say enough good things about her, she went above and beyond for us and we'll always be grateful for Tonya Hoopes and Hoopes Events!

Shelley L.

Married on 09/24/2022

Tonya Hoopes "Day Of" Coordinator

Tonya Hoopes was the "Day Of" coordinator for my daughter's destination wedding. She and her team were absolutely amazing. They were so organized, efficient, and wonderful to work with. With relatively little instructions, they jumped into action and executed a flawless wedding. There was some ongoing miscommunication among the venue staff, and Tonya, in a seemingly effortless way, was able to help them figure things out and made everything run just as planned. Because it was a destination wedding, we had to transport an enormous amount of things. Tonya directed the unpacking and set up for the wedding perfectly, and then expertly packed everything up to be taken home. The ceremony, happy hour, dinner, and dancing were all in different locations at the venue, and Tonya so smoothly coordinated all of the transitions and every single detail in between. Tonya has a keen sense of how to make things beautiful, and that really showed in the entire wedding. Having Tonya there and having confidence that she was in charge of everything allowed each of us to totally relax and enjoy the day. Not only were Tonya and her team highly competent, but they were just delightful people who exuded friendliness, a feeling of calmness, and an air of being confidently in charge. Tonya and her team made the day exactly what the couple wanted, and they couldn't have been happier. I cannot say enough about how wonderful Tonya and her team were, and I give them my highest recommendation. We would hire them again in a heartbeat.

Amanda S.

Married on 09/23/2022

Great Experience!

Mackenzie did a fantastic job for our wedding. It was a snap decision to bring her on as a month-of coordinator and we are so happy we did. She was attentive, organized and on the ball for our wedding. We even had a mishap (not her fault) during the day-of, where one of our guest buses broke down, and she did a great job resolving the issue. Highly recommend Hoopes!

Are you interested?

Send a message

Kelly

Married on 09/17/2022

Perfect planner

Brittany Adams was our planner for our wedding. She was willing to tackle any task. She was well organized and thorough, and she relieved any stress I was feeling with her confidence and reassuring words. I soooo appreciate Brittany. She gets an A+!

Jordan D.

Married on 07/02/2022

Perfect wedding weekend thanks to Angela and Hoopes

My partner and I were so lucky to work with Angela from Hoopes Events for our wedding :) Angela was incredible in every way. She was knowledgeable, organized, thorough, and a wonderfully warm and reassuring presence throughout the entire process. There were so many aspects of our event that could have made planning difficult (specifically that we're a couple of stressed out procrastinators planning a Utah wedding while living in Brooklyn), but Angela made it as smooth and stress-free as we possibly could have hoped.

And more importantly, her expert planning and coordination helped make the wedding itself absolutely flawless! Her coordination with the venue and the vendors was masterful, and she was such a hit with the guests and ceremony participants that one of our friends tried to hire her for a sibling's wedding on the spot :) The whole experience was so much better than we expected, and we honestly could not have done it without Angela. We can't recommend her and Hoopes highly enough.

Lisa S.

Married on 06/26/2022

Great wedding weekend thanks to Mackenzie and Hoopes Events

Mackenzie at Hoopes helped us put on 3 nights of events during our wedding weekend. It was a great collaborative effort, and the weekend was fantastic.

Mackenzie was organized and a good communicator, which was important, considering the numerous details we were dealing with for the weekend. She helped with our guest Welcome Bags, the logistics with all 3 events, various signage, ideas/suggestions along the way, some vendor coordination, guest communications, and attended to plenty of details/issues during the events.

Most of the guests ultimately knew who Mackenzie was, and she was a calming constant during a weekend full of people, details, and important moments. When we originally hired Hoopes, I really didn't know what to expect, but when the weekend was over, it was "beyond expectations" in my mind. I was impressed and appreciative of Mackenzie's level of care and commitment to making sure everything went well - and it really did. She really did a great job, and we can't thank her enough!


Paige E.

Married on 10/09/2021

Incredible wedding planner for a stress free and fun wedding planning process!

I had the privilege of working with Angela Menlove from Hoopes Events for my wedding and I can't say enough wonderful things about my experience with her. We had a long engagement (almost 2 years) and Angela was my rock through every step of the process. From our first call I knew that she was going to help create an incredible wedding, but it far exceeded any of my expectations. She took all of the stress off the entire planning process, gave me real and honest feedback, advice, and support along the way. One of my favorite things about working with Angela is that she really took the time to get to know us and what our vision was so that in every check in or vendor meeting we were aligned and felt comfortable making decisions wether they were big or small. On our wedding day Angela made everything run so smoothly and flawlessly that I had so many guests come up and tell me how wonderful she was! I genuinely could not have planned or executed my wedding without her and I hope that every bride (and couple) can experience a wedding planning process as seamless, stress free, and fun as we had!

Bill

Married on 09/04/2021

Flexible & creative for complex 2-day wedding!

We used Tonya Hoopes to help plan the wedding for our daughter. Our daughter's wedding was Labor Day Weekend at the Solitude Resort in Utah. The wedding was a two-day affair with the first day being a "traditional" western ceremony and the second being a Hindu-Indian ceremony. Both ceremonies had receptions associated with them and after parties. One family lived in New Hampshire, one in Georgia and the Bride/Groom in New York. We would respectfully suggest that the degree of difficulty for coordinating all elements for this wedding
was high.
Tonya was easy to work with, flexible when it came to scheduling meetings and accommodating on reschedules. She was a wealth of information on a variety of topics. She was outstanding in helping negotiate issues with the Solitude resort staff. Tonya displayed a very capable eye for design. From the invitations, to the table settings Tonya helped create a vision for the wedding "brand" without much assistance or direction. She willingly incorporated suggestions to pile on the core brand from both sides. We were grateful to her for this overall vision. Wedding weekend was especially challenging with two different outdoor sites for the ceremonies (one
up the mountain) and then an outdoor reception tent that had two different themes. Tonya's team of employees capably made sure items were where they should have been when required. We can't understate how complicated this element was with both families dreaming up all sorts of details to make the events of the weekend memorable for everyone.
Finally, a word on fees. Simply put, Tonya's fees for services were fair.
We are happy to provide further details if desired.

Liz C.

Married on 08/21/2021

Everyone needs a wedding planner like Angela!

We used Angela for ALL our wedding planning, not just day of, and I will say it was the best money spent on the entire wedding. I can honestly say I was not stressed with the wedding process at all and she took care of everything.

I even threw a last minute taco truck at her to find for the day after the wedding a month before and she made it happen!

She is the best and I couldn't recommend her and her company more.

Jamie G.

Married on 08/07/2021

RUN (don't walk) to hire Hoopes Events!

The best decision we made for our wedding was hiring Hoopes events to help us coordinate. We worked with Angela, and she is an absolute dream. She felt like our true partner in the planning process, and really listened to what we wanted. I never felt like she was trying to push something on us that didn't match what we were going for. She was on top of all of our logistics, pushed vendors for answers when we needed them, and was overall just really pleasant to work with. We never would have been able to plan out Park City wedding without her, especially given we were flying in from out of town. Thank you Hoopes Events and Angela!!

Josie K.

Married on 07/14/2021

Highly recommend Tonya and team!

Tonya and her team stepped up to the plate with many last minutes changes and headaches! Our wedding would not have been possible without them! Angela helped us for many months and was so knowledgeable and kind. Tonya has innumerable connections in Park City and that made all the difference for us! Highly recommend hiring her and using her team from the start to have the best recommendations for vendors! Thank you Tonya and team!

Justine L.

Married on 07/02/2021

Outstanding service, vision, and support!

We have been working with Angela over the past year and a half to plan our destination wedding and rehearsal dinner in Park City and she was amazing! Hoopes went above and beyond to help execute our vision and recommend and work with all of our vendors. Would highly recommend!

Sasha P.

Married on 06/19/2021

Dream Wedding Thanks to Angela and Hoopes Events

Angela and Hoopes Events made our dream wedding possible. We had a really unique venue that had some challenges and without Angela, I could not have made the day happen. No questions or asks of her were too big or small. She led on every element of the wedding from coordinating with vendors to helping me pick color schemes and centerpieces. I can't say enough about how incredible Hoopes Events is to work with. Thank you Angela!

Monet

Married on 05/21/2021

Tonya and her team at Hoopes Events are matchless in their field for planning, coordinating and executing any event! They took our wedding from a semi-cohesive thought to a magical evening that will be forever perfect in our memories. After reading various planning books we had too many ideas and zero knowledge about where to even start. We ran to Tonya in a hot frantic mess. After the first five minutes she had reorganized our cookie cutter plans into a unique direction that fit our ideal concept so very well. Tonya has this beautiful ability to take away the stress of planning and make it fun! Everything is so well organized and coordinated on a daily basis it's easy to place 100% confidence in her. She thinks of everything before it can grow into a problem. We had heard from our married friends to plan for something to go wrong on our wedding day. Well, we can honestly say that was not the case – indeed everything exceeded our expectations. At no point during the whole process were we worried about anything. All we had to do was show up and have a great time! We would (and do!) recommend Hoopes Events to any stranger, friend, business associate, or family member for any event!

Annie R.

Married on 04/17/2021

Wedding Coordinator

Angela was our wedding coordinator and was seriously incredible. From meeting us at our venue to discuss details months in advance to keeping our big day running smoothly, she is extremely knowledgeable, organized, and detail-oriented. We came in not knowing much at all about planning a wedding, and she guided us through the essential parts of the process and reminded us of many details. The best thing about Angela is that she makes it all about YOU. She always has you and your partner's wants and dreams at the forefront of every decision. She truly brought to life the day of our dreams. Cannot say enough good things!

Zara A.

Married on 03/07/2021

Hoopes made our day perfect

We planned our wedding from out of state and hiring Hoopes was the best decision we made! All our vendors were recommended by Hoopes and we were happy with all of them. When we first contacted Hoopes we worked with Angela, who made something that was starting to feel more stressful than fun start to feel like we really could plan a perfect day. We signed up for the "month of" planning package which worked out great—Hoopes was available to answer our questions before the month of, and the month of the wedding they handled everything. Our coordinator was Tonya, who was beyond amazing. Anytime we were feeling stressed talking to her would calm all our worries! When unforeseen last-minute issues popped up, she handled them seamlessly. Our wedding was better than we ever imagined, and it couldn't have happened without Hoopes. Cannot recommend them highly enough!

Alessandra W.

Married on 12/02/2020

Amazing work

I have worked with hoopes many times. Tonya and her team are always on top of things and they are so easy to work with. I love when I know they are planning the wedding as I can come and the cake table is always ready. They have great communication as far as delivery times and scheduling. I totally recommend them!

Lesli W.

Married on 10/10/2020

Angela Menlove: Amazing Wedding Planner...Second to none!!

Planning a destination wedding, long distance, at an outdoor venue, during a pandemic could have been a little stressful. But thanks to Angela Menlove from Hoopes Events, we did not have to worry about anything. We met Angela back in August when we flew to Utah for wedding planning. After our first meeting, we knew that we were in good hands. Her personality, smile, attention to detail, knowledge of vendors, take charge attitude and calming demeanor told us within 2-minutes that she was the planner we wanted (and needed) for our daughter's wedding. Angela took care of EVERYTHING! Wedding weekend events went off without a hitch. From the Friday rehearsal to the "day of" activities, Angela took care of it all. There is no challenge that she could not solve. We loved her so much that our intention is to fly her to Florida when our third daughter gets married. Thank you Angela for making K & S's wedding day PERFECT!

Sherri B.

Married on 06/20/2020

Summer Wedding

We were more than happy with Hoopes Events. Tony and Stephanie did a fabulous job in making sure every detail was complete and perfect. We had a change of venue at the last moment and they handled it really well. The wedding was absolutely perfect, beautiful, and I didn't need to worry about the flow of events! We could not have been happier with Hopes Events, and I will recommend them to friends.

Jenn E.

Married on 06/05/2020

We feel so lucky to have found Hoopes!

Angela Menlove at Hoopes helped my (now) husband and I plan our destination wedding in Salt Lake City a few weeks ago. We feel incredibly lucky to have found Angela and couldn't have possibly had a better experience. Our wedding was absolutely beautiful, and because Angela was so organized and on top of everything, we got to truly enjoy and be present for the day. From the beginning, Angela was a complete joy to work with. She's lovely, friendly, and was always completely on top of every single detail. She never dropped a single ball, and made sure our many vendors didn't either. Because we live out of town and are very busy with our jobs, we made only two trips to Salt Lake in advance of our wedding (and only had two total days of planning on the ground there). She gave us excellent vendor referrals. Coming from out of town, we had no idea where to start and couldn't take the time to meet most of our vendors so we were a little nervous, but everyone we hired on her recommendation was excellent. She also provided a lot of knowledge and expertise when it came to rentals, and really helped us stay in our budget by giving us options and suggestions at different price points. We had a pretty unique hybrid Hind-western ceremony. Angela was familiar enough with the Hindu wedding traditions and local Hindu priest to provide helpful advice on that front as well. Finally, I'd like to add that we shopped around for wedding planners and Hoopes offered very competitive pricing.

Sherry M.

Married on 04/01/2020

Hoopes Events

I highly recommend Tonya Hoopes and Hoopes Events! They are Fantastic! We had a tricky venue ( ski lodge mid-mountain), with limited time to set up and decorate, but Tonya and her team handled it with ease. From start to finish, it was a pleasure to work with this business. Phone calls and emails were always returned promptly. She was conscious of the budget, and willing to make adjustments along the way. Tonya also has valuable relationships with with local vendors, such as a calligrapher and videographer. With Tonya overseeing all of the details of the ceremony, dinner, and reception, I was able to visit with our guests. Tonya and her assistants helped ensure that my daughter and her husband had a wonderful wedding. Hiring Hoopes Events was a very good move!

Kelly

Married on 09/21/2019

Personality and Professionalism

From the first meeting with had with Angela, we knew we had nothing to worry about. We could tell she had the personality where she was going to be ON IT and she was! We live in Denver and got married in Park City, so we had a few in person meetings and the rest were over the phone and everything will went so smoothly! Angela was always available to talk and so responsive with her emails. My parents are both in their late 70s so I was really concerned with how they would do in the altitude. Angela gave me recommendations for oxygen and helped us out with getting wheelchairs coordinated. My parents were so grateful. I received a lot of comments from friends and family on how great Angela was and how on top of everything she was and I said...I KNOW! She was a rockstar and I know our day went off flawlessly because of her

Cristal L.

Married on 09/20/2019

Hiring Hoopes was the best decision I made

I found Hoopes online through reviews so I want to be sure to share my feedback!

We were thrown quite a curve ball the day of my wedding in that due to a completely unforeseeable situation, our venue became unavailable. I work as a project manager and can admit I am a very hands-on and organized person. I originally did not plan to hire any additional planning or coordinating services but finally decided an extra pair of hands would be helpful. Even if everything had gone according to plan, Roberta & Shelby were SO much more than just the extra pair of hands I thought I needed. There was no way any of us could have predicted the last minute venue change, but Roberta & Shelby handled it flawlessly. Without them, no amount of my organization or planning could have pulled off our wedding the way they did.

Roberta was incredibly professional. She notified me early on of the changes, but only after she had time to begin working out a new action plan. I appreciated being kept in the loop, but also appreciated that she didn't call me the second the news broke...informing me of problems without potential solutions to offer would have been extra stress I didn't need in that moment.

Roberta & Shelby were also absolutely in sync with Park City Resort and all of my other vendors. The communication and coordination was excellent. Because they had both taken the time to get to know me and understand my vision in the weeks leading up to the wedding, they did an amazing job of recreating our decor in a new venue space. Everything was exactly how I would have liked to see it, even though I wasn't available to provide any input.

The planning leading up to our wedding was also perfectly executed. Roberta & Shelby asked the right questions, ran with my ideas, and prompted me to think about different approaches when appropriate. Roberta & Shelby are both extremely capable and professional, but what makes them stand a part from other professionals in your field is how genuine they are. They genuinely wanted to make this wedding my dream wedding, and they went above and beyond at every turn. Roberta even offered to hold our guest's baby during dinner so the couple could enjoy their meal. Although this wasn't something I saw, at least 20 of my guests did notice and made a point to tell me how amazing the Hoopes team was! That's exactly the kind of detail only a person genuinely committed to delivering an above and beyond experience would even think to do.

My husband (!) and I are blown away by the HOOPES team.

Alliw

Married on 08/31/2019

Dream wedding by Hoopes!

My family and I worked with Angela Menlove for partial wedding planning and I could not recommend her (and Hoopes) more! Angela was fantastic in the planning and coordination leading up to the wedding, and we had our dream wedding because of her efforts. She was a life saver in negotiations, vendor selection, and coordination for all contracts and timeline of our wedding. Angela is a super nice and very easy to work with. I would recommend her to anyone who wants a stress free wedding experience!

+ 8

photos

Steve N.

Married on 08/25/2019

Tony Hoopes is the best event planner we have ever used.

We just had a wedding in Park City UT, which was not wasy to plan, as we live in the Washington DC area. We were able to pull off a very successful event due to the help of Tonya Hoopes. For the amount of work she put in on our behalf, I believe we underpaid her for her efforts. She became a trusted advisor and friend of the family due to her sincere desire to ensure we had the perfect event. Unfortuantly, we had a very difficult time with the company who provided the venue and food. Tonya ran interference for us and helped resolve many of the issues. By the time of the wedding, no one would notice that things were so difficult in the planning process. Without Tonya's help, I can only imagine the issues that might have popped up. Tonya not only helped with much of the plannning, but she also provided many of the decorations at the event, which I would highly recommmend using her for. She was there all day from the rehearsal to staying till the end of the party. It was nice having her running the event like clockwork. Tonya is most receptive to input and fufilling the requirements of of her clients. Although she was not expensive, she was worth every penny and much more. We liked her so much that we even tipped her twice to show our appreciation. She took on more than she signed up for, but never complanined. Our family could not recommend her more to anyone thinking of having an event of any type in the Salt Lake area. You simply cannot pull off a successful event without help and Tonya is the best we have ever seen.
Are you interested?
Send a message