Reviews
5.0 out of 5 rating
Quality of service

5 out of 5 rating

Average response time

5 out of 5 rating

Professionalism

5 out of 5 rating

Value

5 out of 5 rating

Flexibility

5 out of 5 rating
100%
Recommended by couples
40 User photos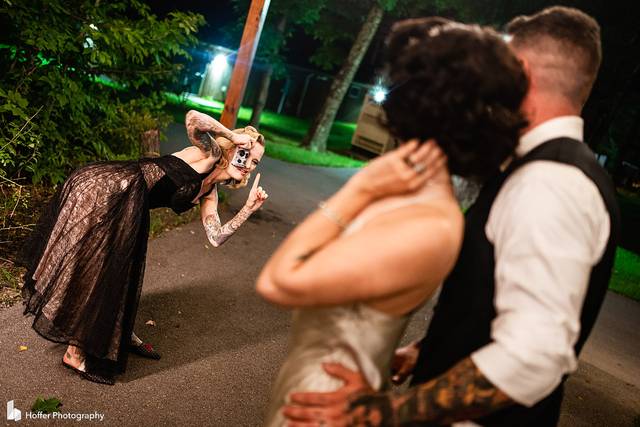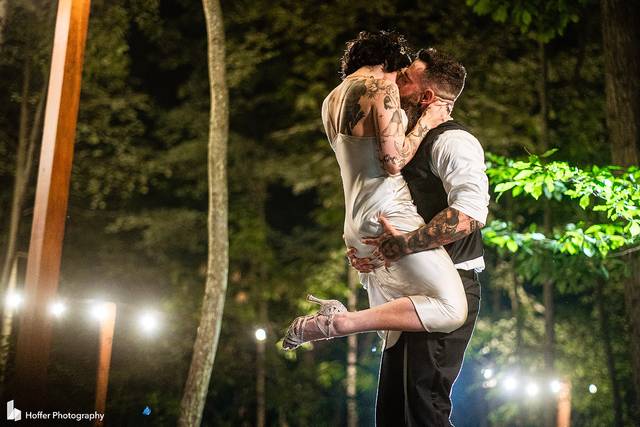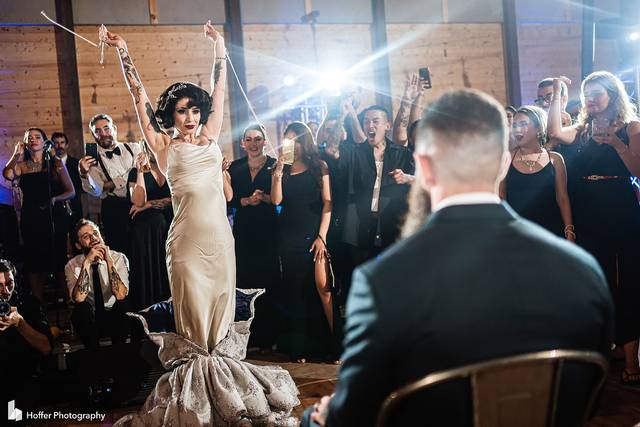 + 36

photos
Brett A.

Married on 08/12/2023

Best Wedding Photographer!

I cannot express how amazing Amy and Tony are! They are easygoing, patient, and super fun to be around. They not only captured beautiful photos of our wedding day but also enhanced it by their fun personalities. 10/10 would recommend for any event.

Sophie R.

Married on 06/10/2023

ABSOLUTE BEST Wedding Photographers

By the time Amy & Tony (Hoffer Photography) gave us our photos back, I was convinced that I would have the right words to express how much A&T meant to me, my husband and to our wedding day. But, to no surprise, A&T beat my expectations by sending us our photos prior to their deadline and I'm left still trying to find the right words to do justice to how amazing these two are.
As a couple who doesn't necessarily enjoy getting our photos taken, A&T made the whole experience such a breeze. They made us feel so comfortable and in turn, really made our time together so fun. It didn't feel like we were working with two vendors, it felt like we were working with two friends. We had guests during and after the wedding telling us how impressed they were with A&T and they weren't wrong. On top of their amazing photographer skills and their larger than life personalities, you can also see how much they love each other (husband & wife!) and that itself made me smile throughout the wedding.
They are down to earth, friendly, highly skilled and truly just one of a kind. After the wedding, we got a sneak peek via their blog of some of our photos which was so special (literally only a few days after!!). We were able to share the blog link with all of our friends and family and it was so sweet to see how excited people were to get a "sneak peek" at our wedding photos. Then, we got the full album back and I was blown again, again, by their photos. The photos are incredible and so unique. They captured true candid moments throughout the entire event and also had such creative ideas for our individual, family + bridal photos that turned out wonderful.
Overall, I can't recommend Hoffer Photography enough. They made our wedding day and we will always remember how special they both were to us and our day. The day would not have been so fun, energetic and wonderful without them.


Jenn A.

Married on 04/15/2023

The best!

Jim Heine is the absolute best!! We got our pictures back in less than 3 weeks and we LOVE them! Like everyone says, the day goes by so quickly, but thanks to Jim, we get to relive it whenever we want! We don't know how he did it without being seen, but Jim captured EVERYTHING (all of the love, fun, laughs, happy tears, jokes, embarrassing yet endearing dance moves, little candid moments, etc.). He's magic! He made us / our guests feel so comfortable and at ease; we trusted him completely and wow did he deliver! Jim is an absolute gem of a person and he and the rest of the Hoffer team are a pleasure to work with!! We can't recommend Hoffer enough!

Are you interested?

Send a message

David M.

Married on 09/24/2022

Incredible Partnership

We interviewed multiple photographers. Jim Heine made us feel comfortable from the first meeting. During our event, Jim and his assistant partnered well with the videographer and somehow remained invisible yet omnipresent; they were able to catch so many special moments. While reviewing the photographs online, we were able to relive our wedding as well as experience so many moments we missed. We highly recommend Jim Heine and Hoffer Photography.

Alex R.

Married on 06/05/2022

Jim is a wonder

We worked with Jim Heine for our wedding and we could not have made a better choice. He was fantastic to work with in every aspect. He was open to what we wanted but also easy to work with and follow to get an artistic view of our wedding. There is not a bad picture in the over 800 he took! Add to that he is super kind and big hearted and a joy to work with. Hire him immediately!

Haley B.

Married on 05/07/2022

Tony and Amy are spectacular!

I can't say enough good things about Tony and Amy. They are beyond talented and amazing photographers. They are also extremely personable and great people to work with. They make taking photos so effortless and enjoyable. It rained for most of our wedding day and Tony and Amy had amazing places for us to take photos and the sneak peaks we've seen so far are incredible. They go above and beyond to take the perfect photos and make your day special. I highly recommend hiring them for any event!

Shannon D.

Married on 10/16/2021

Hire the Hoffers - NOW!

There are no words to describe the pure magic that is Hoffer Photography. Amy and Tony are incredible. Their talent and vision are unmatched. They have a special ability to capture the candid moments and you can really feel the emotion pouring out of all of their photos. Our engagement, sangeet, and wedding photographs are breathtaking, and Amy and Tony perfectly captured the joy, happiness, and love of our wedding weekend. We feel so lucky that we can relive that weekend over and over again through the Hoffer's photos. Not only are they amazing photographers, but they are also incredibly kind and thoughtful people. Amy and Tony care deeply about their craft and their clients. Hiring them was the best decision we made. It was an absolute joy to work with them. We are so grateful for Amy and Tony and can't wait to work with them again in the future! Hire Hoffer Photography. Now. You won't regret it.

Anthony D.

Married on 09/12/2021

best photographers!

We were prepared to leave this review before even seeing the pictures, that's how amazing Tony and Amy were. They navigated through stressed out relatives, pushy vendors, and a train wreck of a timeline effortlessly. They inhaled all of our stress and exhaled tranquility. They were flies on the wall letting us enjoy the moment, but took charge when they needed too to keep things from spinning out of control. There was a moment in the night that we'll never forget where we found ourselves outside of the reception just hanging out with Amy and Tony as if they were two of our many friends we hadn't seen in years just catching up.

And then three days later we saw the pictures…..amazing.


+ 9

photos

Amanda K.

Married on 09/05/2021

Easiest (and best) decision we made while planning our wedding!

If I could give Tony and Amy an infinite amount of stars, I would. They are the best of the best. They shot my best friends July 2020 wedding. As soon as I saw their work, I knew we needed them on our team! It's always important that you love the final product from your photographer, of course, but what I didn't realize is how important all the other pieces are. They are so much more than their incredible photographs (which says a lot). They are talented, respectful, quick (literally in terms of getting to the right spot to capture every moment you could want on the day of, and also in terms of getting us our pictures after the wedding), they know when to bring order to chaos (aka herding our 24 person bridal party) and equally know when to be incognito (it's like they weren't even there for our first look, in the best way). I basically spent more time with Tony and Amy on my wedding day than with my husband! Point is... you want to enjoy the company of the people you'll be spending lots of time with on one of the biggest days of your life. T & A are not only incredible at what they do but two of the most wonderful humans that we genuinely enjoyed spending time with (for our engagement shoot and our wedding). If we didn't so desperately need their amazing photography skills on our big day, we'd have invited the two of them to come to the wedding! They are that cool. Before the wedding even started, my bridesmaids couldn't stop raving about how incredible they were and how they all want them for their future weddings... I already can't wait until we have an excuse to work with the two of them again... we will never work with any one else (sorry Tony and Amy... you're stuck with us!)! If you want to work with Tony and Amy, the only thing you'll have to worry about is if they are available... otherwise... let your worries fade and feel comfort in knowing you're in such great hands!

Ally J.

Married on 09/04/2021

Best Photographers!

Amy & Tony are hands down the best wedding photographers ever. We were blown away by the pictures they got. Every single person we know always exclaims about how amazing our engagement and wedding photos are. They are literally stunning. Even the director of our venue, who sees weddings and wedding photography every day, said when she gets married, she's hiring them. Their work is INCREDIBLE! If that doesn't sell you, getting to know them certainly will. They're so much fun just to hang out with! They make you feel incredibly comfortable and make it easy to laugh and enjoy your time with them. They'll do their ABSOLUTE BEST (which is amazing btw) to make magic happen for yo ur photos. When Tony or Amy has an idea, you go for it. You won't regret it. I will recommend them to anyone and everyone that asks (and doesn't) about photographers. We'll be calling them again in a couple years for some family portraits too! Wouldn't trust anyone else.

Diane I.

Married on 08/29/2021

Greatest wedding photographers of all time!

What can I say about Tony and Amy Hoffer… they're the BEST photographers out there. When I saw their album at Trout Lake, I knew they were the ONES. While I didn't end up getting married there, I began working with the Hoffers for my engagement photos, my maternity photos (Covid flipped my timeline around) and of course my wedding photos.

To say they are geniuses at their craft is an understatement. Tony and Amy bring out the absolute most out of their subjects. I had no idea what my wedding day would bring but one thing I knew for certain is that the Hoffers would deliver. I trusted them to execute with little to no direction… I knew they could bring my lakeside wedding vision to life and that they did.

My photos were magical and are a memory that will last a lifetime… and what's more they captured my 7 month old son which is the best gift I can ever ask for…

They're truly the best at their craft and awesome people to boot. Thanks guys so much.

Mauri L.

Married on 08/07/2021

Amazing photos. Amazing people.

I fell in love with my friend's wedding photos and knew I needed to try to book the Hoffers if they were available! The stars aligned and they had our weekend open. Tony and Amy's photos are not only beautiful, but they have an amazing ability to capture what makes each couple unique. And as many others have also noted, Tony and Amy are also just genuinely nice people. Their amazing portfolio speaks for itself - I would highly recommend checking out their blog of wedding and engagement photos. They also have an amazing turn-around time for providing photos, which is amazing! I can't recommend them enough. (Photos by Hoffer Photography)

Stephanie A.

Married on 08/07/2021

Jim is a class act! Highly recommend

My husband and I hired Jim for our August 7th wedding, and we couldn't be happier with our choice. From the start, Jim was highly responsive and thorough. He was able to capture all the best elements from the ceremony and reception, and you couldn't even tell he was there! His dedication was abundantly clear. Not only that, but he's the nicest person, and so receptive to any of our requests!!! We highly, highly recommend him.

Sandra

Married on 06/21/2021

Personable connection and outstanding level of service

From the moment we met with Tony and Amy for our engagement photos through to after the wedding we have built a long lasting friendship. It meant so much to us that Tony and Amy went out of their way to get to know both my husband and myself which resulted in outstanding once in a lifetime photographs. Each photographs are so unique and captures our personality and style. We will be using Hoffer photography to capture all of our special events and moments going forward.

Tatiana D.

Married on 06/05/2021

Best Investment

We recently had our engagement shoot and Amy and Tony Hoffer just made it so easy and so much fun. Our photos came out beautifully and all our friends and family are asking who did our photos because they want to book them too. I can't wait until the wedding! Our photos will be something we will keep forever and we couldn't have picked better photographers.

+ 2

photos

Molly Y.

Married on 05/08/2021

The most stunning photos

A good friend of mine used the Hoffer's for her wedding photos and once I saw them, I knew I had to have them as well. Every shot is so incredibly artful, well thought out and unique - these are not run of the mill wedding photos, and we're having such a hard time picking a few favorites to frame because they are all so outstanding. I've gotten an inordinate amount of compliments on the photos I've posted thus far!

You can see the gears constantly turning in Tony and Amy's head as they view the surroundings to capture each moment of your day in a way you'd never expect - it's truly an art form. They were also so mindful of our personalities - my husband and I aren't super lovey dovey in public and they made us feel so comfortable throughout the day. Even a hail storm one hour before our ceremony couldn't scare them - they still got every single shot we wanted, inside and outside!

Thank you so much, Tony and Amy for giving us the ability to look back on our wedding in the absolute best way

Elissa W.

Married on 11/14/2020

The actual best photographers

I cannot say enough good things about Amy and Tony. We originally selected them back in 2018 (!?) after looking through their online portfolio and being super impressed by the artistic quality of their photos. We purchased a package that included engagement photos, which was a great decision. The engagement shoot was a blast and the photos from it amazing, so we knew after that we were in good hands. It was awesome to be totally confident about it going into the wedding - we were just excited to see Amy and Tony again!

The actual wedding wasn't until December 2021, after being postponed due to the pandemic. We'd had several planning phone calls leading up to it, and Tony helped us plan the timeline of the day. Everything the day of went wonderfully. We purchased extra hours with the Hoffers so that they could arrive early, while we were getting ready, and stay throughout the night, and it was definitely worth it.

Tony and Amy did an incredible job of capturing poignant moments and emotions throughout the night. The photos we got are truly priceless. Looking at them the first time was like experiencing everything again but with a fresh perspective - they were able to capture things that I'd been too busy in the moment to notice.

Highly recommend!

Jessica

Married on 05/20/2020

Best in the Business!

Their photos will speak for themselves, but Hoffer photography is the best in the business! Tony and Amy shot our wedding and we could not be happier! They are amazing photographers and wonderful people! They made us feel so comfortable from the first time we met them and the quality of their work is above and beyond anything we have seen before. Their entire team is extremely responsive and helped us navigate through re-planning our wedding during COVID. I recommend them to everyone I know that is getting married- you will not be disappointed!

Meredith B.

Married on 09/07/2019

They put up with me being a scatterbrain!

Tony and Amy did the photos for our wedding and engagement shoot. They are so personable, super flexible, and gosh darn talented. From the moment we met I felt that we had been friends for ever. Both my husband and I felt very comfortable with them every step of the way and highly recommend them to everyone! Don't think twice about hiring them, scoop them up, and wait for magic!

Kelly

Married on 06/15/2019

We worked with Jim for both our proposal and our wedding and we couldn't be happier with the photos!

We worked with Jim for both our proposal and our wedding and we couldn't be happier with the photos! Jim and Lindsey, their office manager, were so responsive to all of our emails. I think we are officially adding Jim to our family tree!
We also used the "Guestcam" from the Hoffers for our photo booth. They helped us to pick a backdrop and even provided some fun props (we supplemented with our own props too). I would say the attendant did a good job but she didn't seem totally familiar with the technology. For instance the Guestcam supposedly does animated gifs but this service was not offered or made clear to anyone about how to do it. But the Guestcam quality was great and our guests loved it overall.

We got our photos back less than a month after the wedding and we were blown away. Jim has an amazing eye for detail and made us feel so comfortable even when we weren't sure how to pose. But every single picture turned out better than we envisioned. We love our pictures so much we can't decide what should go in our album! Thank you!


Megan

Married on 06/04/2019

Where Do I Even Begin!

There are a lot of details that go into planning a wedding, much of which you can't really think about until you start the planning process. For me and my husband, there was at least one thing we knew without a doubt would be a part of our day – the Hoffers. Before even getting engaged we witnessed Tony and Amy Hoffer at work at a friend's wedding and we couldn't stop talking about them for so long after. We were blown away with not just the results of the images themselves, which were amazing, but by their pure energy and enthusiasm throughout the night. We knew that when the time came those were the type of people we wanted to surround ourselves with.

Being a photographer, Nick had pretty high standards for what he was looking for in a wedding photographer. We both agreed that while we wanted some of those key shots, we did not want the quintessential wedding photography that you see online. We wanted a unique, artistic approach to our pictures that would truly capture the two of us as a couple, which is exactly what we got!

We got the pleasure of working with Tony and Amy 4 times over the course of the last 15 months. Nick surprised me with having them capture the proposal at Grand Central Station, which truly made the day even more special. Immediately following the proposal, we were so determined to lock in the Hoffers for the wedding that we started the process of looking for venues and literally coordinated the day around when they were available. If there was one thing we weren't willing to negotiate on, it was them!

Luckily, we found a day that worked for everything! We shot an engagement shoot with them in Tribeca, NYC that was probably one of the most fun experiences we have had together. Tony and Amy made us feel so comfortable to where we could just be ourselves. It literally felt like having two friends with you all day. I don't think the smiles ever left our faces. We were so blown away by the results and couldn't wait to share the pictures with our family and friends.

As an additional experience for me, I did a boudoir shoot as Nick's wedding gift with Amy Hoffer and Lindsay Backner that was a once in a lifetime experience. It was such a memorable time for me. The confidence I felt in that moment and then in seeing the results afterwards was something both me and my husband will cherish for many years. I couldn't thank the two of them enough for making me feel like a million bucks that day and for the beautiful images I can now look back on.

When you're hiring vendors for a wedding, you try to work off recommendations as much as possible. After that, you're pretty much left with online reviews, phone interviews and hoping that you have made the right decisions. When we hired Hoffer Photography we had no doubt in our minds that we made the best decision for our day. We knew that we had hired individuals who would amplify our day with their talent and positivity. We fully entrusted them to capture our most precious moments and felt completely comfortable in leaving creative liberty at their disposal. Not only were we so impressed with them that day, but our family and friends have all commented on how wonderful they both were. They seemed to be everywhere you wanted them to be, capturing each special moment, but you never really knew they were there at the same time!

We're so thankful for these past 15 months and getting to work with the Hoffers. We can only hope that we will have more opportunities to work creatively together in the future!

Dara

Married on 12/08/2018

Stunning Photography!

Where do we begin? From the moment We met with Tony and Amy we knew that they would be the photographers to capture not only our wedding day, but our love story! Photography is so much more than a job for the Hoffers. Their talent & passion for photography is truly unique! It's obvious that they genuinely care about each and every couple that they work with. Tony and Amy have a gift for seeing things differently than everyone else and for taking the most incredible pictures that will leave you speechless and wanting more! They even coached us when we asked for advice on how to pose or where to look! Tony and Amy are extremely talented, very professional and so down to earth! The Hoffer squad made taking pictures so much fun and we had an absolutely blast working with them! Highly recommend them to anyone needing a photographer!

Dominique D.

Married on 09/28/2018

Best Photographers!

Hire the Hoffers (Tony & Amy). That is all.

In all seriousness, our engagement and wedding photos are so spectacular! My husband and I met with the Tony and Amy after my friend recommended them to me. I was in the process of reviewing other photographers' work/style and put a lot of effort into the search because I knew that having amazing photos of my wedding was one of the most important things to me. As soon as we left our initial meeting with Tony and Amy, we weren't even in the car before I told my then fiancée, "those are our photographers, we are signing the contract when we get home." Amy and Tony make you feel like you are old friends (like seriously you want to be their besties), which makes the shooting experience fun, carefree and results in the most incredible photos. I think that is one of the things that makes them unique, you feel so comfortable around them that the camera seems secondary, you don't even realize they are getting all of these amazing shots of you because you are just "hanging out". You can also feel that they are just as invested as you are in making sure you having memorable photos and that makes them so special.

We just received our wedding photos and I started tearing up. Through their photos it is like reliving the whole day over! For me this was amazing especially in regards to the reception photos since there are so many moments that are a blur since it goes by so fast. What we love so much is that Tony and Amy captured so many candid moments at the wedding/reception, so you actually get to see what an amazing time your guests had and you feel the joy. Plus, their photos just make the bride and groom pop!

If you want photos that are NOT going to be run of the mill, static, typical wedding photos: pick the Hoffers. If you WANT creative, colorful, imaginative, candid shots: pick the Hoffers. Invest the money in your wedding photos and go with Tony and Amy, they are just the best!


Christine

Married on 08/04/2018

We had a wonderful experience with the Hoffer team and our photographer, Jim. The entire team is easily approachable and both Jim and the studio manager, Lindsay, were quick to respond to questions. We had a blast at our engagement shoot, and even more fun on our actual wedding day. Jim and his second shooter, Tommy, made us very comfortable while we were getting ready and grabbed great shots of both of us, our families, and our bridal parties. The photos from the day were exactly what we had hoped for - tons of candid shots of us interacting with our families and friends, as well as some gorgeous photos of the two of us that made us look way more photogenic than we could have imagined. I would highly recommend the Hoffer group to any friends getting married in the future!

Jennifer

Married on 05/26/2018

What can we say about Amy and Tony? As fellow wedding photographers, my husband and I have been following their work for years. When we decided to plan our 10 year vow renewal celebration, we knew no other photographers would suffice. Even though their portraits are beautiful, the Hoffers have a way of freezing moments which is super important to us. On the day of, Amy and Tony were so chill and most of the time, we barely knew they were there. When we did catch them from the corner of our eyes, we saw them capturing so many moments that we can not wait to relive. When our blog post went live just 3 days later, it was an amazing feeling to relive the excitement of the weekend. We know once we receive all of the images, it will bring us back to that night, which is one we will never forget thanks to their amazing photos. Thank you Amy and Tony!
Are you interested?
Send a message