33 Reviews
Recommended by 97% of couples
Quality of service

4.9 out of 5 rating

Average response time

4.9 out of 5 rating

Professionalism

4.8 out of 5 rating

Value

4.9 out of 5 rating

Flexibility

4.7 out of 5 rating
Awards
27 User photos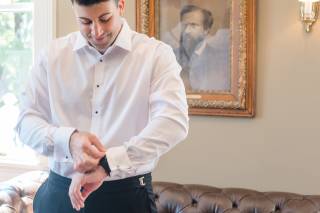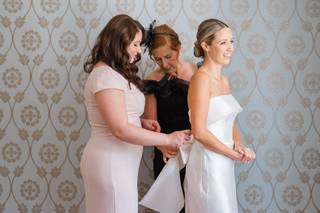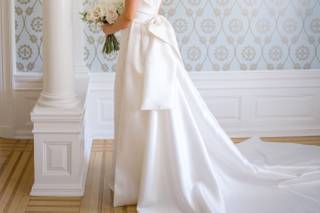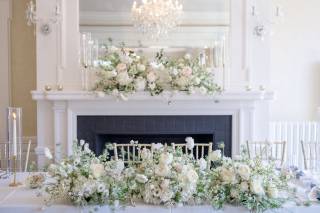 + 23

photos
Joelle L.

Married on 09/10/2022

Stunning venue in a charming New England Town

The Lounsbury House was the perfect location for our wedding. We had 90 guests and September and cannot say enough about this beautiful venue! From the bridal party suites, to the gardens, to the reception hall and dance floor this house is just stunning. If you're looking to have your ceremony onsite they have a beautiful private garden area for that too! We ended up deciding on a religious ceremony and there were tons of churches close by to chose from. The town of Ridgefield is just adorable as well and makes for the perfect wedding weekend.

Beyond the beautiful facilities, Maggie was so kind and easy to work with. We had a ton of little things we wanted to do (petal toss, streamers, etc) and Maggie was so accommodating. She truly made sure we had our dream day. If you are looking for a stunning and intimate wedding look no further!

+ 11

photos

Lindsey Y.

Married on 06/17/2022

The best venue and good bang for your buck

The Lounsbury House is absolutely stunning, and I'm so happy we picked this place as our wedding venue. We got married there last month, on June 10th, and everything came together so seamlessly. The staff was great to work with, very communicative, and the house itself was just stunning. My only complaint is that to purchase additional hours beyond the 9 hours, it's pretty pricey, so we didn't get to enjoy getting ready in the bridal suite before the wedding as long as I had hoped. If you choose this as your venue, I highly recommend staying at West Lane Inn (right down the road) with close family and friends (as there are only 13 rooms). The combo of staying there and then having our ceremony and reception at the Lounsbury House made the whole weekend just amazing.

Larissa G.

Married on 05/29/2021

The Best Venue!

From the moment we toured Lounsbury House, we knew it was where we wanted to get married. The venue itself is absolutely gorgeous (not to mention the stunning bridal suite and groomsmen suite too!), and Tracy was fantastic to work with. She helped us through the ups and downs of re-planning a postponed wedding during a pandemic, and ultimately was a huge part of making sure everything went smoothly. Lounsbury will always be a special place for us!


Are you interested?

Send a message

Angela

Married on 04/18/2021

Great venue, extremely helpful staff!

We recently worked with the Lounsbury House for a Cars and Coffee event and it was an absolute success! Tracy was more than patient with us during the planning process and even when I had last minute things that needed to be accommodated. The venue was beautiful and everything turned out perfectly. I highly recommend this team and this venue for any and all events.

Lori C.

Married on 09/07/2019

Beautiful location, amazing experience!

A first class, absolutely stunning and extremely well run wedding site! From the gorgeous crystal chandeliers and period details inside to the beautiful gardens outside, the Lounsbury House was our first choice of venues and did not disappoint. The staff couldn't have been more accommodating, and we used several vendors based on their recommendations who are the best in the business. The day couldn't have been more wonderful!
Lori C.

+ 3

photos

Kaitlin S.

Married on 07/12/2019

Beautiful location

The Lounsbury House is absolutely beautiful! We really enjoyed being able to use various spaces in the house and on the property. We had the cocktail hour in the back patio area, lawn games out front, and separate dining and dancing areas which allowed people to go where and do what they wanted throughout the reception.

Adeline

Married on 06/08/2019

Cannot say enough good things!

I truly cannot say enough good things about our experience at the Lounsbury House. The staff, Tracy and Kate, were just amazingly helpful and never made me feel like I was bothering them with all my questions. The venue itself is striking; so many comments from our guests. Just gorgeous. The outside is lovely for photos and the recently-ish renovated interior is so pretty it doesn't even really need to be decorated. The suite for the bride to get ready in, and the groom's room are both great for photos and spacious. It was wonderful to watch guests spilling out onto the huge porch and into the front garden area. There was a place for everyone to be comfortable whether they wanted to be inside dancing or just mingling with friends. The grand staircase was the perfect way for us to enter for our first dance. The only thing to consider is that the dance floor is separate from the dining room so you can't just do your dances during dinner, you have to call people into the hall. That really did not end up being an issue at all; if anything it was nice to offer a change of pace and have people get up and be more part of the experience. We had 119 guests and they fit comfortably at 12 round tables; my bridal party at one rectangular head table.

Tony F.

Married on 06/01/2019

Truly a pleasure to work with!

Great venue for any type of celebration.

Jenny P.

Married on 10/13/2018

A very special venue for a very special event!

We had our wedding at the lounsbury house on Saturday and it was magnificent! Many friends and family commented how beautiful and beyond-special the setting was... we knew we wanted to marry in our hometown but would have traveled far to make it happen here. Kate Jackson was our point person and she was terrific - kind, calm, accommodating. We would do it all over again, exactly the same if we could!! Thank you, Kate (and Nicole too!) for all your help along the way. My heart is bursting with gratitude.

Mary A.

Married on 09/23/2018

I highly recommend beautiful Lounsbury House in Ridgefield CT for any wedding or party event. We held a rehearsal dinner for 80 people, followed by a party for about 120+ people on a Friday evening in September 2018. From the very beginning the experienced Lounsbury House staff were so very helpful. From communicating with our caterers, party planner/servers, florists, and party rental specialists, to organizing the floor plan to bring the very best out of this gorgeous venue. In particular Kate Jackson, event manager, was the absolute best and a pleasure to work with. She hosted the evening (3pm to 11:59pm) of the event and could not have been more gracious and lovely to all our guests and to the happy couple to be. Everyone had a fantastic time and commented how lovely the Lounsbury House is and how happy they were to experience this Ridgefield landmark. Much thanks to Kate and the staff at Lounsbury House. How lucky are we to have such a special venue in our town.

Jane

Married on 12/10/2017

The wedding venue of my dreams! As soon as we saw the Lounsbury House...I knew it was the place that my husband and I would get married (it was the chandeliers that got me). A charming and beautiful piece of Connecticut history right on Main Street in Ridgefield. The house was easily accessible for our family and friends, warm and inviting. The staff was helpful and lovely to work with. The best part is that at any time my husband and I can go back to the Lounsbury House and visit to remember our sweet day.

Michele

Married on 09/03/2017

Wonderful place for a wedding. We fell in love with it the moment we walked in. It is absolutely stunning and the staff are friendly and easy to work with. Melanie did a great job answering any of my questions and helped us achieve our dream wedding

Michelle

Married on 06/30/2017

The Lounsbury House is absolutely beautiful! The Bridal suite, groom's suite, the remodeled reception area and the new garden makes the perfect wedding venue for any bride. Melanie is a top notch matre de and Tom DeVine is an amazing caterer. They are a true team and their expertise truly allows you to breathe! They know what to do in any given case. Professional and friendly with a goal to absolutely aim to please!
Dan and I couldn't have asked for more! I'm still on cloude 9. A beautiful garden ceremony, a rainbow, and like that's not enough..., fireworks! I felt like princess! Thank you! Thank you both for a job well done.

Peggy

Event on: 06/03/2016

The Lounsbury House is a perfect venue for any special occasion! Through the entire process of planning our garden party fundraise event, Melanie and Jenn worked professionally with our committee to ensure a successful evening. The lush formal gardens, the expansive front porch and the grand interior of the Lounsbury House perfectly matched our vision. The event was a great success and was made possible thanks to the dedication and expertise of this amazing staff. Thank you!

Trish

Married on 01/14/2016

Melanie,
Tom and I wanted to thank you for all your help in making our wedding the winter wonderland we had hoped for. We continue to hear from all our guests about how beautiful the Lounsbury House is. I could not have imagined how majestic and elegant, yet intimate and beautiful a venue could be. Your flexibility with our ever changing wedding plans and short time frame (two week lead time isn't normal??) and attention to detail (saving the Jenga block notes!) made our special night, that much more stress free. Can I move into the bridal suite….because that was absolutely magnificent!

With all the weddings I have planned and attended over the years, I have never worked with a more personal event coordinator. The accommodations and services were both top notch—10 out of 10. Tom and I were both impressed with your professionalism, skill and attention to detail. Everything came together so perfectly, we couldn't have asked for a better place to have our wedding. You should take immense pride in the excellent services you provided, that go above and beyond expectation.

You have our deepest appreciation
Trish and Tom


Gary

Married on 10/10/2015

I looked at a lot of venues for our wedding - both on-line and in person. I knew what we wanted for our day, to really reflect our style and personality. When I walked into the Lounsbury House, I new I found our venue -- and this was before the renovations! Jenn was such a pleasure to work with. From our initial meeting through the many, many questions I had for her, to the actual event, Jenn helped to make our big day come together. We can't say enough wonderful things about Jenn, Melanie (who was the event coordinator for our ceremony and reception), and the Lounsbury House. The place is a perfect venue to hold the ceremony (we exchanged our vows at the bottom of the beautiful staircase in the main hallway) and the reception. The recent renovations only add to the charm, character, beautification, and functionality of the Lounsbury House -- the outdoor garden area was great for our family pictures on a beautiful October day, and the main ballroom is now more open to allow for easier flow in dining and seating. We received so many wonderful comments from our guests about the Lounsbury House and it being a great venue for our wedding. We had uplighting inside and outside (provided by Spin Doctor Entertainment), which gave a great ambiance for the event and pictures. Thanks again to Jenn and Melanie for everything you did to make our day truly special! We highly recommend the Lounsbury House for a wedding venue!!

Jill

Married on 08/01/2015

Charming venue. Beautifully remodeled. Ceremony and reception for 100 guests was nicely accommodated. Enthusiastic support on the day!

Vicky

Married on 09/06/2014

This venue was perfect for us! it was exactly what we wanted which was an alternative to the typical wedding venue (Vintage family style theme) at the price we wanted. Not only was the venue amazing but the customer service was also exceptional! Jenn was the best. She was very informational, professional and supportive which is exactly what a bride to be needs when planning her wedding.



Beautiful place and great service!!

Angela

Married on 03/01/2014

The Lounsbury House is an absolutely beautiful venue to have for your wedding especially in Winter. I just moved to the US 2 months ago and had chosen the Lounsbury House while looking for venues online in Australia. Our main contact Jenn Seeley was absolutely wonderful and always responded quickly to any questions we had for our big day. If you're looking to hold a small, intimate wedding in a venue that is more than your average reception hall and want to bring in your own caterer, baker, dj etc, this is an amazing place to have it at. Thank you Jenn for all your amazing help in making our day so special!

Jen

Married on 01/11/2014

The minute we walked into the Lounsbury House, we knew we wanted to get married there. It didn't have the traditional "wedding hall" feel and that was exactly what we were going for. Working with Jenn was so easy! She responded to my emails/calls in such a timely manner and made planning our wedding seamless! Our wedding couldn't have been better, I am so happy that we found the Lounsbury House.

Lounsbury House's reply:

Thank you so much Jen. It was such a pleasure to work with you and Rich. Please keep in touch!

Pamela

Married on 09/21/2013

I can not thank Jenn at the Lounsbury enough for her services. First, the venue is amazing. Historical, beautiful, well kept, just breathtaking. Rooms and grounds provide amazing backdrops for photos. We were married in the garden which was amazing.

In addition, Jenn assisted with selecting vendors and even arranged for our hotel guest room blocks. She was such a huge help in the process and kept me on my toes to ensure that I had it all covered. I would highly recommend this venue!

Caroline

Married on 08/31/2013

The Lounsbury house is a great location for a romantic, vintage, classic wedding. Price wise I thought it was an amazing value. There is no need to worry about how many guests you will or won't have, there is no need to satisfy head count #s with them. Keep in mind that this is NOT a wedding factory. Which was very important to me. I didn't want my wedding to feel like it was the 3rd one of the day. On the other hand, this means that it is up to the Bride to find really great vendors that have no problem coming into the space and making your wedding happen. All my vendors did an amazing and seamless job. The Lounsbury house is a unique, and charming venue; which is a blank slate for you to fill-in with your perfect wedding. It just takes a little work to find all the right vendors but I managed to put my whole wedding together in 42 days and it was wonderful so any Bride with more time can easily have the perfect wedding here. Plus the porch is just perfection!
+Great Value
+Unique and Charming
+Only one wedding a day
+You can easily rent more hours if needed
+Can feel large enough for 100 or intimate enough for 50

*No flame candles, battery operated are pretty cheap
*get frosted votives to hide the fake flame no one will ever know
*Chinese lanterns on the front porch look amazing

See my other Vendors for the perfect planner, florist, photographer, caterer & Band

Stephanie

Married on 07/21/2013

Jenn helped us deal with getting rid of a terrible caterer and switching to a new caterer at the very last minute and was incredibly helpful responsive, and patient throughout the process.

Katie

Married on 10/11/2008

The Lounsbury House was the PERFECT venue for our vintage-themed wedding. I loved the architectural integrity and tasteful décor. We wanted something other than the typical, generic banquet hall for our wedding, and the Lounsbury House was ideal. The main hall and grand staircase made for a lovely spot for the ceremony. The cocktail hour took place on the huge veranda, and we headed back inside for the reception. The separation between the dining rooms and dance floor made for lots of mingling and movement. Our coordinator at the Lounsbury House, Gail, was fantastic to work with. Our wedding was exactly as we had dreamed, and we couldn't have been happier with the venue.
Are you interested?
Send a message