64 Reviews
Recommended by 97% of couples
Quality of service

4.9 out of 5 rating

Average response time

4.9 out of 5 rating

Professionalism

4.9 out of 5 rating

Value

4.6 out of 5 rating

Flexibility

4.8 out of 5 rating
27 User photos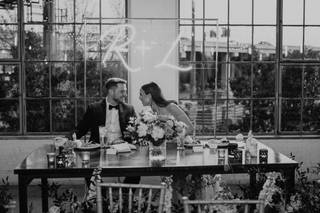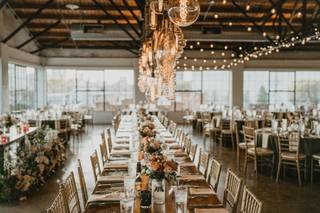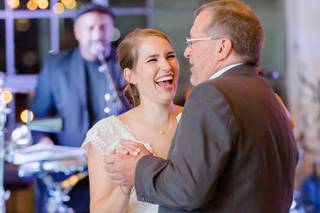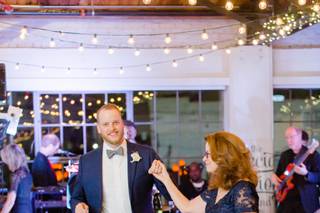 + 23

photos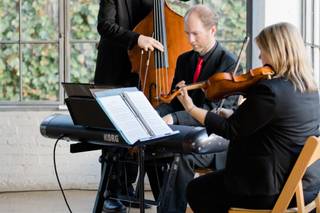 Logan M.

Married on 04/02/2022

My Dream Venue


Hickory Street Annex was my dream venue - it is intimate, cozy, and had everything we needed. The bridal suite is HUGE, which was a huge plus for my nine bridesmaids and all of our makeup and hair artists day-of. Michelle went above and beyond to ensure we felt comfortable and secure for our wedding day. The price point was perfect for us and we could not be happier with how our entire wedding day went.

Adrianne C.

Married on 01/01/2022

Incredibly Memorable Wedding Venue

Working with Torie & Michelle was an absolute delight! We have been planning for one year and they have been over the top attentive to our wishes at all times. Incredibly prompt, professional, diligent in all their efforts and incredibly trustworthy. And they are so NICE. How fortunate for us. This venue was ABSOLUTELY PERFECT for Caroline & Dylan as they wanted something very unique and this was IT. The sun had just set before the ceremony and the skyline was pretty spectacular with three sides of windows of natural lighting. Afterwards, we went downstairs to the Studio which also had three sides of windows for cocktails and hors d'oeuvres. The Bride and bridesmaid got ready here too. If one wanted or needed, the original freight elevator was available. Back upstairs and the space had been flipped to have dance floor on one side and seated dinner on the other. This industrial looking space with exposed walls, concrete floor with rustic vaulted beams, and the addition of the Edison light bulbs was so authentic and set the mood for the evening! Just outstanding. My daughter said this venue, lighting, and flowers by Junior at The Garden Gate was her Pintrest page on steroids. Her gratitude for all the special things done for them was evident in how her radient smile. Thank to Michelle, Torie and their team they are the epitome of a job well done! This was my last of three dughters wedding and we went out with a bang.

Jenny C.

Married on 08/28/2021

Excellent Venue!

We absolutely loved having our reception here! The aesthetic is just what we were looking for and the team was very accommodating. The space is large enough to have people spread out and there are plenty of amenities, toilets, elevator, etc. They were also great in helping design/setup the layout to what we wanted. Highly recommend!

Are you interested?

Send a message

John A.

Married on 08/10/2020

A band-leader raves about Hickory Street Annex

As fellow wedding vendor (leading my party band Special Edition), I cannot rave enough about Hickory Street Annex. We have performed at this place dozens of times and Michelle and the staff are always easy to work with and professional and courteous. Hickory Street Annex has a distinctive, "throw back" vibe, with modern amenities, and a great view of downtown Dallas.

Toni A.

Married on 05/31/2019

loved our venue! Hickory Street Annex

We are EXTREMELY PLEASED with Hickory Street Annex, as our venue for our post-wedding celebration party for friends and family. The staff excelled in help, support, advise, quick response to questions during the planning. And the space looked beautiful and magical for our event. We are thrilled and cannot say enough. Thank you Michelle, Torie, and Team! toni and gordon

Victoria

Married on 09/16/2018

Excellent and unique venue

The venue allowed for optimal natural lighting during the evening, and once turned to night, the adorable lighting options turned the venue into a romantic ambiance. I found this venue perfect for me as I've never been a fan of hotel ballroom or barns, and this completely reflected my tastes and personality. The venue is so beautiful bare, not much decoration is needed to dress it up. There was plenty of room for activities and I actually really enjoyed how easily the upstairs transformed from ceremony to reception. The bridal suite that dualed as the cocktail hour space is just ADORABLE. I was so happy to be in such a well-decorated and comfortable environment while getting ready for my special day and then later to chat with friends shortly after the ceremony. The Hickory team was very patient with me as a clueless bride-to-be and answered all my questions within the day or next. I had a custom backdrop for the ceremony that my father created and they provided me all the details I needed to ensure I could fit the backdrop into the venue. They allow tons of lighting and furniture rental options that really complement the venue's look. Overall, this venue is different from any I've ever seen, but I think it captured my and my husband's taste perfectly. Thank you for letting us use your gorgeous space for our special day!

+ 10

photos

Bailey

Married on 04/28/2018

The venue really makes or breaks an event and this is the perfect space. It allows for the ceremony/reception/cocktail hour to be in the same place which is exactly what we were looking for. We also loved having the groom and bride space to allow everyone to get their finishing touches done before the wedding started. There were so many photo opportunities and I loved getting to take pictures outside. The ceremony and reception area allow for an intimate and unique setting which is the environment we wanted. We were able to meet with Tori and Michelle before the wedding to get linens picked out, floor plans set, and all of our questions answered. They made the wedding planning process so easy. Also, this venue is in a great location if you have a lot of out of town guests who want to explore and stay in the heart of Dallas.

Michael

Married on 04/27/2018

We came in with an array of ideas for our fundraising party. We needed food, drink, flowers, candles and space enough for a raffle, silent auction, virtual reality, our T-shirts, a DJ... the folks at Hickory Street worked it all out with us, and--thankfully--were so patient as we came up with and then moved on from various ideas. The space has a great entrance downstairs that can be used creatively, and the upstairs with all the windows and views of downtown Dallas is what atmosphere is all about. There's a kitchen and bathrooms aplenty. We (The Aberg Center For Literacy) had a great event there and highly recommend anyone planning a 150-200 person party to go visit Hickory Street Annex. It is perfect for weddings!

Tiffani

Married on 11/05/2017

Hickory Street Annex was an AMAZING reception venue for our wedding! It's a stunning location that provides a causal, yet elegant setting for a reception. The staff was awesome to work with- Michelle did a great job arranging everything! From the beginning, she was very attentive and quick to respond to emails and questions. When we saw the decorated venue for the first time, it was everything we had envisioned. The lights, linens, and set-up tuned out fabulous!

We are so happy we chose Hickory Street to celebrate our wedding- the memories we made there will last a lifetime!



Kelci

Married on 03/10/2017

I don't have one complaint about this venue. I am the first to get married in my family so there was a learning curve here and the staff was so kind and patient with me and my family and always responded if I had a question or a concern. My guests had nothing but wonderful things to say about the location and how beautiful the venue was and were so impressed with the unique feel and look of the building. If there was one thing that made my wedding day perfect aside from the obvious, it was the venue and their very sweet staff. Choose Hickory Street Annex :)

Meaghan

Married on 06/12/2016

Hickory Street Annex is one of the most unique, beautiful, charming places I've ever been to for a wedding, and when I went to a friend's wedding here 8 years ago I knew it was where I wanted to be married! Michelle and Amanda only enhance the loveliness of this venue, as they are an absolute DREAM to work with from start to finish. They are incredibly responsive and patient with questions from bride and family, which was greatly appreciated by my parents, who were trying to help plan this wedding from Baltimore. We used several of their recommended vendors and were not disappointed. Michelle and Amanda truly felt like part of the family by the end of the journey to our wedding day, and the beauty of the ceremony and reception in this gorgeous space made our wedding day everything we could have asked for and more. I would (and will!) recommend HSA to everyone I know! Thank you for an amazing experience from start to finish.

Lyndsey

Married on 06/10/2016

Amanda and Michelle went above and beyond!! The location really speaks for itself and my guests won't stop talking about how much they loved our venue!

Simone

Married on 12/31/2015

We knew from the moment we saw this place that we had to get married here. It's absolutely beautiful. It's a great versatile space with a layout that allows for tons of options! Amanda was such a godsend...she allowed us to enjoy every second of our day without having to worry about a single detail.

I loved everything about this place! It was my dream venue.

Chelsea

Married on 07/11/2015

Where to start! I really have nothing but nice things to say about this venue and those affiliated. We initially scheduled our wedding on Thursday to save money, and then decided to change it to Saturday to be more accommodating to our wedding dates. Luckily, we did this about 16 months in advance, as Hickory gets booked very quickly! This process was seamless, as was all other communication with Amanda and Michelle at Hickory. Hickory stepped up and went above and beyond after my wedding caterer Jim Lee Events (separate review coming soon) completely disappeared from the US, and with most of the money I was due to pay them 15 days before my wedding day. Michelle and Amanda immediately and sincerely apologized and began reaching out to vendors, among other things that were far beyond what was required. I ended up going with Vestals Catering, who I will write a review about as well, and my wedding day went about flawlessly. Its really important to me, to be able to deal with genuine people period, especially on the most important day of my life. I highly recommend this venue for ceremony and reception. Its absolutely beautiful, and the customer service is outstanding. Hickory, if you get to read this, I REALLY appreciate everything you did to make our wedding day beautiful and memorable. Thank you!

Sue

Married on 06/13/2015

This is an amazing place....absolutely over the top cool. Our guest raved the entire night about how unique and fabulous Hickory Street Annex is. The coordinators, Michelle and Amanda, were extremely professional and helpful in all phases of the wedding planning. I highly recommend Hickory Street Annex if you want a unique, fabulous place to have a reception. You will be hard pressed to find a wedding venue that offers so much character and charm. Your guest will be mesmerized! Thank you Michelle and Amanda for making our wedding the best!!

My husband and I are more than pleased with this venue! We knew the second we saw pictures online that this was our place. Michelle was amazing and always willing to work with us. I even stopped by unannounced a few times to show people the venue and she always let me show them around. Two weeks before our big day my dad was worried because we did not rent the cocktail hour room. He feared it would be too hot to have cocktail hour on the wrap around porch, and boy was he right! Michelle ended up throwing the cocktail hour room into our contract for FREE! Our guests raved about how unique and beautiful the venue was and how perfectly it fit with our style. I don't regret a thing about this venue and will definitely recommend it to future couples!

Adriana

Married on 04/12/2015

I absolutely recommend this venue to anyone that wants to have a fun, different and special wedding. This place is magical and so perfect! I love all the details that you find all around the venue. Michelle and Amanda were amazing and so helpful with everything. This place was my dream venue. All my guests left happy and talking marvelous things about the place. I was looking for a vintage-boho look and Hickory Street Annex gave me it all. If I had to do my wedding all over again I would pick this venue without a doubt again. Thanks Michelle and Amanda for being awesome and helping us have the day of our dreams.

Cathy

Married on 02/28/2015

A beautiful venue. If you are searching for the most unique and beautiful setting for a wedding, this is it. The lighting, huge white paper lanterns, city view and photo opportunities make HSA a fairy land.
Our guests were amazed. The food from Gils Elegant Catering was not your basic catered food. Plenty to eat. Plenty to drink.
And every part of the evening went off without a glitch. Of course, I have to thank the wedding assistant Amanda Taylor for directing our perfect night.

Ann

Married on 02/28/2015

We fell in love with this venue the moment we stepped inside. We didn't even bother looking at another place because we loved it so much. This place is breath taking and fun and the perfect location for a wedding! The staff was incredible and helpful. We had endless compliments on our venue being the most beautiful, unique and fun wedding people had ever been to....highly recommend! It books quick because it's so amazing!

Genevieve

Married on 11/01/2014

We loved our venue! The staff, Michelle and Amanda, were so nice and helpful and super flexible, the space was gorgeous, and perfect for the aesthetic we wanted.

We loved it!!

The most beautiful location and most beautiful venue! Our wedding reception was perfect and gorgeous. Michelle and Amanda are incredible to work with! They are polite and customer service oriented, and helpful and flexible. I cannot say enough wonderful things about them!!! Have your reception here!!!

Sarah

Married on 04/26/2014

I sincerely enjoyed every single moment of the wedding planning process. Amanda and Michelle made everything so simple and stress-free. They were incredibly accommodating, helpful and creative!

Our wedding day was flawless and we didn't have to worry about a single detail. Everything was taken care of without even having to ask. We couldn't have asked for a better ceremony and reception.

I applaud this venue on their uniqueness, creativity and professionalism. Amanda and Michelle are truly innovative and delightful to work with. I highly recommend Hickory Street Annex.

Ciearra

Married on 09/15/2013

I had a phenomenal experience with Hickory Street Annex and working with Michelle and Amanda. The help from Michelle and Amanda throughout my whole planning process was amazing. Their quick responses or solutions to questions I presented made planning smooth, easy and I slept well knowing everything was taken care of! Hickory Street is a unique venue like none other around! My guests raved about how neat and beautiful it was. I do not have the words to express my gratitude to HSA, Michhelle and Amanda for making my special day perfect! :) - Ciearra and Garrett

Sarah

Married on 06/01/2013

Hickory Street was the perfect place to have our wedding. It's such a beautiful and different venue, and Michelle was great to work with. Everything went perfectly and we had a wonderful night!
Are you interested?
Send a message