20 Reviews
Recommended by 93% of couples
Quality of service

4.6 out of 5 rating

Average response time

4.6 out of 5 rating

Professionalism

4.7 out of 5 rating

Value

4.6 out of 5 rating

Flexibility

4.6 out of 5 rating
5 User photos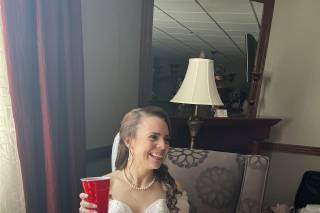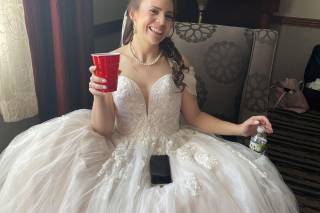 Featured

Alison

Married on 06/22/2019

Perfect Fit

Vicki, the owner, is so kind and makes,you feel so beautiful! She is truly amazing at what she does. She takes the time to really understand what look you want and executes it with such professionalism. I loved my makeup and it held beautifully all evening as well as my hair. I'm a very minimal make up wearer but she made me feel natural and myself with her tactful makeup application. I highly reccomend Vicki!

Liz D.

Married on 10/06/2022

Such a fantastic experience!!!

I loved my experience working with HGL. I was able to be pampered and cared for by Vicki and her team for my 10/6/22 wedding. From the trials to my mani/pedi to the actual big day, the team did an excellent job making me and my girls feel truly beautiful. Vicki was so responsive and open to my feedback and was able to adjust certain details with my hair and makeup as needed. The team also made all of us feel so comfortable as they have an easygoing and casual approach that makes everyone feel good in their skin. We love that they came right to our venue and ensured that we had plenty of time to get everything done. They work so hard and are so good at what they do. I can't thank them enough!!!

Elizabeth S.

Married on 08/05/2022

Great talented hair and makeup team

Vicki and her team were amazing. They listened to what we all wanted and were able to give us exactly that. We just glowed and felt so pampered and elegant. I was getting anxious as we were getting ready, and they were just so fun and helped put my mind at ease. I felt and looked like the princess version of myself on my wedding day with the hair and makeup.

Are you interested?

Send a message

Elizabeth K.

Married on 12/11/2021

Amazing Hair and Make up!

We were married on 12/11/2021 and went with HGL for the bridal party hair and make up and would highly recommend them to all! They are the preferred vendor for the Colonial Hotel, so because we went with them we were able to use the hotels on site salon to get ready in. It was so convenient to get ready at the venue and really made for a smooth and calm day! Vicki and her team are an absolute dream to work with, they are all so talented and professional and my ladies and I had a great day with them. Vicki was very receptive to my vision at my trial and the day of she really went above and beyond beautifying me! I'm so glad we went with them and can't wait to get back all our pictures so we can admire their work!

Arianna D.

Married on 09/17/2021

Wonderful!

Vicki & her team at HGL Salon are incredibly professional, punctual, and talented. They gave me and my bridesmaids the perfect hairstyles for my wedding day that lasted the entire day!! Vicki helped make my getting-ready timeline seamless and was flexible in her schedule when we decided last minute to do first look photos, they even finished early! I highly recommend HGL Salon for any bride looking for salon services for her big day!

Stephan

Married on 02/24/2018

Very positive experience! They did a great job!

Kathryn

Married on 06/17/2016

Hey Good Look'n Salon was at the tasting of my venue where they also introduce other vendors to you. I was very pleased when I heard they would come to me in my bridal suite instead of me running all over town the day of the wedding. For my trial I had Vicki who is the owner and she was very easy to talk to and we laughed the whole appointment. She did an amazing job on my hair at the trials and on my makeup. A few days later, I emailed Vicki with a few changes to my hair and makeup and she was completely okay with it. On the day of my wedding, it was just me and my mom getting our hair and makeup done. Vicki did mine again and another girl did my mom's makeup (I can't remember her name). Vicki blew me away and did my makeup and hair better than at my trials! I was nervous about getting fake lashes, but Vicki put them on so easily! The girl that did my mom's makeup used eye shadow colors she never would've tried and even took my mom's bossiness (she's a control freak!) and laughed when my mom told her what colors to use for blush and lipstick. Vicki french twisted my mom's hair very nicely and even added last minute fake lashes for her too! Vicki was very accommodating and came very prepared!! I totally recommend Vicki & her salon!

Hey Good Look'n Salon and Spa's reply:

Kathryn, I can not thank you enough for the great review. My associate (Latarsha) and I had such a great time with you and your mom! Honestly, we didn't even notice her bossiness. You two were fantastic and we didn't even feel like we were working. Thank you again for choosing Hey Good Look'n Salon and Spa for your wedding. Your business is greatly appreciated and it was such a pleasure working with you.

Sincerely,

Vicki

Caroline

Married on 08/07/2015

I booked all my hair, makeup + nails for my August 2015 wedding Hey Good Look'n and LOVED working with them! I highly recommend the bridal hair + makeup consultation!!! I worked with Cassandra, and she used colors on me that I would have never ventured to try--admittedly I had to be gently talked into it but she was so spot on and brought out the green in my eyes like crazy! The consult also let me describe what I wanted and try different things. I also tried out a gel manicure ~3 weeks by Markus before my wedding and was so pleased that it lasted ~2 weeks. The day before, me and 2 other gals went in for mani/pedis, I again worked with Markus and my gel french nails looked INCREDIBLE. The salon is very clean, large enough to have a bunch of services done at the same time and their nail prices are also wonderfully affordable. My nails also lasted through the 10 day honeymoon after the wedding! I definitely recommend the gel!

The day of our wedding, Cassandra and 4 other stylists met us as our venue (Wachusett Village Inn) in their own salon room with everything ready to go. Again, Cassandra did my hair+makeup (with lashes--do it!!), we had 5 ladies get hair+makeup done, and the 2 moms get their makeup done only. We looked INCREDIBLE! We were even done ahead of schedule, and I was so pleased that I was able to gift the cost of makeup + gratuities ($40 each for the 2014 pricing--what a steal!) to all my ladies. I loved my hair and makeup so, so much. Wonderfully affordable, an outstanding team and so professional! I had so much fun getting ready and was so grateful to have their team on-site. Thank you!!

Robyn

Married on 08/10/2013

Vicky has a wonderful bunch of girls that work at her salon. For my August 10th wedding I had Cassandra, Chaselyn, Caydee, and Kaity come to the Wachusett Village Inn to do hair and make up on myself and five other women. They did an Amazing Job!!! We all laughed and had a Wonderful three and a half hours of Beauty! Thank you all for making the early part of the day Awesome!!!

Sarah

Married on 08/12/2011

My girls and I looked amazing, they were on time, professional and extremely talented. They made both my bridesmaid's look amazing and I loved my hair, exactly like my trial if not better. Their prices are pretty much unbeatable based on other places I called so I would def. recommend them for any event!

Michele

Married on 08/29/2009

My girls and I had the best time with the staff at Hey Good Lookin. They made the whole process of hair and make-up easy as well as fun. They knew exactly what worked with everyones different skin tones and looks. It was a blast have pre-wedding nails and pedicures done with a couple of my bridesmaids. We felt a part of the Hey Good Lookin family. They are more normal salon, and I will be recommending them to everyone that I know for all the numerous services that they offer. They are a first rate group of women! Thanks to Vicki and her staff for making me so beautiful on the most important day ever!

Laureen

Married on 04/04/2009

Vicki, the owner, was amazing. She was so funny and had a bubbly personality, she really made the process fun and exciting. She offered trials and advice on wearing my makeup, tips on getting my hair healthy for the big day and was very flexible. She came to my mother's house with a trained staff to attend to my wedding party. She was so much fun and really eased my nerves. She has alot of experience and is very knowledgeable of what she does so you feel very comfortable asking questions. I would definitely use her again. She did hair and makeup for my bridal party and my sister and I got Swedish messages at her spa! A++

Ashley

Married on 12/01/2007

We found this vendor at a bridal show and was shocked when they said that they only charged and extra $5 per staff to come to our hotel and do hair and makeup there. We thought this had to be some catch....I will tell you what, these girls were amazing! Not only did they handle my crazy family with professionalism and grace, they did and amazing job on everyones hair and makeup. They actually had another staff memeber in the hotel working on another brides hair and makeup, when she was done they asked her to come up to our suite becuase once my family saw how good they were they all wanted it done! The one who did my nails actually fed me chocolates while she was painting my nail! Talk about pampering a bride!

Carol

Married on 09/05/2015

The stylists at Hey Good Look'n were a life saver. They came to our venue and were all extremely nice and did great work.
Marcus styled my hair and he got it exactly how I wanted it. It stayed in place all night and I got tons of compliments.
The prices were also much more reasonable than other salons I looked at.

Vicki and her team were fantastic for my wedding on 8/6/16! They all were so professional and knew what they were doing. The trial was awesome and Vicki listened to what I wanted and made it look exactly what I had pictured. My bridesmaids also looked and felt fantastic about their hair and makeup for my wedding. I would highly recommend this salon if you're in the area!

Ingrid

Married on 06/05/2010

I had a great experience with Hey Good Look'n Salon for my 6/5/10 wedding.

Vicki and gang did an absolutely fantastic job of styling my hair and all of my bridesmaids. I had them travel to my parents house where I was getting ready and it took them no time at all to set up and get everyone rolling. They dealt with ALL types of different hair and each style complimented the girls perfectly while mirroring what I was looking for and what each girl wanted. The weather on my wedding day was hot and very humid and despite this all of our hair styles held up until the end of the wedding. I am Armenian and many of my bridesmaids are as well with the same type of thick, frizzy hair. Despite this fact Vicki did a great job of holding everything in place while making it look like our hair was naturally styled that way!

Vicki also did my makeup and I was a little wary of this but that is what the trial is for! She used colors on me that I wouldn't necessarily have used and I'm very particular, but they looked absolutely fantastic. Vicki uses a line of makeup called beauticontrol and it works well for people with oily skin. I myself have oily skin (especially with a hot and humid day) but my makeup stayed in place and not one picture do I have a shiny face! I also supplemented some of her makeup with my own (I have a healthy Sephora addiction) which she is happy to apply for you if you require.

I looked into a lot of salons, makeup artists, hair stylists etc. from various recommendations on the knot, wedding wire etc. and Vicki was by far the most reasonably priced. I feel like its almost criminal how little she charges when some of these other places are ridiculously overpriced. I paid $60 for my hair and a mere $35 for makeup which is almost scandalous compared to some of the other prices I was quoted!

It also helps that Vicki and the two girls helping her are super friendly and chatty. They did a great job of adhering to our time line, despite the delayed arrival of a few of my hungover bridesmaids, the excitement of the arrival of the florist and photographer etc. In the end we all looked gorgeous and I couldn't have been happier with how we were styled and prepped!


Molly

Married on 09/12/2008

These girls are fantastic! What a great, fun group of ladies and they do a fabulous job! They brought all their gear to the inn and got us all ready in a fairly small space and had us laughing the whole time. My hair, makeup and nails held up all day and night and I loved everything they did. The final touches really make the difference. I thought the prices were fantastic and allowed me to treat all of my bridesmaids to manicures on the day of. I would HIGHLY recommend this vendor.

Jessi

Married on 09/29/2012

Due to location, I probably wouldn't have come here if I hadn't won a package through an expo, but I'm SO glad I did! Cassandra and the girls here are awesome! When my hair wouldn't do what we wanted it to, Cassandra never lost a beat and modified the style on the spot, day of my wedding. Everyone from the owner Vicki to the receptionist was fun and friendly and totally not one of those fancy, stuffy salons that I was afraid I'd wind up at.

Both of the Ladies of Honor had hair/makeup done the day of the wedding, and it was like a party once the Hey Good Lookin' crew showed up. They were laid back yet totally professional and focused on the task at hand--we all looked amazing! I really wish they weren't so far away.

Ashlye

Married on 06/26/2010

Overall, my experience was not great but not totally terrible either.

One major issue, they use way too much hairspray but not enough bobby pins and my hair started to fall out during my pictures. They also only allow for 1 hour per updo. This was NOT enough time and I was down 45 minutes late which left little time for make-up and pictures prior to the ceremony. This still makes me upset to this day.

I did like the look of my do from the back but from the front, it was very sprayed-looking. I am a very a-la-natural person so this did not suit my personality.

I think you need to be a bit more forceful with them with timing.

Kim

Married on 09/04/2016

Do not book this vendor. I hired this company to do my hair and make up for my wedding. They are impossible to get a hold of once you give them a deposit. I have them a deposit in January. It took me over a month to get in touch with some once to schedule my first appointment. We signed a contract with a timeline, they were late showing up to the venue. She took over 4 hours to do my hair and make up! She quoted my hair and make up to be done in just over an hour. And she was late finishing! I missed all the fun and pictures of getting ready because I was stuck in a chair! The owner told me that she was going to give me a discount because they ran late. We never got this discount.

It was brought to my attention that my mother in law was charged for the more expensive hair price. Even
though she had very short and was done within 20 minutes. So my 4 hour long hair do cost the same as her 20 minute one...
My biggest issue is that she had everyone write down their credit card information to charge them later. Everyone was left feeling very uneasy that information was written down, as they should be, this is against PCI Compliance. And no one got an invoice or bill. We have tried multiple times to get in contact with them to get an invoice or a bill and our discount but have had no luck in actually talking to her.

Are you interested?
Send a message