Reviews
4.6 out of 5 rating
Quality of service

4.7 out of 5 rating

Average response time

4.7 out of 5 rating

Professionalism

4.7 out of 5 rating

Value

4.7 out of 5 rating

Flexibility

4 out of 5 rating
91%
Recommended by couples
Awards
2 User photos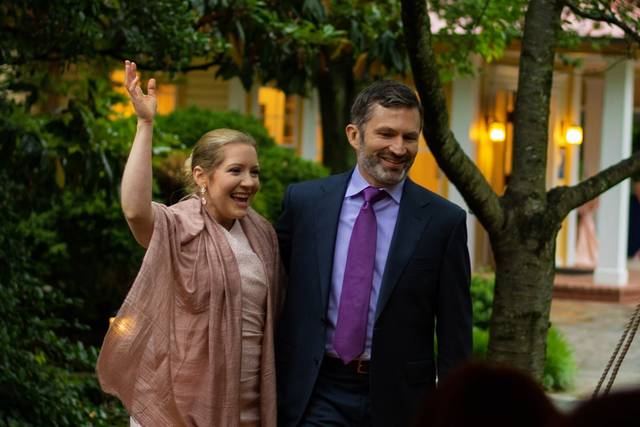 Laura M.

Married on 05/30/2020

Gorgeous setting and excellent value

I was thrilled with this charming, historic spot. It is gorgeous inside and out, with land that works well with a tent like we had. It's an amazing value and I loved this more than other venues that charge four times as much. Maday was professional and helpful throughout the process!

Paula

Married on 10/21/2017

A friend recommended the Hendry House to us as a wedding venue. It's truly a hidden gem in Arlington. The house is beautiful and well maintained. We wanted to do an outdoor ceremony and the weather was perfect. For our reception, we had plenty of indoor and outdoor seating and the children in attendance took full advantage of the grassy lawn. Sharon Casey made very practical suggestions throughout the planning process. We wanted to have a ceremony and reception that made guests feel "at home" and the Hendry House was the perfect location to do so.

Jill

Married on 06/17/2017

We had a fabulous wedding at the Hendry House just last Saturday. Sharon Casey was responsive and easy to work with from the start. Many guests told us what a beautiful location it was.

While it was hot and humid, fans in the tent helped and the house was air conditioned so folks could take breaks. The ceremony area with the wisteria arch was lovely, and most of it was shaded after 4 when ours started. The bridal suite was very spacious and handy for us to get ready. Easy rear load-in access to the catering kitchen made it a breeze for the caterers to set up. We saved a ton of money in that they allowed us to bring in our own alcohol as long as a licensed caterer served it.

Plenty of parking, lovely grounds...ample space for the ceremony, tent, and a lawn for games. We had a buffet and the cake set up in the dining room, escort cards & gift table in the front room, cocktail tables, slideshow, and photo booth in the large room. There is some airplane noise but not bad at all. Many lovely spots for photos on the landscaped grounds.

And so affordable for a Saturday night in the summer in the DC area! They don't seem to advertise at all--I'm lucky a friend told me about it. We couldn't believe there was no wedding there the previous beautiful Saturday when we stopped by. Couldn't be happier!

Are you interested?

Send a message

We had a small wedding (40 people) here in August 2015. Sharon was great to work with and extremely responsive. We did an initial tour with her and then did another walk through with the caterer once we got closer to the date. We held the wedding outside on the patio and then held the reception inside. The venue is gorgeous and our photos looked fabulous.

The only downside was that we had our wedding around 5:15 on a Saturday afternoon and it seemed every plane in the area flew directly over the Hendry House. I never noticed this before when visiting the site, so might be a good idea to check this out when you're thinking about times.

I would also test out the sound equipment during a walk through. We had some trouble figuring out how to use it.

Searching for a venue in the Northern Virginia area can be a daunting task. There are so many beautiful vineyards, manors, hotels etc., we weren't sure where to start. We knew that we wanted something affordable, centrally located and intimate. We came across The Hendry House by sheer luck and I am so glad we did! It was the first venue we visited and we knew when we left that walk through that this was it. Here is a short list of the pros:
- Great location! Out of town guests can fly directly into Reagan or Dulles Airport and not have far to go to arrive at the venue.
- The Hilton Garden Inn allows for a complimentary shuttle for wedding guests, just be sure to arrange for the shuttle several months in advance.
- Venue has a full sized kitchen (huge plus for caterers- some cost savings since they don't need to bring an additional tent to prep the food in).
- Venue has good sized bridal and grooms suites.
- Sharon (site coordinator) is incredibly responsive which is hugely appreciated when planning your wedding!
- You can work w. any vendor of your preference (w. the exception of tent vendors, Hendry House will provide you a short list of who you can work with)..caterers, florists, photographers which is great bc it allows you to control some of the costs.
- Lastly, the venue is affordable but didn't leave me feeling like I'd compromised on anything. The property is just beautiful.

Cons include:
- Site can hold up to 150 max. Not necessarily a bad thing but something to consider before visiting the venue.
- Reception must end by 930 due to noise ordinance laws. We made it work by beginning our ceremony at 3pm and hiring a shuttle bus to take guests to the Skydome Lounge at the Double Tree Hotel nearby for the after party.
- Sparklers, rice and items of the like are not allowed to be used on property.

If you're looking for a beautiful, conveniently located venue in the NOVA area, The Hendry House is where you want to have your wedding!

Brooke A.

Married on 05/22/2011

We had our wedding ceremony and reception at the Hendry House last month. We instantly fell in the love with the venue when we first visited it, and it was just as beautiful a year later. If you're looking for an outdoor reception or a smaller indoor reception with views of beautiful grounds, this is the place to be! It is truly a hidden gem.

Erika

Married on 05/15/2010

We were very pleased with The Hendry House as our wedding venue. We communicated often with Sharon throughout the planning process. She provided good support and information about the venue. The greenery and landscaped gounds and the renovated house itself are lovely and provided a beautiful backdrop for our outdoor ceremony at the arch on the property, cocktail hour on the porch, and tented reception. The only drawback we experienced is that they only use one tent company, L&A Tent Rentals, and our experience with that company was not as positive.

Ashleigh

Married on 08/22/2009

The Hendry House is an EXCELLENT value. You get a beautiful, air-conditioned (and I presume heated in the winter) old house with multiple bathrooms and big rooms. The grounds surrounding the house are secluded and beautiful. Even though it poured on our wedding day, everyone kept commenting on how beautiful the site was. If you want to plan every detail of your wedding, this is a great place for you. The manager of the Hendry House is very responsive - she only answered the phone during regular business hours (when she was there) but responded to email almost instantaneously. She is very hands-off with the actual planning - our caterer was the one who recommended where the tables and tent should go. In regards to flexibility: the house has a max of something like 80 people. If you want a bigger wedding, you have to go with a tent outside. The maximum number with their preferred tent company is 150. So if you want a medium-sized wedding in a beautiful location at a great value, this is great place to look!

Audrey

Married on 05/25/2009

The setting was stunning (even with rain showers) and Sharon was wonderful to work with.

Audrey

Married on 05/25/2009

The setting was stunning (even with rain showers) and Sharon was wonderful to work with.

This is a jewel in Arlington. The house is very charming and the grounds were beautiful. I would highly recommend this location.

Dave

Married on 09/06/2009

Superb venue in Arlington. The house and the grounds are well-suited for a wedding/reception and photograph well. We had a small wedding, about 50 guests and the house accommodated them easily. Tables were set up inside and out, making a nice, relaxed atmosphere. Also, bride and groom's rooms upstairs are big enough to spread out and relax in before the ceremony. Finally, Sharon and the staff are really easy to work with and made everything really clear as to park restrictions, costs, etc.,

The one drawback, and it is something we didn't catch on our first walk-through, is that it can be directly under the approach and departure route for Reagan Nat'l Airport. We were concerned about this for the ceremony but it turns out it was only a minor nuisance and really, the way our officiant handled it, turned out to be slightly humorous, bringing a little levity to the event.

All in all, highly recommended -- and helps support a local city and park.

Emily

Married on 07/11/2009

The Hendry House was a beautiful spot that fulfilled my idea of my wedding being "simple & classy." The grounds had flowers in bloom. We used L&A Tent Rentals for tent, table, chairs and dance floor... they did a spectacular job! The air conditioned house was a great get-away from the heat on July 11! It is in a neighborhood, so it really did seem to make our wedding cozy and quaint! Even though we had to be out of the venue by 9:30, we all went back to the Key Bridge Marriott, where all the guests were staying, and continued the party in their bar! I 100% recommend the Hendry House!

Naomi

Married on 09/12/2015

Gorgeous lush setting in convenient location in NoVa. Hosted 90 guests for ceremony, dinner, and reception under tent in front of house. (Original plan to have ceremony in front of wisteria trellis and dancing in the house, but rain and convenience changed the plans.) Even under the tent, it felt intimate, the grounds were a great back-drop, and guests could enjoy the house and the grounds when the rain let up. Lots of compliments on the setting. FYI, if you're mixing the Hendry House's tables with rentals, it appears as though the HH tables are wider than standard rentals, so be sure to confirm all table dimensions.

Cons (as others have mentioned): music has to be off by 9:30; no sparklers, no rose petal tossing, etc.

The Hendry House was the perfect location for our wedding in early October. Nested in the Fort C.F. Smith Park, the house is the perfect outdoor wedding spot in the immediate D.C. area. It's an Arlington County facility and thus required to comply with County regs. But, Sharon is willing to work with your vendors and make it as easy as possible for them. She provided us with a list of preferred vendors and we used several of them. It's a hidden gem of a place!

Emily

Married on 09/05/2014

We held our wedding and reception at Hendry House. It is such a hidden gem, and for an amazing price point - especially compared to similar venues around DC. It is a huge property with multiple venues for beautiful photos. The House itself was recently redone on the inside and is in stunning condition. It is air-conditioned, wired for sound, and has multiple clean, tasteful restrooms. There is a bridal suite upstairs as well as another room for the groom and his party to get ready. The facility is dog friendly - which was the clincher for us! (Though you should know the dogs can't go in the house). There's enough parking on site for up to 70 cars, and they are completely hidden from view of the main wedding areas. Sharon was incredibly responsive to us and flexible in terms of arranging meetings, dropping off items, etc. I would note that this is a historic site with a civil war battlefield and in a residential neighborhood -- and for those reasons, there are a few rules you must follow (e.g., be out by 10pm, no fireworks or tossed items). This was why I gave them 4 on flexibility b/c there are some things you just can't change, but it was not an issue for us. No one actually noticed those b/c the site is just stunning and the wedding was so fun! They were great, and I would absolutely recommend them!

Jackie

Married on 05/24/2014

Hendry house is a beautiful venue. Sharon is very helpful and prompt with responding.

Sarah

Married on 05/26/2012

Hendry House is a great, natural setting to have a wedding. The house is well maintained and has a full catering kitchen. There's plenty of space on the front lawn to have a tent for around 90 people, like we had. There's also a great arbor on the property that makes for a nice ceremony background. I would recommend Hendry House for small weddings (less than 100 guests), or those who want an outdoor wedding on a small budget and don't want to travel way outside the Beltway.

We had a beautiful wedding at Hendry House and enjoyed how convenient it was to Clarendon, Courthouse, and DC in general. Sharon is a pleasure to work with in setting your date and signing the contract. Only things to note are that you can only use one tent company (but they're good) and you can't throw petals or have bubbles or sparklers. Other than that, Hendry House is great!!

Also, the Hilton Garden Inn in Courthouse offers free shuttle service for hotel guests to Hendry House! Best deal ever!

Emily

Married on 09/24/2011

It was love at first site with Hendry House. We visited about a dozen venues before stumbling on the Hendry House. Everywhere within our budget was too small, too dingy, too far ... always requiring some major compromise.

When we showed up at Hendry House, we immediately knew that this was where we wanted to have our wedding. The gardens are beautiful, the house is charming and Sharon was super helpful. It was almost perfect! Just be aware of the early closing time (the music stops at 9:30pm) and that there will be airplanes flying overhead in the middle of your ceremony.

I've done my research and there is nowhere so close to DC for this price where you can have a secluded, outdoor wedding in such a charming setting.

Jenny

Married on 09/25/2010

We stumbled upon Hendry House here on wedding wire, and are so happy we did! We were set on having an outdoor wedding somewhere in the DC area (where we live), but couldn't find much that didn't break the bank. Hendry House to the rescue! This place provided the *perfect* venue for the intimate outdoor wedding we had in mind, and we were able to have the wedding, cocktail hour, and reception all in one place (saves time transporting people around, so you can milk every minute of the big day).

Location: You've probably driven past this neighborhood a hundred times if you live in Arlington, and never noticed Hendry House/Fort CF Smith park. It's right off Spout Run nestled in a cute little residential neighborhood. It's quiet, feels serene since you're surrounded by trees and an open meadow, but yet it's a 5 minute drive to Rosslyn (where our guests were staying).

Staff: Sharon was a delight to work with. Very prompt in her replies, responsive to email (hallelujah! so many vendors aren't...), and open to all the ideas we had about what we did and didn't want. She was also patient as we revised our plans numerous times, and extended the time we wanted to be in the house pre-wedding. The on site staff person on our big day (Ann, I believe) was also great. All of the payment and paperwork stuff went really, really, smoothly.

House/Grounds: So classy. If you're having a small wedding, I can't imagine a better place. The grounds are kept beautifully, the house is maintained to perfection, and it's simple. No kitschy mansion knick knacks or overly ornate decor; just simple wood floors, nice wide chair rail/shelving around the walls, and a fireplace in the front room. Our guests ate outside, with the bar on the side patio, and the cake and DJ set up inside, and it worked really well. There's also a nice bride's room upstairs with a large mirror and full bathroom, mini fridge, full length mirror, etc. Outside, everything is manicured beautifully. We had our ceremony on the side lawn under the wisteria trellis, and with that, didn't feel the need to have a florist.

Only drawback: You have to be out by 10:00, no ifs, ands, or buts. I thin our crew probably could have kept on dancing until about 2am, but the hotel our guests were staying at (the Hotel Palomar in Rosslyn) was kind enough to keep their bar and outdoor patio open for us late that night, so we just moved the party there after we had to leave Hendry House, and it actually worked out fine. We did start our wedding a bit earlier (4:30) to ensure enough time for dinner and lots of dancing.

I highly recommend Hendry House if you're looking for an affordable (by local standards; and there's a small discount if you're an Arlington county resident), convenient, and classy place to hold you event! Also, one last thing - the grounds behind the house provide a great backdrop for photos between the ceremony and dinner. : )

Bridgid

Married on 06/21/2008

Great wedding site! It is a county park, so there are some rules and regulations for starting/ending time. Users are allowed to bring in own caterers, wine/alcohol, and DJs. It was requested that we use their tent service, which was fine. They did a great job. The house and park is extremely well maintained. I would certainly recommend them to others. Arlington residents even recieve a discount! Our communication with the Hendry House staff were fabulous.

Aileen

Married on 05/05/2007

I loved having our wedding here! The house is beautiful and the park area is lovely as well. It's a great deal, since it's a County park, compared to a lot of venues! We had hoped to have the ceremony outside, but it was raining a bit that day, we had to move it indoors, but it was still lovely. We were able to take pictures outdoors since it wasn't raining that hard. We rented a tent so everyone could sit together, and that worked out well. I was really pleased with the venue and the service from the staff people there.

Kathleen

Married on 10/02/2010

We held a small wedding at the Hendry House on a beautiful fall day. The ceremony was outside on the brick patio and the cocktail/buffet reception was inside/outside. We had approximately 50 people and had initially planned to rent a tent; I am glad that we did not because the setting was so beautiful, it would have been hard to appreciate! Everyone commented on how beautiful the house and the park were.

We were challenged by seating; the Hendry House is composed of a couple of different rooms and not everyone could fit in the "main" room for the reception. We could have filled the first room with tables too but were concerned about blocking flow in and out of the room with the buffet. The evening ended up being colder than expected and everyone wanted to be inside; we had thought more people would linger outside.

There are some rules to be mindful of at the Hendry House; all beverages must be poured, meaning no bottles of beer and no cans of soda can be distributed. Everything must be completed by 10 PM; rentals removed, the house cleaned, etc. The staff of the Hendry House was very responsive and helpful - ready with suggestions and quick to answer my last minute questions. They provide a great packet of information on layout, rules, etc.

The other consideration for the Hendry House is that you are on the flight path for National Airport and it is a public park; the planes overhead during our ceremony were a minor inconvenience and there were some folks using the trails/visiting the park during our wedding.

One last but very important detail: our caterer loved that there was a full kitchen available and a ramp up to the kitchen from the service driveway!

Overall, I highly recommend the Hendry House.

All of our wedding guests loved our venue. They all referred it as a hidden gem as a lot of them never been to this beautiful park until our wedding day!

On top of the beautiful setting, the staff at The Hendry House, esp Sharon was just so pleasant to work with. Sharon is super responsive and professional. I do wish that they had more flexibility with their list of vendors.

Thank you again!

Faith

Married on 10/15/2011

We chose Hendry House because it was a beautiful, laid-back location in the D.C. area that allowed us to have 100+ guests in a relaxed, non-hotel setting. The price is very reasonable (although adding in tents, lighting, etc. adds to the cost) and the setting was perfect, especially in the fall with the leaves changing color. The grounds are exquisite and our guests all commented on what a perfect setting it was for an outdoor ceremony (under a special vine-covered arch) and tented evening reception. The house is too small to host more than 50 people max, but provides a great backdrop for photographs, etc. The only problem is that because it is owned by Arlington County and is located in a neighborhood, there are some inflexible rules, such as you have to use a preferred tent company and the reception had to be over by 9:30 and all guests gone by 10 PM, which did feel a little on the short side. I would definitely recommend Hendry House to couples looking for a unique, classy, casual vibe.
Are you interested?
Send a message