96 Reviews
Recommended by 100% of couples
Quality of service

5 out of 5 rating

Average response time

5 out of 5 rating

Professionalism

5 out of 5 rating

Value

5 out of 5 rating

Flexibility

5 out of 5 rating
43 User photos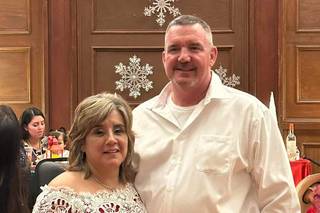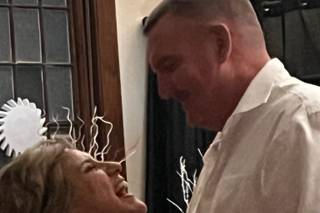 + 39

photos
Cosette

Getting married on 12/25/2027

Amazing and gorgeous

Such a beautiful ceremony and beautiful photos afterward. She really went above and beyond to make the whole experience unique and beautiful. She is so knowledgeable too, I loved it!

Tony A.

Married on 02/23/2023

Great service!

Amazing speech and the hand fasting ceremony was just what we wanted. Caring and compassionate professional officiant.

Rose L.

Married on 12/16/2022

Wedding 12.16.2022

Rev Martin was an amazing part of our wedding, I felt as if we had known her for years. We got many compliments from our guests. The entire ceremony was beautiful and heartfelt. We enjoyed her time and kindness throughout the ceremony. The photographer was a blessing as well. We highly recommend their services. Mrs. Clark.

Are you interested?

Send a message

Ashley L.

Married on 10/28/2022

Personal and meaningful!

I cant articúlate how special it was to have Rev Martin officiate our wedding. Alex and I were so nervous and antsy but it felt so special. We opted to do a sand ceremony and two readings which went into the ceremony perfectly with Rev Martin's guidance. Her words were meaningful and sentimental. Thank you for the veterans discount from Alex's service!

Carly

Married on 10/15/2022

Beautiful day, beautiful ceremony

Reverend Dr. Sheryl T. Martin was such a wonderful officiant. From the beginning, she unerstood our needs for a non-religous ceremony and pulled off a beautiful exchange of vows. Thank you so much, Sheryl!

Brandi

Married on 10/11/2022

It was amazing we worked around everything just to get our special day done!

It was , a very special moment for us. To be United as one. An thanks to you it was very sweet an special . We thank you very much. Very helpful an sweet.

Robert L.

Married on 09/17/2022

Wedding vows

She did a great job during rehearsal and actual wedding.

Victoria S.

Married on 09/17/2022

People Loved the Ceremony

Dr. Martin was on time, responsive and respectful. I had one friend tell me that she was a little jealous that our was more contemporary than hers had been which I owe all to the options and prompts that Dr. Martin provided in her application. We had a great experience with her. Definitely recommend.

Nohemi

Married on 09/05/2022

Chapel Elopement

We chose Reverend Martin, based off her wedding site I like how inclusive she was and I preferred a female to marry us. From the beginning she made the whole process very easy. I accidentally. gave her the wrong time and last minute she was able to adjust her schedule. She is very quick to reply to any questions I had. The ceremony itself was beautiful and I really enjoyed the message ! She is very professional and you will not regret having her at your ceremony !

Gabriel P.

Married on 08/31/2022

Highly recommend Rev Martin!

our special day couldnt have gone any better.

Natalie P.

Married on 07/19/2022

Amazingly beautiful!!!

Rev. Martin was perfect! Her words were beautiful and they resonated with me and my (now) wife so well. We were both so moved & had happy tears in our eyes throughout the ceremony. The complimentary photographs were a bonus!! Rev. Martin also helped with picture ideas and we couldn't be anymore thankful. Amazing service. 10/10 would use her services again(haha)!

Wayne S.

Married on 06/22/2022

Great experience

Small wedding, elopement really. She was easy to work with and communicated well. I would recommend.


Giovanni A.

Married on 06/13/2022

Amazing,Magical,Connected.

We reached out to Reverend Dr Martin for our June wedding ceremony. Working with Reverend Dr Martin was a joy every step of the way - She helped us craft the perfect wedding ceremony and helped us find inspiration for our vows.
From the beginning to the end of the process, she made it so personal, easy, and special for us. She takes her time to interview and get to know you so your personalities really come through in the ceremony. The surrounding Oak Trees on the property were beautiful!
She made our day special,better than perfect and helped create great memories for us.
She is Magical and We highly recommend her! Again thank you Reverend Dr Martin!

Gina R.

Married on 06/04/2022

Great Experience!

Rev. Martin was so helpful and kind. We really enjoyed having her as our officiant at our small, casual wedding.

Glendora L.

Married on 05/21/2022

Simply Perfect - Flexible, Responsive, Caring

Reverend Sheryl Martin made us feel at ease the whole time we worked with her. We were on a tight budget and weren't sure where we were going to hold the ceremony until a few weeks prior and she was really flexible with us. After we decided on Blanco State Park, she had no problem with the short hike to our overlook ceremony spot. She made the ceremony so romantic, caring, and perfect. We were able to use the complimentary photography as well. 10/10 experience. Would recommend to a friend. We enjoyed working with her throughout this experience.

Marina K.

Married on 05/20/2022

Amazing Experience.

Our ceremony was perfect, just the way we wanted it.

Gillian D.

Married on 05/17/2022

wonderful experience

Had a great experience with Rev Martin! We used her Wishing well location for our ceremony and it was beautiful

Jeffrey G.

Married on 04/22/2022

Priceless Experience

Great value for what is provided to you. We chose the pergola and it was beautiful. Rev Martin is super passionate and patient about what she does. Not once did we feel rushed and she has open and frequent communication. We never even physically met until the day if our wedding and her service was exceptional. I highly recommend you look no further and go with Rev Martin. Either you can go to her or she can come to you for your special day.

Quinn P.

Married on 04/22/2022

Fantastic and beautiful arrangement

Rev Martin was so patient with us during this process. She was thoughtful down to the last detail, and our family has such great things to say about her words and set up. Thank you for making our beautiful day!

Chris J.

Married on 04/10/2022

Beautifully organized apparel and custom items for the package we chose.

The professionalism and character exemplified gave us the exact wedding we wanted. The minister was fun and light as well granting us the opportunity to enjoy this momentous occasion.

Kendra W.

Married on 04/08/2022

She was very thorough and prepared, did a wonderful job!

We really enjoyed her pdf layout that helps walk you through what you want for your wedding. It allowed us to think of things we didn't consider prior. Reverend Dr. Sheryl Martin was great! We would highly recommend her.

Cheyenne C.

Married on 03/10/2022

We loved Rev. Martin! She did a wonderful job.

We would 100% recommend Rev. Martin to anyone getting married! She did a wonderful job and delivered an emotional and amazing ceremony for my new hubby and I. ❤️

Toni

Married on 02/24/2022

Everything we hoped for!!!

Absolutely amazing! The ceremony she performed exactly what we hoped for! The handfasting cord was beautiful AND we got to keep it!!

Hannah T.

Married on 02/22/2022

An amazing experience to treasure for our lifetime

My husband and I had planned to just go to the courthouse and get married, but some logistics got in the way. I will be forever grateful we ended up using Rev Martin. She was so helpful, the venue she provided was beautiful and picturesque. More than anything though the way she did the ceremony made it sound like she was a close personal friend. You could feel love and empathy from her and she projected very well so everyone could hear. I can't wait to see the photos!

Adam A.

Married on 02/22/2022

Great Service, Highly Recommend!

Reverend Martin and The photographer were a pleasure to work with to perform our small and simple wedding at a private residence in Wimberly. Excellent communication and a stress free, seamless process from beginning to end.
Are you interested?
Send a message