Reviews
5.0 out of 5 rating
Quality of service

5 out of 5 rating

Average response time

5 out of 5 rating

Professionalism

5 out of 5 rating

Value

5 out of 5 rating

Flexibility

5 out of 5 rating
100%
Recommended by couples
53 User photos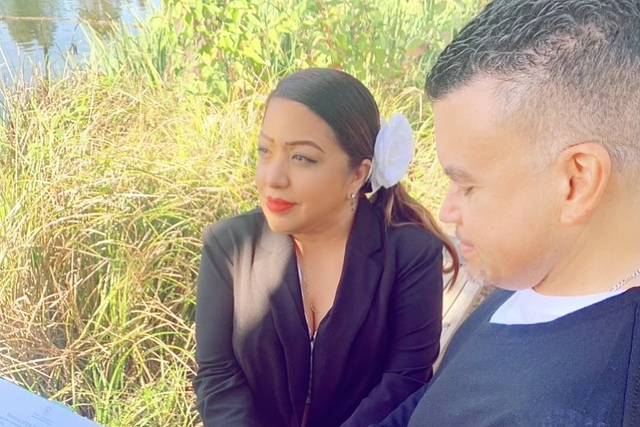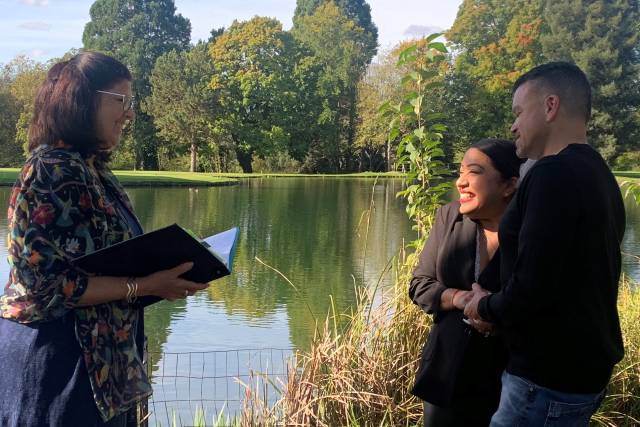 + 49

photos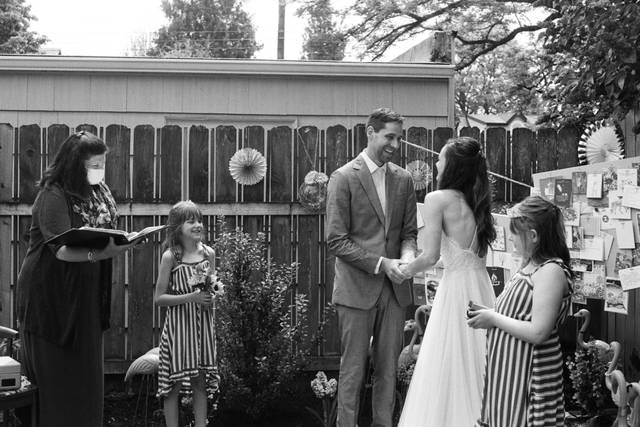 Lauren P.

Married on 06/18/2022

Wonderful Wedding Officiant

Susie did a wonderful job officiating our destination wedding in Hood River, Oregon. She worked with us from afar via video and phone calls during the planning process to create a custom ceremony that would reflect our unique story and helped guide us through writing our personal vows. As the wedding approached, she provided us the draft of our ceremony and made all the changes (even little nit-picky things!) that we requested. On the day of, she beautifully guided a very heartfelt, emotional, and loving ceremony. We highly recommend working with Susie!

Jenny

Married on 08/08/2021

Susie helped our dreams come true!

Susie was the best officiant we could ever hope for. She made our imagination a reality. From start to finish, she was so kind, caring, supportive, and understanding. My husband and I are normally shy and awkward, but she made us feel so comfortable during the whole process. Her beautiful words during our ceremony brought us to tears. She really made it personalized for our relationship. She's truly amazing, and we are so grateful to have found her. We wouldn't recommend any other officiant than Susie.

Cynthia F.

Married on 05/10/2021

Simply Amazing!

My husband surprised me with our wedding renewal in Portland Oregon. I was so happy to meet Susie. She made our event amazing and so easy. She was sweet and on target with everything. She made us feel comfortable and she was super nice and sweet. She made our renewal day so beautiful. They way she incorporated our love into our ceremony will never be forgotten. Highly recommended!!! David and I will be forever grateful.

Are you interested?

Send a message

Christine C.

Married on 03/07/2021

Susie was a Wedding-Saver!

We got married last July (2019) and had a wonderful celebration with Susie! We had originally asked a close family friend to officiate our wedding - my wife and I researched and wrote our own script and had started workshopping the ceremony with her. About a month before the ceremony, our would-be officiant called us and said that she would no longer be able to officiate our wedding due to familial pressures, since this was a same sex wedding. Naturally we were upset and hugely stressed. Then, we found Susie and she was the perfect person to partner with for the perfect wedding. She took our script, asked all of the right questions, made all the right changes and worked to make our ceremony as personal as we had been planning from day one. She was flexible, generous and warm. We couldn't have had the wedding we did with anyone else! We'd recommend Susie to anyone who's looking for a thoughtful, creative officiant!

Heartcrafted Ceremonies's reply:

Oh Christine and Sarah! I will always have such fond memories of your amazing, love-filled wedding. You thought of such creative ways to include your family and friends in your ceremony and made every part of it special and meaningful to you. Remembering your delightful "Flower Grandmas" happily tossing petals down the aisle to begin the ceremony will always, always, always make me smile! Together we created the wedding you had envisioned and joyfully celebrated YOUR love. Lucky me! I got to be part of this spectacular day. Thank you!

Jennifer O.

Married on 02/11/2021

Perfection!

From the moment we first spoke I knew Susie was the one for us. Her genuine kindness comes through immediately . We had an instant connection and felt like we had been friends for years. From start to finish she was so professional and helpful with any questions we had. Susie has a wealth of knowledge with all types of ceremonies and really works with you to make each one so personal. Our ceremony was very intimate and completely reflected us as a couple. Hearing our love story was amazing as we chose to wait for the ceremony to hear it for the first time. Definitely recommend it! All in all we had an amazing day and thanks to Susie for making that happen. She truly is a gem and we will cherish her and look back with the best of memories.

Jennifer and Jay

Featured

Lauren T.

Married on 02/06/2021

The absolute Best.

There is no one better than Susie. She felt like family the moment we met her, and that continued through the entire process. She was also a total professional - responsive, thoughtful, always thinking ahead, for us. She was one of the few things in our Covid-Wedding that went completely according to plan, and more! And that's all thanks to Susie. You should feel truly honored to work with her. There is no one with a bigger or more honest heart.

Heartcrafted Ceremonies's reply:

Thank you for your kind words. Your backyard wedding was the sweetest! I felt so honored to be part if it and so loved getting to know you and Eric as we planned your ceremony. Sure, there were some zigs and zags in the plans, but your wedding day was perfecto! And your vows......

Jeremy

Married on 08/31/2020

Amazing Officiant

My wife and I are so happy and fortunate that we chose Susie to be our officiant. From the initial consultation meeting, we knew exactly that this is who we wanted to lead our ceremony. She was thoughtful, responsive, and friendly throughout.

We wanted a customized, secular ceremony while still having traditional vows and it was all possible thanks to Susie. She allowed us to be our true selves and share our love story, which she helped curate, in front of our family and friends.

Also, several of our guests told us during the reception how much they liked Susie. If you go with Susie, I'm sure you and your guests will say the same.

Thank you, Susie!

Kara

Married on 08/22/2020

Susie is the best!

Our ceremony was written perfectly. The flower circle (made from flowers and ferns from her yard) was magical. It was an intimate, personal and lovely day and we are so happy to have chosen Susie to be our celebrant. You are so warm, inviting and lovely. Thank you for everything, I adore you!

Ashlee M.

Married on 07/11/2020

Simply the best!

Susie was amazing from start to finish. She made this whole experience light hearted and easy. We planned our wedding in about a month and we feel so lucky we found Susie. She really did make our ceremony feel so personal and like she had known us for years. In times where we couldn't actually meet in person until the day of that says a lot about her. When I look back on our wedding day our ceremony was such a special part of it that I'll always cherish. Susie is thoughtful and made our ceremony exactly what we imagined but better. Everyone at our wedding kept complimenting us on how amazing our ceremony was. Thank you for marrying us Susie and being the best of the best!

The Merry's

Heartcrafted Ceremonies's reply:

Mr. and Mrs. Merry - you are the best! It was truly a privilege being part of your most special day. I am so pleased you liked your ceremony and travelogue Love Story! Although your wedding looked a bit different from the one you had originally planned in Puerto Vallarta, your backyard ceremony surrounded by loved ones suited you well. Your love and exuberance was truly contagious! Thank you for including me in your day. Fasten your seatbelts ...... and continue falling in love all over the world!

Ryan B.

Married on 05/05/2020

The Best in Portland

Susie was an amazing officiant, and I could not recommend her highly enough. She customized our wedding to match exactly what my wife and I were looking for, and definitely went above and beyond what most other officiants would do. If you are looking for someone to officiate your wedding that will really sit with you, and give you the ceremony you want versus just give you a generic cookie cutter ceremony that you choose off a list, then Susie should be your first choice.

Heartcrafted Ceremonies's reply:

Thank you for your kind words, Ryan. I so enjoyed being part of your wedding day and being the one to pronounce you and Bonnie married! I loved the creative little details she added to make the ceremony special. Excellent location choice too! The Redwood Deck was such a beautiful backdrop for your sweet wedding. Wishing you many happy, healthy years of marriage.

Kendall P.

Married on 10/12/2019

Perfect Ceremony

Susie was such an integral and phenomenal part of our wedding day! It was so important to us that our ceremony was a reflection of who we are as a couple, our values, and individualism while also keeping in some wedding traditions -- Susie went above and beyond to deliver that to us.
She took the time to meet with us on multiple occasions and really get to know us and our story, as well as what we were looking for in a wedding ceremony. She took our ideas and what we wanted and completely personalized a ceremony that was just what we were looking for. My husband and I both instantly felt so comfortable with her when we first met her, she has a way at putting you at ease which was very important on a day where you want one less thing to worry about. She was great support as we both worked on our own vows and never made either of us feel pushed around or as if the day was instead about her.
She was so organized, punctual, quick to respond to any of our needs, and worked so well with our other vendors to seamlessly help move the wedding along -- we got asked from multiple guests for her name!
We absolutely loved having Susie be part of our wedding. We are both so happy we chose her to marry us and would pick her again in a heartbeat. Stop your looking and hire Susie!!

Heartcrafted Ceremonies's reply:

Ahhhh. Thank you Kendall! I loved getting to know the two of you and being part of your wedding. It was such a joyful day and I adored meeting your families! Although writing vows can feel pretty intimidating, you each found the most perfect words to say to the other. I had complete confidence you would do it! And now.... you are married! Thank you for choosing me to be your wedding Celebrant! Wishing you lots of love and many good wishes.

Corinne K.

Married on 09/21/2019

Susie is the greatest!

I'd absolutely recommend Susie for any couple who is looking for someone to help design their ceremony with them. She has such great ideas for ceremonies and really crafted our ceremony with us with loving care. I especially recommend her for LGBT folks, we felt safe to be ourselves with her. Susie was the perfect fit for us and one of the most important parts of our wedding. She did a great job my whole family loved her.

Erlyn M.

Married on 08/28/2019

Nicest and sweetest officiant ever!

Ms. Susie made us feel comfortable in the most nerve wracking moment of our lives! the anxiety and stress of getting married is no joke! But having someone like Ms. Susie is such a big reliever. She is very sweet soft spoken, flexible and easy to communicate to. Very approachable and even helped us out getting our license and marriage certificate! She was very understanding about the delays of our vows because of our busy schedule but helped us out alot in writing them! She will give you awesome pointers and samples. I really love that she will print out the vows for you so you don't have to worry about carrying and not losing it and ofcourse so you can hide it from your future spouse! Also she is very flexible about certain specifics that you want on your ceremony. She responds to every inquiry promptly and on top of that will make sure you feel confident and relaxed on your big day! She will go through mountains and falls like literally wherever you want to get married under. Ms. Susie is like a wedding ceremony fairy god mother that you've always needed!! Spouse and I Love her to bits!

+ 14

photos

Rebecca G.

Married on 07/16/2019

Susie is everything her reviews say she is and more!

My fiancé and I live across the country and have never been to Oregon. Susie was a God send throughout our entire elopement process. She was attentive to our wants but also gave us great ideas for our ceremony. She went above and beyond the call of duty through skype meeting, recommendations for our stay in Oregon and even taking us around in Portland helping us find items. She even went with my fiancé to pick up my flowers when I was running late!
She truly spent time personalizing our ceremony making it everything we could have dreamt of and more. Not only would our day not have been the same without her I don't know we couldn't have done it without all her help along the way!
Our elopement ceremony overlooking the beautiful Columbia River Gorge will be a day we will remember forever, and Susie was a big part of it. I highly recommend Susie not only for her kindness and attentiveness, but because she is truly passionate about what she does, and it shows. I can't imagine any other officiant going to the lengths to make every detail special for their clients the way Susie does.


Greg M.

Married on 07/09/2019

Thoughtful, Accommodating, & Caring

Susie met with us several times. The first was via Skype where she discussed her process and asked us our thoughts. We then met her at a local coffee shop twice where she was very helpful in planning out our vision. Susie was generally interested in us and giving us the our perfect ceremony.

Kelcy W.

Married on 06/11/2019

So glad we chose Susie to officiate our elopement ceremony!

Susie without a doubt made our day extra special. We travelled from out of state to get married in the Willamette National Forest and Susie, her husband John, and dog Sugar all trekked into the woods to help us get married. My husband and I eloped alone, just the two of us, so having John be one of our witnesses was great. We were really missing our dogs back home but having Sugar there helped a lot. Sugar was our flower dog and can be seen in our beautiful photos. The way Susie personalized everything for us made it extra special. We met with her prior to our big day and picked out everything we wanted in our ceremony. Susie did exactly what we wanted and also went the extra mile. She even got sparkling orange drink for our toast because she knew we did not drink alcohol! I will cherish the memories made that day forever. Our commemorative copy of the ceremony is so nice to have to look back on and share with loved ones who were not there in person. I cannot say enough good things about Susie. Having her officiate our ceremony felt so comfortable. It was like having a member of our family there officiating. I highly recommend Susie!

Susan L.

Married on 01/10/2019

Perfect and beautiful personalized ceremony

Susie officiated our wedding ceremony in Forest Park, Portland, Oregon. We were very pleased with how much time and effort she put into making our ceremony and vows reflect our unique love story and our personalities. She was very in-depth in getting to know us as people, not just clients. Susie went above and beyond to learn about us and made our ceremony absolutely perfect. We did not want a generic ceremony, and Susie truly made our ceremony a reflection of us as a couple, as well as individuals. We were incredibly satisfied and would not change a thing about our ceremony. We would absolutely, without hesitation, recommend Susie as a celebrant.

+ 5

photos

Jt Mh

Married on 11/23/2018

Introverts' Choice

My wife and I are nervous introverts who came into this whole process unsure of what we wanted our wedding to look like. We found in Susie the right person to help create a ceremony that was uniquely "us": she is a calming presence from initial contact to the day of the wedding; she is very patient and a great listener, and knows when to intervene and guide, and when to let you lead the way; she is an excellent resource, with great ideas, and is also open to new ideas and adapting others to fit your needs and boundaries. She takes each ceremony she plans very seriously, and is delighted when participants embrace the process. We also found that she was not only a calming presence as we planned our ceremony, but was also a calming presence for all the participants on the day of the wedding. What also struck us about Susie, from the very beginning, is her ability to communicate well across platforms--she is a conscientious emailer, a delight in person, and very easy to talk to on the phone or video. She is moreover very flexible and good with neurodiverse people.
We found Susie when looking for officiants who perform same-sex weddings and found in her an earnest, queer-affirming ally who struck a balance between celebrating marriage equality and acknowledging the fraught aspects that still accompany same-sex relationships and weddings. We feel fortunate that we found her.

Heartcrafted Ceremonies's reply:

Thank you J And M! I feel fortunate you found me too! Planning your ceremony and watching it unfold with such lovely, personal elements was gratifying for me in so many ways. Few couples have such talented and creative sisters as you to write and recite a wedding poem or sing a beautiful song composed in your honor. I really do take each ceremony very seriously and I thank you for noticing! As you said, I'm truly delighted when couples embrace the ceremony creation process because THAT is what makes the wedding meaningful and special. And yours was in every way. I was so happy and honored to be the one to pronounce you married. Viel Liebe und Glück in den kommenden Jahren, meine Freunde!

J And

Married on 10/09/2018

The most amazing ceremony ever!

Our last-minute elopement to the Pacific Northwest could not have gone more smoothly. We found Susie through our photographer and immediately knew we were in capable, good hands. Susie scheduled a few phone calls with us to get to know us and find out what we were looking for in a ceremony. She gave us "homework" which forced us to stop and think for a moment. This step led to one of the most beautiful moments in our lives. Susie and her husband came to the beach with us and when we first met, we all felt as though we had known each other for years. The personal details Susie incorporated into the ceremony were so special. We gave her complete free rein over the entire ceremony and couldn't have been happier with the result. We actually had fun and enjoyed ourselves during the wedding! We recommend Susie for a litany of reasons. She is a wonderful person, and so easy to work with. If you have extra time, ask for some winery recommendations as well. You won't be disappointed!

Heartcrafted Ceremonies's reply:

Aren't elopement weddings wonderful? Everything about your wedding on the beach at Ecola State Park was amazing. Starting with the two of you, talented photographer, Ara, and including a beautiful stretch of Oregon beach, and the stellar weather, it was pretty darn magical. I remember watching the two of you during the ceremony laugh and cry and hug; and one time, all at the the same time. Your vows, secret until the wedding, were a personal and touching part of the wedding. You two were absolutely in the moment, completely focused on each other. Please know your trust in me and the wedding ceremony I would create means so much to me. And to think we didn't meet in person until just before your wedding. Thank you for choosing me to be your elopement Celebrant, J and E. There are many more wineries awaiting your return!

Mary

Married on 09/15/2018

Susie was a joy to work with, and helped us create our perfect ceremony. She helped us think more deeply about how we wanted to make our wedding truly personal and memorable - and provided a wealth of resources to consider, which made the process so much easier. Susie is warm, charming, supportive and gracious, and has a clear passion for life celebration and remembrance - her positivity is infectious! We definitely recommend Susie to anyone considering an officiant.

Heartcrafted Ceremonies's reply:

Thank you for your kind words, Mary! You were so appreciative of everything, it was such a pleasure getting to know you and Gary and working on your ceremony together. You both took your "wedding homework" very seriously! Immersing yourselves in the process of creating your ceremony, a clearer picture emerged of what would be meaningful to the two of you. There were some great, spontaneous brainstorming moments along the way too! This all helped make your wedding ceremony sweet and tender and uniquely yours. I'm very honored you chose me to be your Celebrant and wish you many happy years ahead.

Skylar

Married on 09/12/2018

Susie was amazing! She was super supportive and flexable with what my husband and I wanted. She helped us figure what we wanted for our ceremony even though we were pretty lost when it comes to weddings. She had lots of suggested options for readings and rituals and completely understands if you want to leave something out. Her personality is cheerful and easy to talk with which made meeting with her very comfortable. She loved that we had a mixed gendered wedding party and on top of that is lgbt friendly!

Our guests loved the personalized ceremony she worked with us to create.

She's great if you're looking for a relaxed, sweet memorable ceremony. And she really cares about her clients.

Heartcrafted Ceremonies's reply:

Thank you Skylar and Kyle! I loved planning your wedding ceremony, because with you, .... anything was possible! It was amazing to watch your creativity blossom as we talked about ways to shape and personalize your wedding. From your eclectic and meaningful music choices, to the reading of the beautiful verse by Kahil Gibran, "On Marriage," to honoring your grandmother by wearing her jewelry, Skylar. Your wedding matched the two of you in a really loving and authentic way. I did love that you had a mixed gender wedding party - and hope it encourages other couples do the same! I appreciate you mentioning that I'm a LBGTQ+ ally; I am also a strong advocate for marriage equality. Thank you for choosing me to be your wedding Celebrant, Skylar and Kyle. It was such a happy day; I was honored to be part of it.

Laura A.

Married on 09/03/2018

Warmth every step of the way

We highly recommend Susie as an officiant. She was warm, supportive, prompt and thoughtful throughout the process. With a mix of helpful templates Susie provided and our own creativity (which she encouraged), we created our perfect ceremony. Many guests commented on how much they enjoyed it. With help from Susie, we will have wonderful memories of the heart of our wedding day for years to come.

Heartcrafted Ceremonies's reply:

Thank you Laura! I have wonderful memories of your wedding too. I remember our first meeting when we discussed what was important to include in your ceremony like having your husband's daughter's part of a family sand blending ritual. I always encourage couple to be creative and you were! I loved that you took vow writing to the next level - writing ones you read together but then reciting individual vows that you had kept secret until the wedding. This became such a beautiful and memorable part of the ceremony. It was a joy working with both of you - I'm delighted to know how much you liked your wedding ceremony. Mission accomplished!

Ryan

Married on 08/05/2018

Personalized, unique, and perfect!!

Susie is fantastic! We looked for a long time to find the perfect officiant for our wedding, and Susie was 100% the right choice. She spent so much time and energy working with us to really ensure that what she delivered reflected each of us as individuals and our personalized ceremony was unique and fit EXACTLY what we were looking for in our wedding. It is clear that she is passionate and loves what she does, and she really cares about each couple she works with on a deep level. I feel like I left with a friend after all was said and done. If anyone is looking for a ceremony that reflects who you are and what your relationship means, Susie is the only officiant that should be considered! I wholeheartedly recommend her!!

Tracey K.

Married on 08/04/2018

Susie is Amazing! You would be lucky to have her!

Susie was amazing! She was very flexible to meet with us. She not only would drive over to our side of town but was willing to meet wish us later in the evening after we got off work. She always got back to us thru email or a phone call in a timely manner. She put us at ease when we had trouble designing our vows, and gave us lots of helpful feedback when we finally got around to drafting them. She is friendly and easy to work with and her part of our ceremony was beautiful. You would be lucky to have her be a part of your special event. We highly recommend Susie.

Heartcrafted Ceremonies's reply:

Thank you Tracey! Getting to know you and Travis and planning your wedding ceremony was enjoyable in so many ways. I do believe our meetings always had food involved, right? Your ceremony reflected your love and strong friendship, and your personal additions really spoke about what's important to you as a couple. Travel! I'm delighted you found my sideline vow coaching helpful! Both of yours were written straight from the heart - which is what they're all about! And for the record, Tracey, you are a front runner for the most organized bride award! YOU were amazing! It was a privilege being part of your most special day.

Travis K.

Married on 08/04/2018

Susie is a class act!

We met for a low key beer/pizza introduction. After a mere 15 minutes of chatting and looking through her VERY impressive binder of ideas, my wife and I knew we wanted her to officiate our wedding. She is so kind and caring, she felt like an Aunt/Family and we both felt so comfortable with her. Sharing our story with her was effortless, and she really takes the time to get to know you and understand how you want your day to go. She has so many ideas to help you (if you want them) but is cool sitting back and doing exactly what you her to as as well. She really understands that your wedding should be unique and she wants to make it special. Everyone in our audience loved hearing/watching her reactions! Just meet her for a drink and see if you click, I'm betting there's a good chance you will! Thanks again Susie!

-The Kelleys

Heartcrafted Ceremonies's reply:

Thank you for your kind words, Travis! Working with you and Tracey was so much fun - and I think your ceremony mirrored our great connection. My favorite part of being a Celebrant is that I meet and get to know really wonderful couples like you two. And officiate their wedding! Please let me know which vacation destination is drawn from the "Love Letter Travel Box" on your 1st Anniversary! That was the coolest way to make the ritual completely yours. Thank you again for taking the time to share your thoughts. It's so nice to be appreciated.
Are you interested?
Send a message