Reviews
4.5 out of 5 rating
Quality of service

4.5 out of 5 rating

Average response time

4.7 out of 5 rating

Professionalism

4.6 out of 5 rating

Value

4.4 out of 5 rating

Flexibility

4.5 out of 5 rating
91%
Recommended by couples
Awards
23 User photos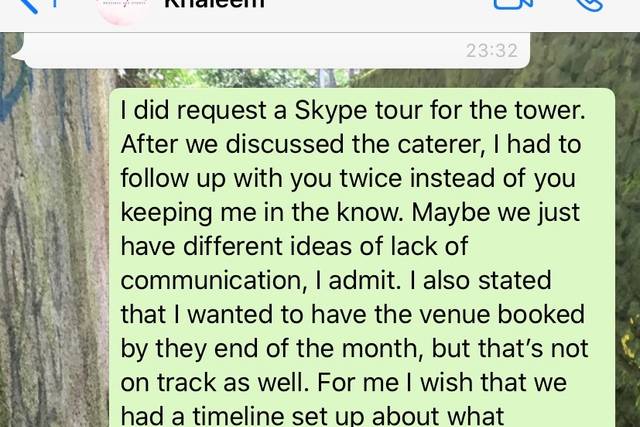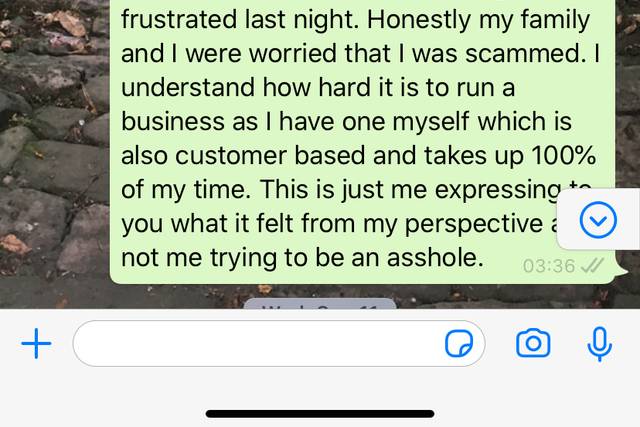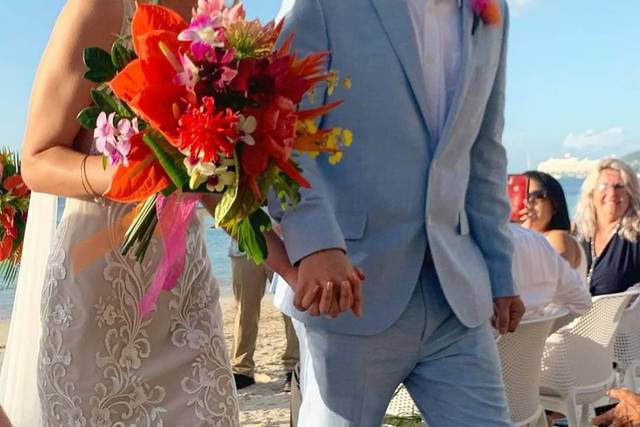 + 19

photos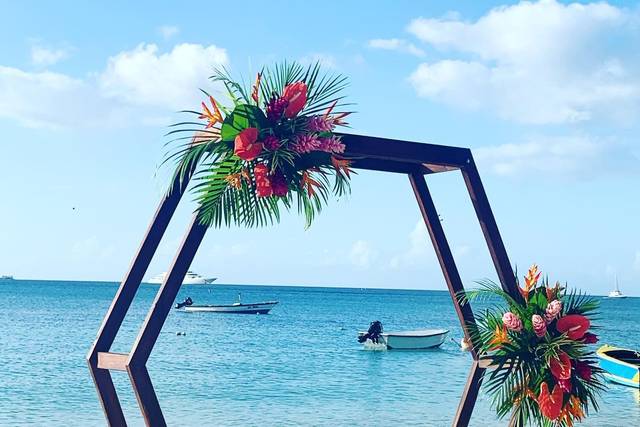 Gracelyn G.

Getting married on 12/01/2029

My experience was amazing I will use them again

My 50th birthday celebration was super elegant. The request to have the space decorated two days before the event shows how accomadating and flexible they were. I will definitely highly recommend their services to anyone. NO REGRETS. Thank you for your services. G Grenade.

Peter

Married on 02/19/2023

Great planner and took the headache out of the process

I read lots of great stories and some bad ones about Hangers. Obviously, a wedding can serve as great anxiety for those involved in it. Everybody wants it perfect and it almost never is. Also, wedding planners are many times limited to a certain extent as to what they can do when a supplier fails to deliver. These are definitely things you must always keep in mind when describing one's service. Let us tell you how our experience was:

We contacted the wedding planner Khaleen with VERY short notice. We set our own plans for our wedding until we realized that this was just way too much headache, organizing to deal with on our own. She had 2 weeks to put everything together. Fortunately, she took us on as clients (others did not due to the time limitations we had). We had some specifics we wanted but we did not want a big wedding, rather intimate and hassle-free; after all, this was OUR day!

Khaleen and Sascha made the necessary arrangement and halfway there we implemented some add-ons. I must say "Hangers" was very flexible in terms of working with the changes. They were on point, up-to-date, and kept us posted every step of the way. They co-ordinated everything timely (something of which they did not have much of) and they made this whole experience so much smoother.

We also described the type of officiant we would like and our pastor could not have been a better choice. What a wonderful man!

I even put in a special request for after our wedding and they promised to do just that and free of charge.

Honestly, we could not possibly be happier for choosing Hangers. A big thank you to the entire team who was a part of our big day and for making it so much easier.

Kafi J.

Married on 06/12/2021

Dream come True

Khalene listened to all my questions and handled all matters very professionally. From our first meeting she was very calm, it put me at ease and I was confident in her abilities. she listened to my vision and made my wedding into a wonderful experience. I think that when you are passionate about something it is reflected in your work, and Hangers definitely delivered!!! Her advise was second to none!! I would definitely be using Hangers again and would recommend to anyone!

Are you interested?

Send a message

Charlie M.

Married on 02/12/2020

The Perfect Wedding!

Khaleen and their team went above an beyond to create the wedding of my dreams for me, it was better than anything I could have envisaged. Despite being in different countries, Hangers took care of every aspect of the planning, and made it a completely stress-free process. I had sent a Pinterest board with ideas and was blown away on the day to see my ideas brought into reality! Thank you Hangers, for creating the most perfect wedding, I cant show my appreciation enough!

+ 5

photos

Icenie A.

Married on 08/17/2019

Excellent Service

Hangers Weddings and Events handled my wedding with professionalism. Khaleen was easily accessible and very responsive and flexible to my requests. She responded to texts and emails quickly and worked around my schedule and availability. I provided her with a photo of what I wanted on my special day and she made my idea even more beautiful. She took care of everything so I didn't have to worry about anything. The Vendors she provide were also professional. I highly recommend Hangers Weddings and Events you will not be disappointed.

Kenrick A.

Married on 02/09/2019

Kenrick Sealey

Hangers helped make our special day perfect!!! Their creativity and professionalism to me is unsurpassed. They took our theme and was able to bring out exactly what we wanted, complete with live fishes in the center pieces. Thank you.

Sarah

Married on 12/12/2018

Reliable, individual service, excellent!

I quickly realised that Khaleen and Hangers Weddings are 100 % trustworthy and had such an easy and joyful time organizing our wedding. Without ever meeting before the holiday and without settling many details, Khaleen simply knew what we like and chose the perfect decoration, officiant, menu and flowers, also the catering company, florist, officiant and photographer did an amazing job!

Shania

Married on 08/04/2018

Great Wedding Coordination

It was a pleasure working with Hangers Weddings and events. I was fortunate to find them just a few weeks before my destination wedding.
Khaleen was very responsive and professional and understood my vision in terms of theme colors. The set up was absolutely fabulous! She also referred me to a reputable and wonderful cake maker when our original plan fell through at the last minute. I highly recommend this event group if you wish to have a beautifully coordinated wedding without the hassle! I am so grateful for Hangers for taking the stress out of the reception planning and coordinating of our wedding. I highly recommend them and would definitely use them again should the occasion arise. 😀

Danielle

Married on 04/07/2018

They exceeded my expectations! I was truly impressed! Hangers is the best!

Basil

Married on 04/07/2018

The hangers team showed utmost professionalism, they were super friendly and always reachable. I would recommend the creative team to anyone. Thank you hangers.

Vernel B.

Married on 07/31/2016

Decor was amazing

Amazing service, i had full confidence in them and they wowed me. It was a wonderful experience and the staff are so friendly.

Janelle

Married on 09/19/2015

Khaleen was such a pleasure to work with. I cannot rave enough about the amazing job she did. During the planning, she was always there to answer e-mails and phone calls promptly, coping well known anxiety that one feels when doing a destination event.

On the day of my welcome dinner she truly went above and beyond. We had some missing items that I forgot, and she was able to seamlessly handle the situation without anyone noticing.

After the event all of my friends and family raved about the entertainment, (Solid band) and how good the food was of which Khaleen all suggested.

It was A pleasure to work with Khaleen and her team. I could not have planned my anniversary welcome dinner without her assistance and guidance.

Thank you so much for all your help. Continue to do excellent work, and may your business forever blossom.

Jason H.

Married on 06/08/2019

The experience of a lifetime

The experience was wonderful! Khaleen was able to take our initial ideas and create a masterpiece. She is very creative and have an eye for detail. We were both very delighted and very please with the outcome. Our entire guest was boasting about the decor and quality of service provided. Everything were organised and smooth flowing. We highly recommend Khaleen and the team. Thank you Hangers!

+ 2

photos

Tricia H.

Married on 03/11/2019

Hangers is very reliable and dependable

Service was remarkable, it was everything I asked for and more. I was truly impressed.

Yolanda

Married on 04/20/2018

The team's calmness and professionalism were exactly what a bride and groom need when planning a wedding!

Every detail we discussed they came through with, and even when dealing with challenging people they remained consummate professionals. Access to Hangers was never an issue and their response time exceptional.

Nothing but good things to say and I would recommend Hangers Weddings and Events to anyone planning a wedding on the Spice Isle.

Doreen

Married on 12/02/2022

Far from professional

My husband is Grenadian but since we are living in Germany we thought it would be better, easier and more convenient to organise our special day with a wedding planner.

When we had our first call with Hangers we were really confident that it's the best choice cause the vibes were nice and we got a great feeling after talking to Khaleen.
We signed the contract, made the down payment and after a while we've got a different assigned planner.
Things went south really quick: Hangers appeared most incompetent and unprofessional. Whenever there was something I mentioned was not OK e.g.in communication, neither of them took responsibility which is a no-go in customer services especially as a wedding planner!

We ended up doing more planning ourselves than the actual planner. But after already spending money we didn't want to just cancel them and tried to work everything out as good as possible.

We started to plan our wedding end of January but nothing was set by September. Our wedding day was 2nd December 2022.

But I will try to make it a bit short and only mention a few things: They didn't have a hand full of vendors for each position to choose from like steel pannist, band, decorator etc. E.g.: they told us in September no decorator has time or is willing to decorate our wedding but only sent out one request and got an offer from them which we accepted to only find out this decorator had no time on our wedding date. Which tells me they didn't even write the wedding date in their request. It appeared (!) as if they tried everything that we would have to choose their own overpriced decoration offer. So we ended up getting in touch with friends and found a great decorator ourselves.

During the whole year I had questions, was insecure, came up with thoughts and ideas which nobody of them would have come up to mention. I was worried our budget is not enough and instead of giving us options, ideas or advice they were always over budget. I always felt as if they don't work together with us more doing there thing or in this case barely anything which I couldn't have done better. #ironyoff

Communication was horrible besides whatsapp groups, emails and phone calls every other week. It was like we never moved on and got more and more frustrated with time about how things were handled or in this case not handled at all. We didn't feel in good hands nor taken good care of with this special event since we were not 100% sure what we have to be aware of, think about and what we didn't want to forget to organise. I mean, we didn't get married before and we are not the wedding planners, are we?

At the day of our wedding things went wrong very early...the band was suppose to set everything up in the morning. Hangers wrote the schedule for the time events and the vendors. The band came one hour after (!) the ceremony was suppose to start!!! Hangers didn't even rush them nor was concerned where they are. When they finally arrived, they wanted to set up in the hotel garden instead of the planned beach spot for the beach ceremony. If it wouldn't have been for the best man and the DJ, the set up wouldn't have been possible and this would have been it.
We had a cocktail hour and our photoshooting and I also noticed here again that nothing we spoke about was forwarded to the vendors nor the information from the wedding questionnaire was put into considerations. E.g. the photographer didn't know anything about my wish to take photos at the beach instead by the hotel pool which I communicated in previous calls.

Since the beginning I always had the feeling (!) nobody was actually paying attention at this 8 pages questionnaire they gave us in January. I also tried to communicate that which ended in me being harshly talked to cause apparently you can't give any feedback to them if it's not good feedback.
Anyway...
The reception started...and since the band was so late at the beginning, Hangers started to rush through the wedding programme.
We had the cake cutting, the bouquet and garter toss etc...whenever we said "OK let's do it now", music already started playing without us nor all of our less than 40 guests being in position to attend.

But wait...the best it yet to come! They messed up OUR moment when we had our 1st dance and they knew the plan incl. the music selection but told my husbands mother as well as my father to join us during our 1st dance!!! So I was like "what the heck is going on?" when my mother in law came to the dance floor while we were in the middle of our dance to dance with her son. The selected song for the actual parents dance afterwards was skipped completely, my mom was disappointed since they were practicing their dance steps for Patrice's "Tender" and were looking forward to their dance.
I confronted Hangers a few days after the wedding and they told me my "mother in law and my dad were told to get ready for the parents dance afterwards" which I really can't believe cause why should both of them separate from each other get it so wrong?? And if they both would understand it wrong, then why are you not keeping them from the dance floor until we are done with our 1st dance?

Hangers also told us about a complimentary stay at the hotel incl. honeymoon suite. Well...my husband was asking the hotel about it over and over again himself. We didn't get a separate room to prepare before the wedding (as Hangers mentioned) and only got keys for a honeymoon suite late at night after the reception was done and after asking the hotel staff ourselves over and over again. We didn't stay there at the end cause it was too late and not even decorated as a honeymoon suite! It looked like any other big cold room.

The hotel, planners, decorators -staff...they all started to clean up the place (Pavillon) very early: People were still eating, didn't even see the desserts on the buffet but the hotel staff took everything down; hotel staff was seen drinking our drinks at the bar; table clothes were taken off when people were still dancing and the gifts for our wedding guests were taken from only God knows who! Hangers didn't take responsibility for any of it, didn't help us in figuring things out nor find solutions or apologies for any inconvenience! Nothing!
They said at the beginning, they only deal with vendors they have good experience with...Well then let me give you one advice and maybe take Radisson Hotel from your list. Unfortunately this still wouldn't make your services better.

I'm disappointed that everything went this way. The positive side is, none of our wedding guests noticed the struggles we had and they experienced a great event.

Hangers were suggested to us by a friend who knows Khaleen personally and after receiving some feedback from other people, her services were much better before but if you can't find competent staff, get lazy or relax on the comfortable and used to vendors than things can't improve and go wrong. I personally wish Khaleen all the best but for us Hangers services was a big Zero, sorry.

Kiera C.

Married on 10/24/2020

Red Flags!!

From the very start there were red flags when working with Khaleen and her company Hangers Grenada. From her disorganization to her illogical suggestions (like send the save the dates before we even had a venue decided) I took it all in stride because I really wanted to have my wedding in Grenada. Here are a couple snippets of how I've spent the majority of 2019 trying to plan this wedding with Khaleen.

* I had to beg Khaleen to get video and pictures of the venue. She did eventually go, but three months later.
* After months of me asking her to provide a timeline, she hastily put one together but failed to refer to it once or make any attempt to follow.
* My parents (graciously) who were traveling to Carriacou took time out of their vacation to take pictures and video of a different venue since khaleen and her team seemed unable do so at any point for themselves
* During the last three months of us "working together" I was in direct communication with the venue myself attempting to finalize a contract. Khaleen was non existent in any conversation or as a representative but claims she was "working" behind the scenes to hurry the process.
* She was unsuccessful in obtaining a wedding contract from her own vendors within the 8 months of "working".
* After these interactions I realized my wedding could not happen in Grenada with such an inept wedding planner no matter what I tried. So my fiancé and I asked for a 50% refund which was more than fair since not one thing was secured for our wedding after 8 months of Khaleen's hard "work".

So essentially we got scammed out of $1,000 USD and was not provided anything showing any work that she actually did. She only accepts payment through Western Union so that there is no way your payment is protected.

So if you want to waste your time, money, youthfulness, and sanity I would definitely suggest hiring Khaleen.

Pics are from our convo in Sept 2019 where I was trying to come to an understanding with her.

Hangers Weddings and Events's reply:

Unfortunately we were expecting this review from this client, more so a client that is not apart of our portfolio.

Your unwillingness to corporate and adhere to our policies and guidance is the ultimate reason for your cancellation . The main reason for our complimentary consultation is so that our clients can trust our process and the planner they have been assigned to. Our team had to have several conversations after our consultation because you believed Hangers 'was a scam' even before we had the opportunity to start our planning process.
As a replicable company, we try at all times to satisfy and follow through with all of our clients request which our past clients can attest to. Our email threads and telephone conversations shows several contracts and quotations obtained from different vendors videos and numerous pictures with time stamps to prove this. As Khaleen mentioned to you several times, our company would not recommend clients making deposits without vendors first presenting a contract. It was this recommendation to this particular vendor who has never created a company contract that resulted in a delay, which is no fault of Hangers. You then decided to look into another vendor that we previously discussed as an option. After the contract was sent, you stopped responding to emails, phone calls and messages then decided to cancel your contract after more than a month of trying to contact you.

There are emails to show that Khaleen also recommended looking into different vendor categories. This was done 13 months before your wedding date, not because time was an issue of course but to ease the pressure and frustration of finding the perfect venue. You looked past her recommendations and advice proving again that you did not trust her judgment and experience.

In addition, we always give our clients 3 payment options after our contracts are signed which also includes a wire transfer to our company's bank account. You the client decided to choose this payment option as your payment method simply because you wanted to start planning right away.

We understand the pressure of planning a wedding especially when are clients are not on the island hence our decision to look past our doubts and go the extra mile.

We can go on and on about this review and it's false representation of us but we are confident enough to know that It is far from the truth which is coming from a client who did not trust our respect us from the start.

As mentioned before, we still thank you for considering us, and we wish you and your fiancé the best for the future.


Are you interested?
Send a message