49 Reviews
Recommended by 100% of couples
Quality of service

5 out of 5 rating

Average response time

5 out of 5 rating

Professionalism

5 out of 5 rating

Value

5 out of 5 rating

Flexibility

5 out of 5 rating
57 User photos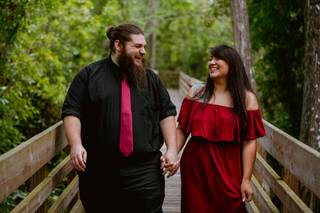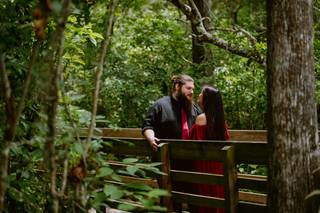 + 53

photos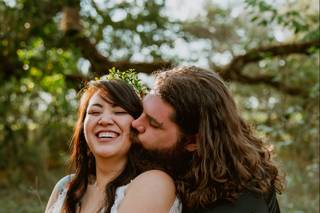 Christina C.

Married on 02/20/2022

The best decision we made!!

There is not enough room to describe how incredible Ashley is!! Throughout the whole process of wedding planning picking a photographer was the most important and best decision we made. Ashley is prompt, professional, but also has a way of making you feel so comfortable!! During our engagement shoot she took the time to get to know us as people, and that really led to our ability to be our nerdy, authentic selves. She makes the whole process fun and relaxed which helps so much on the wedding day knowing that I could just let her take the reins and work her art! She gave so much of her time and effort to make our day as easy as possible while managing to get "us" is such a beautiful way. We cannot stop raving about her and look forward to having her as a photographer in the future!!

+ 3

photos

Penny J.

Married on 11/06/2021

Best Hype Woman Ever! Memories forever!

I hired Ashley for our engagement and wedding photography and gained a forever photographer! She is professional, caring and makes shoots fun, for even the most awkward of people! She not only photographed my wedding but also helped me create a schedule and stay on track! She is the best hype woman you could ask for! I will recommend Ashley to all my friends and family! I will cherish the photos forever, the work she produces is priceless. Thank you for giving me all the confidence on my wedding day and helping me keep everything together! Can't wait for all of our future shoots!

+ 2

photos

Brittany

Married on 04/17/2021

Amazing Photographer

You've heard the phrase; "a picture is worth a thousand words" well, Ashley is the photographer they had in mind.
Bottom line, pick Ashley for any photography need you have and set your mind at ease. Beyond her amazing skill and talent for photography composition, she is about the most amazing person you'll ever meet. Genuine in every sense of the word, from the beginning you'll feel like you've been friends for years, and wish you'd known her even longer than that.
Ashley not only took amazing photos of the classic moments of our wedding but also slipped into the background to capture candid memories that most photographers would miss. She helps with the advance planning of particular pictures so nothing is forgotten in the moment and guides the entire process in such a truly caring manner. This is her passion, and it is to all our benefit.
She is our photographer for life.

Are you interested?

Send a message

Rachel G.

Married on 04/02/2021

Beautiful wedding photos

We booked Ashley over the last couple of years to do photos of us with our dogs. She is professional, creative, calm, and a pleasure to be around. Not to mention her photos are always so beautiful! We didn't want anyone else to take photos of the biggest day of our life. My husband and I are in love with our wedding photos! I could not be happier with the way they turned out. Friends of mine told me they wished she was their wedding photographer. We decided to do a second wedding look at a different location, a few weeks after our wedding. Without a doubt, we booked Ashley to do our photos. I'm obsessed with how they came out! I highly recommend booking Ashley for your big day or any other occasion. We will continue to book her for our future photos.

+ 3

photos

Stefanie

Married on 12/19/2020

Words can not describe how wonderful and amazing Ashley is! She is very professional but besides that she is great to work with because of her creative and friendly personality.Ashley made me and my husband feel so comfortable and it was like she was a dear friend. After our engagement session with Ashley we were so excited for the wedding. I was able to send her tons of photo ideas that I wanted for the engagement session and the wedding and we seemed to get all of them in. She listened to all our ideas and suggested some of her own that we loved!

I especially appreciate that Ashley took charge with photos after the wedding ceremony with all the family and bridal party. No one was confused about who was in what picture and they had time to enjoy the cocktail party and mingle with our other guests.

I would recommend any bride who is getting married in Clearwater or St. Petersburg or anywhere in the Tampa Bay area to contact Ashely from Ashfall Mixed Media, Inc. You won't be disappointed because we were not!

Ashleigh S.

Married on 11/20/2020

Highly recommend!

Ashley was incredible as our wedding photographer! She knew awesome locations for our "first look" and bridal party pictures and kept us on our timeline without stressing. She was always highly responsive and her photography is just amazing. Cannot recommend her enough!

Lyndsay S.

Married on 11/13/2020

A M A Z I N G !!!!

She is the BEST! From the engagement pictures to the boudoir shoot to the wedding she made everything so easy and so comfortable! I will recommend everyone to her! Seriously love her & can't wait to work with her again! 💍💕☺

+ 15

photos

Kayla G.

Married on 10/23/2020

Absolutely Amazing

The moment we got engaged, we knew we wanted Ashley to be our wedding photographer. We'd done other photo sessions with her in the past and knew the quality of her work. She did our engagement session, which of course turned out amazing. And our wedding, she absolutely hit it out of the park! We had a few specific shots and moments in mind we knew we wanted to get photos of and she captured those moments perfectly. Just seeing the sneak peaks brought tears to my eyes because they are gorgeous and made us feel like we were back at our wedding all over. I can not recommend Ashley enough! We absolutely love working with her and can not wait to call her up again for all our future memories we want caught on camera!

Molly

Married on 06/20/2020

Couldn't be more grateful

I cannot write a review that gives Ashley the recognition she deserves. Three weeks ago she photographed my courthouse wedding. She was all of things you want from a photographer: responsive, reasonably priced, and talented. But, she was so much more for us. My husband and I live in Baltimore but got married last minute at the Tampa courthouse. It had been years since I had been to Tampa so I asked Ashley for recommendations on everything and she exceeded our expectations. She picked the PERFECT locations for our pictures. She was also kind and extremely patient with our families. We wanted our courthouse wedding to be special, memorable, and full love and laughter. It was all of those things and we couldn't be more grateful to Ashley for capturing it all perfectly. Ashley's photos told the beautiful story of our courthouse wedding. I find myself looking at the photos often and I'm not sure I could pick a favorite if I tried.

Melynda C.

Married on 02/22/2020

Ashley is the best!

Ashley is phenomenal! We used her for our wedding and our engagement pictures. She keeps things fun and creative, which is so important when it comes to capturing photos on your wedding day. She has a great calming energy and is very personable. I can't wait to get my wedding pictures back! I know they won't disappoint.

Kara

Married on 08/03/2019

Beautiful and thoughtful!

Ashley at Grind and Press is my absolute favorite. She photographed my mother's wedding and I knew that when I got married, I needed to have her. Her personality and genuine excitement for her clients helps make the whole process even more memorable. Ashley did a boudoir shoot and engagement shoot for us, so by the wedding day we were old friends. She even suggested and made time for our engagement shoot in our home in NYC while on a trip, even though the wedding was in Tampa. With the possibility of rain on our day, she carried around a cute little umbrella and had the forecast live streamed on her phone, but never once made us worried. We are so, so glad we chose Ashley because these photos will be with us forever. She caught the best candid moments and truly made our dream photos come to life. I highly recommend Grind and Press to any couple looking for a fun, down-to-earth, creative and passionate photographer. Thank you Ashely!

Cortney

Married on 07/06/2019

Ashley is the BEST!!

After seeing some of Ashley's work through some other friends, I knew that I wanted her to photograph our wedding. She is so sweet and it really feels like you're having a close friend taking your pictures, even though you may have just met! She gives just enough direction to help you get through it but also lets the moment shine through naturally. She has an amazing eye and the pictures are always beautiful. Hiring her was one of the best decisions I made for our wedding day and I would recommend her to anyone I meet.

Stephanie B.

Married on 06/29/2019

So Glad I Had Ashley Capture Our Special Day

I cannot begin to say how thankful we are for hiring Ashley to capture our Wedding in Key West. She is the sweetest person ever! She made us feel at ease when it came down to taking pictures of us two (and overall). We did not feel pressured or stressed during the session, it was like working with someone you knew for awhile and that made us feel comfortable with ourselves around her. It's not hard to tell that she loves what she does. The pictures came out amazing! Thank you so much Ashley! I would forever hire you for any special occasion and would highly recommend you! =)

Chrissy D.

Married on 05/26/2019

Ashley is One of a Kind; Your Special Moments will be Captured Beautifully, Forever

My wedding was absolutely magical, and I owe all of my special memories to Ashley! She is passionate, talented, hardworking, attentive and trustworthy. Her attention to detail, fun-loving attitude and professionalism truly put my mind at ease from beginning to end. She took the time to create a photography timeline with me and ensured each and every moment of my wedding day was captured. Her taste and aesthetic is one of a kind, and her work ethic like none other. I wholeheartedly recommend Ashley Roper and Grind and Press because there is no one who will care more about memorializing special moments for you like she will. Thank you, Ashley! I will never forget you.

+ 2

photos

Anna R.

Married on 02/16/2019

Always the best experience with Grind & Press

Ashley has been doing photos for us for years so having her for our wedding was the only thing we immediately knew for sure we wanted after we got engaged. She has an amazing calm and positive demeanor that immediately put me at ease on one of the most emotional days of my life. When Ashley delivered our Sneak Peek photos, I realized I never noticed her during the ceremony and was amazed at the pictures she was able to get from different places and angles - like a photo ninja! She always surprises me with her creativity, you will not have cookie cutter photos with Ashley if you let her know you would like to see something different. On the flipside, she had a list of all of the "traditional" family and wedding party posed photos that we requested and got through them quickly and efficiently, even with 50+ family members to wrangle. Besides the gorgeous lighting and the intricate small details that she was able to capture in just the few images she has already shared, the emotions that she saw and preserved in photos took me right back to that day, and I cannot wait to see more!

Keriann

Married on 01/12/2019

Genuine & Amazing

Ashley is simply amazing! From the very beginning, she was so sweet, easy going and extremely flexible with us. During our engagement shoot, we had so much fun and most importantly, Ashley made us feel comfortable in front of a camera, she really captured our personalities and love for each other. We had so many comments from friends and family, not only on how beautiful our pictures were, but how neat and original they were. On the wedding day, Ashley was very prompt and very stealthy throughout the entire day, there were times I almost forgot she was there! She captured all the important and special moments of the day, plus so many great candids during our reception. Our photos from the wedding are absolutely stunning and we are so happy to have had the opportunity to work with her!!! We are keeping her contact information handy for all our future photography needs :)



Michelle

Married on 12/15/2018

Fantastic wedding photographer

Absolutely loved having Ashley as our photographer on our wedding day. She is so laid back and easy to work with, was a great communicator leading up to and on the day of, and our photos turned out simply amazing. What more can you ask for! 10/10 would recommend.

Katlyn

Married on 06/30/2017

Ashley is amazing! She is just so easy to work with and to talk to. It rained on my wedding day so Ashley's job was super tough having to adjust and find new places to take family photos but she didn't miss a beat. The photos ended up being gorgeous regardless! She makes you feel at ease when you are getting your photos taken which really helps! She did a really awesome job! Definitely book with her!

Jenny

Married on 05/13/2017

Grind & Press Photography did an amazing job photographing our Fort Myers Beach wedding. Ashley is very easy to work with and she makes you feel so comfortable and relaxed while she's taking your photos. She is very responsive, timely and professional and the quality of her photos is exceptional. We love every single photo she took at our wedding. We will use Ashley at Grind & Press Photography for all of our future photography needs and would highly recommend Grind & Press Photography to others.

Nikki

Married on 03/11/2017

Perfect! Ashley was incredibly easy to talk to, which instantly put me at ease. In looking at her photos it's obvious she's talented but having someone who's also very calm and easy to work with makes all the difference. She was on time, flexible and managed a circus of personalities, all with a smile :) We love our photos! She beautifully captured everything we love about the ranch where we were married, and us as a couple. Not to mention she moves like a ninja. We still don't know how she captured so many angles without anyone noticing her moving around! We couldn't be happier- thanks again Ashley!

Allyson

Married on 11/27/2015

Ashley was recommended to us by our close friends, and we are so glad we hired her! She photographed our engagement session and wedding, and for both events she traveled down to Fort Myers. Being that she's not exactly local to us, communication was definitely important, and she was always very quick to respond! During both events she was so helpful in finding the perfect places to take beautiful photos and telling us how to pose. Our photos came out beautifully and everyone loved them!! She truly does spectacular work, and she is very affordable compared to several local photographers who offer the same level of quality. I highly recommend Ashley for any photography sessions you may need!

Emily

Married on 11/21/2015

Awesome Wedding Experience - Highly Recommend

Ashley was the photographer for our wedding in January as well as our engagement photos. She was recommended to us by our wedding planner who said she loved working with her and I can see why. Ashley is the best! She is professional and kind and makes you feel comfortable. She is calm and cool and she makes people who hate having their photo taken like my husband, feel okay about it. Ashley was great when our pre-wedding timeline had some changes and we had to adjust on the fly. Our photos are beautiful and she has an amazing way of using the natural light and the surroundings in nature. I would highly suggest using Grind & Press for your wedding or event!

Ashley was my wedding photographer. She met with me a few months before the big day to discuss the wedding and made me feel at ease. My photos came out phenomenal. She was amazing. I am thrilled with my photos. She also did a family photo shoot when I came back from my honeymoon and they came out great. I didn't have to wait long to get my photos back edited. This experience exceeded my expectations. I am very happy I chose her to be my photographer. She was a pleasure to work with.

The easiest 5 star review ever; Ashfall Mixed Media is AMAZING. I actually saw pictures that Ashley had taken, not knowing it was her. When she was referred to me, and I checked her website, I saw the pictures and I knew at that moment that she was the one! After our 3 hour long consultation, we knew she was a perfect fit. We actually had her take some family pictures before had and she meshed so well with our family. As far as the wedding, she was so sweet and kind. She answered all my crazy questions, some probably 3 times! She helped me write our timeline, and stick to it the day of, which was so helpful. We also had a second shooter, Danielle. The two of them are so in sync and made the day that much better. I love the fact that you can feel the emotion in their pictures, without even knowing the couple. Their eye for detail is spectacular! Ashley had even made a private pintrest board for me to pin to, and the day of, she pulled out her phone and we started taking photos that I had shared with her. She really takes the time to figure out what style of pictures you want! She has a way of making you so comfortable and calm in front of the camera! She was so patient with our daughter and so professional. I really can't say enough amazing things about this girl. She completely blew me away and exceeded every expectation. She has now been promoted to family photographer and we are already planning another shoot with her. She has a way of drawing you in and you just want to be her best friend. You'll be bummed when the wedding is done and your time with her is over because she is such a joy to be around. Im so thankful for this company and will continue to use them for every milestone our family hits!

Stacie

Event on: 10/28/2014

Ashfall Mixed Media is by far the most talented and creative photographer around......HANDS DOWN. I have never felt more comfortable while doing a family shoot. Ashley was referred by a friend and we feel in love with her professionalism and the overall experience. We have added her to the family, she has grown with our family for 2 years. Through first Christmas's, First birthdays, Maternity and soon our birth of baby number two! She is very patient and does an amazing job at incorporating every prop, idea I bring. She even helped with my wardrobe change TWICE and remained professional! HIGHLY recommended.......I may give her 5 stars but her work speaks for itself! We LOVE you Ashfall Mixed Media!!
Are you interested?
Send a message