Reviews
5.0 out of 5 rating
Quality of service

5 out of 5 rating

Average response time

5 out of 5 rating

Professionalism

5 out of 5 rating

Value

5 out of 5 rating

Flexibility

5 out of 5 rating
100%
Recommended by couples
38 User photos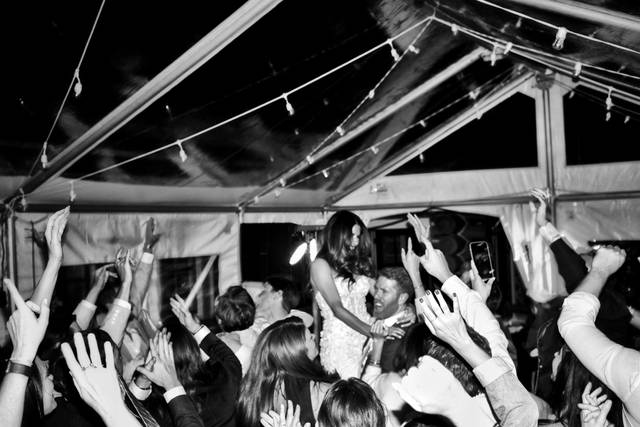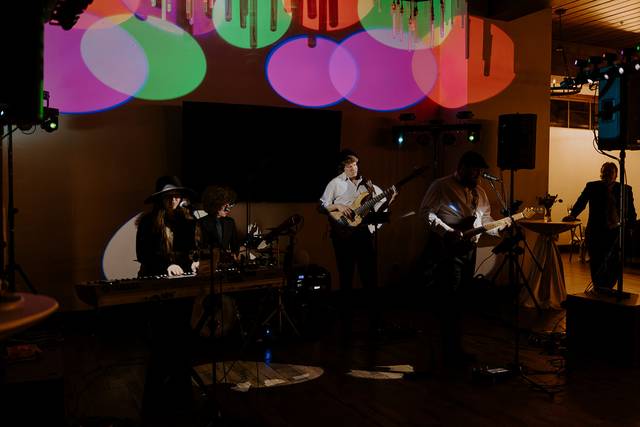 + 34

photos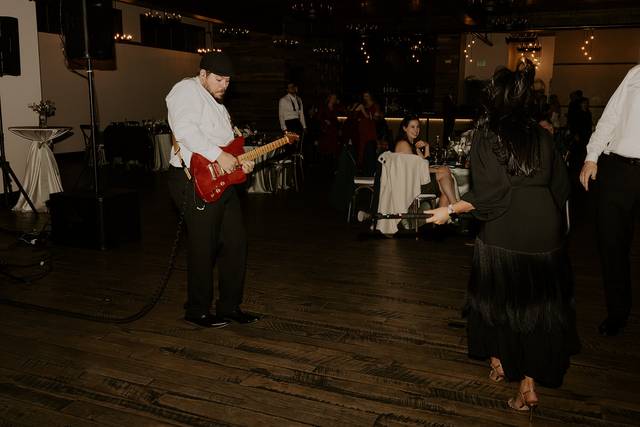 Featured

Rich M.

Married on 06/24/2023

Best Band Ever

When my wife and I were describing our ideal wedding, we aren't very traditional and just wanted to have a big party with our friends and family to celebrate. As long as our guests were having a good time, then we would be. For me, live music was a must, and was really the only thing I got entrusted with. 

Taylor, Bryan, and the rest of the GFR crew was amazingly easy to deal with. Straightforward, honest, and to the point. Once we committed to them, they took all the stress out of planning the music, MC'ing, and sound for the wedding. Knowing now all the curveballs and little things leading up to the wedding day, being able to outsource all of that stuff is an amazing value in of itself.

As far as the actual music went, my expectations were high and still got blown away. The ceremony and cocktail hour music was on point - tasteful when it needed to be, and still got the hair standing up my neck during those key moments. The first dance and parent dances were amazingly true to the records, but not too long (just in case you can't dance, like me). 

However, the reception sets were simply on another level. Multiple guests told us that it was the best band they'd ever seen, no qualifiers. GFR kept the energy humming from end to end, and it felt like a concert, weaving songs together with the crowd screaming for the encore. 

I know I'm just a guy from the internet, but if you've gotten this far, just give them a call and check this box off your list and thank me when you're rubbing your feet and laughing about how sore your legs are from dancing at the best night of your life.

Stevi F.

Married on 10/07/2023

Unbelievable!

All I can say is WOW!!! GFR was absolutely incredible at our wedding. We had a 9 piece band including 3 singers. The dance floor was never empty, the range of music was INSANE, the musicians were beyond talented, the energy was electric and the band truly made the night. Not to mention, we had countless guests tell us that GFR was the best wedding band they'd ever heard and we couldn't agree more. GFR blew our expectations out of the water! We also had a live second line and hora that were the cherry on top. The musicians played and sang insanely well. Just WOW! Couldn't recommend GFR enough!!

They were also so easy and communicative throughout the entire planning process.

Lindsey

Married on 09/14/2023

Amazing, perfect, and fantastic.

I cannot say enough amazing things about this band. Each individual member was a star- talented, professional, energetic, lively, and kind. The communication was fantastic throughout the process. It felt like we had our own private concert — it was seriously the best live music it's hard to grasp they played at our wedding. They break the scale on the 5 star rating, we'd give them a million if we could!!

Are you interested?

Send a message

Daniel B.

Married on 09/03/2023

The most special band I have ever seen at a wedding

The dance floor was full from the first set to the last! They were tremendous! I had over a dozen guests ask where we found the band. I cannot stress enough how phenomenal Great Family Artists were. From booking to curating the setlist, it was evident that they have a calculated system to get the party going

Clare D.

Married on 08/26/2023

Get the party started with GFA!!

Great Family Artists made our wedding truly unforgettable! The music was the most important element of our wedding and we talked to many bands before deciding on GFA. They were amazing to work with from the start and created a perfect setlist that matched our music taste (even learning a couple of our favorite songs to make our day extra special). During our reception, there was never an open spot on the dance floor. They kept the party going ALL NIGHT LONG!!!! If you are looking for a personalized experience matched with INCREDIBLE talent, look no further. GFA will blow your socks off. It has been a month since our wedding and people keep on telling us how GFA was the best band they have ever seen!!!

Grace D.

Married on 08/13/2023

The perfect wedding band

We had the honor of having them play at our wedding in August at Blackstone Rivers Ranch. They were INCREDIBLE. We got soo many compliments from our guests about how great the band was. They were so easy to communicate with from start to finish and truly a breeze to work with. I would highly recommend using them for your wedding or event!

Wilton P.

Married on 08/12/2023

GFA is THE band for your wedding

Could not have had more of a positive experience with GFA for our wedding. 1000/10. After speaking with multiple wedding bands it was evident that they were the only company in Denver that would be willing to work with us to the extent of our expectations to curate the perfect musical experience for our special day. The band nailed every cover, and sounded absolutely electric the entire night. Huge shout out to their GM, Bryan Lipman for his exceptional customer service and seamlessly delivering the organization's services. And also to Music Director, Taylor Frederick for putting together the perfect collection of songs that resulted in the best night of our lives.

Julien B.

Married on 07/22/2023

More than we could have dreamed for!

We were married in NYC and interviewed several band options. However, GFR immediately stood out due to the warm and kind presence of the team. The team was extremely organized and proactive throughout the process including reviewing timeline spreadsheets live, suggesting songs and playlists. We were able to create our own playlist on Spotify at our convenience and share with GFR which made it extremely convenient. Thus the process was smooth, organized and the people incredibly kind and professional. But most importantly, the day of the wedding was pure magic. The band was spectacular to the point that several guests pulled us aside and asked where we found them and more than a few said it was the best wedding band they have ever heard. We could not have asked for more and I cannot say enough great things or recommend strong enough!

Patrick E.

Married on 07/21/2023

Best wedding band ever

From our initial conversation with the GFR team to their delivery on our wedding day we had an exceptional experience. This is not your normal wedding band in the best way possible. They were specific to capture our vision, playlist and recommendations while being proactive and quick to reply with any questions. You're in great hands to trust the GFR team with all parts of your special day, they are true professionals and made our wedding a blast for guests and stress free for us. Thanks again to the GFR team!

Jim F.

Married on 07/15/2023

Amazing wedding band!

We had Great Family Reunion Band play our wedding on 7/15/23 in Keystone, CO and could not have been more happy with their performance. The whole team were absolute professionals. From the early music planning calls to the sound on the day of, everything was top notch. The band learned at least 4 songs for us and performed them like they had been playing them together for years. It felt like going to a concert tailored exactly to us rather than just another wedding band. Worth every penny!

Aaron J.

Married on 06/17/2023

Phenomenal Wedding Band 10/10

GFR exceeded expectations in every possible way, from their communication to their expert booking team and incredible musicians and performers we were blown away! If you are looking for a wedding band look no further, GFR IS IT! The band brought the energy and set the vibe for the night, our guests couldn't get enough of the dance floor! Booking GFR is a wedding must!

Meghan K.

Married on 05/20/2023

Amazing!

EXCEEDED EXPECTATIONS! I could go on and on about GFR- and so can my guests! I was initially hesitant to book a band as I've heard mixed reviews of bands verses DJs at weddings. If you are in the same boat, BOOK THIS BAND. Not only did they exceed my expectations the day of the wedding, but their communication, professionalism and organization leading up to the event was fantastic. I cannot believe the energy they brought to the party- we had many compliments of "the best wedding they had been to" as well as a dozen people asking for more details for their own professional purposes. I lost my voice and was exhausted from dancing so hard- several times I turned around and was astounded at the talent of each musician. The lead vocalist!! The drummer singing??! The solos?!!! AMAZING. If I have ANY event in the future I will not hesitate to book these guys again. THANK YOU GFR for helping make my wedding the best day of my life.

Lauren D.

Married on 05/13/2023

Just WOW! Great band to work with!

If you're looking for a great band in Colorado Spring, look no further! Bryan and his team were absolutely incredible to work with and brought the party all night long. Before our wedding, we had personalized calls with Bryan and Taylor to identify our style and how they could put together a personalized playlist for our reception. At the reception they played all the best hits, had incredible vocals and musicians, and had the dance floor packed all night. Truly one of the best parts of our wedding day.

Eddie L.

Married on 04/21/2023

There is no other option!

We cant recommend these guys enough! They were so helpful and knowledgeable leading up to our wedding, and they absolutely killed it at the wedding! We heard from every single guest how great the band was. Can't thank them enough!

Alexandra G.

Married on 04/01/2023

PHENOMENAL band - 10/10 would recommend

The Great Family Reunion was absolutely incredible, and crushed it at our wedding. They were by far one of our favorite vendors of the day. We got multiple comments from our guests that they were great. GFR was great at managing the energy on the dance floor, and every single musician was extremely talented. Three of the four musicians were also phenomenal singers. Their version of our first dance song "Honeybee" was even better than the original version. We were also impressed by the drummer singing "Kiss" by Prince. They MADE the party on the dance floor.

+ 3

photos

Caroline L.

Married on 12/31/2022

Bringing the energy & the talent!

WOW! Great Family Reunion is THE wedding band, it is the easiest decision you'll make during the planning process. We got married on New Year's Eve and were looking for a band that would bring the party energy and keep our guests on the dance floor until the countdown at midnight. Great Family Reunion not only met those expectations, but ended up playing a 3+ song encore because our guests (and the venue staff) could not get enough of them! Bryan and Taylor were so easy to work with during the planning. The questions they asked, the guidance they provided and the time they took to get to know us really showed with the set list they ended up putting together for our wedding. To show their breadth and talent here is a short list of artists they played: Lizzo, The Grateful Dead, Big Wild, Griz, Taylor Swift, Umphreys McGee, Spice Girls, Chris Stapleton, Ginuwine (yes, Pony). Our family and friends are still talking about how fun and talented all of the musicians were.

Bailey

Married on 12/03/2022

Best Wedding Band in South Florida

We worked with Jordan and Taylor with Great Family Reunion leading up to our wedding. Their deep understand of music genres, composition, flow, cadence and overall atmosphere resulted in an amazing experience.

We utilized them for our ceremony, cocktail hour and reception. The reception music was performed by an 8-piece band, however they have flexibility to add additional musicians/instruments.

They tailored the music to our eclectic music taste and they delivered an unforgettable night! We can't speak highly enough about the planning process and overall execution by GFR. If you are looking for the best wedding band in South Florida, we highly recommend Great Family Reunion.

Nathan L.

Married on 11/12/2022

This band brought the house down!

What more can I say other than this band brought the house down. We wasted money on nice chairs at our wedding because everyone was on the dance floor all night. They packed in more energy into a wedding than I've ever seen. If your wedding has a Hora this band brings the heat and kept everyone going for nearly 20 minutes.

Andrea M.

Married on 11/05/2022

Book gfr now!

There are really no words to describe GFR and how awesome they are. We started planning our wedding two years ago (Covid) and quickly fell in love with Jonathan's style and professionalism.

Over time, we have gotten to know more members of the GFR family (Bryan, Taylor, Liv etc.) and they have all been equally as helpful, talented and charismatic! They helped us with an unconventional first dance song without hesitation, included family members in their performance, and brought so much energy and love to our reception.

1/2 of our night was spent fielding questions from our guests … "who is this band?!"

We absolutely recommend GFR for everyone. They really know how to take your vision and make it all you wanted and more.

Michael C.

Married on 10/08/2022

Insanely Good

Simply put, GFR was a HUGE reason why our wedding was so fantastic. Every member of the band was so good and they brought an incredible energy to our reception. Whether it was fantastic vocals, the wild horn solos or just the general vibe, GFR exceeded our expectations (which were high to begin with!!). The dance floor was packed the entire night and the flow of the setlist was perfect and the right mix of exactly what we were looking for. I cannot recommend them any higher, they are a crazy good value for the unbelievable experience you receive. If you are a smart person you will book GFR for your wedding.

Mani C.

Married on 10/01/2022

Great Family Reunion and their Por La Paz classical trio are amazing!

We booked Great Family Reunion's Por La Paz classical string trio for our wedding and they were absolutely fantastic! They performed classical versions of pop, rock, and oldies, which was incredibly fun, and also played during our ceremony. My fiancee sang in an a cappella group in college, so part of our ceremony was her friends from her old group singing along with Por La Paz as accompaniment. Por La Paz learned the song with no sweat. They are all incredibly talented musicians. It was incredibly meaningful and sounded gorgeous.

Throughout the whole process of music selection and coordination everyone we worked with at Great Family Reunion was fantastic and responsive - with special shoutout and thanks to Taylor and Bryan. I highly recommend working with Great Family Reunion and the Por La Paz classical trio to make your wedding extra special. 

Nathan R.

Married on 09/24/2022

GFR Will Absolutely Blow You Away

I wish I could give GFR six stars! The band was absolutely incredible and had everyone dancing all night. I would insist that anyone I know getting married book GFR, as they made our wedding truly unforgettable. Also, Bryan and the rest of the GFR management team made the planning process leading up to the wedding seamless and easy, and we always came away feeling confident that they were going deliver the rocking concert that we were looking for. Thanks again!

Ashley S.

Married on 09/23/2022

Great Family Reunion was the highlight of the night!

I cannot share enough good things about the whole band and employees at Great Family Reunion. They were the highlight of the night! Live music was one of the most important aspects that we wanted at our wedding, and we ended up with the 8 piece lineup that included horns and a full percussion section, as well as Por La Paz for our ceremony & cocktail hour. When I was told, "Ashley, this is your music festival - you'll get whatever mix of styles you want!", I knew it was the right fit. The preparation for the event was so detail oriented, and the level of musicianship on the stage was incredible. EVERYONE was on the dance floor and raved about them afterwards

Bobby B.

Married on 09/17/2022

Best Wedding Dance Party EVER

GFR put on an AMAZING show for our wedding. The music selection and energy met our high expectations and we were thrilled. Multiple guests of all age groups said they were fantastic and the best wedding band they've seen. We are so happy with the memories we made from the GFR's performance. I would 100% recommend GFR for any event in the future.

Erica

Married on 09/17/2022

Absolute legends

wow wow wow wow. This is the best wedding band ever. Everything was completely custom and they knocked everyone's socks off. My husband and I were looking for a band that could play Grateful Dead & Phish jams, but most importantly keep EVERYONE on the dancefloor - and they did just that. We still have friends, grandmas, and even our OTHER vendors asking us who our wedding band was, because they were just THAT good. The planning process with GFRB was so fun and easy, every person we met with was professional, knowledgeable, and just really cool people!! If you're looking for an epic party totally customized to your music taste, hire GFRB!
Are you interested?
Send a message