68 Reviews
Recommended by 98% of couples
Quality of service

4.9 out of 5 rating

Average response time

4.9 out of 5 rating

Professionalism

4.9 out of 5 rating

Value

4.9 out of 5 rating

Flexibility

4.9 out of 5 rating
10 User photos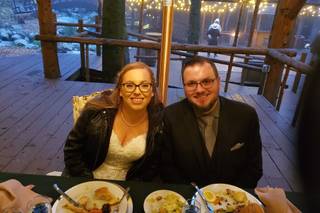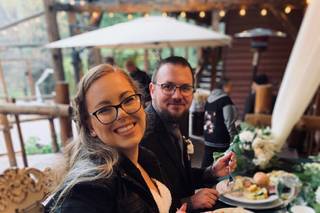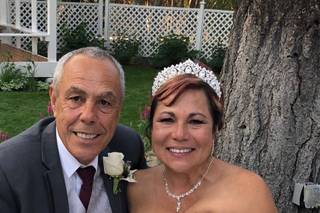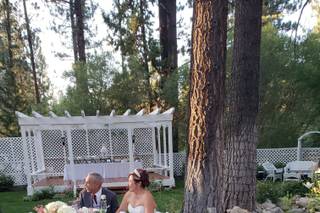 + 6

photos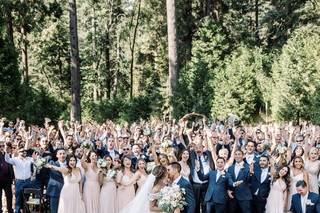 Featured

Cara P.

Married on 08/13/2022

Amazing Catering and Event Planning Duo

Absolutely loved this dynamic duo of a team! Tammy and John (husband and wife) are just simply AMAZING! They made our big day perfect and seamless in every way possible. Tammy took away all of the stress from start to finish and planned the perfect day. Our wedding was better than I could have possibly imagined it to be. Great communication the entire process and even jumped on the phone a few times to make sure everything was perfect. John is an amazing chef! We got so many compliments from our guests about how delicious the food was and how amazing our giant grazing table (charcuterie) was. I would highly recommend Graystone Catering for any future couple looking for a caterer and event planner. The best part is that they are 2 in 1 and work so well together to make everything as smooth as possible. I was so happy they were part of our wedding day.

Alfa S.

Married on 11/03/2022

Food was so delicious

Let me first start off by saying that we found John and his delicious food close to our wedding day and thank God we did! At the time we were stressing because we could not find a cater whose food we both loved and was within our budget. As we know the food is probably one of, if not, the biggest thing people remember and talk about from a wedding. Well people definitely talked about Grey Stone Catering because it was freakin delicious!! After our taste testing appointment we were so excited for everyone else at our wedding to try the food. They day came and of course there were a few hiccups a long the way but John handled it so well. As we went around the tables saying hi to all of our guests everyone kept mentioning how good and delicious the food was, which us so happy to hear. He took care of everything food related which took a huge weight off of our shoulders. Thank you John for everything!

If you are looking for someone to cater your wedding or just any event in general, set up your taste testing appointment. I promise you, you won't regret it!!

Victoria S.

Married on 09/17/2022

Perfect day

What a massive help Graystone was for us on our special day in Lake Arrowhead at Skypark! The day went on without a hitch and the food was amazing! Thank you for assisting the planning process through the past year and a half too! Thanks!

Are you interested?

Send a message

Skyler P.

Married on 05/15/2021

Love love love!

My best friend hired them for her wedding and they did not disappoint! Everyone was friendly, attentive, and professional. They are the sweetest people who show how much they care through their work. The food was amazing! The chicken was not dry and fell apart. Tammy was phenomenal. She was always there to make sure not only the bride but everyone else was enjoying themselves and checked in regularly. I know Chloe and I really appreciated her!

Courtney N.

Married on 01/05/2021

Delicious!

John and his wife are a dynamic duo in the kitchen. The food was amazing from the rice pilaf to the hawaiian chicken we chose for our wedding day. Everyone at our wedding raved about the food and how they kept wanting more. John made us feel immediately supported once we met him and was able to adjust to my dietary restrictions. You can feel the genuine kindness and concern to make our day the best within every conversation. I would highly recommend Graystone Catering if you want some delicious food and to meet some great people!

Chloe D.

Married on 10/10/2020

Wouldn't Trade Them for the World

I left a very detailed review on yelp but to sum it up, I absolutely love Tammy and John. They are so amazing, attentive, and patient. They check on not just the bride but EVERYONE. Also can we talk about the food for a second? All I can say is phenomenal!

Tammy, John, and their team are so phenomenal and I would hire them for all of my future events if I was not moving to Florida!

Courtney E.

Married on 09/19/2019

Yummy yummy

We absolutely loved Graystone. Everyone we worked with great and the food was just as great! Many of our guests came up to us to tell us how amazing the food was. I would love to use them for all of my catering needs. They were professional, but super warm at the same time.

Stephanie B.

Married on 09/01/2019

Amazing Caterers for Weddings

We used Graystone Catering for our wedding in September. From our first tasting to the end of the wedding, John and his team were amazing! He was very accommodating when we wanted to change our menu selection. On the day of our wedding, John made sure myself and my husband were taken care of. It was 104 degrees at our outdoor wedding, and our DJ was having equipment issues due to the heat. John and his staff made sure myself and my wedding party were given water and fruit while waiting to walk down the aisle. John personally checked in on us several times throughout the reception to make sure we didn't need anything. We never had to get up for anything; somebody from his team was always there to get us anything we needed. The food was amazing and our guests loved it. His team helped set up the tables before the wedding started as well. Literally anything we needed, they were there to help. They went above and beyond what you expect a caterer to do. They boxed up all the leftovers including the cake for us to take with us. I highly recommend Graystone Catering, you will not be disappointed. Thank you John for helping to make our wedding so memorable.

Brooke

Married on 06/22/2019

Delicious and Professional!

"OMG! That was the best food I've ever had at a wedding!" - that's what many of guests are still saying to me 3 weeks after the event.

John and his crew were absolutely amazing, and the food was delicious. We had the flat iron steak and lemon herb chicken at our wedding and all of it was top notch! The red potatoes, veggies, and salad options also lived up to the hype! We did the Jamaican meatballs for an appetizer, unfortunately I didn't grab one, but all my guests said they were following the servers around for more.

John also does a great job catering to the bride and groom! He had appetizers and water ready for us when we finished the ceremony, before we took our photos so we weren't starving or thirsty as we took all our bridal party photos.

Thanks John for making our day and food so amazing!

Love,
Brooke and Brian

Sara D.

Married on 05/26/2019

Service and Food were excellent!

We used Graystone Catering for our wedding and the service and food were excellent! John is very responsive and easy to work with. For the tasting, he invited us to his home where he cooked samples for us. It was so warm and inviting. We received many compliments on the taste and quality of the food (both dinner and appetizers) . Would definitely recommend using them as a catering company for your wedding!

Haley

Married on 05/05/2019

Very Attentive, Kind, Professional with Delicious Food

I recently had my wedding catered by John and amazing wife. They are the nicest people ever! Super accommodating. After the ceremony before we started taking pictures a platter of appetizers were walked down to the wedding party to snack on before photos. After photos and dance we walked up to our couples table and our food was there waiting and hot. It was very cold on my wedding day and my grandmothers and babies had to stay on the lodge. When John found out they hadn't eaten yet he immediately brought food a drink for all. The food was delicious and the appetizers were amazing. I'm incredibly happy I chose them to cater my wedding. There are many stories of kindness they had done throughout my wedding but the care they provided for elderly and handicapped guest without question really is a testament to how they run their business. Having amazing food and great people who make it really added to my wedding. Thank you so much!

Susan

Married on 08/18/2018

I had my fairytale wedding at Apples B & B, Big Bear Lake. Graystone catering and event planning surpassed my highest expectations for wedding planning, food, and coordination. John and Tammy made our wedding perfect and stress free. I didn't have to worry about a thing as they took care of every. My guests were well taken care of too and had nothing but praise about the food and service. I highly recommend them.

Taylor

Married on 08/04/2018

We recently got married at Skyforest wedding venue and the caterer they use is Graystone Catering. John and Tammy absolutely surpassed my expectations. I have been to so many weddings where the food is typical wedding food and your hungry by 9pm.
Graystone Catering was exactly the opposite. The food was delicious, huge servings and even many of my guests got seconds. John and Tammy served my husband and I and our parents. What sealed the deal was when my uncle literally said he would go to a restaurant to order this food.
The food was 10/10 but what really impressed me and is important to know was the customer service aspect. Tammy, John and their team genuinely cared about our wedding and went above and beyond to make it perfect. The staff was so great to our guests and we are so appreciative.
With the catering you are lucky to get a day of coordinator, Tammy. Tammy is completely organized, went into detail about a week before our wedding absolutely calming my nerves and is an amazing coordinator. I can't think of one single thing that went wrong with our wedding day and a huge part of that was because of Tammy.

Thank you Graystone for all your hard work and your delicious food. Our wedding day was perfect and we thank you for that!

Yvonne

Married on 08/04/2018

My daughter just had her dream wedding at Skypark in Sky forrest. The hidden wedding venue came to life with the beautiful forrest back ground and stunning flower arrangements. But no matter how beautiful the venue, if the food is not good then the whole day can be ruined. John and Tammy with Graystone Catering delivered a 5 star meal. The presentation, the staff and most of all the food itself was flawless. So many of the guests at the venue stopped to tell us how great the food was and I even received several phone calls in the days to come. Thank you so much John and Tammy for making such a wonderful milestone exceptional.

Jesi

Married on 06/15/2018

LOOK NO FURTHER!!! You will NOT be disappointed by choosing Graystone to cater your event!!! I cannot rave enough about their service, professionalism, and the foooood!!! We had our tasting with John and we were blown away!! Before we even walked out the door we knew that Graystone was our choice to cater our wedding. It could not have been more perfect, and we owe so much of that to John and Graystone. Unlike many weddings, my new husband and I were able to eat all that we wanted and needed before we were bombarded because Chef John personally took the time to take care of us ❤️ Thank you Graystone for making our wedding a dream come true; literally every little girls dream wedding come to life. Our guests are still talking about how amazing the food was.

Bobbi

Married on 06/13/2018

We chose Graystone for our wedding in June and couldn't be happier with the food and service. To have great wedding food is something special and John and his team truly delivered! Although all the food is fantastic (we tried it all in our tasting) we chose the shrimp shooters, thai salmon, island chicken, rice pilaf, and vegetables. We also had a cheese and fruit display that was delicious and beautiful! Our guests loved all of it!

Jacqueline

Married on 11/18/2017

From the moment I started planning graystone made everything easier. The really make everything as easy as possible and help your vision come to life. We got married at The Grove in Redlands with no package, venue only. Graystone was our all inclusive package and did everything for us. Once we had our tasting, there was no doubt we had to have them. Food was very important to us and we still say that was the best food we've had!
With high expectations I was anxious to taste the the food at the wedding and hoped it would be the same as the night of the tasting. My guests are still raving about the food!

Tammy made my day run so smooth and didn't leave anything for my family to worry about. Tammi and John checked on us through out the night and made sure we had everything we needed and wanted! I would recommend Graystone to anyone and everyone!

Thank you for being apart of the best night of my life!

Brittany

Married on 10/15/2017

We got married at Pine Rose Cabins in the middle of October and had selected Graystone Catering for our meal. My parents joined us for the tasting and all 4 of us left STUFFED! Everything we were able to try was delicious, making our wedding meal decisions tough. In addition to the delicious food, we felt so welcomed by John's warm hospitality that we knew we made the best choice for our wedding. John's experience with our venue, and his team's overall wedding experience made our evening as easy on us as possible. We were brought water and food once the ceremony was over, which was great! It was nice to have a little snack for photos while our Guests enjoyed cocktail hour. The moment we sat down, we were given a plate full of food! We were also able to request for plates to be brought to our grandparents - so they could relax and not stress about walking with a plate full of food. My favorite was the buttermilk chicken, while my husband's favorite was the steak with mushrooms. We both thoroughly enjoyed the veggie medley, too. After dinner, all of the extra food was packed up and brought into our lodge - the perfect day-after-wedding lunch! Throughout the wedding, John's wife took pictures and posted the sweetest collage to their Facebook page. The entire Graystone team made us feel so special, and we are so happy they were a part of our wedding.

Royale

Married on 10/14/2017

This was by far the most amazing wedding! We got married at big bear Marina resort. Everyone could not stop talking about how wonderful and delicious the food was and how beautiful everything looked. The food is honestly amazing and was a big hit! All Our guests went to breakfast the next day with us and we're still talking about the food! Tammy was so wonderful to work with and made sure everything went according to plan and everything looked perfect. I could not be more impressed and thankful for the both of them. They took care of everything and it was absolutely perfect. I will definitely be hiring them to cater future events.

Lois

Married on 08/19/2017

My daughter Tawny and new son-in-law chris just got married august 19,2017. It was amazing could not have ask for anything more. Gray stone catering was so professional . Tammy is the coordinator before you asked for anything she was right there asking if we needed anything. She was right on top of everything. The wedding was beautiful . When I walked into the venue it was finished and everything in order. It calmed me down because I was running a little late and thought I would have to come in and do a few things but nope Tammy had it all done. Now for the amazing food 5 stars for sure John is the chef and it was not like any wedding food we have ever had . The food was so tasty and the quantity was crazy ......so much food and delicious . You won't go wrong going with graystone catering. Thanks Tammy and John for such a amazing time.

Chantel

Married on 06/24/2017

This review is long overdue. John and graystone catering catered my wedding June of 2017 and everything was so amazing. From the first initial meeting all the way up until the day of our wedding. I highly recommend graystone for any event.

Chelsea

Married on 06/01/2017

Greystone is by far the most amazing caterer out there ! John was a true MVP of our wedding which was at Pine Rose Cabins on 6/1/17. They were amazing with our guests, with us and the food was delicious ( our guests still can't stop raving about it !) from the meet and greet to the very end of our big day John made sure it was perfect . Professional and fun , I can't say enough about how great Greystone is !!

Nicole

Married on 05/27/2017

Graystone catered my wedding 2 weeks ago and I am still receiving compliments from our guests about the amazing food! John and his staff were easy to work with from the day I inquired about their services. John hosts personal free tastings out of his home and offered a comfortable, pressure-free experience-- we immediately felt at ease! They have an extensive menu to select from with many additional services offered. Graystone was easy to work with throughout the planning process and I had no hesitation our day would run smooth.

On the day of the wedding John and his team showed up perfectly on time and catered a beautiful buffet for our guests. John even personally visited the bridal house after the ceremony to deliver appetizers and water to the bridal party! Dinner was delicious and I couldn't get enough of the lemon-butter chicken and grilled vegetables. Although I could not taste all the items, my guests have assured me as to how wonderful everything tasted and it was the best food they had at a wedding! I couldn't be happier with the services we received, and at such an affordable price. Would highly recommend Graystone catering to anyone!

Ashley

Married on 05/06/2017

John was an amazing help throughout the whole wedding planning process! Every email, voicemail, missed call was returned within of few hours of sending. He made me feel so relaxed with planning my wedding and was not stressed at all. Graystone Catering's professionalism is impeccable!!! Not to add that durning our wedding everyone, I mean everyone, commented on how amazing the food was. Everyone said it was the BEST FOOD they have ever had at a wedding. People were even able to have seconds and Graystone was not shy about the portion of meats. Tammy was great and well organizefd the day of the wedding. She is the perfect go to person and had everything running on schedule and to my, the brides, needs. I absolutley reccommend to any bride that wants to have a wedding in Big Bear or anywhere they need to hire Graystone Catering!!! Thank you John and Tammy for all your hard work and time to make my wedding dream come true. My wedding was a dream especially since it snowed on the day of in May! No one will ever forget it.

Jennie

Married on 09/11/2016

Graystone catering was simply the best. Food was phenomenal, the whole team was amazing. John is such a great guy. We just had our wedding at pine rose cabins in lake arrowhead, and used Graystone as our carering company. So delish. And John came out and made sure everything was wonderful, and it truly was fantastic. Highly highly recommend Graystone catering.
Are you interested?
Send a message