75 Reviews
Recommended by 95% of couples
Quality of service

4.9 out of 5 rating

Average response time

4.7 out of 5 rating

Professionalism

4.9 out of 5 rating

Value

4.6 out of 5 rating

Flexibility

4.8 out of 5 rating
12 User photos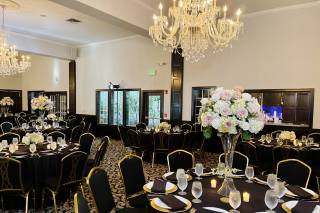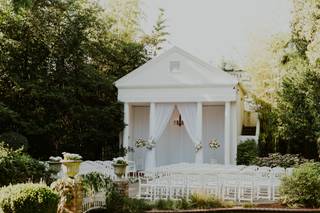 + 8

photos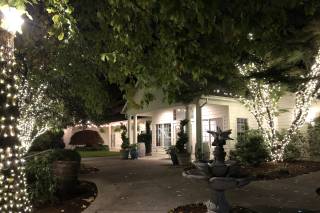 Melani W.

Married on 09/03/2022

Absolutely amazing venue!

We used this venue last year for my daughter's wedding and I cannot tell you how amazing they did at coordination (Samantha was phenomenal!), the food was some of the best food we've ever had, the decor, the bar, the staff, attention to detail and the overall event went so well. I couldn't recommend this venue enough. We also used the flower shop next door and they did the most beautiful floral arrangements. Top notch!

Megan B.

Married on 12/11/2021

Great venue with beautiful outdoor spaces

We toured this venue in March 2019 for our December 2020 wedding. It has a great vintage feel with beautiful grounds for photo ops. If beautiful wedding photos are on your must have list, this is a great venue. The indoor space was very nice and would have accommodated 150 guest list just fine. We ultimately chose a different venue just because it didn't match the vibe we were wanting for our wedding. Definitely consider it if you are looking for a beautiful outdoor venue with a vintage feel.

Emily

Married on 10/30/2021

Best decision we made in wedding planning

I'm writing this review on the first day of our honeymoon because that's how amazing Samantha, the wedding coordinator at Gray Gables venue, and her entire team were, both during the planning process and especially on our wedding day.

Top 3 reasons we loved Gray Gables for our wedding

(1) Samantha, wedding coordinator extraordinaire. We planned our wedding in 4 months, and Sam was always ready and available to help and guide us. In short, she's the worlds best wedding Sherpa. She worked seamlessly with our outside vendors and her in house team flawlessly executed the services GG offers.

(2) The beautiful outdoor and indoor spaces. This natural beauty and landscaping, and classy indoor decor, was ideal for our weddings for two reasons. The first, we had a great indoor backup plan option for the ceremony in the case of rain (it's Portland). Secondly, we only needed to provide minimal decor and some flowers to make it wedding ready.

(3) The food was incredible. This is not only my opinion - this was the resounding opinion of all our our guests. We selected comfort foods (ravioli, chicken, mashed potatoes, fried mac and cheese) and through a combination of talent and magic, the chef and gray gables team made the presentation of comfort food beautiful and remarkable (I literally heard remarks about this).

Are you interested?

Send a message

Chifawn J.

Married on 10/14/2021

Dream wedding

Grey Gables was perfect. Jennifer was amazing and everything exceeded our expectations. The venue is beautiful and the photographs are going to be incredible. The food was outstanding, the professionalism and efficiency of all the staff members made this day absolutely perfect. We were from out of state and just showed up and Jennifer took care of us completely. My daughter's dream wedding became reality and I would give 10 stars if I could :)

Norelle H.

Married on 07/25/2020

Fantastic Experience - Total Package

I cannot say enough great things about Sam and the team over at Gray Gables. Fantastic venue and GREAT staff; this place is the total package. Highly recommend.

Gina

Married on 08/31/2019

The most amazing venue

This is the first and last venue we toured. We fell in love with the grounds and booked immediately. Samantha is also the best. She took a huge weight off our shoulders on the big day and even with our hiccups that day, everything was transitioned smoothly and it was the best day of our lives. She was so easy to get a hold of and answered every question we had. We also had the most amazing food through gray gables as well. Everyone couldn't stop raving about all of it! We were blown away by every aspect and highly recommend everything about gray gables!

Melissa

Married on 08/22/2019

Priceless help

Jennifer made everything run so smoothly and was open to being flexible with our needs. She was ready with tips and ideas to help us when we were at a loss. She was attentive, the venue itself was gorgeous and the wait staff and in-house catering was the talk of the town. I am so happy that we chose this as our venue and couldn't imagine having done it anywhere else.

Lizzie

Married on 08/10/2019

Best all-in-one venue

Gray Gables Estate was the first and only venue we toured and we could not have been happier. The aesthetic fit our vision perfectly and when we found out that we got the entire site for the entire day of the wedding, we were sold.

Samantha Maiden was responsive, always positive, and professional. And because she is also the site owner AND wedding coordinator we could tell that she would go the extra mile. It was evident from the first day we met Sam and toured the venue that she was personally invested in making our wedding a huge success. She also ran our wedding rehearsal making us feel extra confident that we were in good hands; she has a ton of knowledge of what makes wedding work fly (e.g. timing, spacing, who goes where when, etc.) that we could trust her advice with the agenda and running point on the day of.

The food was also INCREDIBLE! My family has a ton of dietary issues and Samantha and her team were happy and experienced to work with us so that everyone could enjoy the dinner.

We also had Forte Floral do our flowers (they partner with GGE and are located right next door) which made set up and tear down a breeze because they did it all!

Thanks for making our day better than we could have ever imagined! Couldn't recommend GGE enough!

Alexis H.

Married on 07/21/2019

The Total Package!

I have grown up near Gray Gables estate, and for many years now I've dreamed of having my wedding there, but I had no idea that it would be the best decision of my life. When I inquired through their website, Samantha contacted and met up with my fiance and I quickly. She gave us a tour of the entire place, showing us every option available for both ceremony and reception. She was able to answer all of my questions and more. What a blessing! I felt so at ease knowing we had someone (who by the way helps with coordinating along the way and the day of) that really knew all the ins and outs of a wedding, considering I'd had no experience with that. On top of that, what's included takes so much off our plate. They have tables, chairs, all flatware, separate groom and bridal suites, and day of set up/clean up service all included. They also have decor (drapery, vintage pieces, etc.) for additional cost, and a great list of vendors they refer (most at a discount if you say you are through Gray Gables). I am so thrilled to have my wedding at Gray Gables and would definitely recommend them to anyone looking for a magical place full of twinkly lights, beautiful flowers and greenery, and multiple indoor and outdoor options to fit your wedding needs!

Chelsea C.

Married on 06/15/2019

Can't recommend ENOUGH!!

I've been writing this review in my head for the last month because I knew I had to make it as amazing and I felt towards our venue and the owner, Samantha. My now-husband and I looked at 6 venues and none could compare to Gray Gables Estate (GGE). Besides swiping yes to my future husband, choosing GGE to be our spot was the best decision I could have made! The venue itself is breathtakingly gorgeous, serene and just beautiful. We wanted everything outdoors - and it worked magically. But - the very BEST thing about GGE was Samantha. She is the owner and wedding coordinator, and by the end of our wedding, I wanted to marry her instead! She was flawless in every step, she knew what myself and my bridal party needed before we even asked. She literally anticipated every single thing you could imagine. She facilitated all the rentals we would need, so that I only had to work with her. She suggested tons of great ideas which were all perfect. She was accommodating to my random requests (brought in baby goats!) and politely dealt with some unruly groomsmen during rehearsal. Day of wedding was so stress free for me, and all because of Sam! She wrangled the cake delivery, musicians arriving, DJ coming, GOATS!, photo booth, and allll the rental deliveries! I was able to relax with my girls in the awesome house and just enjoyed every minute of my day.
DO YOURSELF A FAVOR AND CHOOSE GRAY GABLES ESTATE FOR YOUR WEDDING!!!

Genny

Married on 06/15/2019

Gray Gables is the best place for a wedding. Genevieve is the best coordinator anyone could ask for. It seems a bit expensive at first but when you go look at other venues and realize everything else you will have to add and/or do yourself it is generally the same or less to go with Gray Gables and you have a stress free wedding which is priceless. I enjoyed my daughters wedding and didn't have to lift a finger. I recommend this venue highly! Thank you GG for giving my daughter and her husband the wedding of their dreams.

Gray Gables Estate's reply:

Thank you so much for your wonderful feedback! Wish you all the best and happiness!!

Alex B.

Married on 05/19/2019

Simply Amazing

When my fiance and I were looking for venues, we originally were going to look at Gray Gables as a back up. When we got there, we were hooked. The venue was gorgeous, the food was great, and Sam (our Coordinator) was phenomenal. She was with us every step of the way and made sure that everything happened without a hitch.
It is a little expensive, but for everything that hou get at this venue, I would 1000% reccomend it. All of my guests were raving about the site for days after the wedding. If you can, get married here!

Kayla

Married on 04/27/2019

Incredible, Beautiful Venue for a Perfect Wedding Day

There honestly are not enough words for us to describe how incredible our wedding day was. From our first meeting with Samantha (the on-site day-of coordinator) through the end of our reception, all communication was thorough, professional, and incredibly helpful. This review will cover 3 different pieces of what came with the venue: Samantha (and staff), the food, and the venue itself.
Samantha & Staff: At our first venue visit, Samantha walked us through the property, (which is naturally gorgeous, by the way) and did an amazing job at explaining how the flowers and trees would look at the time of our wedding (nearly a year before the actual wedding date). This was the best "pitch" we had heard throughout our 10 different venue tours, and was a big selling point for us. Over the months after signing our contract, Samantha held wedding planning meetings with us every other month to keep us on track and to ensure that we had considered everything we needed. Samantha refers to herself as a day-of coordinator, but really, she did a lot of planning with us along the way. We, unfortunately, did not get to interact with the other staff members much throughout our wedding, however, we were receiving raving reviews from our guests all night of the servers and the bartenders. In fact, I'm still hearing about how wonderful everyone was. I also appreciated that the servers brought the passed appetizers over to the area where family photos were being taken (something I hadn't even thought to ask for, but greatly appreciated).
The Food: Gray Gables requires you to use their in-house catering menu. The food here is ridiculously good - this isn't an exaggeration. We served beef short ribs and salmon to nearly 150 people via a buffet and not a single portion was dry or underseasoned. The chefs at Gray Gables really know what they're doing. In addition to the raving reviews we've received from our guests about the staff, the reviews have been even more complimentary to the food we chose for dinner and the appetizers during our cocktail hour.
The Venue: We were initially floored by how gorgeous the venue was during our first tour. There was lots of greenery, flowers, and beautiful spaces for outdoor photos. The venue is also decorated with twinkle-lights which add a soft romantic vibe to the entire property. The lights are permanent fixtures and you are not charged extra for these. The groom's room is the best groom's room that we saw while touring venues. It's a separate house (not a coat closet) and even has a full-size pool table! The bridal suite was also stunning. It's in the main manor house and has a full bathroom, space for hair and makeup (with LOTS of natural lighting) and comfortable couches and chairs for the downtime before the ceremony. We held our reception in the ballroom, which is adorned with breathtaking crystal chandeliers. The venue is very flexible when it comes to softening the space with long, draped chiffon. We chose to have this hung along the back wall of the venue space and it was perfect. The venue also coordinates all linen rentals, which was super helpful for us.
All in all, we were obsessed with our venue before the wedding, but we're even more obsessed after. Thank you SO much to the wonderful staff at Gray Gables for giving us our dream wedding day!

Tracy

Married on 10/14/2018

Everything was perfect

This venue went above and beyond to make the day perfect. No stress at all. It was so beautiful.The food was amazing. Each meal was perfect and the guests loved it. The service was beyond exceptional. They did an amazing job. Any requests we had were taken care of immediately. Such a fun night.

Teryan

Married on 10/07/2018

Sam is our contact at Gray Gables and I completely love working with her! She has helped us in selecting other vendors and has been available nearly 24/7 to answer any questions whether they are specifically about the venue or just opinions for our wedding overall! She helped us get our parents involved in the planning process during one of our consultations and aided us in our day of timeline and everything I have asked of her! LOVE this venue and their staff!

Cathleen

Married on 11/04/2016

What a great experience! Beautiful venue and great food! Jennifer also help keep my wedding run smooth.

Lynne

Married on 09/10/2016

In a word - Perfect! Our son and his beautiful bride were married here on Sep 10, 2016 and the venue was beyond anything I could have imagined... Both the Bride and Groom visited a year earlier and picked Gray Gables over four other venues, they were able to have a taste of their menu and go over everything with Samantha before they left to go back to Boston. During the last year, they put everything in place with Samantha guiding them the entire way. The wedding day was gorgeous and the gardens were the perfect setting for the guests to wander in before the wedding. The ceremony was held outside and the reception in the stunning reception hall. EVERYTHING went like clockwork! They guys had a great time before the wedding in the groom's room and I visited the bride in the beautiful rooms in the old house. The buffet was delicious, so many of the guests commented on the great food, and especially the service of the staff. All we had to do was get ourselves ready - Samantha and her staff took care of everything else! We could not have imagined a more perfect day, beyond anything I was expecting - we just relaxed and enjoyed family and friends, just the way it should be! Thank you, Samantha and your staff, you are exceptional...

Amanda

Married on 09/03/2016

From day one of booking this venue to the end of my wedding Jen and her team did an amazing job. With this venue you don't only get the amazing location, history and picturesque appeal you also get an amazing team that will guide you. Jen is not just one of the owners of the venue she also is your coordinator, can be your florist and since she renewed her own vows at Gray she can be your guru.
I used Jen's advice and it made the process easy. Within the first two months of wedding planning I had a DJ, photographer and leads for cake places and hair. I knew I would use her as my florist as everything was already so seamless. The catering was done in house at Gray and my guests are still raving over how delicious the food was.
As far as meeting up with Jen she worked with my busy work schedule and my parents. If an appointment time didn't work out she found another way to make a meeting happen. When it came to the place settings she brought ideas from an outside vendor in to see what I liked best.
On the day of the wedding we had food provided from Gray Gables while we got ready in the amazing bridal house. The guys also had snacks brought over to them in the fun revamped carriage house. The decor and flowers were absolutely stunning. If we needed something the staff was on top of it. My husband and I still can't get over how perfect our wedding turned out. Wedding planning can be stressful so picking a venue that makes things easy is well worth it. With Gray Gables you don't just get a pretty place you also get the owners of the venue that truly are invested in creating your perfect day.

Sara

Married on 06/04/2016

You will not regret booking with Gray Gables. Samantha was our coordinator, and took care of EVERYTHING! They are true experts and made our planning process effortless. Gray Gables Estate was my dream wedding venue. The grounds are immaculately kept, and they offer both a bridal suite and a groom's room complete with a pool table and bluetooth speaker system. The property offers to many picturesque settings, like hidden gazebos, and a koi pond. Our photographers were amazed at the opportunities for photo backdrops, and all the guests were raving about what a beautiful and welcoming atmosphere it was. We had the opportunity to do a menu tasting with the chef, and we were totally blown away. This venue offers absolutely everything. I mean everything from a steamer in the bridal suite to custom requests for your special day. They have not overlooked a single detail and it shows. Our experience was absolutely perfect.

I cannot say enough good things about Gray Gables! Sam was our wedding coordinator (comes with booking with them) and she was AMAZING! Sam and all the staff made sure our wedding ran smoothing and perfectly! We even had to move from outside to inside due to the weather and that didn't phase Gray Gables! Beautiful location, wonderful staff, and great food! Can't go wrong here!

Having just had our daughter's wedding at Gray Gables, I can say that our decision to utilize this venue was absolutely the best choice. First, the venue is beautiful. Regal but with beautiful character. At first, I wasn't sure if I wanted to even go look at it because I was afraid of what it would probably cost. Once my daughter and I saw it, we fell in love and the pricing was more reasonable than I expected. I loved the fact that I had choices in regards to catering and I was not required to utilize specific vendors. In addition, I found that Gray Gables is so beautiful that I didn't need to go overboard on decorating...and in my opinion, it would have looked overdone if I didn't let the natural beauty of the venue show. I was thrilled with the flexibility and helpful service I received from Samantha. Most of the process was smooth, but the few "bumps" in the road we hit, Samantha handled with poise and grace and she helped me through all of it. I cannot recommend Samantha and Gray Gables enough. I was incredibly happy with everything and have no complaints.

Serena

Married on 10/17/2015

Absolutely love the team at Gray Gables. They take the stress away from wedding planning and help to create a magical fairy tale wedding. They have been so accommodating in making our dreams fit into our budget. I cannot wait for our special day!


I'm speechless! My wedding was absolutely PERFECT, MEMORABLE, AMAZING, BEAUTIFUL, FANTASTIC!!!!!... All thanks to Jennifer Agard. She was so helpful, calming, organized, attentive, on-the-ball. She made my wedding FLAWLESS. I couldn't have been happier with the results. It was everything I wanted and more. The whole team working on my wedding was really great.. Jennifer, her assistant, bartenders, even the limo driver!! They really did me proud. I don't have a single complaint about anything! Everyone loved my wedding and told me how beautiful Gray Gables was and how nice and helpful all the people were. I went with all of Jennifer's vendor recommendations and it took the stress out of most of the planning and everything was better than I could have imagined. I am so glad that my husband and I got married there and I would highly recommend Gray Gables and Jennifer to anyone. I had an evening wedding and when the sun went down and all the lights turned on in the gardens it was a breathtaking. My wedding really turned out to be a heart-stopping dream come true.

Samantha

Married on 09/12/2015

Samantha was our wedding coordinator - she did an amazing job making sure the day went smoothly. The day of the wedding she took care of all the details so I didn't have to worry about a thing. Since we booked the venue she was always responsive to our calls and emails. She took great notes on what were expecting and help make sure that we stuck as close to the timeline as possible. They are very accommodating when it comes to bringing in outside vendors, which was a great option to have.
The venue as a whole was perfect! There was ample space for the bride and bridal party to get ready. The pool table in the grooms room was a great addition for the grooms men. In addition to that, there are so many areas within the venue to take pictures - especially at night, the lighting is breathtaking.

You are in great hands with Samantha and Jennifer.

Christina

Married on 06/28/2015

We just had our wedding at Gray Gables and it was a wonderful day. All of my guests commented on how beautiful the venue was. You wouldn't think this gem could exist behind a U-Haul building, but it does! We got married on the front lawn (no street noise!) and had our reception on the side/back yard area.
Jennifer is a wonderful wedding coordinator. She answered all our questions and helped so much with planning, layout design and coordinating with other vendors.
Gray Gables also has partnerships with other great vendors in the area, which is an awesome way to learn about other vendors and save some money.
Great venue and I definitely recommend it to others!
Are you interested?
Send a message