7 Reviews
Recommended by 81% of couples
Quality of service

4.3 out of 5 rating

Average response time

3.4 out of 5 rating

Professionalism

4 out of 5 rating

Value

4.2 out of 5 rating

Flexibility

4.4 out of 5 rating
14 User photos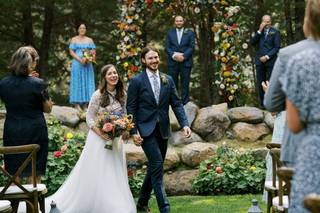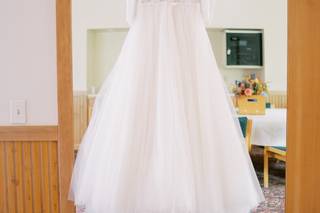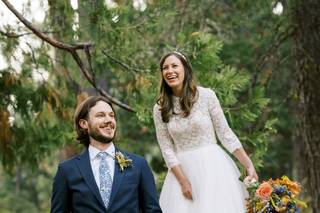 + 10

photos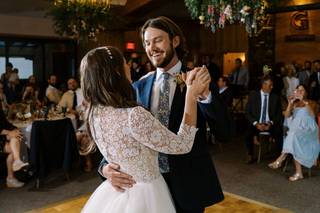 Kelly

Married on 05/18/2013

This place was amazing and just what we were looking for. They have beautiful scenery, incredibly helpful, accommodating and hard working staff, fantastic food, very comfortable lodging and super prices! They are all so relaxed here which really helped me to relax and have fun. Jennifer in sales and Sarah our included event coordinator were phenomenal. Any crazy question or request I had they catered to with a smile.

Haley D.

Married on 08/07/2021

Overall Great Experience and a Beautiful Venue Tucked Away!

Overall, we were so pleased with our wedding at Granlibakken and had a good experience. Like others listed below, we did go through three separate on-site coordinators during our wedding planning and then pandemic postponement. Early on in the pandemic, Granlibakken laid off a significant portion of the staff which did lead to some of that turnover and honestly worried us that they would potentially close for good. The quick turnover of staff, did lead to a few challenges, but our wedding planner, Stephanie, of Stephanie Marie Co. made sure that we received everything in writing so we ended up not running into major roadblocks. The current Customer Experience Manager, Melissa, (hired a few months before our wedding) went above and beyond to make sure everything was perfect for our wedding day. I'm so confident in her experience, expertise, and just great customer service will continue to really make Granlibakken shine as a wedding venue. The day before our wedding, we had to make a big pivot due to smoke in the area. We decided to leave our ceremony as planned at Big Pine Lodge, but moved the reception to Gran Hall. It was such a great option to be able to be flexible and change with the spaces that Granlibakken has to offer. Everything ended up perfect and we had the best day.

+ 6

photos

Whitney M.

Married on 06/01/2019

Overall Fantastic Experience

While we ran into some hiccups along the way, we could not have been happier with the way our wedding turned out at Granlibakken. Like others, we went through three separate on-site coordinators during the year or so of our planning. That led to challenges, but we were lucky enough to have a fantastic off-site coordinator (Stephanie Morris) who really dealt with the challenges of that in large part. There was an issue at one point with a misquote in cost, but Granlibakken made multiple concessions to make it right, and in the end, I feel completely satisfied with our experience. The current on-site coordinator, Freddy, is fantastic. While I only had the opportunity to meet him in passing (as he transitioned into the role only about one month before our wedding), I understand from our planner that he was great to work with and our communication with him via email was always great. He is timely in his responses and seems to really care about what he does (and is good at it). Hopefully he will stick around! The execution day-of was honestly flawless. We received so many compliments about how quickly and stealthily the Big Pine Lawn was turned over for dinner during cocktail hour, the bartenders were fantastic, food was amazing, etc., etc. The space is also really beautiful. I think honestly some of the photos they have on their site don't do it justice and show its complete potential.

It was important to us that our friends and family be able to stay on site somewhere with us so that we could really spend good quality time with everyone over the course of our wedding weekend, and Granlibakken gave us exactly that situation. We enjoyed using the Big Pine Lodge as a general gathering/hanging out space, and it was so amazing to have everything for our wedding ceremony and reception in the same place. If you are looking for a venue with on-site accommodations, a chill vibe, natural beauty, and a relatively low site fee, definitely check out Granlibakken.

Note: I left 4 stars for responsiveness because of our overall experience in communication, particularly with turnover in on-site coordinators and just a couple of other minor things. Freddy, the current coordinator was always great with communication. I would recommend hiring your own planner just to help with the process and in case there is turnover during your planning. I think that really goes for any site, not just Granlibakken. Hopefully Freddy stays, but you will not regret having the help of a coordinator who is "attached" to you and not a site.

+ 2

photos

Are you interested?

Send a message

Suzanna

Married on 06/23/2018

* the food was amazing - we especially loved the prime rib and mac and cheese - crowd favorites
* big pine lodge lawn is very beautiful and the shade rolled in just in time for our 3:30 ceremony so our guests didn't melt in the sun.
* the big pine lodge was so convenient to have for the full weekend - we were able to have folks over the night before the wedding as well as for a wedding after party after the caterers and dj were gone.
* we loved having our guests stay in the granlibakken and the wedding party in the lodge with us
* meaghen was a pleasure to work with and was able to handle all sorts of requests like using our own custom cups and borrowing some easels.


Granlibakken Tahoe's reply:

Thank you so much for your glowing review of Granlibakken Tahoe, and thank you for choosing us for your special day.

Our Big Pine wedding packages include lodging for up to 14 people for two nights, reception and ceremony space, and a bridal suite. Onsite catering is provided, and our Executive Chef has won multiple awards for his tasty and memorable dishes.

Lodging and activities onsite make hosting a wedding at Granlibakken convenient and fun. It is a great place to connect with each other during a fun weekend of festivities.

Thank you again for your review, and best wishes to you!

Sarah

Married on 09/06/2008

Our wedding site was gorgeous, and our wedding day went off without a hitch! I would highly recommend Granlibakken to any bride. Our guests are still complimenting us on our wedding. Our only problems were: 1) we were assigned 3 different events coordinators to work with over the span of 9 months, which meant that we had to walk each new coordinator through decisions we had worked out with the previous person. Our final coordinator, Brooke, was great, but the first two were not very helpful and very hard to get a hold of. 2) Our guests had a hard time booking rooms and were often given conflicting information from the people at the front desk. Additionally, the rooms were very expensive and they even tried to kick my husband out of his room while he was getting dressed for the wedding!

Cara

Married on 05/27/2017

When we first drove up the road to Granlibakken, we knew it was where we wanted to get married. The location is idyllic and was perfect for our weekend-long wedding. Unfortunately, working with them was not the easiest of experiences. When we began negotiating our contract, several issues came up including minimum stay for our guests and miscommunication about pricing. The coordinator had told us that our weekend was "off-season" but then the managers came back and said that it would be full-price for some things that were originally supposed to be discounted. We were about half-way through the contract negotiation, then our coordinator left, and we had to go through the process again with a new coordinator! We finally got everything worked out and signed, but it took 3 months from our initial inquiry until signing.
Our tasting went well and we were very happy with the food and beverage options. They were willing to work with us on the food and even made a new menu item on our request! We were very happy with the food.
During the year from the time we started the contract until the wedding, we had 4 different coordinators. Our final coordinator did a great job, but wasn't very good at communicating with us, which was stressful as we got closer to the wedding.
For the actually wedding weekend, everything went off without a hitch. We had a wonderful three days. The staff were friendly and accommodating, our guests were very happy with the location and the rooms, and the food was great! I just wish that planning had been less stressful.

Tara

Married on 09/28/2019

Did not hire, thank goodness

To be clear, we did not hire this vendor. Thankfully, the tour alone gave us enough of a taste that it would not be a good experience. We had been communicating with the vendor about traveling from out of state in November to look at venues.
Upon arrival we wanted to better understand availability of the date in October that we had discussed via email and when booking a date would be required. The response; for October dates you cannot book until April, 6 months out. Even though the vendor knew 100% of 200 guest list would be coming from out of town ... that just wasn't enough notice. The point of contact went on to say that if a conference wants that date before you book it, they take priority. Well that was concerning.

We proceeded with the tour starting with the ballroom, but there was a conference in each of the 3 sections, which was never communicated prior to our arrival that we would not be able to see part of the venue.

The next part of the venue, the Big Pine Lodge, was also booked so we could not see that either. Again, it was emphasized to us that conferences always take priority.

This places wants ~$35k for their venue and catering, plus they require that you book 20% of your guests in their lodge. And this the type of service you get. A complete waste of our time even going, very disappointed.

Granlibakken Tahoe's reply:

Thank you for taking the time to share your feedback with us, Tara. We pride ourselves on offering friendly and professional customer service, flexible and affordable wedding packages, and function space designed to suit all needs. It sounds as though we missed the mark with your site tour.

Unfortunately, due to the fires here in California, all of our lodging rooms were occupied on the date of your tour. We had an unexpected large amount of last-minute bookings by evacuees escaping the smoke and fires. However, we did show you the Big Pine lawn, reception area, and bridal suite, and as much of the function space as we could elsewhere. We will work on better communicating to tours prior to their arrival when parts of our property are not available for site tours.

We do require that weddings between June and August are booked 9 months out, and that weddings in September and October are booked 6 months out. We do not have any restrictions of that nature for winter weddings. We do not give preference to conferences, however, they can challenge a tentative hold on a space. If a date is desired by both a conference and a wedding, our wedding sales manager will give the bride and groom the option to make their hold on the space a definite hold. Conferences, or any other event for that matter, cannot supersede a definite hold on a space. We do our best to work with both weddings and conferences, as both are equally important to us.

Our Big Pine wedding package starts at $6,900. This includes the ceremony space, reception space, a bridal suite, basic decor, and lodging for 14 people for two nights. Catering starts at about $40 per plate, or $50 per person for a buffet-style dinner. We do have other venues onsite at lower rates, and we offer half-priced venue fees for weddings held between November and April.

We have had a number of weddings spend up to $35,000, but we also work well with weddings that have a much smaller budget. In fact, the majority of the weddings that we host here at Granlibakken Tahoe spend far less than $35,000 with us. We are sorry to hear that you found the costs so prohibitive, but we pride ourselves on offering a great value for the Tahoe region.

Thank you again for your review, Tara, and we hope that you find a venue that better suits your needs.