21 Reviews
Recommended by 100% of couples
Quality of service

5 out of 5 rating

Average response time

5 out of 5 rating

Professionalism

5 out of 5 rating

Value

5 out of 5 rating

Flexibility

5 out of 5 rating
Awards
1 User photo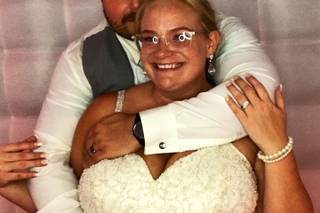 Sean F.

Married on 08/20/2021

Friendly, talented, and responsive

Garret was our musician for our wedding ceremony. He arranged 3 songs at our request, tweaked them to be exactly how we wanted them to be, and then played them perfectly on the day. Not only that, but he just brought such a friendly and wonderful energy to the day. You couldn't ask for more.

Suzie S.

Married on 07/25/2021

Amazing musician with great communication!

We are SO happy we went with Garret for our ceremony and cocktail hour music! We loved his fingerstyle recordings and he sounded just as amazing in person. He took the time to arrange a new song for us for walking down the aisle (Like I'm Gonna Lose You) and sent it to us in advance to make sure we loved it - it was even better than we could have imagined! We also wanted to have a choir piece during the ceremony and he learned an accompaniment part and provided practice recordings. Garret truly went above and beyond and I would highly recommend him to anyone looking for a musician for an event!

Ashleigh

Married on 07/16/2021

The best around!!

Garrett was an absolute pleasure to have at our wedding! He's super talented & friendly. He even helped me prerecord mine & my husbands first dance song as a wedding gift. 100000% recommend!

Are you interested?

Send a message

David C.

Married on 07/10/2021

Amazing Wedding Guitarist

Garret did an absolutely amazing job from start to finish. We hired him for a small wedding ceremony, outside on a deck with about 30 guests.

Prior to the wedding itself, Garret emailed us regularly (and responded right away to any questions) to help determine song choices (processional, etc.) and offered to learn/customize 3 song choices.

Garret did an excellent job at the wedding. He arrived early and his attitude was spot on. You can tell he understands how to be present, but not overstep with the wedding nerves flying. He was calm, self-directed, and very professional. Garret provided really everything we needed for the ceremony - PA system (even brought a mic for our officiant).

As far as his playing - Garret plays a finger picking style that seems to have a classical influence. The sound was clear and the volume perfect for the venue. I highly recommend checking out his soundcloud work - it's impressive and will give you a good sense of what the day will feel like.

We gave him free reign, "play whatever you think," and he did just that! He played a range of pieces - from classical to classic rock to pop. We asked if he could learn Blind Melon's "No Rain," which brought us to tears when we heard his rendition.

You can tell Garret is passionate about playing guitar and understands how to use song selections to add warmth and joy to the occasion.

Highly recommend.

Thanks, Garret!
David and Caitlin

Jessica C.

Married on 05/01/2021

Talented, professional, and attentive!

We selected Garret Schmittling to perform at our intimate wedding in May of 2021. We were impressed with the fingerstyle arrangements Garret had on his Soundcloud and selected numerous to use. Even more impressive were the new selections we chose for our wedding first dances. Garret took the time weeks in advance of our wedding to prepare, share and fine tune samples of our selections. The day of our wedding showed the preparation and lengths he went to make the event perfect and intimate. I would highly recommend Garret to anyone getting married or in need of a live guitarist. Thank you Garret for making our Wedding day so special.

Tammy R.

Married on 04/10/2021

True Musician

Garret doesn't just play the guitar, he is a true musician!
He played for my daughter's outdoor ceremony and we were so happy with his performance. We're a family of musicians ourselves so we can be hard to please, but Garret exceeded our expectations! He's also so easy to work with, arriving early and setting up without added complication.
So happy to have worked with Garret!

Keith B.

Married on 03/18/2021

Exceptional!

From the initial communication to the the end of my wedding day, Garret was a consummate professional. He communicated with me several times between the initial contact and the day of my ceremony, and was always respectful and kind. His communications were clear and he answered any questions I sent his way very quickly.
His music made our ceremony and reception that much more special. I particularly appreciated the custom arrangement he created, completely transforming an 80's synth pop song into a tender ballad. He was flexible in working with a singer that he'd never met to perform this song, which was the most memorable part of our ceremony. I can't say enough how thankful I am for Garret's professionalism and kind nature, and for the exceptional talent he shared with me, my partner and all of our guests.

Kara M.

Married on 10/11/2020

Talented and Accomodating

We wanted a guitarist for our cocktail hour, ceremony prelude and a few songs to play as people transitioned to dinner. We had some specific requests of songs. One he had to learn and another he had to change his own version to fit how we wanted it played to fit my how we wanted the song sung by my daughter. He sent me an mp3 for each song for my approval. He was so accommodating! He got there early to rehearse with my daughter and they nailed the song perfectly. He provided mics for my daughter and my officiant free of charge which not all musicians do. He was so easy to communicate with and so professional. My officiant does many weddings and she is a musician herself. She expressed interest in getting his contact information because she wanted to add him to her recommended wedding vendor list. She loved his talent! Couldn't have been more pleased with our choice to use Garret for our special day!!

Tori M.

Married on 08/01/2020

Spectacular

My husband and I saw Garret performing as a part of Painted White at the Rusted Crow in Detroit about a year before we got engaged. We were in town for a concert at Little Caesars Arena and wanted a great bar to stop in at afterwards so we checked YELP. Out of thin air we picked Rusted Crow because it looked awesome. Industrial- great food. It was the middle of their set when we arrived and we were immediately enamored. Eclectic sound, beautiful musicianship. Just makes you stop and watch and listen. They stopped by following their set to say hi and gave us a business card. Later when my husband proposed, I dug through my things to find that card and immediately emailed to see if they did weddings. THEY DID. It could not have been more perfect. Garret was amazing to work with. Responsive and helpful and very informative. After COVID hit, everything was turned on its head. In the midst of trying to figure out what to do, Garret emailed to say they were still in no matter what. That whatever we decided to do, if they could make it work, they were in. Settling words. We had to move our date to August. We're out of town so they had to travel. Nothing phased them. Reasonable pricing. And they're worth every penny and so much more! We wanted them for ceremony, cocktail hour and dinner. We had a DJ for dancing. The coordination was seamless. Sound was amazing. Finger style recordings of any 3 songs I picked for ceremony that he created and sent to me ahead of time to hear. I can't say enough. Everyone I've talked to since the wedding has asked WHERE'D YOU FIND THAT BAND?? They were amazing!! Garret, thank you for being there on our special day. You were exquisite.

Allison S.

Married on 10/19/2019

Wonderful!!

Garret was amazing to work with! We had some unusual song choices for our ceremony (Changing Seasons from Kiki's Delivery Service, Storybook Love from Princess Bride, and Our House by Crosby, Stills and Nash) and he learned, arranged and recorded each one for our wedding. I made my mother cry when I showed her the recordings of the music. The acoustic guitar really made the ceremony feel more intimate and special. Garret is so kind, professional and helpful! He was one of my favorite vendors to work with and I would highly recommend him to anyone for their wedding or other event!

Allison C.

Married on 12/29/2018

Amazing Wedding Perfomance

We had Garret and Holly perform at our brunch wedding in Dec, 2018. He played during our ceremony and they both performed during our reception. He was extremely easy to work with and very responsive to emails. He was very accommodating to the other musicians who performed during the ceremony. He provided mics, sound equipment, and music stands! Everything was amazing. Their talent is unbelievable. They have a huge song list and honestly the way the speed songs up or slow them down is great. A lot of our guests commented on the talent showed in this. I would recommend them to anyone who is looking for a "chill" vibe for the reception or cocktail hour.

Cayla

Married on 09/08/2018

Married 9/8/18 Pick Garret you won't be disappointed

Garrett was wonderful to work with throughout the whole process. He's very responsive and he was one of the easiest vendors I had to work with. He's definitely willing to make your dreams a reality. He composed a couple of my favorite songs on the guitar from my favorite video game The Legend of Zelda. He checked in with me frequently when it got closer to the date to make sure everything was correct and what I wanted. Garret is one of the best and worth every penny. Not everyone is willing to learn new songs like he is. He went above and beyond and I will never forget my wedding!

Shelby

Married on 08/25/2018

Garret was my FAVORITE vendor. He was responsive, punctual, professional, and incredibly talented! From the very beginning I knew Garret was going to do a great job. He gave me every bit of information I needed without me having to ask, which was fantastic because I felt completely lost planning the ceremony. He was more than willing to answer any silly questions I had and offer advice based on his past experience. He literally walked me through everything. We got married at an outdoor venue and Garret's presence definitely gave it the classy, elegant touch that we were hoping for. Hiring Garret was one of the best decisions I could have made and I am SO glad I did!! 10/10 would hire him again!

Brittany

Married on 05/05/2018

Garret recently played during our wedding, and we only have great things to say about him! He was very responsive and helpful during the wedding planning process, and we appreciated that he sent us the songs he had learned for us so that we could hear them before the wedding day. We loved his versions of the songs that we requested for the ceremony, and he played a great mix of songs during cocktail hour. My dad (also a guitar player) told us several times how talented he thinks Garret is! He helped to make our wedding day one of the best days ever, and we recommend him to anyone who is looking for a musician for their wedding or event! --Brittany & Andy Paul

Holly

Married on 01/04/2018

Garret was my favorite vendor to work with for my wedding. I know someone else already mentioned this in their review and I can understand why. He was extremely responsive in his emails, broke everything down in concise detail, provided tons of information and overall was extremely helpful. I'm someone who prides themselves on being organized, but I think Garret tops me in that field! His music created the perfect ambiance for our intimate wedding. After the wedding, the groom told me it was the first thing he noticed walking into the ceremony and he couldn't believe how perfect it was. Overall, if I was told I could only recommend one vendor from my wedding, it would be Garret hands down. Many of my vendors were amazing, but Garret was a step above. Definitely consider him for your special event!

Leslie

Married on 11/11/2017

Where do I even begin! We got married in November and we loved Garret! We contacted him and did all 9f our planning and business via email and I met him on our wedding day. He is the nicest guy and wonderful to work with. He customized our playlist completely off of YouTube videos we sent him (definitely obscure songs) and also sent us recordings of him playing each song before hand. He did a beautiful job and honestly set the tone for our ceremony. I was blown away with how talented Garret truly is. Seriously, hire him. You will not be disappointed!

Jason

Married on 06/24/2017

Garret Schmittling was by far one of our favorite vendors to work with. From the beginning, he was very responsive and proactive in reaching out to us, always in an incredibly friendly and professional manner. He was very flexible in creating the sound we were looking for, adopting different guitar methods to the songs we were requesting. Garret was tasked to secretly adapt a song I wrote for the bride to walk down the aisle to - he not only did an amazing job keeping the secret and performing the song, but it was obvious when we met in person that he had a blast being part of something so unique. I would highly recommend Garret for any live music needs - his talent, professionalism, and enthusiasm are second to none!

Jordan

Married on 09/04/2016

We are so happy we chose Garret to do our ceremony and cocktail hour music! From the get go, he was responsive, willing to hear ALL ideas and suggestions, flexible, VERY helpful, friendly, professional, and overall, full of knowledge and passion for what he does! He literally made my dreams come true! I wanted to incorporate Disney into my big day so I chose a couple Disney songs for the processional! Garret took his time arranging the songs for guitar just for my special day! Not only is that pure talent, that is dedication! Garret was SO easy to work with and got along great with everyone! We received multiple compliments on how talented this young man is!! Thank you Garret for making our special day even more special! - The Binders?

Kate

Married on 06/11/2016

Garret was a pleasure to work with. He responded via email almost instantaneously. He was professional and courteous. Garret learned a song (in just a few days!) per my request for ceremony music. The only thing I am bummed about is that I didn't get to interact with him at all. He was on time, played his sets beautifully and was on his way before I knew it. Highly recommended!

Garret provided music for our Sunday evening dinner wedding. I wanted our wedding to feel like the best dinner party you've ever attended and we knew music would be a big part of that. Garret was so wonderful to work with. He coached me in selecting songs that would compliment the feel of the evening and be significant to my husband and I. He sent us arrangements of the songs we chose and we knew we made the right choice in inviting him to our wedding. The music prior to, through and after the ceremony set the tone for our early October wedding. Garret was so attentive all through the planning process and set up all the equipment he needed. I'm so grateful to have found him!

Rachell

Married on 10/18/2014

Garret is amazing and can play any song on guitar that you want! Music was unbelievable. Very talented and professional.
Are you interested?
Send a message