38 Reviews
Recommended by 96% of couples
Quality of service

4.8 out of 5 rating

Average response time

4.9 out of 5 rating

Professionalism

4.8 out of 5 rating

Value

4.8 out of 5 rating

Flexibility

4.8 out of 5 rating
11 User photos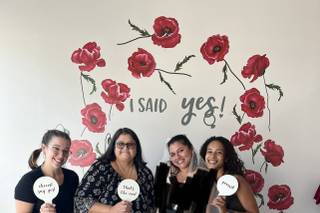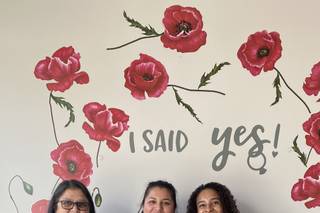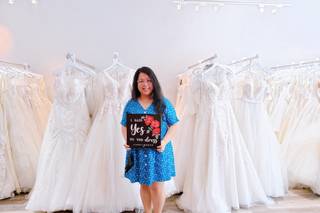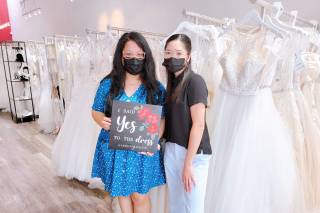 + 7

photos
Trishna B.

Getting married on 10/06/2023

What a wonderful experience

100/10 recommend making an appointment here! I came with my mom and MOH, to which we were kindly greeted as we entered and proceeded to check in. Sierra was my bridal assistant and I'm so so happy she was! I had previously been dress shopping at another boutique and it was completely overwhelming. I told Sierra that once I had entered the fitting room there- I never left it. I tried on 7-8 dresses and just kept getting handed them. It was exhausting and rough. I was handed dresses 10 sizes too big, with no help putting them on. However, that was NOT the case here at Garnet and Grace with Sierra. She listened closely to my experience and the things that I'm looking for. I originally told her I didn't think I'd be purchasing anything at this time, and that I'm just trying to get an idea of what actually looks good on me. We tried a range of dresses- from what I wanted to the complete opposite so we can rule out any "what ifs".

Sierra helped me confirm that my inspiration was true to what I wanted. She then pulled out this absolutely gorgeous dress, which was even better than my inspiration picture since the underlay is blush. My favorite color is pink. THIS IS THE ONE. I felt it. I knew it. We all knew it. However- we did have another appointment the next day at another boutique and I told Sierra that I can't buy the dress today, but if it's still here tomorrow I'll be back for it. I had to go to the other appointment just to confirm that the dress that Sierra pulled for me was IT. And it was. We were back the very next afternoon, credit card in hand.

Sierra, you made my dreams come true and you are an ANGEL. You gave me the experience of a lifetime that I could share with my mom and best friend. I thank you from the bottom of my heart. To the store: y'all got a good one there, don't let her go!!

Kaycee B.

Married on 12/04/2022

Amazing experience!

I found the dress of my dreams with Jamie! I can't even begin to express how much fun I had with my family looking for my wedding dress! Jamie knew exactly what I wanted and nailed it on the first try...I said yes to my first dress! Everyone at Garnet and Grace made me feel so special and beautiful and that is something that I am forever grateful for. I would 1,000% recommend Garnet and Grace to every bride! Thank you to Jamie!

Denise R.

Married on 09/17/2022

Shopping was a breeze with Jhamesha!!

Jhamesha waited kindly for us as we ran a few minutes behind to our appointment. We got right into the swing of things. She provided a fun, relaxed, and judgmental free space for me to figure out my style since I had no idea what I wanted going into this appointment. She figured out my style preferences fairly quickly and to my surprise, I was easily able to find the perfect dress! I did not feel rushed what so ever, she provided direction to me, and made it so easy for me to purchase the dress. It was a simple yet elegant visit, I loved it. I am very happy with my visit and purchase.

Are you interested?

Send a message

Chelsea M.

Married on 09/05/2022

Beautiful and Affordable

I highly recommend Garnet + Grace! Misha, my consultant, was so sweet and knowledgeable in helping me find the perfect dress for my wedding. She took the time to understand my style and what I was looking for and helped me narrow down my choices. I found "the one" and went with the "Diamond Package" which includes $75 accessories (which I used to buy my veil), 12 months of storage, clean and bead check, and gown preservation. I had such a great experience with them and got so many compliments about my dress. Thank you, Misha and Garnet + Grace!

Elizabeth S.

Married on 12/02/2021

Best decision you will make while planning your wedding!

I had the best experience at G&G bridal! Jamie helped me find the dress of my dreams and the accessories to go with it all for a price under my budget! She was professional, personable, and made the entire experience wonderful and memorable for not only me but my maid of honor as well! I also want to give a special shout out to Liz whose friendly and outgoing personality also made this day unforgettable! Come to this small bridal boutique and have your own once in a lifetime experience!!!

Dannalyn R.

Married on 11/21/2021

Amazing customer service

I said YES to the dress with Jamie! I had a wonderful and fun experience at G&G. This was my third boutique, I guess third time's the charm!

G&G had such a friendly and warm vibe. Right when we entered there was a sign of brides who had an appointment that day. I was greeted by Liz and Jamie.

Jamie is the one who helped me pick out my dress. Not only did she pick out the dresses, but she helped me make sure I didn't trip putting on the dress by spacing out the gowns so I can slip right into it. Most places they give you the dresses and then step out and tell you to tell them when you need help zipping/buttoning up. But Jamie stayed with me and helped me through it all! In the beginning you might feel weird undressing around a stranger but with Jamie I felt like we were friends from a long time ago (that's how comfortable she made me feel). She asked a lot of questions which helped her narrow down the dresses I liked, loved, and disliked. I felt no pressure with her and she helped me find my dress under my budget!

I highly recommend G&G to anyone who is looking for beautiful, affordable dresses!

I can't wait to post pictures of my dress later on!

Brandee

Married on 10/07/2021

Great place for dresses at discounted prices

Garnet and Grace was great. They have one-off dresses from designers at discount prices. I bought a beautiful Sophia Tolli gown for $199 (originally it was probably $1700). Staff was friendly and helpful (Karissa was my stylist), and the store was spacious and comfortable. I highly recommend shopping for your wedding dress here!

Stevie M.

Married on 09/25/2021

Great experience

I went to 3 bridal shops and had the best experience at Garnet and Grace. I did not feel rushed. I was able to try on many gowns without feeling pressured to buy. Ariana was super sweet and very helpful, she knew exactly what dresses to pull. I am very happy with my purchase.

Jessica W.

Married on 04/17/2021

Above and Beyond

I cannot praise Garnet & Grace enough! My experience was absolutely wonderful! Not only am I a COVID bride, I am also a bride who doesn't have any female family or friends in the Bay Area, so I was shopping alone. Going into this process I was a little nervous about being alone and having heard horror stories about pushy sales women.

However, that is not Garnet+Grace! Ariana was ABSOLUTELY AMAZING! She was so sweet throughout the whole process, totally got my style, was respectful of my budget, and was generally fun to talk too! She helped me take pictures so I could get opinions from my mom and sisters, and made the whole process feel seamless and natural. The 90 minutes flew by and at the end of it, I found my dress and some accessories!

Cristina

Married on 04/03/2021

Cute bridal shop

I came into this bridal shop a few weeks ago and although I did not purchase my dress the woman who helped me was very sweet. She explained to me they carried more off the rack dresses and older styles and they didn't exactly have what I was looking for. She was sweet enough to take my information and let me know if any similar dresses come in she would contact me. This bridal shop is very professional and they do have a variety of dresses so I would recommend coming here.

Cheyenne

Married on 11/13/2020

Perfect fit

I went into Garnet and Grace just to try different styles and see what I liked. They were fully booked, but Olivia (one of the consultants) was wrapping up an appointment and said she could help me out before her next appointment arrived. I told her what I was looking for and she grabbed a few dress I described. We both decided to try the sizing of the first one grabbed and when she helped put it on me, it was PERFECT. The fit was amazing. I was trying not to say "okay I'm done this is it" but at that moment I fell in love with that dress. Olivia helped me find the perfect belt to bling it up and the best veil. I AM SUPER EXCITED to wear my dress on my wedding day and I would HIGHLY recommend that EVERYONE make Garnet and Grace your first shop stop. It was my first and only.

Catherine P.

Married on 11/08/2020

A must-visit for any bride

If you can request Gabby to help you look for/try on wedding dresses, you should. She was very helpful, patient, mindful of budget, and had a great sense of humor. She made the process fun and comfortable. Garnet and Grace was my 2nd store on my 1st day of looking for dresses, and I certainly wasn't expecting to take one home that day, but I did! Two weeks later, I returned to buy another garment bag since my cat decided to urinate on it (thankfully I found out early and my dress was not affected), and Gabby did not charge me for it. That was really awesome and nice of her. Highly recommend Garnet and Grace!

Malibu C.

Married on 11/07/2020

2 brides, no problem!

My fiancée and I had a fantastic time at Garnet and Grace! We are two brides both searching for dresses and wanted to make sure that they complimented each other, however we still wanted to keep the surprise reveal until our wedding day. We reached out to some other salons who said it'd be best if we did back to back appointments, however the ladies at Garnet and Grace were stoked on the idea of having us both at the same time and we are so grateful to them for giving us this moment.

With some Macgyver skills they rigged the middle dressing room curtain to create a partition and put my fiancée and I in the farthest changing rooms. It was the smallest touch, but it made me realize how serious and caring they were about our mission of not glancing a sneak peek of each other.

We came to the appointment and got to sit with our consultants Gabby & Yessica to go over the feel of the wedding and some logistics (time and date of ceremony, location, etc.) From there we split up and I talked with Yessica about my dress and what I was looking for. She walked me through the different silhouettes, styles, and asked me what I felt comfortable in. What I appreciated the most is that Yessica walked me through so many small details I hadn't thought of (like how you could add a corset back to a dress if it was a size too small!) She helped alleviate so many fears about needing to find a dress that fit my Pinterest vision and instead going for the feeling of what was right on my body. After we tried on a few to determine what silhouette, fabric, and overall vibe I was leaning toward she pulled THE ONE and I fell in love with it.

I'm not sure what my fiancée ended up with, but Yessica and Gabby were both incredibly excited over the synchronization of our gowns! We had such a great time at the salon and so did our family. So grateful to Garnet and Grace, and I would highly recommend it to other brides looking for an off the rack gown and a fun experience. Thanks again to Yessica and Gabby for making both our dreams come true!

Erin H.

Married on 11/07/2020

Garnet and Grace is Amazing!

The best decision my fiancee and I made so far with wedding planning was shopping at Garnet and Grace for our wedding dresses. I had the pleasure of working with Gabby while my fiancee worked with Yessica. Since we were two brides both looking for dresses but not wanting to see each others, they made a patrician in the salon so there were no accidental sightings.
I cannot explain how much fun I had trying on dresses. As a bigger gal I was a little nervous at first but working with Gabby made all my worries go away. She was so helpful in making sure I had fun and she listened to my opinion on each dress I tried on.
The day was filled with so many laughs and tears of joy as I found my dress.
One of the other great things about Garnet and Grace is that the dresses are off the rack. It was such a relief to walk out of the store with the dress in hand and know that it was already mine. I would highly recommend this shop for any bride who is looking for a dress. Their inclusive sizing, amazing staff, and reasonable pricing, makes wedding dress shopping a breeze.

Julie A.

Married on 08/21/2020

Recommend!

Had an amazing experience with Garnet + Grace! They were so professional, especially leading up to the appointment. My consultant Gabby was super attentive and made me feel comfortable and confident throughout the process. I had originally booked 2 bridal appointments for the day with Garnet + Grace being my very first wedding dress shopping experience and had to cancel the 2nd one. Gabby had me practice walking down the room with my dad while wearing our favorite gown. And that was it! I found my dress and I absolutely love it! I definitely recommend Garnet + Grace! Thank you for the fun and memorable experience.

Jasmine

Married on 08/08/2020

Great service, prices , and dresses!!!

Garnet&Grace is amazing. My total experience was great, from the time I booked my appt, to the time I walked out with my dress, and even then I received great service. Since we are in a pandemic , my first appointment was cancelled because everything had to shut down,I lost hope in my wedding ,because all events were being cancelled. I wanted to have the full "bridal experience " since this was my first time & last time being married ( lol) . When I found out they were doing virtual appointments, it started to give me some hope. I had a virtual appointment, with Yessica , she helped me choose 3 dresses that were within my budget and similar to some styles I wanted,and she also paired me up with Gabby. My fitting with Gabby was great!! She helped me with everything, I loved my experience at G&G ,they gave me some hope for my total " Bridal experience"! I also appreciate Ann C. , for reaching out to me. I appreciate everyone for helping! The thing i really liked & appreciate, is the fact that they have all different styles of dresses , they have a variety of sizes all the way up to plus size( which I am) & the price range , you can't beat! If you want to have a "TOTAL BRIDAL EXPERIENCE " G&G IS THE WAY TO GO! By the way I went to Garnet & Grace ( HAYWARD,CA).

Megen H.

Married on 06/27/2020

Best experience I had wedding dress shopping hands down

My mother, fiancé and myself had a great experience at garnet and grace boutique yesterday. My consultants name was Kennedy and he was AMAZING. Not only did they have a great selection of amazingly priced gowns but he was super patient with me. Seeing as such a big purchase is a big decision I was a little indecisive, but Kennedy did an amazing job making me feel comfortable in taking my time to decide. I would recommend Garnet and grace bridal to anyone. Beautiful place and beautiful one of a kind dresses. 5 starts for me.

Shaunnetta B.

Married on 04/25/2020

Loved ever moment

This review is for the Whitter location: Will you laugh? Yes! Will you cry? Of course! Will you be ready to put that dress on today and celebrate? Absolutely!! This was my first and last stop on the wedding dress tour. I had in mind exactly what I wanted including the budget and Granet just stood out to me. TAMIKO was amazingly helpful, patient and she listened. First off we were late and I naturally assumed we'd be rushed and there would be no way I'd find a dress. But Tamiko asked her questions, listened to everyone's feedback and got to work. The group favorite eventually only because my favorite but Tamiko reminded me it was my day and I could choose what I wanted!! I did not get what I wanted, I actually ended up with the opposite of what I wanted and I love every inch of it. If Garnet did bridesmaid dresses I'd be right there!! But if your looking for something amazing and don't want to break the bank... this is the place for you.

Melissa

Married on 07/12/2019

July 2019 wedding

I bought my wedding dress here because they were the ONLY place that had a blush wedding dress. Every other place I looked at had dresses in ivory, champagne, nude, but not blush. I fell in love with my dress the first time I saw it on display at the store window. I came in during my appointment and was given 5 different dresses to try on but I still chose the one blush one at the window. The dresses they hold in the store is what you get, you cannot choose a specific color or size and have them order it from the designer. That's how they are able to keep their prices so affordable. My dress was from 2 seasons ago, but was new and exactly what I was looking for. It was a couple sizes too big but I knew I had to get it altered anyway because any wedding dress I bought would have to altered to fit my 5'1'' petite frame. They also recommended me to a very talented and affordable alternation specialist. They also gave me $200 off if I bought the dress right there and then. I was sold!

Natalie H.

Married on 07/06/2019

Great experience

The first time I went to a bridal salon (it wasn't garnet+grace) was a horrible experience for me so I came to garnet and grace scared to try on dresses yessica was super nice and so helpful! She asked me so many questions to try to get an idea of who I am what I want in a dress to try to figure out the perfect dress for me. She picked out a bunch of beautiful dresses for me that I loved and she never pushed me or pressured me into getting one. she listened to what I liked and didn't like about each one. I really feel she understood my vision. She also helped me sort out my feeling threwout the process it can get a little overwhelming and confusing once you start trying on so many amazing Dresses but she helped me figure out which dress was in the lead. I hate shopping for myself because I feel like nothing looks good on me but this really was a great experience!! They are letting me come back with my whole family to try it on for them since they weren't there. After a week of the whole experience I was a bit overwhelmed because I wasn't sure if I made the right choice, when I emailed them asking for a picture of the dress they quickly responded with a picture of my dress. I haven't had any doubts since.

Evelyn

Married on 12/15/2018

Garnet + Grace is near Lavender Nail Salon; there is a Starbucks within the same plaza. This was the second shop I visited when wedding dress shopping. It's recommended to schedule an appointment beforehand if you plan to visit on a weekend because they can book quickly. You can easily book your appointment online and you'll receive a confirmation phone call by Meghan (store owner). During the phone confirmation, Meghan will ask a few questions about what you're looking for to get a better understanding of your style and what your budget is. She is VERY mindful of your budget.

This is a boutique store and it's an "off-the-rack" type of dresses. But there is a huge selection of dresses, some starting from $299 to over $1,000. My experience with Meghan was amazing. At the beginning of my appointment, she explained how the store works. She let me look around at dresses I wanted to try on, and pulled out a few more for me to try on. Meghan made me feel so comfortable and provided her honest opinion to each dress I tried on. I loved that Meghan didn't seem pushy and allowed me to express how I felt in each dress. She orders dresses maybe once a month or so. I went at the beginning of February, and she suggested to come back around mid-March for new dresses. I even overheard her give another bride recommendations to another bridal shop since the bride didn't find what she was looking for. Meghan genuinely cares about everyone that walks into her store. When I found my dress, Meghan "jacked me up" and suggested where to go in the store to see how my dress looked in natural lighting.

The parking lot can get filled quickly! Be sure to arrive a few minutes early just in case. There are a couple of parking spots reserved for Garnet + Grace. If you follow Garnet + Grace on Facebook and Instagram, you'll see when they have special deals in-store too. If you purchase your dress on your first appointment, you can get $200 off.

Samantha

Married on 10/20/2018

The only this I would change is I would have liked to have had more then 3 people with me.

Escarlett

Married on 09/02/2018

I loved the one on one attention I got. I knew what I was looking for and she gave me what I was asking for. Great customer service, very helpful want to go back again. Pricing is affordable to my budget and very flexible with time

Judith

Married on 06/30/2018

Garnet+Grace is a wonderful sample size bridal boutique. The experience was warm and inviting. We were lucky enough to have both wonderful ladies helping us and providing their expertise. My sister said "yes to the dress"!!

Jessica

Married on 06/03/2018

Cannot express how much I loved my experience at Garnet + Grace! When I say loved... I mean LOVED! Went in back in December to find my dress and had a great experience. I found a dress, but quickly learned it was not the dress for me. They understood my situation and told me to come back in to search for another dress.

Went back in today and I was blown away by the service Megan gave me. She understood my new vision for my dress and pulled exactly what I was looking for! As I was trying on dresses, she never pressured me or made comments to direct me to choose a specific dress. The first dress that I tried on today was the one and I feel so incredibly happy! I am so thankful for Garnet + Grace, and Megan for understanding and helping me find my perfect dress!
Are you interested?
Send a message