Reviews
4.8 out of 5 rating
Quality of service

4.9 out of 5 rating

Average response time

4.8 out of 5 rating

Professionalism

4.7 out of 5 rating

Value

4.9 out of 5 rating

Flexibility

4.8 out of 5 rating
96%
Recommended by couples
Awards
16 User photos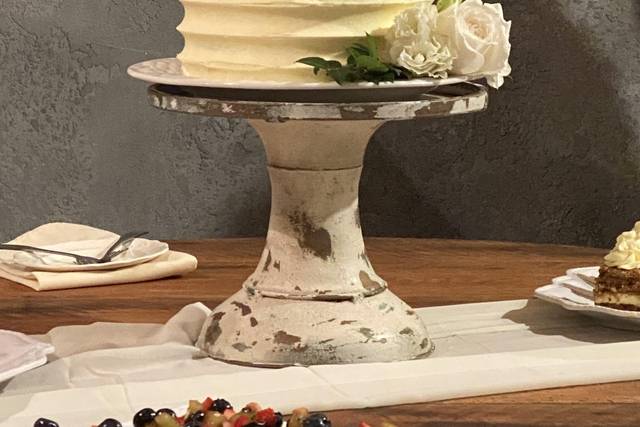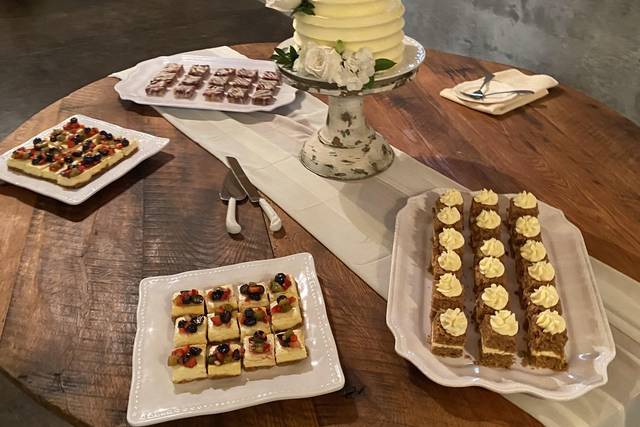 + 12

photos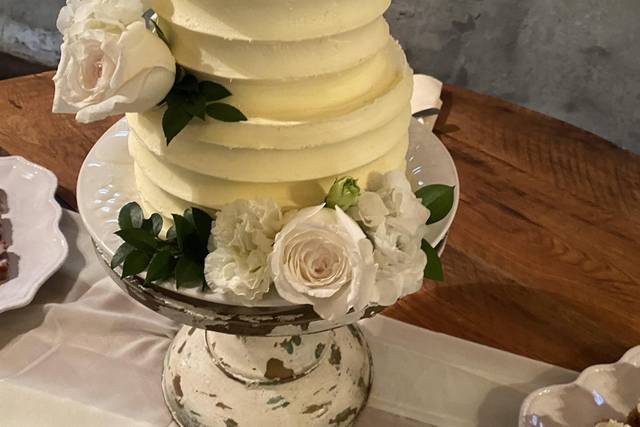 Caroline

Married on 07/20/2023

Delicious and Flexible

I recently had the pleasure of experiencing the services of a wedding catering company that truly stood out from the rest - the epitome of flexibility and excellence. From the moment I contacted them to the last bite of dessert, their commitment to accommodating our unique preferences and needs was unparalleled.

Marty B.

Married on 11/05/2022

Amazing Catering Company!

I have only GREAT things to say about Frugal Gourmet Catering!! Aleta and her team catered my daughters wedding this past weekend at Sugar Hollow Retreat. From the initial tasting, everything in between , to the actual reception was "OVER the TOP"!!! All the guest raved about all of the food. Aleta was great, Val, Laural and girls were great! The Food was Amazing!!. I am so very thankful and humbled at the preparation, thought and care that they put fourth in their services, the food, the dessert table, the wedding cake to the table settings. I highly recommend Frugal Gourmet !!!

Zoe Z.

Married on 10/30/2022

Frugal Gourmet was absolutely amazing!!

Frugal was amazing! The food was so good, especially the mashed potato bar! (I'm vegetarian) The desserts were super tasty as well including the cake which was a cannoli raspberry swirl cake and lots of other desserts like a raspberry tart and carrot cake. Aleta was super easy to work with, very responsive and professional. Her staff was great that served at our wedding. They were there on time and made me (mother of the bride) feel completely at ease. Thanks so much Frugal Gourmet!! Would definitely hire them again!!

+ 3

photos

Are you interested?

Send a message

Allison R.

Married on 11/20/2021

Amazing food & service

We loved working with Aleta! She helped us pick a menu that fit exactly what we wanted, and she had so many things to pick from. You could really pick any food you can think of. Aleta also did our dessert table & cake, and she executed my vision perfectly! We also got our bartending services through her and he was absolutely amazing! Their whole team made sure us and our guests were taken care of all night, and it was so convenient to have one vendor take care of so many things for us. We had so many compliments on the food a desserts from our guests, so I'd 100% recommend Aleta & her team at Frugal Gourmet!

+ 6

photos

Kaki K.

Married on 07/16/2021

Food was delicious!!

Aleta and her crew catered my daughter's wedding (July, 2021) and got rave reviews from everyone! The menu options were varied, what we chose was most delish, and we got so many comments about how wonderful the food was at the reception! The Fried Green Tomatoes over Cheesy Grits were the bomb and by far my favorite! The desserts were also outstanding, including the lovely ceremony cake. You won't be disappointed if you choose Frugal Gourmet to cater your special event, everything was mouthwateringly delish!!

Elliot G.

Married on 06/26/2021

The Easiest Wedding Decision You'll Ever Make

I cannot recommend Aleta and her team at Frugal Gourmet enough for your catered event or wedding, particularly if it's at nearby Sugar Hollow Retreat or Villa Nove Vineyards. We were married in June 2021 at Sugar Hollow Retreat, and without Aleta we would have never even known about the venue. We had called her for a quote about another venue in NC, and ended up talking to her for an hour to the point that we were completely sold on both Frugal Gourmet and Sugar Hollow by the time we hung up the phone.

We used Frugal Gourmet in a way that everyone should at Sugar Hollow Retreat, but also in a way that ONLY she could provide due to her proximity to the venue. We had 65 guests staying on-site for three nights and 110, 140, and 200, respectively, on the property for dinner/drinks each of the three nights. Due to very limited local food options and a desire to offer our guests excellent hospitality, we asked Aleta to handle breakfasts for the on-site guests each morning, as well as serving and dinner services each evening. Her prices are reasonable and we charged our guests a bit more to help cover the costs of the convenience, but it was more than worth it to them to not have to worry about breakfasts or cleaning up the kitchen. It's hard to describe this unless you've visited the Sugar Hollow property, but I cannot imagine what a cluster it would be with everyone on-site (particularly those staying in the lodge) trying to use the kitchen and then deal with clean-up. It would be a disaster and someone with OCD would inevitably end up not enjoying the weekend because they would spend too much time cleaning up the kitchen and patio while all of the other guests were having fun and making a mess.

Aleta's top assistant was Valerie, and she proved invaluable as she was there late into every evening and early every morning for breakfast. My bride came up to me about an hour after Valerie arrived on the first night and said, "This was the best idea ever! Val came in and took over everything for us. Cleaning the kitchen, emptying trash cans, directing traffic, etc." My bride and her Mom are two of those people who would have been cleaning the kitchen the entire time if you let them, so offering them the freedom and peace of mind to enjoy their wedding weekend without the stress of cooking and cleaning is a debt that can never be repaid. That's the greatest compliment I could ever pay Frugal Gourmet: They made every meal and clean-up so easy and stress-free that it allowed us and all of our guests to enjoy each other's company without worrying about anything else. If that's not the primary goal of your wedding, it should certainly be near the top of the list.

I've barely mentioned the food but it was all top notch and we've received endless compliments about it from numerous guests. Aleta's professionalism, communication, and food are all second to none. Couple that with her proximity to Sugar Hollow Retreat and familiarity with the property, and this should be the first and easiest decision you make upon booking Sugar Hollow for your wedding. You would be doing yourself a great disservice to even bother considering anyone else.

Catherine R.

Married on 06/05/2020

Perfect from beginning to end!

Frugal Gourmet was the perfect choice for our son and daughter-in-law's rehearsal dinner two weeks ago! From the very first e-mail with Aleta last fall to the very end of the meal, everything ran smoothly, efficiently, and hassle-free. Aleta was always available, whether by phone or -mail, and offered great suggestions for the meal. The food itself was absolutely delicious! We had an Asian-inspired dinner of potstickers, lettuce wraps, hibachi steak, fried rice, and wonderful desserts. Everyone loved it! Aleta personally oversaw the set-up and Miss Valerie and Miss Donna, our servers, could NOT have been nicer or more attentive. They were wonderful and it was so nice chatting with them! We HIGHLY recommend Aleta, her staff, and Frugal Gourmet Catering and would use them again in a heartbeat!

Pam

Married on 10/05/2018

The Frugal Gourmet catered our rehearsal dinner this past weekend. Everyone loved the selections and Aletta was was very helpful in designing a menu for different food preferences. Her staff did an amazing job setting up, serving, and boxing up the food. They were so responsive and eager to make our dinner an intimate occasion. The Frugal Gourmet is not only a great value but their food is the best catering in the High Country. Thanks for a wonderful evening.

Miranda

Married on 09/22/2018

It was such a pleasure working with Aleta and her crew! The food was the most complimented item at my wedding! If you are looking for variety Frugal Gourmet is it. I had several different stations and delicious desserts. She even made our wedding cake (so good)!! Aleta was easy to get a hold of and easy to work with. I am still wishing I had one more cupcake.

You won't go wrong choosing this catering company!

Blyss

Married on 08/18/2018

Aleta Higgins and her team were awesome and were exactly what we needed for our son and daughter-in-law's reception! The food was delicious and unique and everyone remarked on how much they enjoyed it. We stayed within our original budget and there were no hidden charges, or surprises which was terrific. It was also very helpful that Frugal Gourmet also did the ceremonial cake and we didn't have to deal with a cake vendor, and the delivery and set-up charges there would have been for them to travel to our venue. The cake was delicious, and everyone also raved over our dessert beignet bar! We highly recommend The Frugal Gourmet Catering Company for any catering needs, especially a wedding reception! They made our celebration wonderful!


Kayrn

Married on 08/18/2018

Attended Twickingham House wedding 8/18/18.... Venue was beautiful.. Food was amazing! "Stuffed Dates" were out of this world good! Really impressed by the dessert table! the Cake was "Canoli Cream" is a MUST try. We have been to many weddings this summer and as far as food and service goes this one get " 2Thumbs up".

Jessica

Married on 04/15/2017

Aleta was great to work with. She took my cocktail reception ideas easily and we came up with a great menu. Of course I didn't get to eat as much as I would have liked (what bride does?), but there was about a 15 min time frame where me and my groom were at the food table shoving as much as we could into our faces!! And everything I tried was fabulous. She left togo boxes for us, but sadly we didn't bring coolers (destination wedding) so we weren't able to bring it home with us. Her whole staff were great and friendly and my guests enjoyed themselves.

Lois

Married on 09/03/2016

Frugal Gourmet catered our daughter's wedding recently, and everyone was so impressed with the food! Aleta is an amazing cook, and she goes above and beyond to make sure everything is perfect. We did 3 stations-Mexican, Southern, and Asian- and all were incredible. Everyone still keeps commenting on how great the food was and how nice it was to have so much variety. She provided plenty of food at a very reasonable price. I can't recommend her enough. If you're looking for a truly memorable reception meal, you will not go wrong with this company!

Candy

Married on 10/10/2015

Aleta is first class in her knowledge of listening to what the couple desire for their special day!!
The food was delicious, the buffet arrangement was eye- appealing and the staff was attentive to the needs of the guests.
You will be pleased to have her catering your special event.

We eloped and had a post-wedding party at our new house. The Frugal Gourmet crew did a wonderful job. The presentation was gorgeous and everyone raved about the food (we had chicken lettuce wraps, stuffed mushroom caps, quiche tarts, low country kebabs, and crab cakes). We had planned to set up outside, but intermittent rain caused us to move everything inside instead. Despite a somewhat tight space and change of plans, they made everything look great and managed the traffic flow beautifully. They really went above and beyond -- they were flexible and professional; they lent a hand with other tasks once they had the food set up; they brought a gorgeous centerpiece, display crates, menu chalkboard, etc.; and they were just all around helpful and friendly. I can't say enough good things. I'm so glad we hired them and highly recommend them!

Bianca

Married on 09/12/2015

Aleta's catering was absolutely stunning. There was plenty of everything , the quality and presentation of the food was super good. Also a very friendly staff that worked hand in hand together. Altea made my Daughters wedding a complete success. Thank you for an unforgettable experience. I would recommend her to all my friends:)

Jean

Married on 09/12/2015

I highly recommend Aleta for your catering. She catered a a bridesmaid brunch for me. She provided an array of brunch foods for the bride to choose from and the bride's choices of stuffed french toast, chicken and waffles, fried green tomatoes on grits, fruit kabobs and a variety of quiches were awesome. After carry outs, we had nothing left. Aleta is customer focused, food was delivered on time and was hot. I definitely plan to use the Frugal Gourmet again!

Beverly

Married on 06/13/2015

I cannot say enough about Aleta and her crew! They are as amazing as amazing gets! To start with, my first caterer fell through so I had to find a new one for my wedding that was only about three weeks away at this point. Aleta was quick to respond to emails and phone calls. She was wonderful to work with and incredibly accommodating. She took my menu suggestions and made them work for my price range. The food was delicious and the set-up was beautiful! On top of all of this, my venue made some huge mistakes and Aleta and her crew did not hesitate to jump in. Her employees used her personal truck to move 15 6' tables that my venue had neglected to set-up! On top of all this, they were all very sweet, professional and just all around fantastic!

Angela

Married on 06/13/2015

Frugal Gourmet Catering surpassed our expectations as caterer of our daughter's wedding. The Southwestern/Mexican buffet table (which included Barbacoa beef, grilled marinated chicken, cilantro & lime rice, and all the fixin's) was very appealing to both the eye and the palate. We were also very pleased with the refreshing fruit skewers and the savory brie and apple quesadillas at cocktail hour. Aleta Higgins and her staff were very accommodating, flexible, and friendly. Thankfully, my husband and I never plan to host another wedding, but if we ever need catering for some other function, we would seek the service of Frugal Gourmet Catering all over again.

Sydney

Married on 05/16/2015

I was beyond pleased with the job Frugal Gourmet did on my wedding day. It rained for about 15 minutes during my reception. Alita and her staff remained calm and professional. They went above and beyond their duties and cut/served our cake and served us champagne.

Alita is so creative. She created a beautiful spread that was exactly what I had imagined. She included adorable rustic touches to the buffet (menu chalkboard, rustic crates, etc) while maintaining an elegance just like I had described to her. We had shrimp and grits shooters, fried green tomatoes, BBQ sliders, and fresh fruit with goat cheese. The food was absolutely delicious. And I couldn't give her a higher recommendation for future brides.

Leah

Married on 05/02/2015

Frugal Gourmet Catering takes it to a stellar level!! When we did our tasting, My fiance and I knew that we had found our caterer!
Their food was amazing. What Jason and I really found exciting about their menu was the creativity and Aleta's ability to
match our vision for our reception. We really wanted something that was "outside of the dots", and they delivered! The bonus
was the job they did on the set up of the buffet table.... Eye candy for our guests as well as a culinary treat! We spent quite a bit
of time choosing a caterer, as for us, it was the most important part of our wedding. We hit the mark with Frugal gourmet!

Angela

Married on 12/27/2014

Frugal Gourmet Catering Company catered my wedding. The food and service was absolutely amazing and helped to make our special day perfect!!!

Piper

Married on 10/18/2014

Aleta was an angel. I picked her menu because it was so creative and not like all the other bland boring menus you find with other caterers. She was so flexible and friendly and adjusted her menu when requested, even provided flowers for her serving tables. Our guests ranted and raved about the food. Definitely get the beer cheese dip and brie apple quesadillas.

Liz

Married on 08/16/2014

Frugal Gourmet Catering was a perfect choice for our wedding. Aleta and her staff were nothing short of professional from start to finish, and with countless food options to choose from, we can effectively say that everything was delicious.
Every detail was taken care of, down to the carry-out boxes for my husband and I saved for after the reception (which was SO much appreciated).
We also got several referrals from Aleta and were pleased with all of them. If you are looking for great food, impeccable service, and excellent attention to detail, Frugal Gourmet comes HIGHLY recommended!

Thank you and your team for all of your hard work during the wedding and all of the crazy emails! You have been a great person to work with and I will definitely recommend you to anyone I know. I got rave reviews on the food and everything just looked amazing once I was able to see the tent put together.
Are you interested?
Send a message