Reviews
5.0 out of 5 rating
Quality of service

5 out of 5 rating

Average response time

5 out of 5 rating

Professionalism

5 out of 5 rating

Value

5 out of 5 rating

Flexibility

5 out of 5 rating
100%
Recommended by couples
6 User photos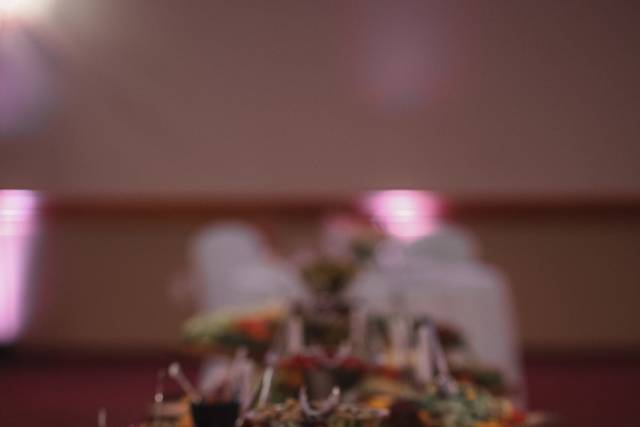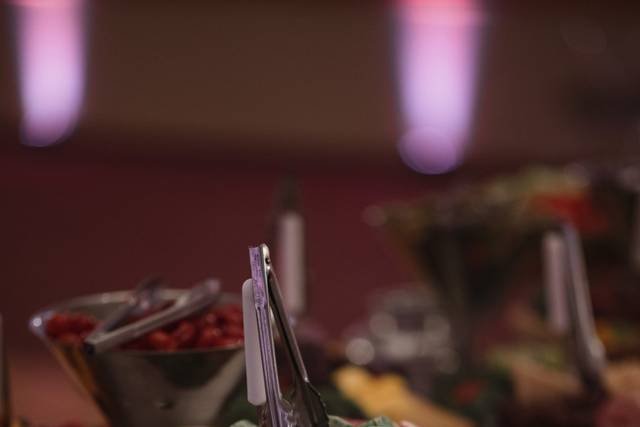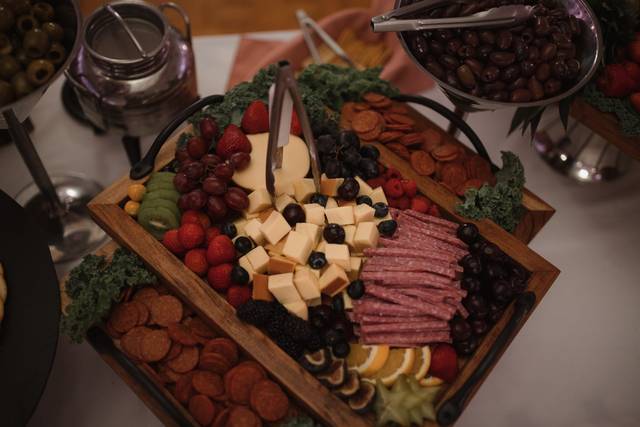 + 2

photos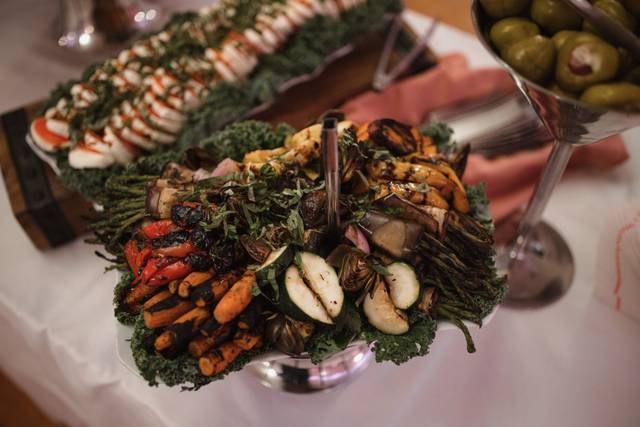 Ashley

Married on 04/15/2023

Delicious Food and amazing service

Everything was amazing and beautiful and everyone has been sending us messages about how good the food was. Not only that but they helped clean the venue a bit after to it was much easier for us the next day to get everything out. You get what you pay for and Frontier catering is worth every penny you will spend.

Nicole S.

Married on 08/21/2021

Amazing Caterer

Frontier Catering is phenomenal! Art and his team not only made amazingly delicious food, but they even went around offering seconds to all the guests! All in all they were a pleasure to work with and I highly recommend using Frontier Catering for your catering needs!

Jackie

Married on 06/27/2020

Delicious Food

A big thank you to Art, Nancy, and Frontier Catering for doing a fabulous job at our August 2021 reception!! We highly recommend Frontier Catering!!! Art has such PASSION for his food, service and attention to detail. I was a pandemic bride and he was nothing but helpful during all of the many reschedules until we landed on date that ended up working. The appetizers were beautiful! The food was HOT, scrumptious and plentiful. His team even came around with seconds (you can tell from the picture how delighted my brother was)! His speciality creamsicle cake was a fan favorite! I've had many people tell me it was the best food they ever had at a wedding. I wish Art had a restaurant because I would be there all the time!!!! On the day of the reception, a few guests couldn't make it and Art packed up those dinners so my husband and I could enjoy them the next day!!! Great people to work with! He was quick to respond to any of my emails and calls, and so was Nancy! It was also convenient that he provided all of the linens for the table. He is more than a chef and a caterer, he is a wedding planner that coordinates with the other vendors so your day is flawless! Thanks again Art!!!!

+ 3

photos

Are you interested?

Send a message

Marisa

Married on 10/12/2019

Excellent Caterer

Frontier catering was excellent to work with! Art went above and beyond, he was very easy to work with, flexible and knew the perfect menu to provide to our guests. Art was great with coordinating arrival times with other vendors and making last minute adjustments to added guests. Frontier staff was very friendly and professional. After dinner was served, Frontier staff even came around with seconds! Art also interacted personally with our guests. From the antipasti display to the creamsicle cake, family and friends raved about the food a for weeks after! I would highly recommend Frontier catering, they made sure our wedding went flawlessly!

Sarah

Married on 12/31/2018

Above and beyond

No one else does it like Art. He made our big day so incredibly special, it was far better than I could ever have dreamed of. Everyone was raving about the food, he completely transformed the room
Into a new year's wedding gala! Everything was absolutely perfect! He is phenomenal to work with, if you don't hire Frontier Catering for your wedding you are truly missing out!

Andrew M.

Married on 11/11/2018

Outstanding Caterer

Art Christy and his crew with Frontier Catering delivered a jaw dropping meal that took our wedding over the top. Everyone we talked to was blown away by the food and service provided, but they also helped coordinate our other vendors and plan our event layout. With all of the effort that goes into a wedding, it was very comforting to know that Art and his team had everything under control. A week later we still have people talking about how good the food was, with most saying it was by far the best wedding food they've ever had. You will not be disappointed!

Melissa

Married on 09/29/2018

Art and his staff were absolutely incredible at our wedding at Akron Acres on 9/29/18. We've heard nothing but countless compliments on how great everything was. From the intricate antipasti display to the dual plated dinner (and people were in awe about the hand passed seconds!) to the creamsicle cake and then the fresh glazed-dipped donuts with toppings - our guests raved about it all. Not only the food; Art's planning, coordination, service, and attention to detail were beyond anything we ever expected and the enthusiasm he showed is unmatched. Every aspect was carried out to perfection.

He made our night so comfortable and easy for us. After hearing so many good things about him, we even changed our wedding date to the only weekend he had available in the month we wanted to get married in. It was the best decision we made during the whole planning process. Art took the time to visit the venue on more than one occasion to envision his plan and execute it in a way that would make the most sense. He really goes above and beyond! We cannot recommend Frontier Catering enough, you will not be disappointed!

Stacy

Married on 09/08/2018

We knew once we met with Art that our wedding meal would be awesome and he did not disappoint. His attention to detail and the amount of care he puts into each event shows through. Not only was the food made fresh onsite, but it was hot and delicious when it was served! We are sure to be hearing from our guests about how great the food was for a long time to come!

Kelly

Married on 09/01/2018

Art gave my husband and me the wedding of our dreams (and then some) at the Knox Estate. Everything was even more perfect than what we imagined. All of our guests RAVED about how delicious the food was and how Art put on a show for them. His attention to detail was beyond words. All his staff treated us and all the guests with the utmost respect and excellent service.

Art made the dreaded planning process very easy for us. We both were from out of town so he was very flexible with our timeline. A week before the wedding, he contacted all our vendors and made sure everyone was on the same page (who else goes above and beyond and does that?!) so we didn't have to.

Art is truly an expert in his profession and we will highly recommend him to anyone who needs a caterer. If we could give him more stars we would!


Lindsey

Married on 09/16/2017

There are so many things a bride must worry about in order to make sure the "Big" day goes exactly as planned. Most people would say that when it comes to the reception, guests really only care about food/drinks and music. I have to agree that is very true. Frontier catering did our dinner and sheet wedding cake for our reception back in September (we had a small two tier cake for cake cutting/picture purposes) From the very beginning when we met Art Christy, we were confident that he would help make our dream wedding come true. His passion about the business, the food he serves, and the industry itself is something that made us want to have him as our caterer immediately. He was extremely organized through the whole process, answered all my questions in a timely matter, and even kept me one step ahead of the game at times. With last minute things piling up, he told me to let him take care of everything, and to just relax..& that was exactly what I did. I put all my trust into Art and his team. We got to our reception about a half hour early and were able to sneak into the room as they were finishing up the details. They set up everything based on what I had requested, and even took it all to the next level. I was very impressed, and was so grateful that I listened to what Art said. During the reception, we heard endless compliments from our guests about how delicious the food was, and how impressive it was that Art did hand passed seconds. Even to this day, a little over two months later, I still hear wonderful comments about the catering that day. Every time we met with him, even for simple little questions, he talked to us on a very realistic and friendly level. Art's professionalism was top notch. He is also very straight forward, something that we really appreciated through the whole wedding planning process. I would absolutely recommend Frontier Catering. Awesome job Frontier Catering!

Kellen

Married on 07/07/2017

I was married on 7/7/17 Art and his team at Frontier Catering were absolutely phenomenal. The wedding was absolutely perfect!! I could not be happier with how the space looked, how friendly the staff was and most importantly the unbelievable food!! We could not have had this wedding without Frontier Catering. Thank you so much Art!!

Kayla

Married on 06/03/2017

I would absolutely, 100% recommend Frontier Catering to any couple looking for not only a caterer, but someone who is going to help you with planning, managing, and carrying out your vision. Art's passion for his job is visible and clear the second you meet him. Having Art as our caterer made us feel completely confident and relaxed about the big day. Unfortunately, our wedding venue canceled on us and we had to find a new place, which would not allow outside caterers, so we were not able to see our Frontier Catering experience to completion, but we hope to someday attend an event or wedding that he is catering because that was one of the things we were looking forward to most at our wedding. I have no doubt that people would have been talking about the food and service for years to come.

Frank

Married on 06/10/2016

My daughter Sara was married at the Knox Mansion on June 10. The weather was perfect, the location was perfect, the ceremony was perfect and you know what was even better, the Caterer. Frontier catering with Artie Christy and his staff put together an incredible arrangement and variety of food. The food choices were creative and melt in your mouth tasteful. His recommendations, including Beef Tenderloin, Roasted Turkey, Pasta bar, Asian stir-fry and Mash Potato bar were the highlight of the meal. Everything prepared fresh and on site with many dishes that were made to order. After festivities we topped off the evening with an Ice Cream and Cappuccino Bar that was a perfect complement to the dinner.
With his years of experience in the business, he made what can be a stressful part of planning any wedding effortless, putting my wife and daughter at ease. Artie has the knowledge and is involved with every aspect of the setup on the wedding day. He provided various location options for the outdoor or indoor ceremony which flowed efficiently into the reception.
During the reception his staff was friendly and informative while serving the food. The staff also paid close attention to the many of the older seniors or anyone that might have difficulties physically by frequently checking to see if there was anything needed. Artie even took the time in an incredibly busy day to engage with my special needs son by sitting with him while playing a video game! Artie and his staff are much more than food caterers they actually become involved as an integrated part of what made our reception incredibly successful. Our wedding and reception hasn't stopped being talked about by our friends and family who all had an exceptional experience, and not just both families directly in the wedding, but every single guest.
Without a doubt I would highly recommended Frontier Catering with Artie and his staff if you desire the reception of a lifetime.
Thanks Artie !!


Melanie

Married on 09/12/2015

We had our reception at Shea's, and since this venue does not have a kitchen, we needed to choose a vendor with experience setting up a mobile kitchen at nontraditional venues. My family had worked with Art (the owner) before and loved his food, and he also came highly recommended from Shea's, so it was an easy decision for us.

Art's work ethic is unsurpassable; my guests could not believe how involved he was on my wedding day. He personally visited each table and offered my guests a second portion of steak and chicken! He started setting up a few days before the wedding (we rented special tableware through another vendor and Art coordinated this) and stayed form start to finish on the wedding day. Since we started working with him last year, Art kept track of every little detail so he could coordinate with other wedding vendors and ensure our special day ran smoothly. His support staff is also very friendly and always eager to help.

We ordered his international cheese display for the cocktail hour and this completely wowed our guests. Several guests commented that they would have been happy eating that for dinner! For dinner, we had a caprese salad for the appetizer and the signature steak and chicken entree with asparagus and baby potatoes. For dessert, Art's team set up a specialty coffee bar and mini ovens so they could make fresh chocolate chip cookies for our guests!!! Shea's smelled like chocolate chip cookies; it was out of this world! So many people called me and my mom after the wedding to tell us they have never had a better meal. My friend's 85 year old grandmother told me "In all my life, I have never seen so much good food on one plate."

I am so so happy we chose to work with Frontier Catering. If anyone needs more information about my experience with the company, please feel free to contact me and I will be happy to share more thoughts and details (melanie.diana.horton@gmail.com).

Krista

Married on 09/05/2015

Everything was perfect! He has a huge selection for a reasonable price and doesn't nickle and dime you. He takes great pride in his work. Our guests are still raving about our cocktail hour and dinner!

Jillian

Married on 08/16/2014

I was just married at Silo City (the complex of vacant silos/grain elevators) in Buffalo. We chose Frontier because we knew they had experience doing other non traditional venues, such as the Central Terminal. We had to get everything from lighting to bathrooms for the venue and for everything we had to do/rent, Art also kept track of it. It was such a relief. Frontier brought in all the furniture, supplies, food and even cooking equipment. I would HIGHLY recommend them for any event, but especially something non traditional because they definitely know what they are doing. Julia was the best! She was at all the meetings and all day on the day of the wedding. Everyone RAVED about the food. We also had a ice cream sundae station set up (with tons of toppings!), which everyone loved. The best part of the night was when they surprised me with a chicken finger and smiley face fry (I commented at one of the meetings that the kid's meal sounded good to me!) ! Everything they did was beyond perfect and I couldn't be happier!

Gina

Married on 08/10/2013

Frontier Catering does more than bring amazing food to your event. They help you plan the layout and make the reception hall look as amazing as can be. My first impression of our reception hall: I was absolutely blown away by the set up of the room. It looked better than I ever imagined. They did such a great job making the room look cozy, warm, and inviting. I think the ivory tables and chair covers combined with pink accent tables was stellar! It definitely exceeded my expectations... I was in heaven.

The antipasto dish looked fabulous and the salad was delish! I've heard nothing but compliments on the main course too. People especially liked the chicken and my guests were impressed by Art Christy coming around and offering more food! I am so glad we had a paparazzi to capture the moment!

Frontier Catering were attentive to detail and followed through on everything. Once I asked for someone to light the memorial candles it was done so promptly. I appreciated that so much.
After our wedding day, Frontier Catering sent us a thank you card for hiring them to cater our wedding with signatures from all of the staff. I was completely floored. Art Christy does such an amazing job from start to finish! The antipasti spread was fabulous, leading into a lovely salad and main dish... And then Finishing off with an ice cream bar and a refreshing Signature Creamsicle Cake! It was so awesome to have Frontier Catering represent at our wedding. It was truly amazing.

Gina & Harris

PHENOMINAL AND PERFECT! Art did everything we wanted. Three months after our wedding we still have people coming up to us and raving about the food at our reception. Art is extremely knowledgeable and knows how to time everything out so the food is hot and delicious. He will take care of all of the logistics for your event so no wedding planner needed. We hope we can use him again throughout time.


Amazing service for what you get. I loved the food. It is definitely worth the price. The presentation is amazing. I love how he works with you one on one. You can't beat that. He sits down with you and you have a ton of options. He does wedding cake as well but we wanted something different. I recommend him big time. He is very professional, has been in it a long time.

Alicia

Married on 10/16/2010

If you are looking for the best of the best... look no further. Art and his staff are the most creative, artistic, organized, and flexible people you will ever meet. They have the art of weddings down to an absolute science. They were so friendly and accomodating and we could not have been more pleased with everything they did for us. On top of their beautiful presentation, the food tasted SPECTACULAR. Ive never tasted food that was so delicious. All night our guests kept coming up to us and telling us how fantastic everything tasted. If you want your wedding guests talking about your event for weeks after it happens, be sure to choose Frontier. People remember the food at a wedding... and luckily, we made such a good choice!

Sara

Married on 08/11/2012

I would recommend Frontier Catering in a heartbeat! Art and his crew did an amazing job on my outdoor wedding. Everything went better than i could have imagined. Art took a big stress off of my shoulders when it came to making sure things were set and accounted for. He was practically my wedding planner! I could never thank them enough. Julia was wonderful as well as she was there at any moment you needed her and always checking to make sure things were going well throughout the night. This was the 3rd wedding in my husbands family that Art has catered...that obviously shows that we chose him for a reason. I could never say enough good things about Frontier Catering!

Grace

Married on 09/04/2010

From the initial consult to wrapping up the wedding night, They did a fantastic job! We couldn't have been happier! It was a pleasure to work with them and they did a superb job with coordinating everything down to each and every detail. Both the layout and presentation of ceremony items, reception details, and food/beverage, everything was perfect! We had many great compliments from our guests about how delicious the food was and what great service they provided. A lot of positive raves! Great to work with, detail-oriented, great pricing, and FANTASTIC food!! Thanks so much HIGHLY RECOMMEND!
Are you interested?
Send a message