38 Reviews
Recommended by 99% of couples
Quality of service

5 out of 5 rating

Average response time

4.9 out of 5 rating

Professionalism

5 out of 5 rating

Value

4.9 out of 5 rating

Flexibility

5 out of 5 rating
Awards
3 User photos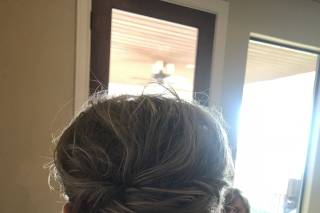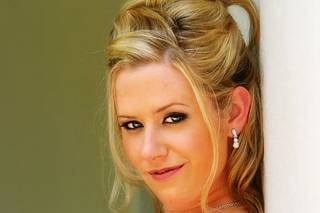 Michelle

Married on 12/29/2018

Beautiful hair and makeup

Stephanie did a great job on our wedding day! She made us all look beautiful and the makeup lasted all day! We had a tight timeline but she was very efficient. She even re-did my eye makeup the day of the wedding because I wanted it a little lighter! Love her!

Jane

Married on 10/27/2018

Brilliantly talented

Stephanie was an angel on my wedding day. She is such a professional, yet her personality is so much fun and she makes everyone feel relaxed and taken care of. She is amazing at what she does, and I cannot rave enough about my makeup and hairstyle for my wedding. I trusted her to "work her magic" and that's exactly what she did!!

Ashley

Married on 06/23/2018

I had a horrible experience with a hair/makeup lady I picked for my wedding so I was really gun shy! (Of course I didn't listen to my wedding planner and all of her go to beauty people were booked for my date. I didn't go with them strictly because of price; my bridal party was paying for their own hair/makeup and I just couldn't ask them to hand over $250 for both.)

My wedding planner found Stephanie and I stalked her on social media. Immediately I wanted to be her friend! I hired her and liked her instantly. She gave me really great advice and I ended up looking like a million bucks.

She made my great aunt look very classy, my younger cousin very stylish and I was a beautiful bride. Crazy how talented she is and how she can nail every style.

We had so much fun with her in the bridal suite, nothing like my first hair/makeup girl who refused to say anything other than yes/no.

Everyone looked great, everyone was satisfied with her work and I would hire her again (but hopefully I won't be getting married again!)

Are you interested?

Send a message

Melissa

Married on 06/05/2016

My goodness how do you even type anything but a GLOWING review. Stephanie is so professional, first and foremost. She is also hilarious and makes you feel gorgeous before she even puts on your makeup! Then her makeup skills are top notch. I loved my look on my wedding day. She made me feel like a beautiful princess. Love her so much!

Maggie

Married on 01/02/2016

Quality service, quality results. Not to mention, Stephanie herself adds to the experience of the occasion- she's just easy and fun to work with!

Shannon

Married on 04/27/2013

Rachel from Haute Facade did my hair and makeup for my wedding and it looked AMAZING. I seriously wish she could do my makeup every morning for me. I sent her pictures and descriptions of the look I wanted a few weeks before the wedding and she nailed it. Even after dancing for hours my makeup still looked flawless. She also did my mom's makeup and false eyelashes. My mom literally looked 10 years younger. Overall it was a great experience and I would definitely recommend Rachel to other brides.

Kristal

Married on 04/20/2013

Stephanie helped us all to look our most beautiful! :) She was so wonderful to work with and helped keep the day as relaxing as possible. She worked with me to get my trial run done, not an easy proposition given that I live in Houston and the wedding and all the planning was for Bertram(just north of Austin). She made the whole process as easy and painless as possible...even more than that, she made it quite enjoyable. :) She does amazing work, listens to what you want, and provides a stress free oasis to get ready for your big day. :)

Cheryl

Married on 03/10/2013

Stephanie is AWESOME! She was able to get 5 ladies done with hair and make-up in less than 2 hours, and we all looked fantastic. I love, love, love her! She's fun and spunky and keeps the mood light and jovial. I would suggest her to anyone.

Sabrina

Married on 12/22/2012

Stephanie was seriously fantastic! She did my hair and makeup for my wedding, and made me look like a glammed up version of myself. I loved that I still looked natural and like myself. She was able to do anything that I requested for my hair. I had 2 trials with her, because after the first trial my super fine hair didn't hold up well enough. She did another trial at no charge and gave me some tips on how to junk up my hair to make it hold better. I was so worry free on my wedding day because I knew I was in good hands. She also was able to place my hairpiece and veil in beautifully! She did my mother's hair and makeup and provided some other services for my mother-in-law and some other guests. She also fixed my husband's hair and did something awesome to his face to take out some of the redness. Everything was perfect and I highly recommend her! Thanks Stephanie :)

Jenny

Married on 03/24/2012

After a traumatizing experience during my trial run with another salon in town, I was frantic to find a hair stylist for the big day and was relieved when I came across Stephanie Goldsmith on Wedding Wire. She had just relocated to Austin from Dallas and had more than 30 5-star reviews. When I finally met with her in person she thought I was nuts for booking her without a trial run, but I just knew from the start she was going to make me feel comfortable. On the day of, she arrived right on time, did my mom's, MOH's and my hair and, because she said my mom's hair was "so easy," did my makeup for free (I was planning to do it myself)! I'm not sure how else to explain it except that I looked exactly how I'd dreamed I'd look on my wedding day. I felt beautiful and confident and my mom and MOH said they felt more beautiful than they'd felt in a long time. And all of our hairstyles held up all night! Needless to say, Stephanie is a rock star.

Amy

Married on 06/15/2011

Stephanie was absolutely the most fun person to work with! She is incredibly professional. She listens to her clients wishes, but is not afraid to offer suggestions when needed. My mom, bridesmaids, flowergirl and I all looked like a million bucks when Stephanie was done working her magic. Highly recommended.

Christi

Married on 12/27/2009

One of my bridesmaids had used Stephanie with Haute Facade for her hair and makeup and the H/MU of her bridesmaids, so I already knew how great Stephanie was. When I found out the cost, I was nervous, b/c I was a bride on a budget... But it was totally worth it. Stephanie is very low-key and a great person to have around the day of your wedding, as she created a fun, relaxed atmosphere. Her work is fabulous... I've never felt so beautiful (and didn't feel like I was wearing a ton of makeup). Very professional. Sweet woman. Wonderful work. Definitely worth the extra few bucks.

I would highly recommend Stephanie and Haute Facade to any bride in Austin!

Carrie

Married on 09/20/2008

I could not have asked for a better person to help me prepare for my wedding day. Stephanie was so unbelievably kind, professional and extremely talented that I look at my wedding pictures and have the best memories of her making me look so pretty. She took the time to listen to me and got to know me and knew exactly the look I was wanting to achieve. Stephanie did a run-through with hair and makeup before the wedding to find the look I wanted and then re-created that look for the big day. Her background and love for color and knowledge of makeup application gave my hair and makeup a flawless look for the wedding and the makeup and hair stayed perfect the entire day. I would highly recommend Stephanie for anyone that wants to look perfect on their wedding day, as Stephanie takes care of everything. She even worked wonders with my little flower girl's and made them look like little princesses. I would even have Stephanie do my hair and makeup again for a special occasion as she made my skin look airbrushed and hair gorgeous!

Megan

Married on 08/09/2008

Stephanie did an AMAZING job on the make-up for my wedding for me and 5 others who were in my wedding. I looked like a million bucks and my make-up lasted from the morning of my wedding to the wee hours of the next morning. She was totally professional in every sense of the word and so personable it was like having a good friend there doing my make-up. My pictures turned out more beautifully thanks to Stephanie's talented work. Her work is so natural, she makes the bride look gorgeous without making her look overly made-up. I highly recommend Stephanie for the most important day of your life, when all eyes will be on you, you're sure to look fantastic.

Stephanie

Married on 08/02/2008

Stephanie is a top-notch professional. I hired her to do my hair and makeup for engagement portraits, bridal portraits, as well as the entire wedding party on the day of the wedding. She definitely has an eye for making brides look their absolute best and feel comfortable and beautiful on their wedding day. I had some pretty specific requests and she managed to accommodate everything. Stephanie is fabulous and I'm sad she moved to Austin, but so happy that the brides of Austin will look more stunning than ever!

Erin

Married on 07/05/2008

Stephanie was the lead artist for my Dallas, TX wedding. I'm still just amazed when I look at my photos at how gorgeous she made me look, and how perfectly she captured the look I was going for that perfectly fit my personality.
The Haute Facade team did an amazing job on the wedding day hair and makeup for myself as well as my bridesmaids, ceremony reader, and moms! Everyone looked SO stylish and pretty. The photos taken of these girls at my wedding were the best photos EVER taken of these girls because their hair and makeup looked so fantastic! I was so glad because I invested a good deal of money in my photographer, which really would have been wasted had I not also invested in a good hair/makeup artist.

Kristy

Married on 06/21/2008

My makeup was wonderful! They did such a good job. They did all my bridesmaids and the two mothers and everyone was saying how beautiful everyone looked. I have sun damage on my face from going to the tanning beds so much and you couldn't tell at all. The snacks that they provided the day of the wedding were so good too. I loved my hair. The day of my wedding I decided to put extensions in my hair and I had never done that before and Stephanie did such a wonderful job. Stephanie and her crew are awesome and very nice and professional. Everytime I can afford it, I still try to get my hair and makeup done at Haute Facade for special occasions because it's the best I've ever looked:)

Stephanie

Married on 05/24/2008

She was great. We did a trial run, and my hair and makeup were perfect the first time. I just gave her a magazine picture of the hair style I wanted and she recreated it beautifully. We had no negative experiences what so ever with Stephanie.

Lisa

Married on 04/26/2008

Stephanie is not only well-experienced and extremely knowledgeable in her field, but she also possesses an artfully tasteful eye. Each member of the wedding party was transformed into a look that was flawless, stunning, and yet extraordinarily natural. I placed my complete trust in her to create the perfect look for me (MOB), and the outcome far exceeded my expectations. After months of planning and last-minute stresses, Stephanie created an environment for us where we could simply relax and enjoy ourselves in the final hours before the wedding. I highly recommend Haute Facade not just for the bride and bridesmaids, but also for mothers of the bride and groom.

Paige

Married on 04/26/2008

Haute Facade is hands down the best!! I used Haute Facade for my engagements, bridals, boudior, and for all bridesmaids and moms on the day of the wedding. Working with Stephanie was a joy. She not only made me feel and look beautiful, but she also gave me helpful wedding day advice. I had no clue where to put my veil, but she made it all work and helped me find the perfect place. You won't go wrong using Haute Facade. I promise you that the makeup will last all night and it even still looks good the next morning :).

Leigh

Married on 02/09/2008

I have worked with Haute Facade for two different weddings. I was a made of honor in a wedding, and was so blown away with my make-up that I turned around and booked them for my own wedding and bridal photos. I got the most amazing compliments on my hair and make-up the night of my wedding, and I was so pleased with the end product. Also, everytime I look at my bridal photos I feel as if I came across 'flawless' on camera due to their amazing work!

Nicole

Married on 01/12/2008

I found Stephanie thur a good friend. I later found out that two other friends, completely unrelated, had used her for their weddings and loved her! Stephanie did an amazing job with me and my entire bridal party. I had a practice run session, a session right before my bridal portrait, and the wedding day session. She was flexible to work with and was able to coordinate her schedule with my photographers. I had a very large wedding party and each girl looked gorgeous. Everyone was so pleased with how they looked, very classy, not overdone. No one felt hurried or rushed, we all had a great day. We had so much fun all hanging out together in the studio the day of the wedding.

Jessica

Married on 11/17/2007

Stephanie with Haute Facade did my hair and makeup as well as all of my bridesmaids. She also traveled in town to do my bridal portraits. She was AMAZING! She did everyone's hair EXACTLY how we wanted it and SO fast! She understands what a bride is looking for and goes above and beyond to make you feel comfortable. I HIGHLY recommend her! Wish I could post pics of how great everyone looked!

Lindsey

Married on 10/27/2007

I loved this vendor. She was quick to respond throughout the planning process (like within 10 minutes of e-mailing). I never had any concerns and she was very calming on my wedding day. My bridesmaids even had a semi-crisis with their hair by another stylist and she helped out.

Melissa

Married on 09/28/2007

I had no idea what I was in store fore when I found Haute Facade! Stephanie is an artist. She knows how to make the inner beauty in everyone come out! I have beautiful wedding pictures showing beautiful hair and flawless makeup! I cried with joy on my special day without any worries! I will tell everyone about Stephanie and her team! Thanks, ladies!
Are you interested?
Send a message