47 Reviews
Recommended by 100% of couples
Quality of service

5 out of 5 rating

Average response time

5 out of 5 rating

Professionalism

5 out of 5 rating

Value

5 out of 5 rating

Flexibility

5 out of 5 rating
28 User photos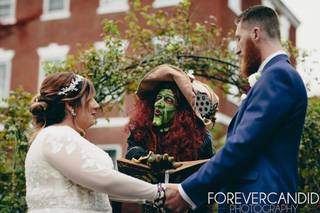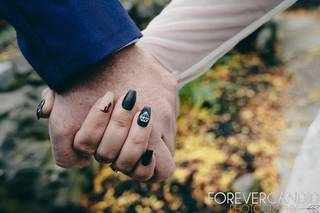 + 24

photos
Keilani G.

Married on 12/04/2021

Amazing - beautiful pictures and so easy to work with!

Amber shot both my intimate 8 person wedding ceremony and 100 person wedding party at the Peabody Essex Museum and did an amazing job in both settings! She made my husband and me very comfortable (even though I typically hate getting my picture taken) and has a great eye for putting together beautiful shots that still feel very candid and natural. I am absolutely obsessed with all of the pictures. On top of her beautiful work, she is also extremely responsive and easy to work with. I couldn't recommend her more!

Kayla

Married on 11/05/2021

The best experience!

I truly cannot recommend Forevercandid enough! From our first interaction to getting our photos after our wedding Amber was responsive, professional, knowledgable and patient. She was helpful with all of our many questions throughout the wedding planning. At the wedding she was confident and efficient choosing all of the right shots for the photos. She has such a talented eye for finding the right lighting, angles, and capturing the moment. And she handled 2 large families patiently & gracefully. Amber is absolutely wonderful!

Heather

Married on 10/12/2019

Amber is the ONE!

When I came across Amber on Instagram... I just fell in love with her gorgeous style. I couldn't stop scrolling through her page & viewings galleries on her website. She is beyond talented, words can't express. She is so kind, innovative & professional.

Everything worked out seamlessly from the first conversation through our wedding day. We are so lucky to have had the privilege to work with her. We trusted in her vision from the beginning, and never had a doubt it would be an amazing experience. We had a Halloween themed elopement in Salem, MA last weekend & she captured the vibe perfectly. Although we have only seen sneak peeks so far, her work is second to none— the photos are GORGEOUS, and we can't even wait to see the rest! Thank you so much, Amber, for making our day so special. You are a true gem!

If you're looking for a photographer, please look no further. Amber is IT.

+ 12

photos

Are you interested?

Send a message

Ashley

Married on 09/06/2019

Amber and her sister went above and beyond for my husband and I. They captured every moment and more!

Amber is one of the most talent people I know. My husbands friend recommended her to us and I will be forever grateful we had her to capture our fairytale wedding! Every single picture she took was perfect! I would recommend her to anyone she is unbelievable!

+ 10

photos

Stephanie

Married on 09/07/2018

Best photographer ever

I'm cant say enough about Amber. My husband and I both found her on Instagram before we got engaged and knew she'd be the one to capture our day. Due to my insanity as a soon to be bride I got nervous of our decision and went with someone else. The photos were decent but we were ultimately unhappy with our choice. We then went back out looking and I saw a few recent photos of ambers that were breathtaking. I have no idea why we ever thought to go with anyone but Forevercandid. Her style isn't easy to explain- but she literally brings the emotion out of each moment and into every photo. Nothing basic here- she is truly talented beyond measure. We're both so happy we stuck with our gut- she's worth every penny!! Do not skimp on the photographer!!! Its also important to have someone you feel comfortable with. She blended right in we didn't even know she was there! Thanks for the most gorgeous photos!!!

Laura

Married on 10/02/2016

Working with Amber was wonderful! She did a beautiful job with our engagement and wedding photos! The photos came out amazing. She was so easy and fun to work with, making us feel comfortable and relaxed the whole time. She is super accessible and responsive and clearly a master of her craft. I loved so many of the photos that it has been incredibly difficult to decide which to print/display in our home! :)

Alex

Married on 07/23/2016

After I saw some of Amber's photos on our venues website- I knew I wanted to work with her and she totally delivered at our July 2016 wedding. Amber captures each moment so beautifully and even manages to make portraits look effortless. At no point did we feel like we were awkwardly posing for pictures, instead it felt as we were going about this joyous day together with Amber there to capture it for us. Additionally (and this was huge for us), she is super efficient- so our family and group shots were quickly and calmly done. As a result we had an extra hour to just hang out with everyone! Our families could not stop raving about how awesome Amber was at getting great photos so quickly!

I can't say these thing enough: Amber and Kelly did almost magical job of capturing every emotion at our wedding. When we saw our pictures for the first time, every emotion came back with each photo and we experience this each time we look at them. At no point after taking group shots was I aware that I was being photographed, so it really did feel like I went about my day and ended up with amazing photos. Thank you Amber and Kelly for your amazing work!!


Amber from Forevercandid Photography was absolutely amazing and I would not hesitate to recommend her without reservation. She has a great eye in using the surroundings around her to make amazingly unique shots. The photographs for both our engagement session and wedding came out AMAZING. She was also great to work with. I think we, like a lot of people, find standing there while someone takes pictures of you very awkward. She made it really easy and was a pro at directing us while still making it look natural. She is very laid back and low-key, super friendly and amazingly kind. She was just amazing. I HIGHLY recommend her for any kind of photography. Thank you, Amber. You are amazing.

Chris

Married on 05/03/2015

Forevercandid Photography is the best! Amber is such a talented photographer who has a knack for making all parties comfortable! My wife and I hired her and her sister to take our engagement photos and wedding photos. There was not a dull moment.

The engagement photos were great material for Save the Dates and Wedding Invitations. They even worked their magic to bring a rainbow our way! The wedding photos are absolutely perfect, capturing all the best memories!

I highly recommend Forevercandid if you'd like great quality photos, a stress-free environment, and photographers with incredible talent and work ethic.

- Chris

Tenney

Married on 09/27/2014

Amber was simply the best. She did our engagement shoot and our wedding photos. She was the easiest to work with and made each of our sessions fun. Amber has a gift for capturing the smallest moments that mean the most. We are so happy that we were able to work with Amber and recommend her to everyone!!

Justine

Married on 08/31/2014

After seeing one of our friends wedding photos taken by Amber, we knew right away when we got engaged that Forevercandid Photography was the one for us! Amber is able to capture candid moments so beautifully - and we loved that every emotion in each picture is so sincere because of this! Amber was quick to respond to any email or phone call, and was always extremely pleasant to chat with. She shot our engagement photos, too! (highly recommended - we used them for our Save the Dates and got us comfortable for the wedding photos!). Her vision is unlike anyone else we've ever seen.

A few days after our wedding, we got some sneak-peaks of the photos. They were amazing! Once we received our entire wedding gallery a few weeks later, we could not pick our jaws up off the floor. Amber and Kelly captured our day so magically - and the photos will allow us to relive our wedding day over and over again. Our family & friends cannot stop raving about them, and neither can we! A huge deal to us was after the wedding several guests stated that they couldn't even remember a photographer being there. THIS IS HUGE! Although we love them, it makes a big difference when you as a guest (or bride & groom) don't always notice a camera in your face.

When looking for a wedding photographer, honestly look no further! These are your gals. Well worth every penny. We will recommend Forevercandid Photography to all of our family & friends who are getting married!

Kara

Married on 08/16/2014

I found Forever Candid Photography by looking at the incredible photographs from a family friend's wedding. The style was exactly what we were looking for for our special day and we were so happy they were available. Amber was so flexible and great to work with and she captured pictures I could only have imagined. She had an eye for the moments you hope a photographer will capture- the traditional pictures, but also the ambiance, the tender moments between guests and laughter. I could not have asked for a better photographer and I was so pleased by the quality of the photographs.

Amber has such an exceptional talent for photography. We had Amber and an assistant for 7 hours for our wedding, and I couldn't be happier. When Amber arrived we had her start by taking pictures of us all getting ready. She has such an attentional to detail, and really captured the moment. Then we had first look photos, ceremony, and reception. Amber is so professional, and captured really creative photos. Amber does exceptional work and would highly recommend her!!!!

Forevercandid Photography's reply:

Thank you so much!! :)

Alyssa

Married on 07/19/2014

When you first get engaged people tell you to make a list of your top priorities for your wedding. Photography was my number one. I was extremely specific on what I wanted – 2 photographers and all the rights to the photos. I came across Amber because she had shot my coworkers wedding. I looked at other photographer's websites but always came back to Forevercandid Photography. What I loved most about Amber's photos they were all so natural. Amber really has an eye for angles and lighting. My husband and I are not the most photogenic people but Amber really makes you feel comfortable in front the camera. We did an engagement photo shoot with Amber to meet and get comfortable with each other (I recommend this!). We loved our engagement pictures and that made us even more excited for our wedding pictures. It has been 24 hours since we have received our final wedding photos and I have been staring at them nonstop for about 6 hours now. My husband and I are speechless with how beautiful the photographs came out. I cannot believe how many photos we received and we love every single one of them. Thank you Forevercandid Photography for capturing our day.

Liza

Married on 10/19/2013

Working with Amber was great. She was incredibly professional, while still being pleasant. We took large, family pictures with lots of kids involved, and she handled the situation with ease. We have yet to see more than a few sneak peeks, however, Amber also did our engagement pictures, which we absolutely loved!

Amber and her assistant Stephanie were called upon to help out my main wedding photographer and I couldn't be happier as to how everything turned out. My photographer, who was going to be 9 months pregnant on the day of my wedding, understandably couldn't predict the way she was going to feel that day, so she enlisted the help of Forever Candid. As soon as Amber walked into our hotel, she was all business. She just started grabbing props (bouquets, shoes, etc.) and went to work. I could tell by the way she was shooting that she was experienced. This notion was further confirmed during our family portraits immediately following the ceremony. I am told that these can be disastrous if not organized properly, but I couldn't believe how quickly and efficiently she did them. I was so impressed by the way she was directing everyone and we were able to enjoy much more of our cocktail hour than anticipated - HUGE plus! I feel really lucky to have had this "chance encounter" with Forever Candid, and for Amber and Stephanie to have taken on our wedding as if we were their clients from Day 1. Highly, highly recommended!

Cara

Married on 09/21/2013

Hiring Amber for our photographer was one of the best decisions we made! I saw Amber's work from a friend of mine who was married last year and knew that I wanted to work with her after seeing the beautiful images she captured for them. Beyond her wonderful photography skills, Amber was the most responsive vendor I worked with for the wedding, which to me was extremely important. She would reply to any questions or emails I sent to her within a matter of a few hours and this really helped put me at ease knowing that she was so on top of everything and extremely professional. I would absolutely recommend Amber to anyone who is looking for the perfect person to capture their special day!

Jessica

Married on 11/03/2012

Amber was an absolute dream to work with. From the very first time we sat down to meet with her, she made the entire process very seemless and was very professional. She captured every moment of our wedding beautifully. Our wedding photos came out amazing - she is a very talented photographer. I will never use another photographer again and will refer her to anyone looking.

Erin

Married on 09/15/2012

I couldn't have asked for a better photographer than Amber. She first photographed my sister-in-law's wedding a couple of years ago and after seeing how her pictures came out, I knew Amber was the perfect choice for mine. Amber has a real talent for candidly capturing the feel of the wedding, without making it cheesy. She was so calm and easy to work with that I felt totally at ease with her. I was able to completely relax and enjoy every moment of our big day because I had complete trust in Amber that she could capture the most beautiful pictures. And she didn't disappoint! Everyone who has seen our wedding pictures has raved about how the pictures look exactly as they remember the wedding to be. I honestly don't even remember seeing her after the formals and yet every important moment was beautifully documented. Thank you Amber!!!

Danielle

Married on 09/09/2012

Amber did the photography for our 9/9/12 wedding at Regatta Place in Newport, RI. She did an amazing job and people cannot stop raving about how beautiful our pictures came out! She was easy and fun to work with - always responsive and willing to answer questions. She worked with us to come up with a package that was within our budget. Her prices are reasonable for the quality compared to a lot of other photographers that we looked at before we chose her. She was punctual and arrived at our wedding on time with no issues. After the wedding, she did our thank you cards relatively quickly so we could get them out to our guests as soon as possible. The cards came out so nice - the quality of the cards were top notch. She was also able to get our wedding featured on a wedding blog. She also was able to get us our wedding pictures before she promised that she would. I cannot say enough good things about Amber, the list goes on and on. I've recommended her to several other brides, and will continue to recommend her.

Gentel

Married on 09/01/2012

I honestly do not even know where to begin. Amber has become one of my most favorite people in the world. She is amazingly talented and creative, but also one of the sweetest and kindest people I've met. She really listened to what we wanted, and I truly feel that she took the time to get to know us as a couple, and therefore our wedding photos were exactly US. She has such an eye for candid moments, and I cannot even begin to say how happy I was with all the candids she captured. Little moments that I don't even remember happening until I look at a picture of it, melt my heart. Going through our photos, I kept saying over and over how much she captured personalities, not only ours, but of our bridal party and family and friends. Her turnaround time in getting our photos to us was extremely fast - especially given the amount of work she has! She was also very speedy at her response time to the hundreds of emails I'm sure I sent her :) My husband and I truly feel blessed that we had the day that we did, but we know it would not have been possible without the hard work and dedication of our vendors, especially Amber. I am sad our wedding is over because now I have no upcoming events for Amber to photograph! I would recommend her a million times over to anyone looking for a wedding photographer. She really is the best :) Amber, thank you thank you for everything.

Forevercandid Photography's reply:

You are SO very welcome! Thank you Gentel!!

Lindsay

Married on 08/25/2012

Amber is an AMAZING, organized, prompt, professional, helpful, and CREATIVE photographer! She exceeded my expectations on my wedding day and I can't thank her enough! My guests can't stop talking about how awesome the photos are, and now I've found out that it is incredibly hard to pick out some for myself. I just love them all way too much! I have already recommended Amber and will continue to do so. The memories her photos capture really will last forever!

Amber and Josh are amazing wedding photographers! Starting with all our email conversations prior to the wedding, Amber was friendly, patient and responsive. On our wedding day, it was amazing to have two photographers available to capture all the photos we wanted. Both Amber and Josh were fun, professional, and also managed to work in "stealth mode"- capturing all these amazing moments when we didn't even realize they were around! A few weeks after our wedding, we received all our beautiful photos, and are SOO happy with how they all turned out. The photos are stunning- all the small details that help to recreate our whole day have been amazing for us to look at and re-live our special day. I highly recommend Forever Candid for wedding photography!! Amber and Josh, thank you so much for capturing our special day and providing us with these beautiful and artistic photos.

Caitlin

Married on 06/30/2012

We loved having Amber from Forevercandid photograph our wedding! We ended up with amazing shots and everyone at the wedding commented on how hard Amber and her second shooter appeared to be working...they never stopped moving! We had sneak peak shots within two days and access to all of our photos in just a few weeks! I highly recommend Forevercandid photography for your wedding!!

Andria

Married on 05/19/2012

Amber was wonderful to work with. She kept track of everything and sent me some helpful tips up in the days leading up to the wedding which was VERY much appreciated as my mind was in a million different places. I felt very comfortable dealing with her through the whole process. The day of the wedding both her and her assistant blended in with what was going on, at times (getting ready) I actually forgot they were there! They were so nice and patient with my crazy family during formals and again at the reception. The picture quality is stunning, everyone's told me they can't believe how wonderful my pictures came out! I am above and beyond happy with my choice and would highly recommend Forevercandid to anyone who needed a photographer!
Are you interested?
Send a message