Reviews
5.0 out of 5 rating
Quality of service

5 out of 5 rating

Average response time

5 out of 5 rating

Professionalism

5 out of 5 rating

Value

5 out of 5 rating

Flexibility

5 out of 5 rating
100%
Recommended by couples
60 User photos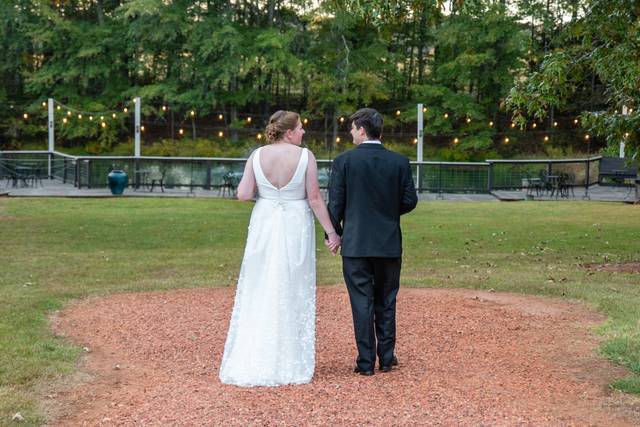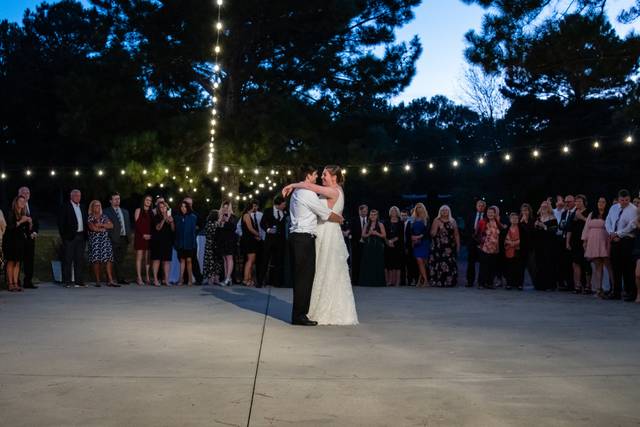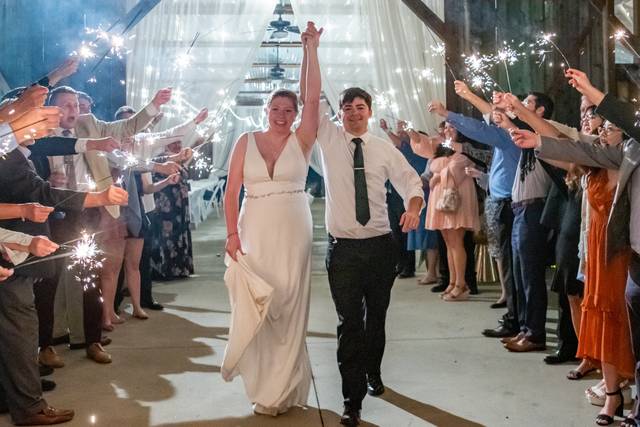 + 56

photos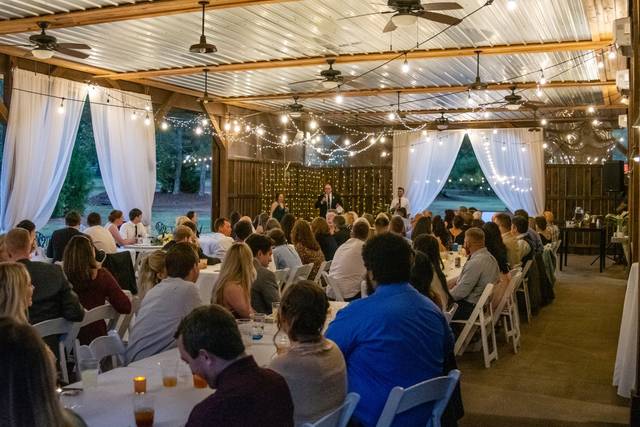 Featured

Courtney M.

Married on 04/16/2021

Phenomenal Wedding Coordination!

Ash with Flower Child Weddings is a phenomenal event director! Our 4/16/21 wedding at the beautiful Barn at Oak Manor could not have been better. Her communication with us throughout our 19 month engagement (including a postponement) was top-notch, and that communication extended to our entire vendor team. The day ran smoothly and flawlessly because of Ash and her preparation. Ash helped us be as organized and prepared as possible for our big day so that we could truly relax and enjoy the festivities. She leant her support and advice when needed, was always quick to respond to an email or text (or to schedule a phone call), and guided us in the right direction over and over again throughout our engagement. We hired our entire team of vendors from her stellar recommendations, and we could not have been happier with the service we received across the board. The Barn at Oak Manor is a gorgeous venue, the getting ready house was equipped with everything we needed to feel comfortable and relaxed, the grounds are meticulously kept, the flora and fauna are beautiful and entertaining (hello, Donkeys!), and the barn is truly magical. Ash brings a decorator's eye to her work, ensuring that all of my DIY pieces looked seamless together, along with the florals, candles, linens, etc. Her professionalism, kindness, and flexibility made working with and getting to know her a true joy. Ash was our wedding coordinator, now we're fortunate to call her our friend! Would heartily recommend Ashley/Flower Child Weddings/The Barn at Oak Manor to anyone planning a wedding in the greater Atlanta area.

Chelsea

Married on 12/03/2022

Ash is worth every last penny and THEN MORE!

Ash is truly one of a kind! I met her back in 2020 as she was the planner and coordinator for my sister and her wedding. Ever since the minute I met Ash, I KNEW that she was who I wanted on my side when my wedding came around. Over the last year Ash has been my voice of reason, my sounding board, someone I can turn to when things got super overwhelming and always would steer me in the best direction when needed. I always knew that I was in the best hands with her. If you want someone that is on her P's and Q's, knows what to do and how to handle just about any situation with poise, grace and kindness - she's your unicorn. I know I've told her this numerous times before, but I genuinely mean it; I could NOT have done any of this without her and her help! Ash was and is, not only the best planner/coordinator we could've ever had, but she's also become family too. The Register/Coppolino/Lai Families are FOREVER grateful for you! Just know that if I had a million dollars to give you, I would because you are worth BEYOND your weight in gold!!

Staci T.

Married on 11/05/2022

Phenomenal

Ashley made my wedding a breeze and so fun and relaxing

Are you interested?

Send a message

Alex W.

Married on 10/22/2022

An AMAZING Experience!

Ashley is a phenomenal wedding planner. She is very organized. Willing to help and knows so many people that will help make this day the most special it can be. I couldn't have done this without her!

Kelly H.

Married on 10/15/2022

Ash is the best!

Ash and her team really went above and beyond to help us have the perfect wedding! She took all the stress away! She is honestly the most important vendor I used for our wedding! I can't thank her enough for everything she did! We really just got to enjoy our day and let her handle everything!

+ 2

photos

Nicole K.

Married on 10/08/2022

The best!

Ashley is so sweet and so much fun! She did an amazing job making sure I had the wedding of my dreams! She is extremely knowledgeable and made sure everything was perfect! We highly recommend using her!

Rebecca R.

Married on 10/07/2022

Ash is a Rockstar!!

We had 0 concerns while working with Ash. She was on top of everything and the process ran like a well oiled machine. When I needed encouragement because emotions were too much, she was there. When I needed advice on anything, bam, she knew what would work best. We have no regrets hiring Flower Child Weddings! She really helped make the day worry free.

Hannah M.

Married on 10/01/2022

The best!

I could not have imagined my wedding day without flower child weddings!! Ash and her crew are not only the greatest people to work with but they are INCREDIBLE at everything they do. From the start, Ash was so responsive and helpful! She made our wedding day flow so smoothly, and I didn't feel stressed for a single second. I would recommend Flower Child Weddings over and over again! Truly the best :)

Parker E.

Married on 08/11/2022

Flower Child Weddings

Flower child wedding review:

Our weddings was the highlight of our year!

When I first met Ash (a.k.a. Ashley, a.k.a. Flower Child) she made me feel welcomed and connected. Honestly, she made me feel like I made a friend.

Refreshments sat at the front of the console table where my fiancé and I would be sitting, no doubt thoughtfully placed there by Ashley to counter the humidly of summer in Georgia.

Small talk led to big talk, which led us into a fast friendship. The next thing we knew we were discussing the venue and vendors. What was once an overwhelming endeavor, with Ash's extensive knowledge of the vendors on (and off) our list, we trimmed our choices until we had the match that fit our style.

Ashley explained that her Flower Child Weddings could be directed by herself for a small fee. The way she supported us from the moment we'd arrived, we knew we were in the right hands.

August 2021 was fast approaching.

But as anticipation of the big day grew, and the excitement of seeing our friends and family for this special occasion had finally come, COVID struck—3 days before the special day.

It was like an arrow through our hearts.

Like so many others our wedding had to be postponed (until the next year, August 2022). When we called Ash to tell the news, she took care of everything: she called the vendors to let them know, offered us guidance how we should handle the grief. Heck, I have a feeling she would have called our family members if we had asked.

We postponed for a year.

Finally when the day had come. With Ashley conducting the event, positioning the vendors, directing the guests (even us, as I—the husband,—had forgotten the schedule for a third time). There was never a dull moment, and we could tell everyone was having a great time.

As the night wound down, we reminisced on the day she had brought us. Not only will August 11, 2022 always hold a special place in our hearts. So will Ashley, for making it a reality.

Jay E.

Married on 08/11/2022

Excellent experience

Our weddings was the highlight of our year!

When I first met Ash (a.k.a. Ashley, a.k.a. Flower Child) she made me feel welcomed and connected. So, about two days before Right before meeting Ash at the barn at oak manor I had just visited another venue where the staff treated me so badly and made me feel like an I was not worthy of their time, but with Ash it felt like I had just made a new friend. She answered all my questions, she was friendly, and open minded. Once we went into contract with Ash, the wedding planning was such a smooth process, she has a great list of vendor recommendations and super flexible with any vendors you might want to bring. She guides you through the whole process and has a lot of knowledge about what could work and what doesn't. My wedding date was supposed to be 2021 however, 3 days before the wedding I caught COVID and when I called her to tell the news, she took care of everything and offered guidance with the vendors. We ended up postponing for a year and my wedding was everything I ever wanted. We had such a great time with our family and friends and everyone enjoyed themselves and thought the wedding couldn't have been any better.

Melissa S.

Married on 07/03/2022

The BEST decision for my whole wedding

Ashley with Flower Child Weddings was INCREDIBLE. She made my wedding day seamless and flawless. She gave incredible feedback and suggestions on vendors and details of the wedding and took so much stress off of me. As a bride that planned in less than 6 months, that was invaluable. She worked ahead of time to make sure my vendors knew where to do so on wedding day I had zero logistics questions. She made sure our wedding party knew where to be and what to do and kept everything moving so my husband and I could focus on each other and enjoying our day. I would truly recommend Ash and Flower Child Weddings to all my engaged friends (and in fact I have)! She's not only extremely professional but also so much FUN to be around and the best decision I made for my entire wedding.

Robyn S.

Married on 07/03/2022

Smyles' Wedding

We are a large family with a lot of little ones. This was a perfect venue. The team did an amazing job making sure it went off without a "hitch"! Except for my son and daughter in law!!❤️

Emily

Married on 07/02/2022

Huge Summer Wedding

We had a huge summer wedding and Ash was extremely helpful and experienced!! She was very organized and easy to talk to

Reis F.

Married on 06/04/2022

The best!

WOW! If I could sum up my experience with Ash and her team in one word it is definitely, wow. From the moment I met Ash, I knew I had to have her as a planner. The spreadsheet she made was amazing and did not miss a single detail of the entire day. I am someone who needs to be told exactly how and when to do things for me to not be stressed, and boy did she deliver. I cannot tell you the amount of times I was told that there would be at least one hiccup on my wedding day and that I would be so stressed the entire day. Clearly, these people needed Ash at their wedding! When I tell you the day was perfect, I mean it. As far as I know, there was not single thing that went wrong the entire day. She went above and beyond making sure people were where they needed to be.

There were some things we were unable to do in our wedding due to the budget, such as professional hair and makeup and a videographer. Ash did more than what she needed to and stepped in to help with my make up to make sure I looked perfect for pictures and captured some super sweet moments on her phone for us to look back on.

I cannot say enough amazing things about Flower Child Weddings and Ash and I would recommend them to ANYONE that is getting married, whether it is a massive wedding or an intimate elopement.

Angela S.

Married on 05/29/2022

A Dream Come True!

Ashley and Flower Child Weddings were phenomenal when it came to helping my husband and I coordinate our wedding day. From our initial meeting to the last good bye, we felt so comfortable with the entire process and we knew we were in the best hands! Ashley just KNOWS what to do and that meant a great deal for me as a nervous, first-time bride! She is beyond capable, communicative and just puts you at ease. It's like having your best friend help you along the way. We could not be happier with the way our day turned out and cannot give enough praise to Ashley and Flower Child Weddings!

Anne L.

Married on 05/28/2022

Ashley is amazing

Ashely and her team are the best!! They made my big day run smoothly and seamlessly. Ashley was amazing to work with. She was so helpful and helped all my nerves go away. She helped my dream and vision come to life.

R N

Married on 05/21/2022

Wedding planner of our dreams -- You will not regret working with Ash!

If you're looking for a full-service wedding planner or wedding event director, look no further than Ash and Flower Child Weddings.

It was an amazing experience and I would recommend Ash and her company without any reservations to anyone looking for wedding planning services in the Atlanta area (In fact, we've already recommended her to another couple who already signed up with her).

A few things about our experience working with Ash:
- Our budget for the wedding was between 40k-60k. Ash worked with us to fit the event into the budget we described and helped us with everything from start to finish.
- Ash is exactly the type of planner everyone wants. She is friendly, extremely responsive, detail-oriented, and leaves nothing to chance when it comes to the wedding day.
- She turned our backyard into our wedding venue and it looks like it was out of a magazine.
- Her team is AMAZING. Flowers, bartenders, bands, suit recommendations, decor, event rentals - Everyone who we worked with was extremely professional, showed up on time, and stayed to break things down after the event was over.

Ash turned our dream wedding into a reality. If you're in the Atlanta area and looking for an Atlanta wedding planner who you'll rave about, she is your woman!

Taylor

Married on 05/14/2022

Hire ashley!

Ashley, with flower child weddings, is the best!!! She handled everything leading up to my wedding (calling vendors, completing all details, etc). She also did everything the day of. I can honestly say I didn't stress one ounce because of Ashley. It was so nice to sit back and relax on my wedding day, knowing it was all taken care of!

Brian M.

Married on 04/23/2022

Attention to detail that delivered!

Ashley and Flower Child Weddings helped my husband and I make our dream wedding come true. We still get comments from friends and family on how it was one of their favorite weddings.

+ 5

photos

Terri

Married on 04/08/2022

Excellent experience!

Ashley was great to work with throughout the planning process! She is knowledgeable, responsive and made us feel taken care of while planning the wedding. I highly recommend using her for your wedding!

Kellie M.

Married on 03/26/2022

Best Wedding Coordinator

Ash's attention to detail was incredible throughout the entire process.

I couldn't imagine a better person to be my day of coordinator!

The day I met her, I knew she would be perfect for the job. She's serious about what she does but also feels like a best friend while helping you through the process. Our wedding was easy breezy with having her as our day of coordinator!!

Brittany W.

Married on 03/26/2022

The perfect B&B wedding

Ash is one of the best women I've ever dealt with. I had a lot of asks and personalized additions that I wanted and she was extremely accommodating. Her attention to detail and organization is amazing.

Laney M.

Married on 12/11/2021

Amazing!!!

Ash is hands down the best!!! She made my day feel flawless. She was so thorough and I truly do not think that I would have been able to do it without her.

Allison E.

Married on 12/04/2021

Awesome, awesome, awesome!

Ashley was amazing to work with. She was so helpful during all the planning leading up to my daughter's wedding and then the day of event kept everything going with precision. Would highly recommend using Ashley and her team to anyone.

Stacy B.

Married on 12/03/2021

Great to work with

I couldn't have done it without Ashely. Worth the cost. Ashely is excellent at her job!
Are you interested?
Send a message