42 Reviews
Recommended by 87% of couples
Quality of service

4.3 out of 5 rating

Average response time

4.3 out of 5 rating

Professionalism

4.3 out of 5 rating

Value

4.4 out of 5 rating

Flexibility

4.4 out of 5 rating
11 User photos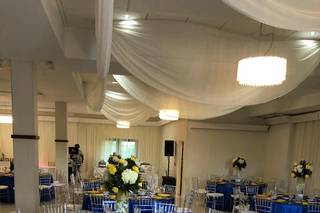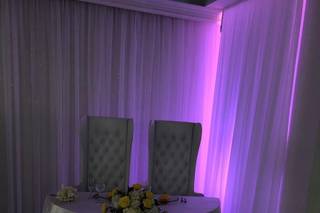 + 7

photos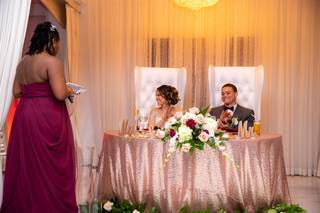 Alba G.

Married on 06/12/2021

Great and organized

Great attention, manager was on everything, and very organized

Sarah I.

Married on 11/21/2020

Beautiful venue, excellent price and professional service

We just held our daughter's wedding reception here on 11/21/2020. From start to finish the experience was positive. Everyone that helped us from the first day to the last were knowledgeable and accommodating. Letice and Monica made sure that everything was exactly the way we wanted it. From the placement of the napkins, to a drape behind the sweetheart table, nothing was overlooked. The staff on the day of the event were fantastic. As soon as we arrived from the church. a server was there to bring appetizers while we took photos outside by the limos and their grand staircase. The Master of Ceremony, Ana, met me outside because I had let her know that I had a last minute, surprise, recorded message from a member of the bridal party that had not been able to make it. They handled it flawlessly. The banquet manager oversaw every little detail. The servers were continually checking in to see if we needed anything. The food was very good. We enjoyed it and the feedback from guests was also very positive. We used all of the vendors included in their package except the DJ. This was only because we already had prior experience with a DJ that we wanted. Everyone was wonderful! The flowers were exactly what we asked for. (YM Florals) The cake was beautiful, moist and flavorful. (Elite Cake Creations) The photographer, Pat was excellent. (Images by P&P) She even helped me to get my daughter's dress all buttoned! All in all, they made it as simple as possible to create a beautiful event! I could not be more pleased with their service!

Floridian Ballrooms's reply:

Hello Sarah,

Thank you so much for your kind words. We are elated that you are happy with our services. It was a pleasure to meet you and your family. We wish you and the family happy and blessed days ahead.

Warmly,

Monica & Lettys

Nickeisha W.

Married on 08/18/2019

Was very pleased

They told me not to worry they got it and they sure did. Thank you Floridian Ballrooms for making our day special awesome 🥰🎉

Are you interested?

Send a message

Amanda R.

Married on 12/01/2018

Amazing Service and Food

I had my prom here over 10 years ago and came back for my wedding. Yanelli was my event planner and she was amazing. She kept in consistent contact with me and went over every single detail for my wedding. I am so happy I had the reception here! Their staff was LOVED by my guest and the decor was exactly as I pictured it. We had the magnificent wedding package and it was worth every cent. However, we did not utilize their photographer, DJ or MC. We got our own as we were extremely particular. Nonetheless, Yanelli made sure they were coordinated and evryone was on teh same page. Food came out after a cool firwork presentaiom to the song of my choice! Everyone loved the appetizers and the main courses! No plate was uneaten. We used their cake vendor, Elite Cake creations, and their floral people, YM Floral, which were allll amazing! (Check out my reviews on their pages to see photos) Our wedding reception ended at 1 and people were still there partying so hard we had to turn the lights on!! LOL! It was amazing! Yanelli, thank you so much for all you did ! You are an amazing woman and I am so glad I got to meet and plan with you. My wedding is unforgettable!

Maria

Married on 10/14/2017

My wedding was the most beautiful I could have imagined to be! They did a phenomenal job!

Paola

Married on 10/07/2017

I had a wonderful experience at the Floridian Ballrooms. Janneli and Cesi were amazing. They helped me with every detail for my wedding, from choosing linens to centerpieces to making sure my wedding day went off without a hitch. We used their recommended vendors for flowers, photography/video (Photography by Pat), DJ (Edwin did a great job), MC (Liz Sanchez), limo, and cake (Elite Cake Creations), and everyone was very professional and helped make our wedding spectacular. I would definitely recommend this venue and its staff because they can make your wedding dreams come true whether you have a small or large budget. As a bride planning a wedding from out-of-state, Janneli and Cesi were always available on the phone, took care of my concerns right away, and put me at ease that my wedding would be a dream come true. Thank you to them and Floridian Ballrooms!

+ 2

photos

User2699642

Event on: 05/27/2016

We had a great experience with Floridian Ballrooms. The hall was beautifully and elegantly decorated. We loved the ease of their package which included flowers, dj, linens, cake, food and open bar. The cake was beautiful, delicious and generous in size. The food was great and the flowers were gorgeous. We were provided excellent service from the planning stage and throughout the event. Our guests were very pleased and impressed, as were we. Floridian Ballrooms is a great value whether you are on a budget, or not. I highly recommend it!


Maria

Married on 04/29/2016

Gianelli and her team are truly the best! Gianelli definitely made the wedding planning process stress free and smooth sailing! I am so blessed to have had her as a wedding planner and pulling off our special day. Everything was beautiful and we received so many compliments on our wedding and it was all because my friends Gianelli and Ceci put everything together perfectly.

Mi hija Gaby y yo estamos muy agradecidos de haber contado con Gianelli, Ceci y todo el equipo de Floridian Ballrooms, Ustedes hicieron de la boda de mi hija un dia inolvidable...

Un especial agradecimiento a Frank Castellanos el Maestro de Ceremonia por su excelente trabajo...



Velinda

Married on 12/05/2015

I planned the event with a year of advance for my daughter quinceanera that was on 12/05/15, there was not one day a went to this place that I was treated by cesy and yanelys with love and professionalism, I could't pick a better place for my event all the staff are highly professionals from the Master of Ceremony to the waiters, the place is beautiful but if there is not professional people that runs it forget it !!! the food was delicious same taste that when I went to chose it, they promise open bar imported and exported drinks and it was amazing, the subcontractors that they hire to take care of your details ( flowers, cake, pictures, Dj,videos, stages, the limousine etc... ) are the BEST!!, on the day of the event when I enter to the salon it literally took my breath away and make me cry it was stoning I could't be with my daughter behind the stage because I was receiving my guest and cesy and yanelys stayed with her giving her love and confidence until the event start because she was stremly nervous and I didn't even ask for that!!, they took care for every single detail the manager of the salon on the day of the event runs my party and it was like she was reading my mind I was so lost that night jajajaja, they are the best I will miss them because once you know them you learn to love them, I totally recommend this place for any event.... Love you Cesy and Yane I will miss you guys

Velinda December 5/2015

Kalila

Married on 11/01/2015

My husband and I had our wedding there on Nov 1! We had both ceremony and reception there and couldn't have picked a better venue!! Janelli, Yammy, and the rest of the staff were very accomodating and made sure our day was everything perfect!! If you are looking to work with people of integrity that sincerely love what they do...don't look any further! You will be in great hands!!!



Joy

Married on 10/17/2015

Cecy was great! This ballroom makes planning your wedding easy because they already have a set of vendors included. Beware that these vendors might try to up-sell you since the included packages are very basic. Even with the up-sells, we were able to come in under budget. My advice, set calendar reminders and check in with the ballroom often, do not expect them to proactively contact you, even with this being said, they are still amazing at their jobs! I would definitely use them again for another party or event!

Nehemias

Married on 07/12/2015

I don't even know where to start..... I will say that when my hubby and I first decided to tie the knot... I wanted a beach wedding....but then I had to find a venue and a reception hall and then a caterer and then the cake maker....a DJ...and omg everything else lol.... but then I called my sister who had her wedding here....and she told me what the services and pricing was.... well as soon as I heard this my beach wedding dream was shattered....and so I called to get a quote...spoke to Cecey..... and when she told me that EVERYTHING WAS INCLUDED ....DJ...catering.....cake.....drinks....venue......staff.....decorations....i mean EVERYTHING! Well I would have to be really dumb not to have jumped on the deal....what I didn't expect was that everything would be handled in such a way that there was virtually nothing for me to do but show up and say "I Do"......when I walked in to see the venue in the colors that we chose...the tables all set up and the staff waiting for us.... and by the time the whole thing was over and done with.... I had walked away with the dream wedding I didn't even know I wanted... It was a dream.....and these people helped make it happen....thank you to everyone....DJ Joey rocked....my manager rocked and I felt like she really did want us to be happy on our day.... Cecey you rock!!! Thank you all!!!!

Tatiana

Married on 07/18/2014

We would like to thank you for the outstanding service we have receive during our wedding.We also want to congratulate you on the amazing staff you have,tremendously attentive and kind always with a smile.Many thanks to the bar tender,DJ,photographer,the videotaping person,the master of ceremonies,decorator, waiters/waitresses,the manager for making this day unforgettable.To Cecy our deepest gratitude.

Naida

Married on 01/10/2014

I just celebrated my Retirement Party at the Floridian Ballrooms and I could not have been more pleased. The Quality of the Service I received was Excellent starting with Janneli and Ceci who helped me each step of the way with all of the planning and details that were involved , the Florist and Bakery they referred me to were top notch and both held excellent reputations for doing quality work. The food was Excellent and the staff was amazing. I was very pleased with the quality of all of the services I received. I would definitely recommend the Floridian Ballrooms

The place was great, did not like my flowers. the location and sevices was the best

Tatiania

Married on 09/22/2012

FLORIDIAN BALLROOM IS THE BEST ALL IN ONE INCLUSIVE LOCATION TO HAVE ANY EVENT. I HAD MY WEDDING THERE AND THE STAFF IS IMPECCABLE! FROM THE CUSTOMER SERVICE TO THE FOOD. EVERYTHING ABOUT THIS ESTABLISHMENT IS REMARKABLE. JANELLI IS BY FAR THE BEST COORDINATOR/CONSULTANT/PARTY PLANNER AND THE LIST GOES ON AND ON THAT I HAVE EVER MET IN MY LIFE! MY HUSBAND AND I ENJOYED OUR WEDDING PLANNING AND OUR WEDDING DAY IMMENSELY. THEY ARE FLEXIBLE WHEN IT COMES YOUR NEEDS AND HOW YOU MAY WANT THOSE NEEDS AND WANTS EXECUTED. FOREVER GRATEFUL!

THANKS FLORIDIAN!

Charmaine

Married on 07/21/2012

Janelli was absolutely the best person to work with at the Floridian Ballrooms. She made out wondering and everlasting memory of a life time. We are so honored and glad to have chosen this venue.

Adriana

Married on 05/04/2012

Great experience, awesome staff, excellent service. I recommend this venue 100% One stop shopping.

This is an excellent venue at a great value. Our event was very elegant and our guest had a great time. The entire staff was very professional and accommodating. The food was delicious, the flowers were gorgeous, and the room was beautifully decorated with elegant table cloths, chair covers, and tableware. We loved the cake, it was a good size, beautiful and best of all, very yummy! I highly recommend this venue for anyone, whether you are on a budget or not.

Andrea

Married on 01/29/2012

They decorated my ceremony beautifully and my recepcion was to dream for I really like their food it was delicious and the catering services was perfect.

Sharon

Married on 01/28/2012

The girls, Katherine and Janelis, at the Floridian Ballrooms are very professionals and were very attentive to my needs. I can recommend them because of the nice job that they do with the decoration, food, and customer service of the staff at the time of the event. I was very pleased with my wedding venue as well as my guests! Everybody told me how beautiful the place was and the nice time that they had there.
Regards,

Sharon A.

Raptor B.

Married on 05/28/2011

The Floridian provided an amazing wedding for a fraction of the cost as it would've if we had it at home in DC. I'm really happy with the way our wedding turned out!

Catherine

Married on 11/13/2010

FLORIDIAN BALLROOMS MADE MY WEDDING SO EASY, THEY OFFERED EVERYTHING WE NEED AND CREATED THE WEEDING I ALWAYS DREAMED

Sherryl

Married on 07/07/2007

The Floridian is a great place to have a wedding. Their wedding packages make it very easy for a bride to plan a wedding because they provide you with the basics: beautiful location, catering, flowers, a DJ,photogropher and videographer, and even transportation. I personally didn't use all of the resources that were available, but it was much easier and cheaper to have all of the vendors as a part of the package. I also had to plan this wedding from another state since my husband is in the military, so the Floridian did a very good job of working around my schedule. I highly recommend this vendor to anyone that wants little to no stress when planning their wedding.

Charlotte

Married on 11/12/2006

My wedding reception was held at the Floridian Ballrooms in Pembroke Pines, FL. The venue was picture perfect and the staff couldn't have been more helpful. I loved the fact that the Floridian Ballrooms were with me every step of the way. I remember taking a moment watching all my family and friends dancing and having a great time. It was then I realized my wedding was more beautiful than anticipated. Months after my wedding, I still had loved ones commenting about how amazing the wedding turned out!

Just this past weekend, we celebrated my mother's 50th surprise birthday party at the Floridian Ballrooms. The staff made it happen Again! The emotional reaction of my mother spoke a thousand words. The place looked AWESOME!

I can't wait to plan our next family celebration at the Floridian Ballrooms.


Are you interested?
Send a message