79 Reviews
Recommended by 99% of couples
Quality of service

5 out of 5 rating

Average response time

4.9 out of 5 rating

Professionalism

4.9 out of 5 rating

Value

5 out of 5 rating

Flexibility

5 out of 5 rating
16 User photos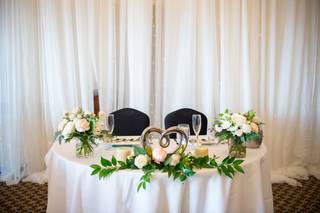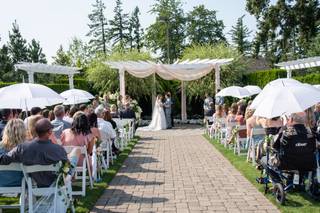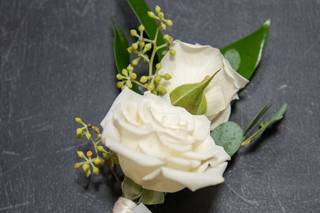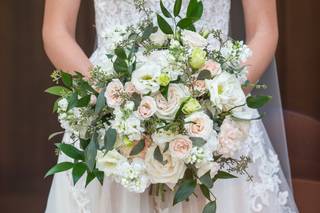 + 12

photos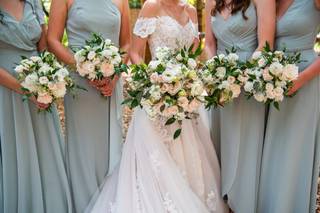 Alyssa

Married on 08/15/2021

Annie To the Rescue

If you are still looking for a florist, your search is over with Floral Sunshine. I honestly cannot recommend Annie with Floral Sunshine and her team enough. I got married during COVID, and even with a yearlong postponement, we made it through with the help of professionals like Annie. I originally had another florist booked for my initial date in 2020, but my initial florist canceled about 8 weeks before my event. At this point, I had all my other vendors set for over two years, so I was stressed. Cue Annie to the rescue! Honestly, I am not a flower person I like flowers, but I don't know that much about them/ their names. So when it came to wedding florals, I had a general idea of what I wanted but no real way to communicate what I was imagining. This is where Annie ROCKED it! During my initial consultation with her, she did a fantastic idea of really digging in deep and asking me questions to figure out what flowers and arrangements/ bouquets I did and did not like, all while somehow not making me feel stupid. We used her very impressive portfolio for a lot of this. Day of Annie and her Team descended on the venue with vases upon vases of flowers, and also put together a stunning drapery over the venue's Arbor. When I saw my bouquet, I was amazed. It was like Annie had reached into my head and figured out exactly what I was looking for and created it despite myself being admittedly not being the most helpful. Everything was perfect, cannot recommend her enough.

+ 3

photos

Rebecca

Married on 10/13/2019

Annie is amazing!

Annie's floral designs were seriously breathtaking. She took the time to understand our envisions for our wedding and how to have florals play into our tastes and budget. She is able to take the classic bridal looks and give them a unique twist - she incorporated beautiful colors and textures into the arrangements that made it feel unique to us and to our wedding. She is incredibly professional and talented at what she does! We're so happy with how all of our florals turned out!

Marisa R.

Married on 08/10/2019

Highly recommend

We were super happy with our wedding flowers. Annie worked with us to stay in budget and delivered everything on time. Great value, flowers were beautiful, and the process was easy!

Are you interested?

Send a message

Eno

Married on 06/15/2019

Just do it!

Just do it. Annie and her team truly delivered the dream.

I am in the event industry and have very high expectations and a critical eye. I had a very specific vision for the floral design for our wedding, which overall would truly bring the event from beautiful to magical. It wasn't the typical rustic wedding or black-tie design, and what I was asking for was very specific from the types of flowers, to the filler, right down to matching a color swatch from the bridesmaids dresses. Floral Sunshine delivered on all points.

I began my floral company selection process by sourcing three vendors who I felt were the most well respected and well-known floral designers, coming with recommendations from my friends in the industry. Floral Sunshine was one of the three, specifically Annie Chen, the owner.

With each company, I went through the interview process over the phone and met with them in person, and my experience varied greatly between all three. It's important to note that at first, I really thought they were all overpriced, but after going through each of their proposals individually, I realize that they all cost about the same, it's just the way they draw up their quotes.

Annie spent the most time on the phone and via email, communicating in detail and via images to ensure she fully understood my vision. She really just wanted to be able to give me my dream and she worked hard to make sure she understood what that was. She always followed up in a timely manner, showing me that my business was important to her, and she fine-tuned her proposal to include options that met my budgetary needs, yet still aligned with my vision. She was careful to not over-promise and by doing this, she ended up delivering EXACTLY what I envisioned, and within my budget! My husband doesn't really appreciate or notice flowers, but when he entered the room he was absolutely floored. His reaction was one of my very favorite parts of our wedding. It's two weeks later and he (and his groomsmen and family) are still talking about how amazing everything looked and a huge amount of what contributed to that was the beautiful floral design; he specifically called out the beauty and fragrance of the flowers, and our guests were talking about them, too. His dad even called him up later and asked him if we were running for King & Queen, ha! They were truly a lovely and unique design. She is an artist.

Not only did she deliver just what I wanted, Floral Sunshine also executed extremely professionally and efficiently for the event. She ensured everything was on-time and as specified, she prompted me for diagrams with enough timing for me to think about it and get them to her, she asked the right questions to ensure she was prepared and I had thought through everything, and she gave great suggestions, based on her experience doing weddings, to help improve our plan. To top it all off, she even went the extra mile to help us get the floral home after the wedding. I just can't say enough about how amazing she was.

On the one special day where everything seems so dramatically important leading up to the ceremony, and so many unexpected challenges arise, Floral Sunshine is not going to be one that challenges will arise with. They are truly event professionals and deliver on all of their promises. With all of the chaos of the wedding day, I am just so very thankful that I could count on her and her team to handle everything that they did. I can't say the same for all of our vendors.

My advice, if you're planning on doing the table décor yourself, just don't. Pay Floral Sunshine to do it for you. The floral is obvious, but they'll handle the candles, accents, etc. if you order them from them as well. All you need to do is provide them your vision and they will make sure it happens the way you want it, and you can relax and enjoy your day knowing everything you worked so hard planning and buying is going to actually be put to use for the enjoyment of you and your guests.

Stop calling around, just give them your money. You won't regret it.

Alanna W.

Married on 05/25/2019

Above and beyond our expectations

Annie was so easygoing and fun to work with. We gave her our colors and a couple of specific flowers we had in mind, but the final product was all her vision and artistry. We were totally blown away by how beautiful everything turned out! She personally delivered the wedding party flowers to us on our wedding day to make sure we were happy with everything, and went out of her way to accomodate a special request for the groom's boutonniere. We can't say enough about how much her flowers added to our special day and how impressed we were with her work.

Kim

Married on 05/11/2019

Wedding Flowers

Annie and her team did an amazing job for all of the floral arrangements. All the church flowers and the bouquets and boutonnieres were beautiful.

Bea

Married on 05/31/2018

I just wanted to thank you for the GORGEOUS tulip arrangement sent to my sister for her birthday! She was floored! Great job! She sent me a photo of it and I was so happy to see the beautiful quality and creativity!

Thank you so very much!

Sonia

Married on 08/12/2017

Annie did an absolutely amazing job!!! The wedding would not have been the same without her. The bouquets look exactly how I had pictured and the way she set up the alter and centerpieces was so beautiful. She met us at the venue a few months before to check out the scene and discuss the whole plan, she was very quick to respond via email, and she set everything up the day of with plenty of time.

+ 3

photos

Ali

Married on 08/05/2017

We used Floral Sunshine for our personal flowers (bridesmaids/bridal bouquet, boutonnieres and corsages) and we absolutely loved how everything turned out. My bridesmaids bouquets and mine were gorgeous and beautifully arranged. I had asked for a light purple color to be added and it ended up matching the bridesmaids dresses exactly! Annie was so friendly and always very responsive when I had questions. She was great with keeping our budget in mind and very flexible with different ways to customize our order to make it just right for us. Her pricing is unbeatable for such beautiful flowers, and we would definitely recommend her business!

Kira

Married on 06/03/2017

Annie and her team are brilliant! They provided stunning creations for my wedding and at a price point that was an incredible value (garlands, boutonnières, bouquets and flower crowns). Annie worked with me to design bouquets that fit my style. I was thrilled when I saw how beautiful they turned out! Her team is talented and thoughtful - she even though ahead about flower crowns that I had ordered for the rehearsal and advised on best timing and storage environment so I could get them to last as long as possible. Annie is extremely responsive and easy to work with. Floral Sunshine did the floral arrangements for several other weddings that I've been to and they have all been unique and beautiful. I will definitely continue to use this company for all flower needs in my future and highly recommend them!

Sasha

Married on 10/15/2016

Annie and the rest of the Floral Sunshine team did such an amazing job on the flowers for our wedding! Annie and I sat down to discuss likes, dislikes, and budget beforehand and then she had me send pictures of flower arrangements that I liked as inspiration. I have to say... her arrangements turned out much better than anything I had sent and greatly exceeded my expectations! I received so many compliments from our wedding guests.

Thank you so much Annie for your amazing work and for helping to make our wedding day extra special!!

Meng

Married on 07/15/2016

We had Annie design our flowers for our wedding and so delighted with how they came out. She was able to work with my budget of flowers for our large bridal party, and all the decorated areas and designed a BREATHTAKING arrangement for our chuppah. Leading up to the wedding, we had several consultations where we went in detail about the theme and look of the wedding. Of course, me being the indecisive bride, I was all over the place (and not very familiar with the different varieties of flowers) but Annie asked thoughtful questions and was able to tease out the perfect arrangement from my rambling vision. She worked flawlessly with my wedding designer at Something Borrowed Vintage Rentals to create flowers that fit in perfectly with the dreamy, wild and ethereal look we were going for.

The day of the wedding, I was overcome with emotion upon seeing her work. Bridal Veil Lakes, our venue is all outdoors and even though it doesn't need much extra decor, her flowers brought the place to life and made it all look so magical. As we left our ceremony in a canoe, she even provided a holder to lay my bouquet on, and it was the perfect touch. Thanks a million to Annie for her artistry & craft.

Kristina

Married on 08/15/2015

I wish I could get married again just so I could see my bridal bouquet for the first time all over again! I had a florist who bailed on me two weeks before my wedding (because what bride isn't already panicking before their wedding). I found this place because they had phenomenal ratings on Google. I called them up to see if they could possibly squeeze my wedding date in, and sure enough they came through! Met with Annie the next day, showed them what I had originally planned and what my budget was, which she was more than willing to work with, and hoped for the best. As a person who had basically no idea what they wanted in their wedding, Annie was so helpful, reassuring and confident everything would look perfect. I had no previous knowledge on flowers, just knew I wanted whatever flowers I could get in my wedding colors (blue and purple). I am forever thankful she and her business partner were so eager to help me at the last minute, despite the always busy wedding season.

The day of the wedding came, Annie delivered the flowers to my bridal suite and I nearly cried at how perfect they were. They were everything I didn't know I wanted and was better than my vague vision of bouquets I had seen on Pinterest. I couldn't stop looking at it and wanted to keep it with me all day. I had no idea something so small could make such a difference in how I felt that day, but I felt beautiful. The bridesmaids bouquets were a smaller version of mine and they were stunning with each girl that held them. She delivered the boutonnieres to the groom's suite and even gave me some extra stalks to arrange on my wedding cake. My bouquet wasn't heavy, was lightly scented, and I had many compliments throughout the day on my flowers. The bouquet held up for a solid week after the wedding as a table centerpiece, as I decided only to preserve them in pictures. I need more reasons to order flowers from these ladies and can't imagine going with anyone else! THANK YOU ANNIE!

Mary

Married on 03/28/2015

Annie was wonderful to work with. The flower I chose for the wedding was tulips which is not an easy flower to work with...! Annie managed to do such a wonderful job with all the bouquets, wrist corsages and boutonnieres. The bridal bouquet was total perfection!! In addition to being the loveliest bouquet I've ever held, they also smelled amazing! I received compliment after compliment on how wonderful my bouquet smelled. :)
Thank you, Annie! You are a master at your work and I'm so happy you were part of making my wedding day so perfect!

Alexis

Married on 02/21/2015

Annie and her team at Floral Sunshine created absolutely stunning bouquets for my wedding this past weekend. The main flowers were white hydrangeas and stargazer lilies. The arrangements were lively, full, and put the perfect elegant touches on our ceremony and reception. The ceremony had two large bouquets on either side of our paster and a welcome bouquet. And the reception was adorned with centerpieces for each table - with each vase wrapped in ribbon to match the bridal colors. The gift table and the guest book table each had their own bouquets. And all 7 of my bridesmaids had STUNNING purple and pink flowers, roughly 9 inches across. My bouquet was absolutely breathtaking... at least a foot across, and a perfect blend of our wedding flowers with complementing roses. I cannot say enough for the amazing work Annie and her team did.

I would absolutely recommend her for all of your floral needs! (she has also done birthday arrangements for me as well)

Annie and her team at Floral Sunshine created absolutely stunning bouquets for my wedding this past weekend. The main flowers were white hydrangeas and stargazer lilies. The arrangements were lively, full, and put the perfect elegant touches on our ceremony and reception. The ceremony had two large bouquets on either side of our paster and a welcome bouquet. And the reception was adorned with centerpieces for each table - with each vase wrapped in ribbon to match the bridal colors. The gift table and the guest book table each had their own bouquets. And all 7 of my bridesmaids had STUNNING purple and pink flowers, roughly 9 inches across. My bouquet was absolutely breathtaking... at least a foot across, and a perfect blend of our wedding flowers with complementing roses. I cannot say enough for the amazing work Annie and her team did.

I would absolutely recommend her for all of your floral needs! (she has also done birthday arrangements for me as well)

Joshua

Married on 11/29/2014

When my wife and I were planning our wedding, which would take place in Portland, we were living at the time in Los Angeles. We did not make one trip to Portland until the day before our wedding. Annie at Floral Sunshine was responsive to both our email and phone communication and helped us turn our ideas of colors and flowers into floral arrangements that were beautiful. She emailed us photos of flower, bouquet, and arrangement samples that helped us get a picture of what the flowers would look like on the day of our wedding.

We must admit that we were anxious when the day of our wedding arrived. Our only communication with Annie to this point had been through email and only one or two phone calls. Our first glimpse of Annie's work was on the morning of our wedding when we observed the arrangements in the church and received the boutonnieres and bouquets. These had all been delivered to the church before we arrived, so we still had not met Annie in person. Her work was better than we imagined and we continued to be impressed by her work when we arrived at the reception after the wedding to see the centerpieces she had arranged at the guest tables. They were beautiful!

All in all, we would recommend Annie and Floral Sunshine to everyone and anyone. We never met Annie, but we feel confident that she would be as kind and accommodating in person as she was through our email and phone communication.

Molly

Married on 10/04/2014

Annie was awesome! She met with my-then fiancé and myself months ahead of time at our actual wedding location. She was extremely helpful by giving us wonderful ideas and worked within our budget. The flowers were absolutely beautiful and exactly our style. Annie did a great job and I would recommend her to anyone

Andrea

Married on 09/27/2014

Annie at Floral Sunshine was a pleasure to do business with! She was very responsive and provided us with beautiful flowers on our wedding day! When first meeting with Annie, I showed a few pictures of what we had in mind and everything turned out exactly like what we were looking for. The flowers and centerpieces were gorgeous! Annie also rented us wooden rounds for our centerpieces; these added a great touch to our wedding and it was convenient being able to rent these from our florist and not having to search for them elsewhere! Thanks Annie for helping us make our wedding day so special :)

Andrea

Married on 08/31/2014

Working with Annie was like working with a best friend. She sat with me and helped me bring my vision to reality. We researched together and came up with the perfect look. I ended up with gorgeous table arrangements with peach and white dahlias, roses, and apples to fit my theme! We put them inside long boxes with a vintage apple crate look. Annie delivered them to the venue and was even kind enough to help me tie a bow on my bouquet through the chaos of getting ready. : )) The whole process was flawless and I'm so honored to have worked with Annie and Floral Sunshine!

Shawna

Married on 08/03/2014

We hired Floral Sunshine for our August wedding, and we were SO pleased with the flowers. Annie did an amazing job, with very little input. She took our vague ideas and artistic freedom and created the most beautiful bouquets and corsages. We are still enjoying them 5 days later!

Annie was incredibly easy to work with, and when I asked to add on some more items, it was no problem. Communication was a breeze. She was on time with delivery, and the flowers were in perfect condition. We didn't have to worry about a thing. I would recommend Floral Sunshine to anyone!

Sara

Married on 07/26/2014

Annie at just recently did the flowers for my wedding and they were so gorgeous! I could tell that she really took the time to understand what I wanted and the end results were amazing! My bridal bouquet was huge in the most beautiful and impressive way! She was flexible and knowledgable, and did a very professional job navigating the demands of my very demanding mother-in-law. I would 100% recommend her services. Thanks, Annie!

Nora

Married on 07/12/2014

I hired Annie with Floral Sunshine to do my wedding boutiques... and they were better than I could have ever hoped for. They were stunning. They very closely resembled my dream boutique that I showed her a picture of but Annie's turned out even better.

I ended up also purchasing flowers in bulk for my DIY centerpieces from her, and she gave me a great deal. During the process, Annie was very flexible- meeting me near my work, bringing me example flowers etc. She was also very helpful throughout and gave lots of advice.

In addition to her great work she deserves a lot of credit for the fact that there was some miscommunication about a junior bridesmaid boutique, and when I realized my huge mistake and that we were missing a boutique, Annie just whipped up another beautiful boutique right on site with extra flowers she brought and a few blooms courtesy of the venue gardens.

Also, I had wanted peonies in my boutique but was warned that since they were out of season there were no guarantees... but she managed to get me some peonies :)

Kerri

Married on 07/11/2014

The flowers were beautiful! Annie worked with me to make sure that I was getting exactly what I wanted. She is very, very talented with flowers and can be as creative or classic as you wish. All the bouquets looked beautiful in the pictures! I couldn't have asked for anything more. I felt her prices were very fair and her service fantastic!

Lindsey

Married on 01/12/2014

Professionals! Timely and elegant.
Are you interested?
Send a message