Reviews
4.9 out of 5 rating
Quality of service

4.9 out of 5 rating

Average response time

4.8 out of 5 rating

Professionalism

4.9 out of 5 rating

Value

4.9 out of 5 rating

Flexibility

4.9 out of 5 rating
98%
Recommended by couples
2 User photos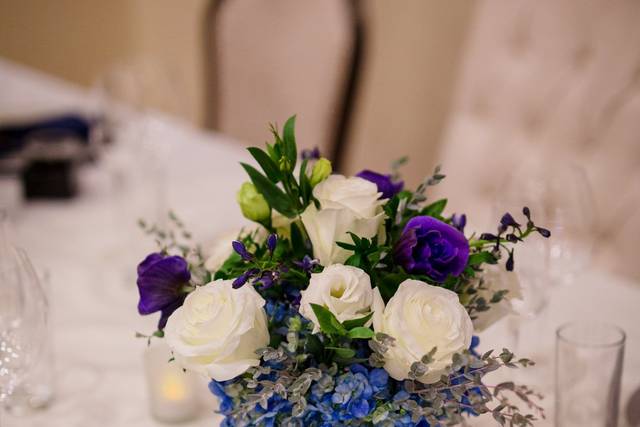 Erin I.

Married on 12/05/2020

Beautiful Flowers!

NONA. IS. THE. BEST.

Floral Design Studio came highly recommended to me by a friend who had a great experience with them with her own wedding. I met with Nona once just prior to the pandemic to discuss my options and vision. Then COVID happened. I communicated with Nona via email throughout the remainder of the process and she was very responsive. Nona was extremely understanding and flexible when I needed to make changes to my floral order due to downsizing our wedding. Nona was so kind and said whatever we needed, she was there to help.

I only showed Nona a few pictures of what I wanted but really didn't give her much direction. I trusted Nona and her talent to work her magic. And she did not disappoint! My bouquet was absolutely stunning, the centerpieces fit well with our color scheme, and the boutonnieres/corsages were all made beautifully. Everyone was very happy with the flowers.

I would definitely recommend Nona and Floral Design Studio for a wedding or any special event and plan to use her services again in the future.

Floral Design Studio's reply:

Thank you so much for the review! Erin. I am glad you were happy with your flowers. It was a hard year for everyone last year, it's amazing a little flowers can bring hope and happiness to us all. Many blessings to you and your new future!
Thank you !
nona

Anagha T.

Married on 10/19/2020

Very Professional and Creative

Nona is a very very sweet and patient lady, she was very quick and responded very well to our needs and constraints. She was very patient with us and in a very short time delivered a very beautiful setup. Her cost is very reasonable. Would definitely hire her in the future and recommend to friend and family

Michelle

Married on 10/27/2019

LOVE!! highly recommended!

Nona is the BEST florist I could've asked for! Flowers at weddings are super important to me - they're the first thing I notice at any wedding. I don't know much about flowers, at all (ie, don't know the names, don't know how much they cost, don't know how to arrange even a basic bunch in a basic vase lol). But Nona made my vision for wedding flowers come to life. And we got SOO many compliments from guests about how beautiful our floral arrangements were! During my first meeting with Nona, I had nothing finalized - I showed her my ideas for my bridal gown, bridesmaids dresses, and groom/groomsmen color ideas. I also showed photos of flowers/colors I liked, along with some examples of arrangements I liked from her yelp page. And we reviewed/finalized all those ideas a couple weeks before the wedding. And that was all Nona worked off of to bring my vision to life. I had no clue what I would see the day of, but the moment I saw the flowers, I was 100% satisfied and so very pleased. I kept admiring the flowers every day for as long as they lasted, and even tried to dry as much as I could to make them "last" longer. Additionally, Nona is flexible. I let her know my budget, and she helped me get as close to my budget as possible by making some changes to the initial proposal she sent (ie, shrank the tall/large centerpieces by 2-4 inches, which was fine with me - they were still huge & larger than average!) THANK YOU NONA for helping me create the most beautiful wedding florals I could've imagined! I highly recommend her & would use her again for any future floral arrangement needs :)

Floral Design Studio's reply:

Thank you So much Michelle for all the kind words. It was pleasure for me and my team to help you on your important day. Really happy that everything met your expectations . Even more appreciate your wonderful review!
Thank you!
nona

Are you interested?

Send a message

Erin

Married on 08/13/2017

We cannot say enough nice things about Nona and the work she did for our wedding. She was such a delight to work with and made the process so easy for us. She completely understood our vision and helped deliver some of the most beautiful floral arrangements I have ever seen. I am NOT a sentimental person but I never want my bouquet to die!! Its so pretty!

Nona worked with us to find the brightest, funkiest, most fun flowers for our bright and fun day and they were gorgeous. Not only that, but she worked with us to keep our budget in check, helping us to figure out which pieces from our ceremony to reuse at the reception. She even STAYED TO MOVE THE PIECES!!! I don't feel like we had to sacrifice anything and we got amazing service!

If we ever have need for floral work again, I know exactly who I am going to call.

Jennifer

Married on 09/10/2016

Nona was our florist for our wedding in September, and we are so happy we went with her! Her flower arrangements were absolutely beautiful - she took our ideas and brought them to life in the most wonderful and vibrant way. She was very accommodating with our schedule, and even though we couldn't give her as much set up time as she wanted, her team did an incredible job working quickly and professionally to put everything together before the start of the ceremony. They also stayed behind to wait until after the ceremony to move the flowers to our reception area just below. Such service! Nona and her team are absolutely amazing - thank you for your beautiful work and for helping making everything transition smoothly on the day of the wedding!

My aunt actually helps out Nona sometimes with floral arranging and so we were referred to her for our wedding, naturally. She has a great eye and sense for colors and flowers and will work closely with you to design something that you love that is within your budget! We had the most gorgeous floral arch centerpiece that also doubled as a centerpiece on our sweetheart table and lovely bouquets for me and my bridesmaids. She is super sweet, has practical sense, and definitely works hard to deliver what your specifications are. I would recommend her to anyone!

Bre

Married on 09/05/2015

Nona is amazing! She listens to all your desires and needs and makes it all come to life. She is full of ideas to make a little go a long way. She will help you save money by using what you have to make the most of it. I cannot expressed how pleased I was with her work at our wedding. She made everything gorgeous and perfect. I highly recommend her. We could have not asked for a better florist!

If you're looking for fun, professional, honest and beautiful floral arrangements... Nona is your gal. I recently got married on 12/31/14 and she designed a beautiful centerpiece for my New Years Eve wedding. White roses were everywhere. The look I was going for was elegant and Nona executed the vision perfectly. I will refer her to any and all future brides. And I hope after reading this review, you're one of them. Love you Nona. Xoxo

Nona is professional, talented, and has the most incredible floral designs. We met Noni at a bridal fair for our venue and knew that she would be our florist. Initially, we had a meeting to discuss the floral arrangement for the wedding and she put together an amazing proposal filled with several discounts and pricing breaks to create a true financial value. On my wedding day, Nona was at the venue early to set-up my beautiful floral centerpieces and returned later clean up/pick-up some rental items we had for our designs. The floral arrangements were gorgeous! When it comes to quality, design, value, and professionalism – choose Nona as your florist.

Sophia

Married on 06/27/2014

I couldn't ask for a better team. The flowers were amazing.. And there was so much detail. If you want unique and detail they are great!

Yumi

Married on 06/01/2014

Each bride has a different focus for her wedding. For me, it's flowers. I've always been a flower lover and enjoyed decorating my home with real and silk flowers. That being said, I was a picky bride when it came to floral arrangements.

Nina not only successfully created the looks that I wanted, but she also way exceeded my expectation. All my guests, event the service staff, were awed by how beautiful the floral arrangement was. Looking back, my husband and I both agreed that going with Nina was an excellent decision was worth every penny.

I simply emailed Nina some pictures I found online; she immediately understood what I wanted. On my wedding day when she delivered my bridal bouquet, I was so happy to see that my bouquet was more beautiful than any of those pictures I emailed to her. She even managed to create the subtle color differences I asked for. The flowers were very fresh too. My wedding was in Berkeley and I lived in LA. I brought my bouquet two days after my wedding all the way back to LA. They lasted over another week.

My wedding was a small, intimate family get-together. I used a 22-foot long banquet table and asked Nina for a lush, modern look centerpiece with mostly roses and lots of candles. Nina worked around my budget and created a truly stunning work. People stopped at our banquet room and discussed how gorgeous the table setting was. Nina even decorated my wedding cake and several other small tables in the room as a gift for me!

Nina is a real expert of flowers; she is very knowledgeable about different types of flowers and their seasons, colors, and shapes. She also patiently explained these differences to me when I had questions. She found "base flowers" for me with which I could achieve the lush looks I wanted but stay within my budget.

I would recommend Nina to my friends. If I have any future events in Bay Area, I know who I will go with.

Joya

Married on 08/03/2013

Nona was beyond anything I could have wanted. She is a visionary and has a natural talent for creating beautiful arrangements and designs. She created a gorgeous altar with a floating ring of flowers with hanging bubbles and a flower chandelier. It was absolutely breath-taking and she took my ideas and incorporated everything to match what my husband and I wanted. She's the best!!!

Nona did a wonderful job with the flowers for our wedding reception. I loved the beautiful arrangements of calla lilies and cymbidiums. When we met with her many months ago, she listened to exactly what we wanted and she delivered beyond our expectations.

We originally decided to go with Floral Design Studio because she was recommended by someone whose style and taste I trusted. I was apprehensive at first about going outside of SF for our flowers since our wedding was going to be in the city. Floral Design Studio delivered on time and even with the delivery charge, they were a much better deal than any of the recommended flower designers we called in SF that were of the same quality. We definitely recommend Nona at Floral Design Studio!

Nona is amazing! Wonderful floral arrangement. I love my bouquet, and it is exactly what I was dreamed of. Love it!

Andrew

Married on 07/07/2012

My wife and I had our wedding back in July of this year and Floral Design Studio was our florist of choice. Working with Nona was a blast and the final arrangements was astonishing. I'm not a "flower" person myself but I found our flowers pretty amazing. The price was reasonable for the package we got and on the day-of the wedding, everything was executed flawlessly.

I got nothing else to say except to be friendly to her dog when you step in her office. Cute little pants nibbler.. :)

Andy

Married on 06/22/2012

Nona was a blast to work with. We weren't sure the specific types of flowers we want, and Nona made great suggestions for us. She was able to get a sense of the kind of wedding we wanted by just talking to us, and the flowers were above our expectations when we finally got to see it the day of.

Nona's been in the business for awhile, so she knows what she's doing. If you want pretty flowers for your wedding, Nona's the way to go!

Kelly

Married on 12/10/2011

Nona provided the flowers for our wedding. She came highly recommended by a co-worker. Nona was easy to work with, reasonably priced and really knows her flowers. She never tried to oversell us and even gave suggestions when I said that my mother wanted to do the centerpieces. I know next to nothing about flowers, so it was great that she had suggestions and was willing to work around flowers that make me sneeze! I would highly recommend her!

Sandy

Married on 12/02/2011

Nona's floral creations are true works of art and will add style and class to any venue! Her designs are a reflection of her knowledge and love of her medium. She runs her business with as much precision and professionalism as she does her design work!

Amarissa

Married on 11/19/2011

Nona and her associates were a pleasure to work with. They were very flexible concerning what we could do with my budget. I know almost nothing about flowers, so it was really nice that I was able to just give some color suggestions to Nona and she would tell me what kind of flowers we could use and even pulled up pictures of the flowers I wasn't familiar with. The only area that I wasn't completely, 100% satisfied with- was that the centerpieces were not quite as full as I imagined they would be. But they were still lovely, and they were complimented by my guests.

Brenda

Married on 11/12/2011

Nona was easy to talk to and very creative. Within 5 minutes of meeting her I knew she was going to be my florist. I wanted seasonal flowers, to use flowers that are native to CA, to have something really nice within my budget. She listened to me and gave me wonderful suggestions that formed the proposal. The flowers she delivered exceeded our vision, our budget & fit perfectly with our Christian-Hindu style wedding. I highly recommend her work.

Jenna

Married on 11/05/2011

Nona at Floral Design Studio made me wedding what it is. From our first meeting till the wedding, she was always available, always in a positive mood, and always with great ideas. She saw my vision I wanted to create and executed it above and beyond my expectations. Now, two months later and people are still commenting on how amazing my flowers were.

Not only the flowers, but Nona generously rented us some other items out of her shop that we needed last minute and threw in some bling around the vases we saw. She is so easy going and is truly there for the bride and the family. When she came back after the wedding was over at 11:30pm, she not only got her things together, but helped my mom clean up and even washed out our Champagne flutes. I couldn't imagine a better florist and so happy we found Floral Design Studio. I hope to work with Nona again for something.

Wendy

Married on 10/16/2011

Nona, you are the best!! Everyone was surprised about flower arrangements at my wedding!! Thank you so much!

Natasha

Married on 10/02/2011

Nona did an amazing time. I recommend her to ALL my friends!!

Kay

Married on 09/17/2011

Nona, she's great! When I first visited her studio she asked me "What do I like" my answer was "I have no idea" hahaha... she immediately took out few books and show me what she can do for me. Of course, she also checked with my on how many tables, guest and my budget so she can work within my budget.
On the day of my wedding, Nona and her team came early to drop off all the flowers and ready for set-up. Overall, I'm very satisfied with her service and I will definitely introduce her to my next girlfriend who is getting married.
Thank you Nona and your team!

Kay

Shelly

Married on 08/20/2011

Nona Tai is amazing! Don't even bother looking anywhere else. Nona is by far the most talented, professional and affordable choice. She was so easy and pleasant to work with. I loved the work that she did for my August Sonoma wedding. She understood exactly what we wanted and was able to deliver above and beyond what we expected. I would recommend her to anyone who is looking for a wedding florist. I can't thank Nona enough for making my wedding day so beautiful.

Are you interested?
Send a message