21 Reviews
Recommended by 100% of couples
Quality of service

5 out of 5 rating

Average response time

5 out of 5 rating

Professionalism

5 out of 5 rating

Value

5 out of 5 rating

Flexibility

5 out of 5 rating
Awards
1 User photo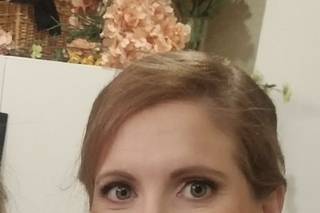 Diana

Married on 03/24/2018

Alicia and Bekah were truly AMAZING from beginning to end. All of my bridesmaids (5) were happy with the make-up and hairdo results. My mom and grandma felt beautiful and were so pleased with the end results. I'm not one that wears a lot of makeup regularly but I'm very picky with my hair - both Alicia and Bekah catered to all of my needs and concerns and made sure I felt the most beautiful bride. I received compliments all night about my hair and makeup. Make-Up lasted us until 4am! (yes, we partied ALL NIGHT LONG). There were many tears during ceremony and my makeup looked perfect the entire time. Alicia & Bekah THANK YOU for making all of us feel beautiful on my favorite day. For all the brides out there - BOOK flawlessfacesbyalicia NOW. You will not regret it! Worth every penny. Their service is superb - they arrived early and worked through all 8 of us with ease. From consultation to wedding day, you will have peace of mind that you will obtain the look you want for your big day. Book them now!! :)

Starr

Married on 02/23/2018

I had the pleasure of having Alicia take care of my look for both the wedding and for my engagement photos. Both looks came out fantastic and the husband was very delighted! Alicia is BEYOND sweet, and will accommodate any requests you have. She arrived ahead of time to prepare for the wedding look and had no problem meeting me where the bridal party and I were getting ready. Everyone was thrilled with their looks and the makeup stayed perfect all day! The husband and I highly recommend!

Lori

Married on 01/13/2018

Not only were the girls on time, the were so much fun to be around. They did Bride only hair/makeup on me and I looked like a princess. everyone told me how stunning I looked. The makeup was lightweight. I didn't feel like I was wearing it at all. my hair stayed in place without a ton of hairspray. I didn't feel weighted down. I am definitely going to hire them again, whether its for maternity photos or just because I want to feel like a freaking princess again. hands down the best choice I made when it came to picking my artists.

Are you interested?

Send a message

Kimberly

Married on 03/11/2017

Alicia's makeup was STUNNING, my bridesmaids absolutely loved their makeup! Her airbrush makeup for me and my wedding party was beautiful, and looked very natural, both in pictures and in person. I have acne scars and she made them disappear without making my face look caked with foundation. I highly recommend Alicia if you are looking for makeup services!!


Ashley

Married on 03/04/2017

Alicia and her team did the makeup and hair for me, my mom, and all 6 of my bridesmaids on my wedding day. I loved my trial session and knew they would be flawless, day of, and they totally were! Every girl came with an idea of their hair and makeup goals, and they each turned out completely gorgeous! I appreciated their ability to set a timeframe and how precise they were in keeping to the timeline. Yet, if anyone needed a touch up, they were happy to help! I will definitely recommend Flawless Faces to all my friends!

Kate

Married on 01/08/2017

Alicia and her team delivered amazing results for our big day. We had myself and four bridesmaids. We had an early start and they got through us quickly but didn't miss a beat when it came to perfection. The girls' hair was lovely and their makeup stunning! We were all so impressed. Choosing them is a must!

Maria

Married on 10/29/2016

Alicia was amazing! She was very professional and made me look like a princess. My make up looked on point the entire day. She also did the make up for my mom and my mother in law and they also looked amazing. I would recommend a 100%.

Emily

Married on 12/12/2015

I'm not even sure where to begin to thank the Flawless Faces team. I first met Alicia when her team did my hair and makeup for my best friend's wedding and I knew that no matter when/where I got married, I would have to have their team on board! Alicia was so easy to work with from the minute I set up my consultation to the minute she put the finishing touches on my lip gloss right before walking down the aisle. Her and Becca were so receptive to my vision during my consultation and helped create a look better than I could have ever DREAMED! Becca went above and beyond to create an updo that was classic, but unique. Both were more than willing to travel for my destination wedding. They arrived early in the bridal salon the day of and got to work immediately. They were so professional and worked well with every single one of my bridesmaids, my mother, grandmothers, mother in law, and even my four year old flower girl! They kept the flow of the day going and helped all of my "wedding day jitters" disappear. They truly made everyone look flawless and after receiving our pictures back, I was just speechless... They are the most talented team I know and I would highly recommend Flawless Faces by Alicia to anyone. You will be thankful you did!

The team at Flawless Faces by Alicia were amazing! From start to finish they were prompt and warm, and they had us all looking great. They were very accommodating in providing each person with the look they wanted--from a more natural to a more dramatic look. I am so pleased with the outcome. I have never felt more beautiful!

Maren

Married on 10/17/2015

Ali from Flawless Faces by Alicia did my hair and makeup for my wedding along with my entire bridal party. I had two trial runs for my hair leading up to my wedding because I could not clearly decide on my vision. Ali and Alicia were very patient and helpful during the trial runs. They were flexible with my schedule and very dedicated to making my hair look perfect on my wedding day. I even changed the idea for my hair a third time on my actual wedding day and Ali absolutely nailed the look and made my hair look stunning. It truly was flawless. I had SO many compliments on my hair during my wedding. And the makeup was to die for as well. I felt so beautiful during my wedding and I truly owe it to Flawless Faces for this! Ali was also very punctual on the wedding day and stayed on schedule thought the whole day. I am so happy with our hair and makeup services and would highly recommend this company to future brides!

Joey

Married on 05/16/2015

Alicia and Rebekah with Flawless Faces by Alicia are the most amazing beauty team out there! After a disaster experience with another hair and makeup company in the area, Alicia came to my rescue (2 weeks before my wedding!). From the very beginning, I was truly at ease with them, knowing I was in the best of hands. They discussed my vision and concerns with me prior to my trial and offered suggestions based on their expert knowledge and experience. They will not only make sure you look absolutely gorgeous on your wedding day but they will ensure that you feel your best as well. They are so confident and at ease while working with you that you are able to relax and enjoy your wedding preparations. If you want a stress-free, amazing hair and makeup experience for your wedding, look no further! Flawless Faces by Alicia is all you could want and more.

Bethany

Married on 05/02/2015

Finding the perfect hair and makeup team for my wedding was difficult to say the least. I really wanted someone that made me look natural… and well flawless. We had an outdoor wedding so I also needed the hair and makeup to last all day. Alicia was so easy to work with! As soon as I contacted her, I felt like she had me. She made me feel confident and at ease. To be honest, after the first consultation, I wasn't 100% sure about the makeup. I don't normally wear a ton of makeup and I wanted to look like myself. Alicia had me come back and after the second visit, I felt a million times better. She did my makeup so I looked like myself, but prettier!
The day of, my hair and makeup looked better than it ever had before. I started crying when I saw myself in the mirror! My bridesmaids and moms were also super happy with their hair and makeup. Since the ceremony was outside, I asked my hair professional, Bekah, to stay till the ceremony with us. She retouched everyone after moving to the venue and bridal pictures. I am so happy I did this.
Looking back, one of my favorite parts of the day was hanging out in the hotel room with all my girls getting ready. It was so much fun and a great way to start the best day ever!
Not only did my hair and makeup look amazing, but Alicia and Bekah were so fun to work with! Once I started getting my makeup done, I honestly started to get a little shaky and feel overwhelmed. Alicia told me stories about her wedding and made me feel so at ease. Later, everyone went to line up and I had a few minutes alone before my dad got to the room. Bekah stayed with me and talked to me and kept me calm. So, not only were they my hair and makeup team but they kept me calm throughout the day. The last thing you want to do before walking down the aisle is get super emotional!
I can't thank Alicia and Bekah enough. They were absolutely amazing. I felt so pretty on my wedding day thanks to them! I highly recommend booking them!!!


Diana

Married on 03/14/2015

Alicia's team did a wonderful job come my wedding day. The girls were on time and very professional. Both hair Stylist and makeup artist listened to each of my bridesmaids to make sure everyone was happy with the way they looked. I was very pleased with the outcome of my hair and makeup and it lasted throughout the night despite dancing the night away hah! They were also very organized and were actually ahead of schedule, resulting in am very stress free morning. I would deft recommend!!

Ashley

Married on 11/23/2014

Seriously you have to have them on your wedding day!!! After I went for my trial with Alicia and Rebekah I knew I had found the right ladies to do my hair and make up for my wedding day! After the trail Alicia was great with getting all the details of who was getting what in the party and made me feel very at ease about everyone getting done on time, even when we couldn't get in the bridal suite until a later time she brought in an extra hand for hair. All my bridesmaids and moms hair and makeup looked amazing. Alicia makes you look flawless and like a movie star!!! Alicia and Rebekah were both super calming and fun to be with while getting ready! Even on a day that was about 100% humidity most of my makeup was still on by the end of the night after tonssss of dancing!!! I am so glad I can look back on my pictures and be happy with my hair and makeup and know I felt and looked beautiful. Everyone at the wedding and people I have shown pictures too always compliment me on the make up and hair!! The day would not have been the same without Alicia and Rebekah of Flawless Faces by Alicia!! Thank you so much for making my day even more special!!!

Melissa

Married on 10/09/2014

I selected Flawless Faces by Alicia after finding them on The Knot. I went for my trial and knew that I found my team for my big day! Alicia and Rebecca were awesome and made my five bridesmaids, a flower girl, my mother and myself (the bride) look flawless for the wedding. The name of their company definitely speaks for itself. We went with the airbrush make up and it was awesome. Our hair and make up lasted so well even on a hot evening in October! They were so down to earth and were fun to talk to while getting ready for the big day which definitely helps keep a brides mind preoccupied :)

Laura

Married on 05/03/2014

Alicia and Brittany from Flawless Faces by Alicia did an amazing job on hair and makeup for myself and my bridal party on the day of my wedding. They both were accommodating and flexible to each of our individual needs while being efficient at completing their services. Their punctuality made the entire process stay on time. They were a great team and their beautiful work shows in our pictures. It was so much fun being pampered by these two on my wedding day. They made the entire process enjoyable and relaxing. I would recommend them for anyone who is needing hair or makeup services in the future.

Steven

Married on 01/04/2014

Alica and her team are amazing! She kept in contact with me regularly prior to the wedding and showed up early to set up on the day of. They work on location and it is so convenient to have all the hair and makeup for the bridal party done in one place. I had looked over pictures and pictures of makeup and hair people for my wedding and Alicia's brides always looked beautiful. I had hair and airbrush makeup done for a very reasonable price and my bridesmaids and mother did as well. They turned out amazing! Alicia knows how to bring out the natural beauty in everyone. The pictures look perfect! Everyone looked flawless! In addition, Alicia is super fun and nice. She was a pleasure to work with. If you have an idea on how your hair and makeup should look, they will make it happen. I give them 5 stars and will definitely be recommending them to all of my friends and family!!!!

Nicole

Married on 10/19/2013

Flawless Faces by Alicia created a beautiful look for my wedding day for myself, three bridesmaids, the MOB & MOG! From the moment Sarah arrived, on time, until I headed to ceremony she was there to make our look perfect and keep us looking fresh!

Since our wedding was in Florida in October it was still very warm, therefore Alicia recommended we stick with airbrush as we requested. I received numerous compliments on how perfect my make up looked from the moment I walked down the aisle (at 5:30pm) until the moment we departed (at 11pm)! I never had to touch-up my make up from the time Sarah was complete!

I would recommend Flawless Faces by Alicia to any bride getting married and wanted their make up done professionally! Alicia has a great staff and working with both Alicia and Sarah was a perfect experience!

Lindsey

Married on 04/06/2013

I can't say enough about how fabulous Alicia was with everything! She listens so well to what you want and does it to perfection! My wedding theme was soft and romantic and my makeup matched perfectly. She is wonderful! Definitely recommend!!!

Crystal

Married on 03/23/2013

Alicia came to my house along with her assistant hair stylist Brittney and did hair and makeup for myself, my maid of honor and my mother. When my other sister showed up as a suprise, she worked with me on the spot on the day of my wedding to have her hair done as well!! I really wanted everyone to look their best and Alicia and Brittney delivered!!! I loved that I could have my hair and makeup done by the same company, for one price, and have it done in my own home instead of having to drive to a salon on my wedding day. True proffesionals, they made the morning memorable with my family. HIGHLY recommended!!!

Katelyn

Married on 12/15/2012

Alicia was wonderful!! Such a talented makeup artist. She was very punctual and professional and so sweet. She really listened to each of my girls, mom, mother in law and myself to make sure she gave us exactly what we wanted and also made sure we were 100% satisfied with our look before putting the brushes down. She uses great quality make up and really knows her stuff!! :)

Loved her! Highly recommend!
Are you interested?
Send a message