20 Reviews
Recommended by 100% of couples
Quality of service

5 out of 5 rating

Average response time

5 out of 5 rating

Professionalism

5 out of 5 rating

Value

5 out of 5 rating

Flexibility

5 out of 5 rating
Awards
4 User photos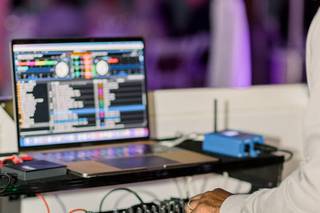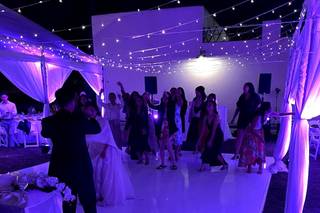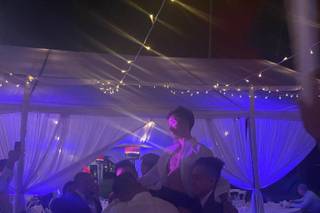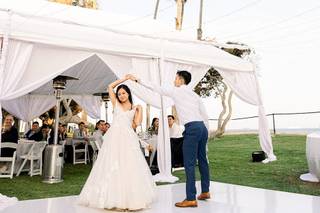 Erica A.

Married on 09/25/2021

DJ Ace'd It!

DJ Ace and Tisha were so wonderful and easy to work with. We had selected the package with DJ/AV/MC services, up-lighting and photobooth. Tisha was the main POC for the logistics and helped me customize my photobooth template rather than buying one off of Etsy. The Flassless Entertainment portal was so convenient as I was able to link my Spotify and select which exact songs and playlists I wanted. Such a smart thing! As for day of, DJ Ace got the party pumping and fulfilled my requirement of getting the old Asian parents on the dance floor! Overall, great value, fantastic communication and ease of service. Highly recommend!

Cailey L.

Married on 07/10/2021

Corporate events are meant to be fun too

I'm sure DJ Ace is great at weddings as he was certainly flawless at our corporate event. You will be sure to have a fantastic event experience with him mixing your tunes. Reach out to DJ Ace and fun times will soon ensue.

Amanda S.

Married on 10/18/2019

Flawless Entertainment DJ's

I hired them for my wedding they were professional communication was instant and they definitely know every genre. The online VIP function made making payments orderly and helped me stay organized.

Are you interested?

Send a message

Candice

Married on 07/11/2019

Fun Party Atmosphere

DJ Ace was incredible! Everyone at our wedding had such a great time and that is because DJ Ace knew exactly what to play and when to play it. He kept everyone on the dance floor the whole night which we loved and was really important to us. Not only was he an amazing DJ but he was also a great MC for the night! So interactive and had a good time with everyone. He is so kind, energetic, and just a great all around guy! You can not go wrong with DJ Ace, we can promise you that!

Kerem

Married on 11/05/2017

I photographed a wedding at El Dorado Golf Course in November 2017 and DJ Ace was the MC and DJ during the reception.

As a wedding photographer I have the opportunity to work with many different vendors. Some of them are great, some lack in certain areas and while I cannot address any of those individuals relation with the client before and after the events, I do have a strong opinion of the individuals I work with in terms of professionalism and performance.

When a DJ is a "classic wedding DJ", spinning all the tired songs from the now cliché wedding repertoire, the night can become very long for me.

On the other hand, I enjoy the work of DJs who do their homework and find out what the couple and their entourage enjoy in terms of music. I appreciate DJs who are truly masters of their craft , ie. smooth and seamless transitions, consistency of "sets" where they would not abruptly jump from hip-hop to house to country etc.

DJ Ace was absolutely amazing. He started with some R&B and loungy chill electronic tracks during dinner, then he took the guests into a musical world tour where he played sets of cumbia, salsa, house and those classic wedding songs. When you provide an eclectic mix of music, you make sure everyone enjoys it!

In addition, his MC skills were absolutely top shelf! He was humorous, he kept things going and when he got back behind the decks, his ability of reading the crowd and modify the music accordingly was also remarkable.

It is obvious from his workflow and all the reviews I see here that DJ Ace's professionalism, humor and warm personality topped with his performance make him a sought after wedding and event entertainer.

If I decide to renew my wows with my wife in a big fashion, Ace will be the man DJing that event!

Sarah

Married on 09/30/2017

We had DJ Ace DJ for our wedding in September 2017. Working with him and Tisha was great. They were both so responsive and friendly.
From the begining Dj Ace and Tisha were straightforward and clear, they offered the best quote for what we were looking for, and didn't try to upsell like a lot of the other companies I got quotes from.
I was so greatful when they helped make versions of all our dances to practice to before the wedding and my Husband and I really liked their online portal where we could upload all the details of our wedding.
DJ Ace did a fantastic job at the wedding, he played the perfect dinner music and had everyone up and Dancing during the reception! We loved the photo booth we added on to our packet. Our night was a great sucess thanks to DJ Ace and Tisha! Thank you!

Morgan

Married on 07/16/2016

Hiring Flawless Entertainment was the best money I've ever spent. DJ Ace made our wedding absolutely fantastic. He had so much energy and our guests were on the dance floor all night long. Arcell and Tisha are so easy to work with and extremely patient and professional. If you are looking for a good time, Flawless Entertainment is the place to go.

Cristy

Married on 06/05/2016

OMG...DJ ACE was absolutely PERFECT!! Great job keeping the party going. So professional, yet fun! My husband and I couldn't be any happier in his work!! THANK YOU FOR MAKING OUR DAY PERFECT!!

Anna C.

Married on 09/07/2015

We could not have selected a better DJ for our wedding. DJ Ace had all of our guests on the dance floor all night. Our guest list was very eclectic, so keeping everyone up was a feat in itself. Our guests ranged from 3-88 and came from all over the globe, California, Arkansas, Canada and the Philippines. It was a party. He did a good job of blending our taste in music and putting his own spin on it to entertain our entire group. What was most impressive to us, even more so than his skills as a DJ, was how personable, down to earth, accessible and how much he genuinely cared about spinning us an epic night. DJ Ace is a good dude. I would undoubtedly recommend him for any occasion where you need a DJ. This definitely will not be the last time I hire him.

Vanessa

Married on 01/17/2015

*Disclaimer* So initially we booked DJ Ace for our wedding but an emergency came up 2 days before the wedding and he ended up not being our DJ. HOWEVER, DJ Ace was able to find out one of his colleagues Dj Joe to be our wedding DJ and he an amazing job!!

Although I didn't get to see DJ Ace perform at our wedding, I can tell you that he would be awesome and working with him is like a bride's dream! From my first email, DJ Ace & Tisha were pleasant to talk to and always returned my emails in a timely manner. And I bugged them a lot! We were blown away with his prices as well and he's flexible if you are on a very tight budget like we were. From the first time my husband and I met DJ Ace we knew we found our DJ. We got along very well and we could tell he would really make our wedding great! His website is also super convenient if you are like me and need to do everything online because you don't have a lot of free time outside of work and get back super late at night. You can choose all your music on his website for each part of your wedding and he even has the top 50 songs couples choose for popular wedding events like the first dance, entrance songs, father-bride dance, etc. I wish we could have had Dj Ace at our wedding but I really appreciate everything he did for us and I'm sure he would have done an amazing job. I'll definitely keep him in mind for any other big events we have in the future and would recommend him to anyone else looking for a Dj!

Manuela

Married on 11/01/2014

Very professional! Great communication and service. I used this service for MC and DJ at my wedding. DJ Ace did a wonderful job at my wedding. He played a variety of music from various genres, as requested. He kept the dance floor going all night. Also has an awesome website for clients to use to prepare all details for their event. Very accommodating and super nice. Will definitely use again and refer. Thank you for keeping the party Alive!

Jammielle S.

Married on 07/20/2014

DJ Ace is the best DJ in the world !!!!!!!!!!!( my opinion). He played all the jams for my wedding for the young and the old. My family and friends party so much they legs were hurting the next day. I will be definitely book him for my kids birthday parties and the family Christmas party...oh yeah his wife Tish is all about the business, she stays on top of things...great people, great business....

Kate

Married on 06/21/2014

The one responsibility that I left for my husband-to-be was to find the entertainment for our wedding on 06/21/14...and he nailed it! I'm not going to lie, I was a little nervous about it, but let me just say DJ Ace was AMAZING!!! Not only was DJ Ace professional, he was able to work within our wedding budget at a reasonable price. He was fantastic and kept our whole reception on the dance floor all night. We had a rather small and intimate wedding (total of around 60 people) and he was able to keep the whole night going strong. We had a blast and couldn't have found a better wedding DJ.

I also would like to give kudos to Tisha for helping get everything set up. She was in frequent contact with us asking vital questions in order to make sure our day would run seamlessly. Everything from the ceremony to the reception was utterly "flawless"...DJ Ace and Tisha make a great team and I would highly recommend using Flawless Entertainment DJs for anyone's wedding or other big special event!

DJ Ace even left a lasting impression on our guests as well...we just went on a Hornblower Dinner cruise on Friday night (07/11/14) and the DJ during the duration of the event was awful. My new family all said, "they need DJ Ace here to get this party started!" I was so happy that everyone at our wedding enjoyed him as much as we did!

Thanks DJ Ace for making our special day so much fun!

Kevin

Married on 05/25/2014

Professional, fun, and EXTREMELY helpful. DJ Ace is all of these and more. His service extended to just beyond our wedding day. I asked him to create a mix for our first dance song, and he sent me two options within a day. When I asked for a shortened version, he replied with more versions. A couple days before the wedding, I realized that the processional song would be too short. DJ Ace sent me a looped version of the song and that turned out great. He arranged every special request that we had regarding music and setup, and everything turned out flawless.

On the day of the wedding, he got the the venue earlier than he said he would to make sure everything was perfect. He provided the speaker system for the ceremony, and that was very smooth. For the reception, my wife and I were amazed at how great the room looked with the uplighting. DJ Ace was able to match our wedding colors with his uplighting and it made for a beautiful night. We were not very picky with the music we chose, so we left it up to the discretion of DJ Ace. He played great and appropriate music all night, and the dance floor was never empty once the party got started.

We are extremely satisfied with DJ Ace, and we would recommend him to anyone looking for a professional and affordable DJ for their wedding or other special event. Thanks DJ Ace!

Mary

Married on 05/17/2014

DJ Ace was AWESOME! He DJed our wedding and had everybody on the dance floor all night long. He had a smile on his face the whole time and was so, so easy to work with. I gave him a list of songs I wanted him to play and he played them all. So many of our guests came up to me during the reception and said how great our DJ was. At the end of the night everyone on the dance floor was chanting "DJ ACE! DJ ACE!" It was amazing. He is the best. Highly recommended and affordable. You get a BARGAIN with DJ Ace and Flawless Entertainment. The name fits.....DJ Ace was flawless.

Jennifer

Married on 08/07/2011

DJ ACE is the best DJ in LONG BEACH, and hands down the best DJ we have ever had. He provided exceptional up-lighting for our event and a beautiful gobo! He has great personality for an MC, and he really knows how to get a crowd dancing. We would hire DJ ace again for another event. Thanks DJ ACE;)

Tito

Married on 07/24/2011

DJ Ace was an Amazing DJ/MC! He did our lighting and GOBO which was beautiful! But what we like the most about this DJ was that we gave him our Music Gene res that we preferred and he knew exactly what to play. We did not have to go off some checklists. This DJ is flexible and has personality to get a crowd dancing and having a good time. Many of our family and friends gave us great compliments on our choice of DJ.

Elizabeth

Married on 07/17/2010

WoW!!! I had a wonderful dj. my major request was that he be play a wide variety of music... seeing as though my husband is black and I am mexican. I must say he had everyone happy. we didnt have alcohol at my wedding so i can say that my guest didnt have an ounce of liquid courage to help them get on the dance floor,the only way to get them out there was by playing the good sh**... and that he did. =) My wedding wouldnt of been as wonderful as it was with out him. Thanks Ace!

Tisha

Married on 05/26/2010

This is Definitely as good as it gets ...Flawless Entertainment DJs (DJ Ace) did a magnificent job on my wedding. His was well organized and prompt. There was absolutely no reason on me stressing, if the DJ was going to show up on time. As a bride I was worrying about every detail. He is the BEST dj I have ever hired. He played a wide variety of music that satisfied my Hispanic grandmother as well as my cousins. He has a great voice for presenting my husband and me as we walked in the reception room. I was so amazed when I saw the lighting set up. It was exactly the way I imagined it. He was well worth the money & the only company I will ever use for my future events!
Thank You for making my special day memorable!!!


Cindy

Married on 05/08/2010

Flawless Entertainment DJs were actually flawless! Dj Ace was very professional, and dressed REALLY nice! He paid attention to every detail and performed excellent. He kept my guest dancing all night. Just when I though things couldn't get better he began playing games and giving out prizes to my guest!!! An awesome wedding DJ and highly recommended.
Are you interested?
Send a message