65 Reviews
Recommended by 100% of couples
Quality of service

5 out of 5 rating

Average response time

5 out of 5 rating

Professionalism

5 out of 5 rating

Value

5 out of 5 rating

Flexibility

5 out of 5 rating
142 User photos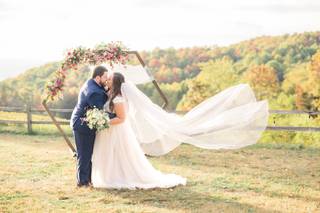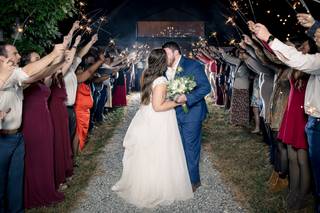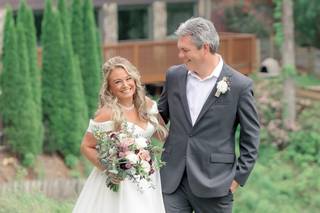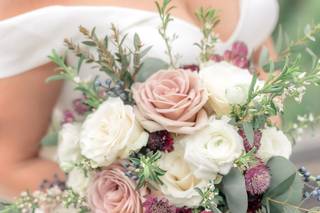 + 138

photos
Tea

Getting married on 10/10/2024

absolutely worth it!

Jessica is absolutely fantastic! She is prepared for everything and is so organized and professional. She makes you feel so comfortable and important. She prioritizes your wishes and makes it happen. She is more than worth every penny sent and I'm so happy we found her! Our pictures are so beautiful and I know we'll cherish them forever! Thanks Jess!

Heather M.

Married on 04/29/2023

Amazing experience & Stunning photographs!

If you're looking for a photographer for your wedding, look no further than Jessica at Five Fourteen Photography. She is truly exceptional in her craft, and her passion for capturing the most beautiful moments of your special day shines through in every photo.

Jessica's professionalism and attention to detail are unmatched. She takes the time to understand your vision and creates a plan to ensure that every aspect of your wedding photography is perfect. Her ability to work with you and your wedding party puts everyone at ease, making the process of capturing your special day an enjoyable experience.

One of the standout qualities of Jessica's work is her ability to capture the emotion and essence of your wedding day. She has a talent for seeing the perfect shot and capturing moments that will make your heart skip a beat every time you look back at your photos. From the joy of your wedding party to the intimate moments between you and your partner, Jessica captures it all in stunning detail.

In addition to her photography skills, Jessica is also incredibly organized and efficient. She knows how to manage a timeline and work seamlessly with other vendors, ensuring that everything runs smoothly and on schedule. This allows you to relax and enjoy your wedding day, knowing that your photography is in the best possible hands.

Overall, I cannot recommend Jessica at Five Fourteen Photography enough. Her exceptional talent, professionalism, and passion for her craft make her an excellent choice for your wedding photography needs. Book her today and you will not be disappointed!


Sara S.

Married on 04/09/2022

Beyond Amazing!

I wish I could put into words how incredible of a job Jess did on our wedding day. She is so much more than a photographer, and she truly captured every special moment. Even though it ended up being windy and colder than we expected on our day, Jess made sure we had everything we needed and ensured it went smoothly. She always had a back up plan, and made sure we were able to simply enjoy our time getting married. If you are debating hiring her as a photographer, I would 110% recommend her for any occasion. Jess is the best!!!

Are you interested?

Send a message

Allison K.

Married on 03/26/2022

Best Photographer EVER

Five Fourteen was the best choice we made for our wedding. We love every single picture they captured. Our album and engagement session was included so we had everything taken care of upfront!

Jessica wasn't just a photographer that day. She helped us stay organized, calm, and in the moment. Working with her was easy. Our families and bridal party have also bragged about her and the photos. We can recommend them enough. We're incredibly grateful for all of their hard work!

+ 3

photos

Matthew D.

Married on 01/09/2022

Truly fantastic! Best decision we made.

Jessica was our fearless leader and voice of reason! She consulted us the whole way up to our wedding day in September 2020, asked all the right questions, coordinated with our other vendors, gave us a minute-by-minute agenda, and was always available when we needed her.

The pre-planning was nice but the day of coordination and direction she gave is truly where the value is. She eliminated all the stress of not knowing where to be - she led us through the entire wedding, kept everything on track, and captured every moment perfectly.

Not only that, but she made a great impression on everyone she came across. Our family and friends are still raving about her professionalism and are in awe of the photos she took.

I would 100% recommend her to friends and family. If you need an unofficial planner and immensely talented photographer, hire Jess!



Emily W.

Married on 12/11/2021

The Absolute Best!!

Jess is the best!! She made our day amazing and stress free. She is super organized , professional, and the absolute sweetest person to work with. She even sent us little gifts throughout our engagement which was super thoughtful! We loved working with her ! Our engagement and wedding photos are something we will cherish forever and they both tuned out amazing!

Trinity P.

Married on 10/23/2021

Ahhhhh-mazing!

Jessica made our day just perfect. She was so easy to work with, made sure everything ran smoothly, and catered to every detail we had imagined!! I couldn't have asked for anything more!!

Emily H.

Married on 10/15/2021

Amazing! Five fourteen far exceeds all expectations!

Jess made our wedding day truly stress free. She knows what she is doing! Not only did I not have to worry about her capturing the best photos, but I also knew she would take care of any issue that came up on our wedding day. When she says she is there to serve you beyond taking photos she truly means it. I did not worry for a second on our wedding day. She also captured the most gorgeous photos, while making everyone feel comfortable in front of the camera. She goes above and beyond in every way and genuinely cares for her clients.

She is worth every dollar and MORE! I cant say enough!

Brian R.

Married on 09/26/2021

Best photographer ever

We can not begin to say how happy we are with Jessica and Five Fourteen Photography. I'm addition to taking the most breathtaking photos, Jess helped us through our wedding. She was there for us every step of the way. Truly above and beyond. She was instrumental in making our wedding the most special day of our lives. She provided much needed advice and help through the entire event. I can honestly say that I do not think we could have done it without her. The photos in our gallery are incredible. Ten out of ten. She is incredibly talented. If you want the best wedding photographer, Jessica at Five Fourteen photographs is a no brainer.

Emily H.

Married on 09/25/2021

Best. Photographer. Ever!

I was initially drawn to Jessica's work based on her beautiful bright and airy style of photography. After our first phone call, I knew she was the right choice. I asked how she handled camera shy folks and she gave me insight into some of her favorite tips and tricks, and sure enough when me and my guy met her for our engagement session, she had us laughing and smiling the whole time; it felt like hanging out with a friend.

Beyond her ability to take a killer photo (and seriously, our wedding portraits looked like they were straight out of a bridal magazine, the woman is a magician!), we were so impressed with the way Jess went above and beyond for her clients. From fun little gifts she sent, to helping us find a vendor who would create an ice cream wedding cake (which came out stunning and delicious and Jess has the pics to prove it!) she went the extra mile and then some and we couldn't have been happier.

If you are looking for a gifted, kind, fun-loving photographer who will put you at ease on your special day, look no further.

Rachel J.

Married on 08/22/2021

Beautiful work, joyful presence!


Jessica was an absolute dream to work with and captured our wedding beautifully. After our initial call we knew she was the right photographer for our special day. She shared on that call that she felt inspired to bring joy to the couples that she works with and in our experience she delivers on that in spades! Our engagement session was a fun way to get to know Jess, and to get comfortable together in front of the camera. We were blown away by the beautiful images she captured. Between our engagement session and our wedding day we periodically received fun surprises in the mail. This is such a special touch! Planning a wedding, especially in the time of COVID is stressful, her sweet gifts helped keep our eyes focused on the reason for all the planning. Finally, when our wedding day came around I had no doubt that Jessica would capture beautiful images of our day, our details, and our friends and family. Of course, she delivered. But what was more meaningful to us was her positive attitude and ability to go way above and beyond to ensure that my husband and I had the best day ever. There was not a task too big or too small, she ensured we had a joyful day.


Lindsey

Married on 08/06/2021

Best photographer ever

Jessica is the BOMB. I have been in 2 weddings as a bridesmaid when she was the photographer. When I saw how smooth the day went and how beautiful her pictures were I knew I had to have her as our photographer. Our wedding was in Dahlonega, GA at Vezalay and it couldnt have gone smoother thanks to Jessica. Her timelines are top notch, her photos are timeless and the best part is she loves Jesus! Would highly recommend using Jessica and her team for your wedding!!

Jenny B.

Married on 07/01/2021

Amazing Wedding Photographer!!

We cannot say enough about how amazing our wedding day was thanks to Jessica at Five Fourteen Photography! From our first phone call I knew she was passionate about her job, I and immediately knew I wanted her to be part of our day. Our engagement session was so much fun, and it helped us to know exactly what to expect on our wedding day so we were relaxed and comfortable. On the wedding day she took care of everything from ensuring we stayed on track for all the photos we wanted to take, having many creative ideas for pictures, and even fixing my hair on the dance floor! I would highly recommend her for your wedding day!!

Jessica B.

Married on 06/19/2021

Best of the best!

Jessica made our day truly come to life in these beautiful pictures! Working with her was so easy and FUN! Jacob and I attended a wedding a few years back and Jessica was the photographer. I fell in love with her there and even more so when I saw their pictures! I knew I needed to call her for our special day. The first phone call with her was a dream. She was so easy to talk and work with. On our day, it rained but Jessica had a plan! We had to move some things around and dodge the rain, but she made it perfect!! We couldn't have asked for a better photographer!

Abigail S.

Married on 06/17/2021

Sweetest, most talented photographer!

Jessica made me and my fiancé feel so comfortable and took care of every detail. She is so personable and easy to talk to. She makes you feel like you've known her for years and focuses on making sure the bride and groom have the best time ever! Our pictures are absolutely stunning; we could not have picked a better photographer! When I forgot to bring bobby pins for my veil, she snatched some out of her own head and strapped my veil down. I could not be more satisfied with her. She even went as far to pray over my fiancé and I before the ceremony. Jessica is such a blessing, so if you're planning a wedding in the area, book her! You won't be disappointed.

Samantha K.

Married on 05/01/2021

So lucky to have booked her! Simply the BEST!

There aren't enough words to describe how thankful I am we found Jessica with Five Fourteen Photography. A week before our wedding, our venue photographer cancelled and we were in panic mode. I called Jessica after doing some research (reading her raving reviews and admiring her beautiful work) and she eased us almost immediately. She prayed for us and then made some difficult calls to shift her schedule around. It truly was a blessing that she was able to make it work . Once we officially booked her, Jessica was on a mission to get our wedding day back on track. She was able to get us organized in 2 days and make everything that felt chaotic a week before fall into place (as if she was with us all along!). Then wedding day comes and she shoots it out of the park! Her professionalism, kindness and ability to wrangle a lot of moving pieces/people and make it fun is outstanding. Not to mention her work product is amazing! Less than 24 hours after our wedding day, we received an email with our sneak peeks and they were more beautiful than we could've imagined. We can't wait to see the rest! You will not go wrong with choosing Jessica with Five Fourteen Photography. Can't recommend enough!! Thank you, Jessica! :)

Jessica B.

Married on 03/06/2021

She is Beyond!!!

Five Fourteen Photography was the absolute BEST choice I made for my whole wedding experience. Jessica from day one has been the most genuine, loving soul I have ever met! She sent us so many small gifts of appreciation along the way that meant the world to us. We were so nervous for the engagement session but Jessica put us at ease and gave such clear directions we had a great time. Any time I had a question she would text me back so fast. The day of the wedding she was more than a photographer- she was an amazing friend. Her kind soul and amazing team helped us beyond the scope of just taking pictures- she helped us put on my veil and crawled underneath a table for a lipgloss that fell- above and beyond her call of duty. She also got on the dance floor and busted a move with us which I loved!!! Now let's talk about the pictures: Breathtaking!!!! Her style is unmatched. Engagement photos were flawless and the wedding photos were even better. To be honest- I have had the photos for a week and everyday I find a new favorite!! There are not enough kind words- there is not enough time in the world for me to tell you JUST HOW MAJOR SHE IS!!!
I love Five Fourteen Photography! Day one to even now 3 weeks after my wedding- she is a true talent who was made to shoot weddings! Not a single bad word can be spoken about her and her team!!! Thank you Jessica for not only being a beautiful soul but for making my husband and I look like models!! I love you!!

Taylor H.

Married on 11/14/2020

Best wedding photographer ever!

Hiring FiveFourteenPhotography for our wedding was the best decision we made!!! From the very first phone call I had with Jess, I knew that she would be our wedding photographer! I could instantly tell that she was so genuine and truly cared about her clients. She took the time to get to know my fiancé and I and answer the million questions I had for her. The conversation never felt rushed, nor has any conversation since I hired her felt that way! The little touches that she adds without even asking mean more to me than I can explain! I received so many special packages in the mail from Jess throughout my engagement and it made me more and more excited for the wedding day! Our families and friends also can't stop talking about how much they love Jess and how much fun she made the wedding day! I can't wait to see the rest of our pictures and I know they are going to be amazing!!! HIRE HER- YOU WON'T REGRET IT!!!
Attached are some sneak peaks I got!

+ 6

photos

Natalie P.

Married on 10/15/2020

Jessica is worth every penny!!!

Jessica was absolutely amazing at our wedding! The moment she walked in on the morning of the wedding while my girls and I were getting ready, I knew she was going to make the day so much fun. She ensured me that I had nothing to worry about and the day was going to be a perfect day. The amount of detail she puts into capturing the best shots are amazing. She makes you feel so comfortable to where everything feels so natural, and even has fun ways to capture pictures that are breathtaking. We could not have asked for a better photographer and look forward to using Jessica for many more precious life moments. Thank you for everything you did Jessica to make our day run smoothly and by capturing the start of a new beginning for Josh and I! You are the best!!

+ 3

photos

Ellen H.

Married on 09/19/2020

She's the total package!

Jess was amazing to work with and she is definitely worth every penny! We had a complimentary engagement session and we both fell in love with her instantly and she made us both feel so comfortable in front of the camera! Leading up to the wedding, she even sent us personalized gifts in the mail. She has a comprehensive list of additional vendors she has worked with and that helped planning a wedding so much more than I imagined. After a rough first attempt, Jess even found me an amazing hair and makeup gal the week of our wedding! On the wedding day, I found myself looking forward to her arrival because I knew she would bring a peace and organization over the day, as well as some amazing photographs! I felt like I have known her forever and we will definitely be booking her for future photos! Can't wait to see the rest of our wedding photographs!

Alena B.

Married on 07/10/2020

Jess is Simply the Best

Jess is AMAZING in every aspect! She was so supportive from the moment we chose her to be our photographer. She called my husband and I on the week of our wedding and told us that "office hours" don't apply to us this week, anything we needed, she would do! She prayed over us, and made our rainy wedding day so magical. She really went above and beyond for us. We stayed on schedule (or ahead) of it the ENTIRE day, even my married bridesmaids were surprised that she kept a wedding party of 16 (including two 3 -year - olds, a 5 - year- old, and an 8-year- old) on track. All of the pictures were so vibrant and captured everything so well! We can't say enough positive things about our experience with Jess. They say a picture says a thousand words... her's say a MILLION. The Jacksons love you, Jess!

Natalie C.

Married on 05/30/2020

Loved working with Jess!

We were fortunate enough to be able to work with Jess for our third attempt at getting married during the pandemic. After scrambling to move our wedding to another state at the last minute due to travel restrictions, she stepped right in and took a year's worth of planning and squeezed it into 3 weeks time. She was comprehensive, without overwhelming us as we made a million changes. She also stepped up and took control of our day (we no longer had our wedding planner with us) in a way that helped us capture everything, but knew when to give us our space and time to give us our private moments. She helped make our now micro wedding feel so full. Her second photographer, Mandi, was also incredible and both worked so well together as a team. Both women were amazing, and helped make our day feel so special! She knew our venue so well, and our photos were SO beautiful. These are photos we are going to cherish for the rest of our lives!

Christy F.

Married on 04/11/2020

Jessica's Photos Took Our Breath Away!

Jessica's photos of our engagement and wedding day left my husband and I speechless. I never realized how quickly a picture can bring back emotions, chills and of course memories. That's exactly what Five Fourteen did for my Husband and I. Jessica has a God given talent to not only take pictures but provide an unbelievably relaxed and fun environment. My Husband and I decided to do a first look for our wedding, and it was probably the best decision we could have made. I don't know how Jessica did it, but the photoshoot felt like a date. I like to say that I went on a date with my Husband two hours before our wedding. It was exactly what I needed to calm my nerves. Sometimes pictures can feel posed or you just don't even know what to do in them. Jessica gives clear directions and has SO many tips and tricks to create those picture-perfect moments. Her faith and love for the Lord is also something that makes her abilities so spectacular. She prayed for us on the days leading up to the Wedding and she prayed over me with my bridesmaids before I went down the aisle. It is hard for me to describe how thankful I am for that. If you want a photographer who will genuinely care about you, your Husband, and the quality of your pictures… then look no further. Five Fourteen will take care of you 😊

Ashlyn C.

Married on 03/07/2020

Amazing photographers!

Jessica and Rick were absolutely wonderful! From our engagement session to our wedding day, they helped us navigate wedding planning as well as wedding photography. They were so organized, friendly, and helpful. We were easily able to contact them and discuss wedding details! Not to mention, our wedding images were amazing! We highly recommend them!

Ashley B.

Married on 12/10/2019

Worth every penny

ONE YEAR LATER: Jess is ALL my husband and I talk about when it comes to our wedding! The first conversation I had with Jess consisted of us talking like we were BEST friends. Jess is SO personal. Throughout the year long engagement, Jess would send little small gifts with bible verses AND Jess prayed for us. My husband and I choose Jess due to her AMAZING skills and because she prayed for us as we started our journey to husband and wife. Jess made our wedding day run smooth from the time she arrived at the wedding until the time we left. Jess is WORTH every penny and MORE. Photography last a lifetime, but making a friend along the way was just icing on the cake. THANK YOU JESS for being amazing and not to mention our wedding photos ARE GORGEOUS!
Are you interested?
Send a message