31 Reviews
Recommended by 100% of couples
Quality of service

5 out of 5 rating

Average response time

5 out of 5 rating

Professionalism

5 out of 5 rating

Value

5 out of 5 rating

Flexibility

5 out of 5 rating
Awards
11 User photos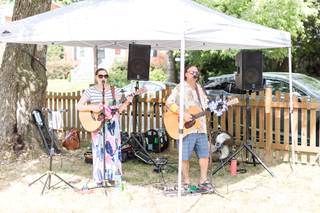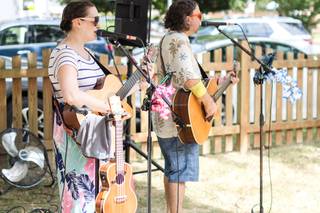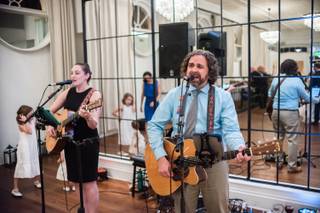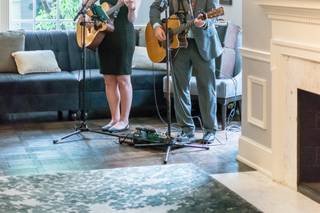 + 7

photos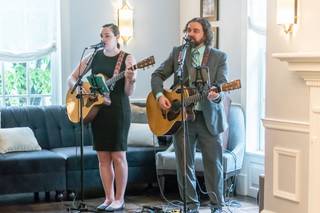 Elizabeth

Married on 05/20/2023

FarAway, Brian and Sara - It Doesn't Get More Perfect Than These Two!

Brian was my contact in planning. He was quick to answer questions and helped me make the best choices for my event. Working with these folks the day of the event was so easy! They didn't need a thing from me. They just set up and got going so I could enjoy myself. They unflappably managed an unexpected challenge of a tent leak which got their equipment wet. As musicians they are super talented with spot on harmonies, excellent musicianship and a lot of vocal/guitar talent. They were perfect for the vibe for the celebration. FarAway has the ability to play in the background when needed but then can really rock it out. Both members of the team know when and how to engage the crowd so at times the music feels super intimate and at others very expansive. Many of my friends, especially those who are professional musicians, commented on what a perfect team of musicians they are. Many asked with delight, "where did you find these folks?" This duo comes with my highest recommendation!!!

Riley E.

Married on 05/06/2023

One of the Best Parts of Our Day!

Brian was a hit! We hired him to play acoustic covers during our cocktail hour and it was awesome! He sounded great and the acoustic covers made our cocktail hour feel ever more so romantic and alive. Brian was easy to communicate with and well organized. He provided us with a list (which is very long!) of the songs he could play for cocktail hour and also gave us the option for him to learn songs of our choice for an additional (but small) fee. He is super talented! Great price for what we got - book FarAway songs today!!

Rebecca R.

Married on 01/21/2023

Meant to be

Sara and Brian were playing at Carter's Mountain when we got engaged and when they announced they played weddings, booking them was a no brainer. Hiring them for our ceremony and cocktail hour music was one of the best decisions we made in our planning journey! They are cool, they are talented, and they are so patient. They are so communicative and helped us figure out what would work best for timing, energy, and cohesion. Walking down the aisle to a live band was so special and every single one of our guests remarked on how cool their music was at cocktail hour. They worked completely independently with the DJ and Venue Coordinator for set up and logistics, which saved me a TON of time and stress. The duo will bend over backwards to make sure you not only get the music you want, but that it's played in a way that captures the mood of the couple. If I had any regrets about our wedding weekend it would be not booking them for our welcome party as well. It made the night so much more special that they had been there from the start of our wedding planning journey so I strongly recommend going to see their live performances around Virginia (dates and locations can be found on their website and facebook page).

Are you interested?

Send a message

Missy B.

Married on 11/26/2022

Absolutely wonderful

We hired them to play at our ceremony and cocktail hour for our wedding. Brian and Sara were incredible! They were so easy to work with, great communication. They learned 2 new songs for us and performed them perfectly. They arrived on time and had everything set up and ready to go. They were great with timing and making sure that all the timing for the songs from the first dances to walking down the aisle were perfect. We just don't have enough good things to say about them and would hire them again in a minute if we ever had another event as all of our guests raved about them. Highly recommend!

Emily E.

Married on 09/02/2022

Highly recommend!! So talented and easy to work with!

FarAway made our wedding weekend so incredibly special. They played at one of our parties throughout the weekend and made our laid-back Luau vision come to life. They worked with us ahead of time to pick out some of the songs they would play during their set and were super responsive throughout the entire process. All of our guests had nothing but amazing things to say about their performance. Can't recommend FarAway enough!

Justin B.

Married on 10/23/2021

Perfect band for our wedding

Sara and Brian were exactly what we wanted for a wedding reception/ceremony band. Great communication and planning ahead of time, arrived and played beautifully at both our ceremony and reception, and our guests loved their vibe. Also they worked with us on learning and playing custom songs we wanted (and did an excellent job playing them!)

Katelyn K.

Married on 09/25/2021

Great Wedding Band!

Brian and Sara were super responsive and helpful during the planning phase. On the day of the actual wedding they played our ceremony, cocktail hour, and reception. Everyone had an absolute blast and they did a phenomenal job with both choosing when to play songs and how they played them. Highly recommend!

Darren

Married on 07/25/2020

FarAway the best from others!

Sara & Brian played our recent ceremony and were fantastic to work with and listen to! They performed songs for the actual ceremony, learning "Every breath you take" by the Police for the groom/groomsmen/bridesmaids walk-down and played music for our reception as well. They were extremely flexible and took requests, and also helped MC our toast and quick speeches. We ran a little over and they stuck around a little longer which helped out a lot! They were extremely pleasant to work with, willing to learn songs, take a playlist, and to work with the venue to figure out their equipment set-up. Coordination was super easy and they are also extremely friendly and wonderful people! HIGHLY RECOMMENDED!

Shirley A.

Married on 10/26/2019

Made our celebration so special!

We celebrated our 50th wedding anniversary and FarAway was perfect for the occasion. They knew exactly how to orchestrate the entire affair. Their voices are beautiful and their music was innovative and outstanding. Our guests commented on the sound quality as well. They never played too loud. The music was perfect and they played all of our favorites according to our wishes. We cannot overstate how much we loved them.

John S.

Married on 09/29/2019

Talented and Lively Band

We first heard Brian and Sara of FarAway when they were playing a local concert at Carter Mountain. We loved their sound and style and sent them a message asking if they would be interested in playing our wedding. They promptly responded and met with us to discuss how they play weddings and helped us plan our reception. They are very experienced and made many great suggestions for our reception. They gave us a list of songs they can play which was many and varied, giving us a wonderful selection to choose. Since we had a smaller wedding we were worried about participation on the dance floor and keeping everyone having fun. With Brian and Sara we had nothing to worry about. They were able to read the dance floor perfectly and even got our grandmas up and dancing. All of our guests asked us how we found them, and were thrilled with the music. We couldn't recommend FarAway any higher. From the first meeting, through the wedding they were extremely helpful and a joy to work with. Not only are they very talented, they are also some of the nicest people we've meet.

Sincerely,

Laura & John

Alexander

Married on 03/02/2019

Made for a magical wedding!

FarAway. When planning our wedding, my wife and I wanted a sound that had a lot of heart and warmth. We knew we wouldn't be able to get that from a deejay so we started looking for a coffeehouse acoustic sound which led us to Brian and Sara. They were extremely personable, responsive and went above and beyond for us. When we told them we wanted to do a medley that hadn't been done before for our first dance and a song that wasn't on their playlist for our last dance, they were able to accommodate us. In addition to that, they provided helpful suggestions that made the wedding reception move a lot more smoothly.

On the day of, we were blown away by how beautiful the music was. It was the perfect volume so the guests weren't forced to yell at each other to have a conversation. Our wedding was already wonderful buy FarAway was able to raise it to another level. We cannot recommend highly enough.

Michelle L.

Married on 11/03/2018

Best Choice!

Amazing! I will hire them again in the future.

Maribel

Married on 10/27/2018

Must book this OUTSTANDING musical couple!

Sara and Brian are amazing! They communicated with us every step of the way. Even when I ran into some family problems and was MIA for the two weeks leading up to my wedding they were so supportive and stayed on top of things. The weather was questionable for my wedding ceremony and it was a last minute decision to stay outside and they rocked it! My guests had nothing but outstanding things to say about them. If they weren't our friends we would have had them do the reception as well but I wanted to hang with them.

Laura

Married on 10/20/2018

Wonderful to work with and very talented!

Wonderful to work with and very talented! Brian was a pleasure to work with. He helped us choose songs for our ceremony and cocktail hour which really gave our wedding a personable feeling. Our friends and family loved hearing a live musician. Thank you Brian for making our special day very memorable!!

Jessa

Married on 05/27/2018

FarAway (Sara and Brian) were absolutely amazing! It was an honor to be able to work with them during the wedding-planning process from start to finish. They made me feel at ease and were very helpful with questions I had along the way. They are such talented musicians and truly lovely people. I'm still smiling thinking about how they added such a warmth to our wedding day and far exceeded our expectations. I have received so many wonderful comments from our friends and family about how they enjoyed the music at the wedding and how it really set the vibe for the evening reception. FarAway offers a very expansive list of music to choose from and even learned three additional songs of our choosing. I loved the range of slower, soulful music to more upbeat, danceable song choices. Thank you, THANK YOU Sara and Brian! We look forward to hearing you play soon.

Lexi

Married on 05/19/2018

Having Sara and Brian with us on our day really added to the occasion. They were very easy to work with in the planning stages, coordinated perfectly with the wedding coordinator at our venue, and created a great mood for our ceremony and cocktail reception. We loved their song selection, and were able to include a great variety of traditional wedding songs and more contemporary fun ones. As people, they are incredibly sweet. I couldn't recommend a better duo!

+ 2

photos

Dan

Married on 05/12/2018

We couldn't be happier with Sara and Brian performance at our wedding. We asked them to play at three different locations on the grounds where our wedding ceremony/cocktail hour/reception took place and they pulled it off without any issues. They played many different genres of music for our guests....70's, 80's, 90's, 00's. We had so many of our family and friends come up to us and rave about the band. We would highly....highly recommend booking Sara and Brian for your wedding or local Bar/Winery.

Sheri

Married on 10/28/2017

We have seen FarAway play at a number of local venues and have always loved their sound, enthusiasm, and professionalism. We hired them to play our cocktail our and it was one of the best decisions we made while wedding planning! FarAway is a very talented duo and our guests raved about how much they enjoyed the music during the night. They are affordable, versatile, and super professional. They will go out of their way to make your day extra special and we would highly recommend their services!

Kathleen

Married on 09/09/2017

Book them for sure!

Love these guys! B was a regular who played at an old place I used to work. Was always a favorite! These two are fantastic together! There catalogue of songs are quite extensive and if it is something they do not know they are more then up for the challenge to learn it. Cannot say enough about flexibility and all. You would be missing out if you did not book them for your event.

Kelsey

Married on 08/12/2017

We came across Brian, Sara and Shaun after hearing them perform at multiple different wineries around VA, and I am SO glad we hired them to play at our winery wedding! From the beginning planning process to day of coordination, Brian and Sara went above and beyond to make sure the day went super smoothly. They were super responsive to emails, helped coordinate the day with our wedding coordinator, and helped the transitions throughout the evening flow so nicely. We had Brian play during our ceremony and cocktail hour and the trio play during the reception, and they transitioned the music styles perfectly. Their expansive song list was perfect for a mellow cocktail hour and dinner, and upbeat dancing during the reception. Our friends - both who love to dance and those who love to listen to live music - came up to us after with so many compliments on how fun it was to have FarAway play throughout the evening. Their fun-folky-dance-y vibe lit up the night and I found that they were definitely the band that knew the most songs when looking to make our selection. I would highly recommend any combination of the FarAway trio and I hope to work with them again soon!

Irene

Married on 06/17/2017

Brian and Sara performed at our June 2017 wedding and they were absolutely AMAZING (despite the warm weather). We first heard them play at a local restaurant and were very impressed with both their professionalism and their general talent. During the course of planning our wedding we were able to meet with them a few times to review logistics. They were very down-to-earth and accommodating. Moreover, they really understood what we wanted for our wedding and did not push anything different to us. They provided us with helpful advice and helped answer any questions we had. They were able to learn some new songs for us and performed them beautifully. We were very lucky to have found them and are excited to hear them play at live shows in the future!

Cynthia

Married on 01/07/2017

In 2015, a friend recommended the FarAway Duo while I was searching for acoustic musicians to play during my company's holiday party - and they were a BIG hit. Both Brian and Sara were so talented and professional it was a no-brainer to reach out when we got engaged in 2016. The entire planning process and day-of coordination was seamless: quick to respond, extremely reasonable pricing, flexible with our asks, on time, professional, and SO much fun! We hired them to play a different style during every part of our big day for our 2017 wedding. They played light prelude music before the ceremony, relaxing acoustic music during cocktail hour, and upbeat party music during the reception. They also took care of any announcements we needed, including introducing the wedding party before dinner. We even picked a few special songs, including our first dance and father/daughter dance, which they learned and performed perfectly.

Brian and Sara were absolute ROCKSTARS and we actually ended up passing along their contact information to a lot of our guests! Our wedding was so much fun and was the most amazing night of our lives - all thanks to FarAway. I will never forget the awesome positive vibes and atmosphere FarAway created on our special day. If you're looking to have an unforgettable wedding, you NEED FarAway!!!! Post-wedding, we have even become friends and continue to keep in touch. We're actually heading over to a local spot to see them play tonight!

Dan

Married on 10/29/2016

We booked Bryan from FarAway for our wedding rather than the full duo because space was very tight. He and Sara could have balked at that idea, but instead were accommodating and helpful. Bryan provided us with a lengthy list of wedding-themed songs that he already knew, and when there was one we wanted to play not on it, he learned it. As the sole musician in a relatively small service, he had a lot of eyes on him in close quarters, and he knocked it out of the park. He showed up early, played everything we asked and was flawless with sequencing and following our music plan. Very happy overall, and would recommend to anyone interested in some acoustic guitar music. Thanks!

Courtney

Married on 06/18/2016

Perfect cocktail hour music!

We were so happy to work With Sara and Brian! Super easy to work with and had a wide variety of songs. Exactly what we were looking for!

Jessica

Married on 03/13/2016

FarAway is amazing, I cannot recommend them enough! Brian and Sara were truly the highlight of our small intimate wedding. They sounded incredible and our guests are still raving about them. I had several guests even ask us if they could order CDs from them! They have an extensive song list, full of fun and classic songs to new hits as well. Even though we loved all of their songs they still worked with us to learn three new ones for the big day and made our first dance even more memorable. In addition to being a phenomenal band, Brian and Sara were a dream to work with. They walked us through the entire song choosing process, were responsive, and so wonderful to get to know. FarAway Songs would be perfect for any size wedding but their personal touch really added something special to our smaller size wedding. They were the perfect choice for our big day and our wedding would not have been the same without them there!
Are you interested?
Send a message