163 Reviews
Recommended by 100% of couples
Quality of service

5 out of 5 rating

Average response time

5 out of 5 rating

Professionalism

5 out of 5 rating

Value

5 out of 5 rating

Flexibility

5 out of 5 rating
28 User photos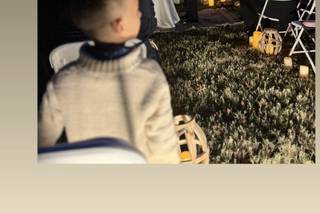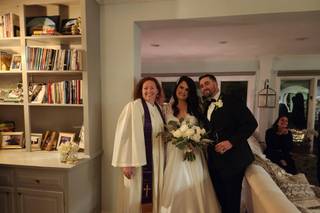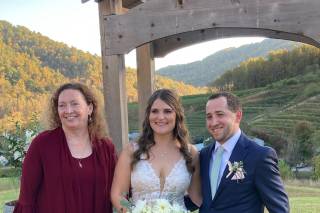 + 24

photos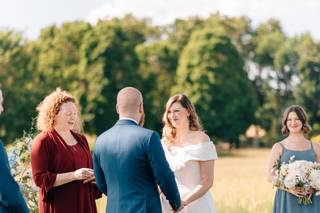 Chrissy S.

Married on 10/29/2022

Jennifer is awesome!

Jennifer was amazing! She made sure our ceremony was tailored to fit exactly what my husband and I wanted. She was so easy to communicate and work with. Jennifer was both professional and personable. Choosing her was one of the best decisions during the whole wedding process! Highly recommend!

Sarah K.

Married on 10/29/2022

5-Star Experience!

Jennifer exceeded all of our expectations. Leading up to the wedding day. Jennifer was both professional and accommodating, and she worked with us closely to ensure the ceremony was worded exactly the way we envisioned. She gave us suggestions on how to successfully merge religion and spirituality, and she provided us with lots of beautifully-worded suggestions to mull over which made things so much easier. Our ceremony was held late in the evening and we were late on planning, so we were so thankful that Jennifer was able to fit us in after another wedding earlier in the day. All of our guests commented on how stunning the ceremony was and how much they enjoyed Jennifer's delivery, and to this day, our ceremony is still our favorite part of the entire wedding. Jennifer was on time, dressed professionally in the attire we had agreed upon prior, and she followed up with all the paperwork just as she promised she would. I would 100000000% recommend Jennifer of Faith in Marriage to anyone and everyone who's looking for an absolutely amazing experience. She was easily one of our best wedding decisions 🥰 Jennifer- we are endlessly thankful for you and everything you did to make our day absolutely perfect. Sending you SO much love and appreciation.

Emily

Married on 10/15/2022

The BEST officiant!

Jennifer was an amazing part of our wedding day! She was so well organized, her communication was great throughout the months leading up to our wedding and she provided us with a template for our ceremony and allowed us to make any changes that we wished. She was so easy and a JOY to work with. She made our wedding day very stress free and her demeanor during the ceremony was very relaxed and loving, which is exactly what we wanted. Could not recommend Jennifer enough!!

Are you interested?

Send a message

Amber P.

Married on 07/02/2022

Wonderful Officiant!

We are so happy Jennifer led our ceremony for our wedding this past Saturday! Prior to the wedding, Jennifer was so easy to talk to, responsive to all communication, and very flexible. She sent us a draft for vows that was comprehensive, easy to edit, and reflective of our preferences already discussed.
The day of the wedding I was running behind and she so graciously waited in the lobby of the hotel until we ready for her. She was calm and soothing in her delivery, and the ceremony was exactly what we hoped for. Thank you Jennifer!

Jordan A.

Married on 06/04/2022

Perfect Choice for Wedding Officiant!

We are so grateful that we booked Jennifer to officiate our June 2022 wedding! Jennifer was amazing to work with- we started with a get to know you call where she asked so many great questions about how we met, our relationship dynamics, and what we wanted our of our ceremony. When it came time to write the ceremony she was very responsive to changes we wanted and the final product was such a perfect representation of our love, our relationship, and the promises we were making for the rest of our lives. We got many comments from guests how perfect the ceremony was but my favorite comment was from my Matron of Honor who said, "everyone who has ever been in a long term relationship could recognize what a realistic picture of a relationship [the ceremony] painted." It was important to me that we not just promise love to each other for the good times but that we declare to be together for all of what life brings. Jennifer helped word my thoughts in a meaningful way I could not have on my own. There are a few chunks of the ceremony I plan to have framed to put up near our wedding photos.
Also- this is a small detail but Jennifer knew to step aside for the 'you may kiss the bride' moment for great pictures of that special moment!
I could not recommend hiring Faith In Marriage more for all of your wedding needs!

Jessica B.

Married on 05/28/2022

Wonderful interfaith ceremony!

We are so glad we hired Jennifer to officiate our wedding! We had an interfaith ceremony (Jewish and Christian) and she was so accommodating and helpful in making it unique and special to both of us, while honoring traditions of both families. She even met with us in person at our venue a few months before the event to get to know us and talk through the ceremony which was so special to us. We had SO many guests come up to us saying how touching and wonderful the ceremony was, which meant so much to us since that is the reason for the celebration! We can't recommend Jennifer enough and are so honored she married us.

Heidi S.

Married on 05/22/2022

Jennifer is wonderful!

We had a wonderful experience with Jennifer. We wanted a simple service where we could write our vows and stay true to our different faith traditions. Jennifer helped us make that happen--she met with us, asked great questions, and then provided us with a draft, offering us different options for how we would like it to go. We really appreciated her thoughtfulness, expertise, friendliness, and professionalism in the weeks leading up to the wedding and on the day. We would recommend her services highly!

Ashley H.

Married on 05/07/2022

Amazing officiant

Jennifer was so great to work with. Very accommodating, flexible, and willing to put whatever you want in your ceremony. My favorite thing was her different templates she offers that give a lot of different options for what couples may want. You can make the ceremony as long or short as you want and she has such a warm demeanor that makes the ceremony so uplifting. And she is also very chill and calm, which is so nice during the chaos that a wedding can be. Would highly recommend to anyone.

Greg J.

Married on 11/05/2021

Jennifer is simply the best

My now-wife and I weren't looking for a religious ceremony, but that didn't mean we wanted to have a wedding devoid of spirituality and positive energy. Jennifer got that from the very start, and she helped us craft a ceremony script that worked perfectly for us. She was responsive, flexible and, most importantly, invested in the success of our event. Simply put, if you're looking for an officiant for your event, make sure Faith in Marriage is on your shortlist. You won't be disappointed. Thanks for everything, Jennifer!

Helle D.

Married on 10/24/2021

Jennifer Ashcraft Was Just Right for our Wedding

Our wedding ceremony was was beautiful and simple, perfect for our rural outdoor event. Jennifer gave us a choice of styles, from informal to religious and allowed us to work on the script. It was perfect. She was punctual and helpful in every way, and we highly recommend Jennifer's services. Helle Dale and Charles King

Casey D.

Married on 10/23/2021

Absolutely wonderful!

I can't possibly do justice in writing to how amazing Jennifer was to work with! We never met in person until the wedding day, but after exactly one lengthy phone call that turned into two Shenandoah Valley gals chatting and laughing about life and love, I knew Jennifer was the perfect person to marry us. She was attentive, sensitive and understanding to every one of our wishes and needs, and could not have made this process any easier if she tried. Regardless of your personal beliefs and/or religion (or lack thereof), Jennifer will cater every word to you and your partner and you can rest easy knowing she'll be delivering exactly what you want on the big day. Plus, she takes care of all the rest after the fact, too. I just can't recommend her enough. She was the best!

Tracy M.

Married on 05/29/2021

A ceremony to remember

Jennifer was absolutely amazing. Her calm presence and loving soul was a perfect match to officiate our wedding. She was professional and provided multiple options to ensure that the ceremony matched our needs. Jennifer's verbiage was perfectly in line with what we were looking for and the ceremony was conducted smoothly. You can tell that she is passionate about her job and loves what she does. I would highly recommend Jennifer!

Rachael S.

Married on 05/08/2021

Great Service

Jennifer was excellent! Very easy to communicate with, and also very understanding. She was able to customize our wedding ceremony exactly how we wanted it, and we were very pleased with how it turned out. Definitely recommend her services!

Kristen

Married on 01/15/2021

Incredible is an understatement. She met with us the night before for our rehearsal and was very sweet, comforting, and energetic!

Jennifer Ashcraft is THE BEST! She made the both of us feel so at ease during the rehearsal and actual ceremony. She's so comfortable speaking and it truly felt like she created the ceremony to fit us perfectly as a couple. Even in 50 mile per hour wind gusts, she did not waiver and was still smiling and was perfect in every way. I would love to recommend her to any and everyone!!

Ashley

Married on 10/24/2020

Wonderful Ceremony

Jennifer helped my husband and I create a ceremony personalized for us. She made the process very easy, guiding us through and allowing us to add in our own pieces. She was professional and very determined to make our day perfect. Thank you so much for helping to make our day better than we could have ever dreamed!

Grace F.

Married on 09/05/2020

Even better than imagined!!

Jennifer of "Faith In Marriage" was incredible. She made the process easy and clear. She is truly there for you and your wants/needs. You can be as involved (or not involved) in what goes into the ceremony as you'd like. She is extremely warm, accepting, and professional. She truly makes you feel like you are the most special couple in the world. I highly recommend her to anyone who will listen!

Harrison M.

Married on 09/04/2020

Flexible and Easy

Jennifer gave us everything we wanted!

Kristen H.

Married on 05/23/2020

High Professionalism, Excellent Wedding Service!

Jennifer at Faith In Marriage did an amazing job with our wedding ceremony. She had excellent communication and gave us over 5 different options of templates that we could go off of. We were able to personalize our ceremony exactly how we wanted it. She did a great job of getting to know us before the ceremony so it was a very personalized experience. She arrived early to both the rehearsal and the ceremony and was extremely professional. She offered wonderful suggestions. Look no further- Jennifer is the one for you!

Megan M.

Married on 11/09/2019

Responsive and Professional!

Jennifer was an absolutely wonderful officiant. We gave us so many options to customize our ceremony- it was perfect. We had a bilingual wedding and she worked great with our translator! We really enjoyed working with her and highly recommended her!

Laura

Married on 10/19/2019

Reverend Ashcraft!

We absolutely loved our experience with Reverend Ashcraft, from our very first FaceTime session up until the actual wedding! She is extremely supportive, reliant, and kind. She was even willing to come all the way out to Luray for our rehearsal and final ceremony (which was out of her way, so accommodating!). I also really appreciated how she was willing to incorporate elements into the ceremony that were really important to us - including reviewing material I wrote for the unity candle and our vows. I would highly recommend her as an officiant!

Mairead

Married on 10/12/2019

Unique, personalized ceremony

We couldn't have been happier with the ceremony Jennifer helped us craft. She sent us tons of language to use as a starting point and then was completely flexible with the various elements we wanted to include. All of our guests were really impressed with how personal and unique the ceremony was to us as a couple. As an officiant, Jennifer did a great job pacing the ceremony, cueing the readers, while helping us to stay present in the moment. We also had multiple unique names to mention and she was sure to pronounce them all accurately - as someone with an unusual name, I really appreciated this!

Claire S.

Married on 10/05/2019

Amazing personal ceremony

Jennifer was absolutely wonderful. We were looking for an officiant that would please our more religious older family members, but also keep the ceremony true to our values. She was very communicative leading up to the wedding and customized our ceremony and vows perfectly. We could not have asked for a better experience! Our wedding day felt absolutely perfect and Jennifer was a huge part of that. We cannot thank her enough :) She also made the legal/paperwork aspect of the marriage incredibly easy and timely - we received our official license very quickly

Kristen

Married on 08/24/2019

My experience with Jennifer and Faith in Marriage

Jennifer is a wonderful person and a great presence to have surrounding you on your wedding day! She is incredibly thoughtful and helpful when it comes to putting together the wedding ceremony and she has great attention for details.

Erin

Married on 08/17/2019

Very flexible and personable!

Jennifer was easy to relate to, and was flexible with any questions and tweaks we had with our script. She was loved by my weddings guests, personable, and guided us through the process.

Erica K.

Married on 07/21/2019

Great! Very Professional!

I couldn't have been more happy with our choice for the wedding!! Jennifer is amazing! I had only been to a few weddings in my life and had no idea where to start! I was giving so many Options and it made it so easy to choice what fit best for us as a couple! I would 100% recommended Jennifer!
Are you interested?
Send a message