Reviews
4.9 out of 5 rating
Quality of service

4.8 out of 5 rating

Average response time

4.9 out of 5 rating

Professionalism

4.8 out of 5 rating

Value

4.9 out of 5 rating

Flexibility

4.9 out of 5 rating
97%
Recommended by couples
8 User photos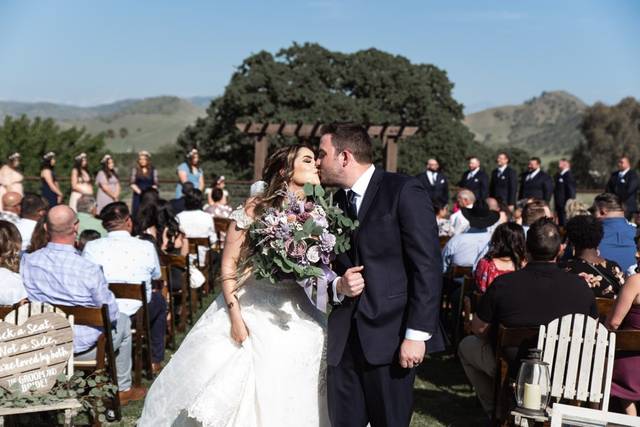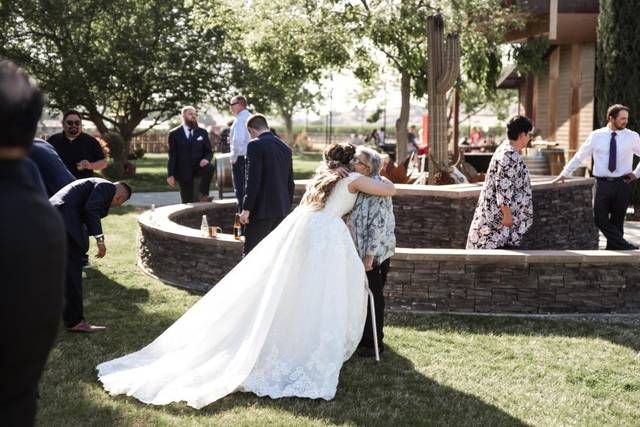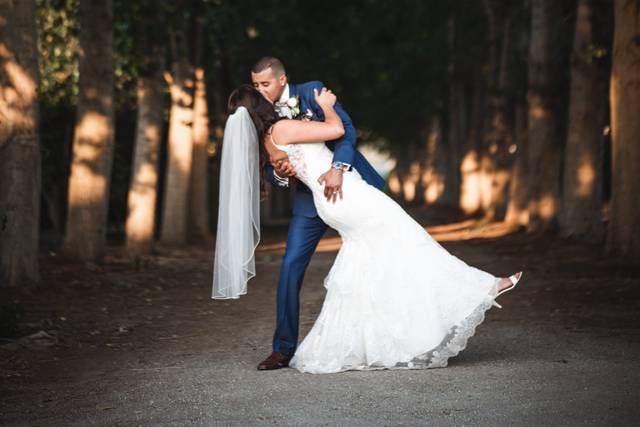 + 4

photos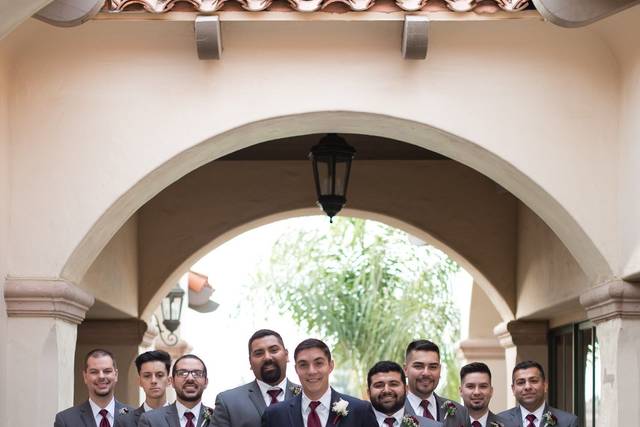 Berenice G.

Married on 04/10/2021

Everything Visual Is A Must Have for your Wedding Day

Everything Visual is a MUST HAVE for your wedding day. I heard of them from my brother after he hired them as their wedding photographer many years ago. I never forgot them and how beautiful my brother's photos and wedding video came out. I always knew if I ever got married I would hire them right away. A couple of weeks ago we had the honor of having them capture beautiful pictures that will be with us forever. Not only did they go above and beyond to make our special day go by amazing. We could not ask for a better team to be there to celebrate with us. Nick and Nate did a great job from beginning to end. It's truly hard to pick our favorite wedding picture since all of our pictures are our favorites. They say your wedding day goes by like a flash. We never believed it until we had a wedding of our own. Their pictures allow us to really relive that day. Nick and Nate's pictures captured everything big and small. Not only did they take pictures of our beautiful venue at the CottonWood Barn LLC, they took time to really capture all the small details that made us love this place. That we feel other photographers would overlook and wouldn't think twice about taking a picture of. They capture moments where we didn't even know they were taking pictures. Moments we didn't think would have been so important to remember. You can really feel the love and joy of your wedding day with every picture they took. If you want greater service and the best photographer ever, Everything Visual is a must have. Not only were they very professional they truly are good at their jobs. Wedding can be really overwhelming and Nate did a great job of always answering all my questions and concerns. They were on time and were fun to work with. We couldn't be happier or more in love with every picture they took. So if you want my advice, hire them. Believe me you will not be disappointed.

Cynthia

Married on 10/27/2019

Fantastic to work with

Honestly, when they say your wedding won't always go as planned that is 100% true. But the moment these guys came into the room it made the day much more lively. They get right to work & as a couple who doesn't take many pictures other than flex photos(gym peeps) they made the experience a breeze!
Let me just tell you, they get the shots! They're fun to work with, great to joke around with, & they overall care about you during the time they're in the room with you.
Towards to end of my wedding it got a little hectic & my husbands favorite part was when jared came up & Asked if we were okay. I don't know any other team who would do that but I'm so excited for these photos & hope to work with them for later shoots.

Sarah

Married on 10/11/2019

Best Videographer in the Valley

We hired Everything Visual very last minute as we were going back and fourth between hiring a videographer for our wedding. I would have definitely regretted not having a video of our day, and looking back, I would book with Everything Visual all over again! Jared was our videographer, and he did great capturing everything of our day. The best part is that you get a complete unedited USB of your entire day. After receiving our highlight video, we were disappointed that not all of the speeches were included, and they didn't hesitate to edit it for us to make us a 100% happy. Thank you for everything!

Are you interested?

Send a message

Jessica D.

Married on 08/24/2019

Couldn't be happier!

We are in love with our wedding video! It captures the day perfectly and is so much fun to watch. Jared was the one who shot our wedding day and he was fantastic! He was so nice and fun to be around, and he was very professional. He really knew all the shots he needed and was great at giving direction and getting it all done easily! He worked so well with our photographer which made everything run smoothly. After our wedding my husband and I kept saying to each other how lucky we were to have had such amazing people capturing our day-- we knew before we even saw the video that hiring Everything Visual was the right choice and we were going to be so happy with the outcome!
We love our highlight reel and the fact that they also include all the unedited footage is so great! It's been a blast being able look through all the footage and have so much of the day captured. Thank you Jared and Everything Visual! We appreciate you guys so much!

Danielle

Married on 05/11/2019

Book Nick for your Wedding ASAP!

Nick did an amazing job photographing my wedding! He exceeded our expectations in every way. With all the photos he got of the little details you would have thought there were multiple people shooting. He was a lot of fun to work with as well, I would highly recommend Nick!

Angelica

Married on 05/04/2019

Super flexible with what THE BRIDE wants for her day!

Nick & Jared were so awesome!! I had all these photo ideas and they just went with whatever I was requesting! I have a huge family, so there were plenty of opinions of course. However, they listened to me, and only me when it came to portraits with family and other photos I wanted last minute. They made sure they got all the important events at my wedding even tho we were running short on time with them! Thank you both!!!

Turel K.

Married on 09/01/2018

Couldn't be happier with Nick and Jared @ EVWeddings!

We were already over our budget leading up to the wedding (NOT HARD TO DO!), and had a great photographer lined up, but everyone that I asked said that video was so important to actually capture the emotions and feel of it all. So with just one month out, I decided that I had to do it and hit to yelp calling wedding videographers in Fresno. Everything happens for a reason. First few callers were either booked or WAY too expensive. 5th call was Nick. I explained to him my situation, and that i knew it was last minute and a Hail Mary effort. He looked at his calendar and JUST MY LUCK it just so happened that it was his one open day. I got a very honest impression from Nick. I don't have experience hiring videographers, so he took the time to explain the process to me. He'd provide footage of the entire wedding with placed/stationary cameras and also of the one that he'd be walking around with. If time/weather/location allowed, he'd even get drone footage. I felt really good and very confident about working with him. Right then and there we agreed to the date, time and hours and of course, it came with a wedding highlight video (basically a music video of the wedding), and for a price that seemed too good to be true. He emailed me a contract, which I signed remotely and paid the deposit. We live in San Francisco, so Nick made himself available for my wife and I to swing by his office to meet 2 weeks before the wedding during our final preparations. Everything happens so quick on wedding day, and Nick was one of the first people there and ready to rock and roll!

Nick kept me up to date and it only took us 2 months to get our HD highlight video, which is so much faster than some other people, and mind you, Nick even had his own wedding in between (which he had told us about)! He did get drone footage of the beautiful, surrounding vineyards. It was practically perfect, because I only had one or two preference/edits to suggest. Nick and Jared totally knew what I meant, were again very responsive, and within one week, sent me the final product. CRUSHED IT!!! I posted it on FB and it brought tears to everyone involved. This past weekend, my wife and I watched the entire footage, that Nick sent us in a beautiful hand-made package, and I'll just say this: We were in complete awe and just so happy with our own day. From views and angles we hadn't seen. From the cocktail hour that we couldn't be a part of (during our family photos). Nick paid so much attention to all the little details that my wife spent HOURS planning for. Nick captured it all. I couldn't be happier.


Nicole

Married on 10/29/2017

Nick is an amazing talented guy! He's quick with the return time of his work and making sure everything is "happy tears" worthy! 10/10 For him!

Nicole

Married on 10/07/2017

Nick was amazing' he showed up on time and went above and beyond. He did everything we asked for!! He couldn't have been better!!!

Taylor

Married on 09/30/2017

Everything Visual was amazing to have as my videographer! They got where they were supposed to be on time. They never added any stress for me. Most of the time I didn't even notice them there yet every perfect moment was captured! They don't bug you, they just do their thing and they are definitely amazing at it. They are also super sweet and really easy to talk to/work with. I would highly recommend them!

Olivia

Married on 04/08/2017

Nick was amazing from day one. He met with me and went over the vision for our wedding. He helped me chose the best package for our needs. I loved his style of video from previous weddings and he did not disappoint with ours! I have received so many compliments on our video. He captured our day perfectly. I love the song he chose. I didn't even have to request one. It was perfect. He even made a couple adjustments that I requested with the final video. I would recommend him to anyone I know getting married! Well worth the money. Now we can relive our special day whenever we want.

Olivia

Married on 04/08/2017

Nick was amazing from day one. He met with me and went over the vision for our wedding. He helped me chose the best package for our needs. I loved his style of video from previous weddings and he did not disappoint with ours! I have received so many compliments on our video. He captured our day perfectly. I love the song he chose. I didn't even have to request one. It was perfect. He even made a couple adjustments that I requested with the final video. I would recommend him to anyone I know getting married! Well worth the money. Now we can relive our special day whenever we want. Thanks Nick!

Allie

Married on 04/02/2017

Everything Visual was great! These guys know what they're doing for sure. Very professional, but also super easy going and a blast to have around. We just got our photos back, and LOVE them! Very reasonable price for the package that we chose, and they are incredibly flexible on the day of as well. We had a great experience, thanks Nick and Jared!

Isaac

Married on 03/18/2017

Excellent staff. Very professional and knowledgeable. 10/10 would have them take my pictures again.

Briana

Married on 11/26/2016

Book them NOW!!!! I absolutely love this team of professionals! The service, quality, and absolute professionalism can't be beat! I had some very rowdy wedding party members and they handled them extremely well with a smile. They made me feel beautiful on my day even though the rain tried to put a damper on things lol. The video and pictures came out great! I couldn't have made a better choice! Thank you guys truly! Can't wait to get together again for our photo/video shoot a little later this year! :)

Christi

Married on 10/28/2016

Our pictures turned out amazing!!! Nick was awesome, professional, punctual and easy-going! We were pleased with his work and would recommend him to anyone!! We plan on using his services in the future! First class all the way!!

Alma

Married on 10/22/2016

I would absolutely recommend Everything Visual. They were professional, paid attention to detail, and very friendly. They were on time and followed the itinerary i gave them. Captured beautiful moments. I was really impressed with their job and professionalism. Thank you Everything Visual for capturing one of the most important days of our lives.

Eric

Married on 06/11/2016

Overall, it was a great experience working with Everything Visual. Very understanding and willing to work with your schedule. Highly recommended.

Haley

Married on 04/09/2016

Nick was our wedding videographer in April 2016 and did an outstanding job! Our outdoor wedding was rained out and we had to change locations the morning of. Nick was very accommodating and worked well with the chaoticness of the day. We got a late start getting ready due to the event change and were in a rush to make it to the church on time, but watching our wedding video you would never know it! He truly captured the love and joy we felt and I would highly recommend his services to anyone in need of a videographer. During the reception he had put together a quick same day video that highlighted the ceremony- we loved it! Nick was also very responsive to all emails. While there was a delay getting us our wedding DVDs, he was in constant communication letting us know the problem and even sent an extra DVD to make up for it. We were able to share all this footage at our second reception in my home state, and everyone marveled at how well the videos turned out. In addition to all of this, Nick also offered a love story video which was recorded a couple months prior to our wedding where we shared how we met, how we got engaged, etc. As cheesy as it was, it was a great additional feature that truly makes Nick stand out from the rest, I'm so happy to have this feature to share with our kids some day!

Lan

Married on 11/14/2015

I researched a lot of videographer in the Central Valley and didn't see one I really like that was reasonably priced until I stumbled upon Nick MacNiell's work. I found him on this Wedding Wire website by accident. I knew he was the one after watching his videos. Nick's background I believe is in visual media so I knew right away he knows his stuff.

What I like about Nick?
1. He's very quiet and blends in the background seamlessly. Extra points for his politeness.
2. He has drone capabilities, which I wished we requested. I think it makes the video extra special.
3. His wedding videos are not the long wedding videos that shows a bunch a nonsense. I'm not into writing letters to each other and saying them out loud for the cameras. Wedding day are stressful and I don't know how the bride and groom have time for this. Nick's videos are also more like a music video that you can watch over and over again. I have heard people who only watched their video once because it's more of a long documentary style. You tend to lose interest fast with those.
4. He responded well to my questions even the technical ones. More details are provided at weddingwire.com
5. He was able to provide a same-day edit during the wedding reception and our guests were amazed! He placed his lap top on one of the tables and let our guests watch a small preview of his work of our very own wedding!

Advice for the future bride and groom:
1. Your highlight video will be more of the wedding party not your guests. We requested a second video from Nick showing more of our guests at an extra cost.
2. He can customize your package. We upgraded to blu-rays.
3. Carve out some time with Nick away from the photographer so he can record just the two of you.

Thank you so much for capturing the most beautiful moment of our marriage so far. Can't wait to have you do future photos for us!

Jason

Married on 05/23/2015

I can't say enough about Nick and his work. I had friends share our wedding video on Facebook. They were calling it "epic" and "the most amazing wedding video I've ever seen". Nick truly is a gifted videographer who is smart, talented, and creative. My wife wasn't sure about even hiring a videographer, and now she says it was the absolute best choice we made for the wedding.

Alexandra

Married on 05/02/2015

Planning a wedding is a busy crazy wonderful happy time but most of all BUSY. I felt nick was easy to work with; out of the way and got done what he was supossed to. Never was needing or in the way like working with other people! I hardly even knew he was there! I debated for awhile to have a video and I must say it is a MUST have! It was absolutely beautiful work!

Adam

Married on 01/10/2015

Profesional. Fast response. Great job. I know I sound biased, but honestly I have not seen a better highlight wedding video that Everything Visual has made for my family and I. I cannot recommend them enough.

Lindsey

Married on 09/20/2014

I worked with Nick MacNeill on the videography for my wedding and I'm so happy I chose to do this with his company. I was on the fence about having a videographer, but didn't want to regret not having one. At the event, I never even noticed he was videotaping, so I was pleasantly surprised when I saw my amazing completed video with the perfect amount of footage from my entire wedding experience. He was super nice, easy to work with, and easy to communicate with. Not only was his editing superb, but he got me my completed package really quick! Everyone raved about our wedding video and I would recommend Nick and Everything Visual to anyone! A+++ to Nick.
Are you interested?
Send a message