Reviews
5.0 out of 5 rating
Quality of service

5 out of 5 rating

Average response time

5 out of 5 rating

Professionalism

5 out of 5 rating

Value

5 out of 5 rating

Flexibility

5 out of 5 rating
100%
Recommended by couples
38 User photos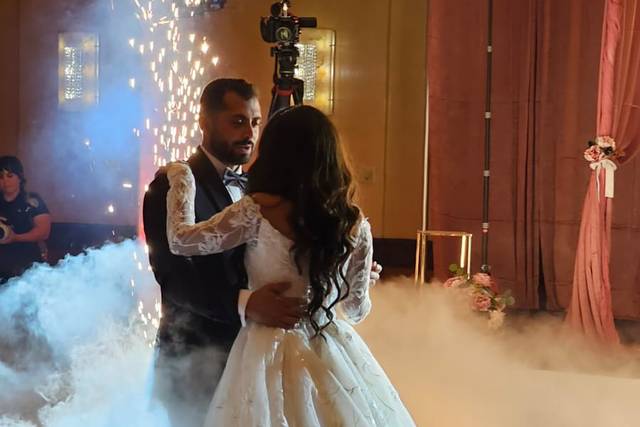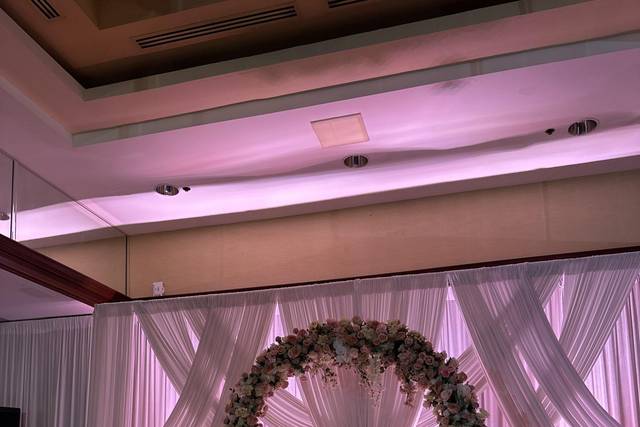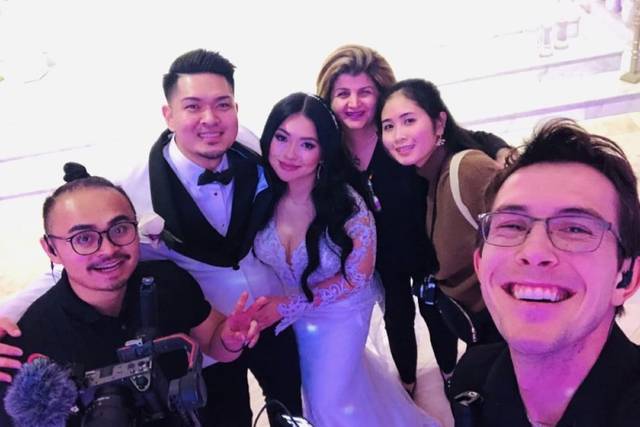 + 34

photos
Jalal A.

Married on 10/07/2023

Magical Wedding Transformation by Penny at Aroos Event Coordinator & Decor

Penny from Aroos Event Coordinator & Decor did an outstanding job at our wedding.
Her attention to detail, creativity, and dedication to making our special day perfect was truly remarkable.
She transformed our venue into a beautiful and magical space, exceeding our expectations. Penny's professionalism and expertise made the entire planning process smooth and stress-free. We can't thank her enough for making our wedding a truly memorable and joyous occasion.

Jalal & Lynda

Camila

Married on 08/26/2023

Spectacular!

From the beginning, Penny was professional, kind, trustworthy, and had our best interests at heart. We have worked with multiple vendors for our 3 day event and Penny was by far the most accommodating and easy to work with. From helping us with the floorplan, to making sure our vendors knew what we wanted, everything turned out perfectly because of her hard work and dedication to our event! Penny, thank you again for everything! You are the best!! Camila and Harsh

Abdul W.

Married on 08/05/2023

Penny for President!

Penny is the best Wedding Coordinator and she made my wedding event perfect. Things always go wrong that are out of your control, but Penny was always there to help, suggest, and use her expertise to resolve any issue that would arise. She was even available for any questions I had even on her days off leading up to my event. Highly recommend Penny!

Are you interested?

Send a message

Maliha A.

Married on 07/21/2023

Wedding at Hilton coordinated by Penny

Our wedding at the Hilton was made absolutely perfect, thanks to our incredible coordinator Penny! From the moment we met, her expertise and attention to detail put us at ease.
Throughout the planning process, she demonstrated unwavering professionalism and a true passion for making our special day memorable. She took the time to understand our vision and worked tirelessly to bring it to life.
On the day of the event, our coordinator ensured everything ran seamlessly. She made sure I was doing okay as the bride and also sent some appetizers to my room so I do not starve before my event starts. I really appreciated this sweet gesture of Penny! From coordinating with vendors to managing the timeline, she was a true star. Our guests were impressed by her dedication and the flawless execution of every aspect of our wedding.
We are immensely grateful for her hard work and dedication. If you're considering a wedding or event at the Hilton, having this coordinator by your side is an absolute must. They turned our dreams into reality, and we couldn't be happier with the results. Thank you for making our day truly extraordinary Penny!
-Maliha

Robert N.

Married on 06/18/2023

Best event coordinator

My wife and I can not thank Penny enough. She helped us with our wedding from the beginning till the end. She is very organized and professional. She was our wedding coordinator and decorator. The decorations were beautiful! She made sure everything ran smoothly from beginning to end. She was involved in every decision we made with great feed back. Thank you Penny and your crew for making our wedding day perfect!

Dj Raj R.

Married on 06/17/2023

Fantastic service. Penny is the best !!

Loved, loved working with Penny from Day 1. A true professional in every aspect, she does not leave any stone unturned to ensure your event is successful. She is sooper detail oriented and tracks everything for you. She is on top of things. I highly recommend Penny for your events. DJ Raj

Sanya R.

Married on 06/11/2023

Sanya & Robert

If you are looking for someone to coordinate and organize your wedding, then look no further. Penny went above and beyond for our wedding, most importantly she constantly made sure my husband and I were happy at all times. Leading up to the wedding, Penny was in routine contact with us and the vendors and provided organized schedules for everyone to make sure we were all on the same page. Penny provides great suggestions when it comes to decision making due to her many years of experience. She was involved in every decision we made for the wedding, and planned every minute of it. Penny did not allow me to stress out about anything, she took care of any complications and made me feel calm throughout the whole process and made it enjoyable. Day of the wedding, she put my husband and I as her top priority, ensuring we had a beautiful wedding. She was my right hand through out the whole process, and will continue to be for any future events. Thank you Penny for all you did to make sure we had two beautiful weddings! We are forever grateful

Waleed

Married on 06/04/2023

Go with Penny

Penny was monumental in ensuring my wedding went exactly how I wanted. She is responsive and works with you before and during the wedding. Go with Penny!

Sam

Married on 05/27/2023

Flawless and amazing

We hired Penny for an event and she did an absolutely amazing job! She went above and beyond to make sure everything ran smoothly, and coordinated with the DJ, the decorator, the caterer and everyone else involved. Thanks to her we were able to enjoy our event without having to worry about important details. Thank you Penny!

Mayssoun A.

Married on 04/22/2023

Amazing work

I recently had a wedding planned with Penny. She was extremely professional and very responsive and amazingly friendly. I would definitely recommend working with her.

Mina Y.

Married on 04/22/2023

Excellent & Profesionally

The 1st time I have met Penny. She great us and professionally brought us her best service with her optimistic attitude that she always have when we see her.
My recommendation for ever couple the planning for a Wedding to have Penney. She will help you and she will draw the smile on your face. She is the best ever ❤️

Mercedez V.

Married on 02/24/2023

Best night of our lives!

Truly the best wedding coordinator out there!!! Ms. Penny will not disappoint. She was very organized and professional. Michael and I are extremely grateful that we were able to work with her and her team for our special day. Her planning, preparation and attention to detail was on point, from beginning to end. Thank you so much Ms. Penny and the team for making our wedding dreams come true! You all went above and beyond to make our wedding day perfect. We were all amazed with how the wedding turned out, it was such a beautiful night and everything ran so smoothly because of Ms. Penny. We will forever be in awe of you, you are such a wonderful person and extremely talented. We hope to see you again someday in a different family event. 😉 We HIGHLY highly recommend Ms. Penny to anyone! We cannot stop raving about her and the team. They were phenomenal!
Love, Mercedez and Michael ♥️

Sonali P.

Married on 11/18/2022

Absolute perfection

My husband and I cannot thank Penny enough for her services!! From the first day we met her she has been nothing short of kind, flexible, and knowledgeable when it comes to wedding planning. She's always been incredibly easy to get in touch with, very prompt with replying, and helped calm all the stress that came with wedding planning. The day of she was AMAZING. We had a couple last minute emergencies that she fixed ASAP and the entire day and night panned out perfectly. HIGHLY HIGHLY recommend her services to those getting married!!

Davida

Married on 10/07/2022

Excellent and fabulous job!

Aroos Event Coordinator and Decor, did an excellent job for a recent milestone birthday celebration. The flowers and decorations were nice and elegant. It added a special touch to the hall space. Thanks so much to Penny and team!

Ashley A.

Married on 09/17/2022

Hard Working & Detail Oriented

Before the wedding: Penny was fantastic with keeping us on track for all of the pre-wedding details, coordinating with other vendors, arranging meetings & walk-throughs, etc. Penny's focus is all about YOU as her client.

Wedding day: Penny and her team worked very hard on our big, which was not easy with our ~400 headcount. They set up a lot of our small details that gave that final touch a wedding needs. Her team was constantly checking on us and helped maneuver us and our wedding party throughout the day.

After the wedding: Penny's job didn't end after our wedding was finished; about a week after winding down from the wedding she checked on us and touched base. This was much appreciated and unexpected. She 100% cares about her clients and keeps it real. If you are nervous in the wedding planning process and want a planner that is an advocate for YOU, please consider her.

Eucharia E.

Married on 07/30/2022

I had a good experience with this vendor. She did everything necessary and required for the wedding. I will hire her again

Penny is a kind of coordinator who know what she is doing. She is efficient, communicative, and responsive to any questions or calls. She would help in anything or anyway possible. She is also easy to work with.

Cathy

Married on 04/23/2022

Amazing service !!! A must have for your event.

Penny Shafazand was a life saver. She made sure my niece's event was perfect. From the detail of the timeline to every piece of linen, special tables decoration and the fine detail of floral placement. The event was perfect and it was because of Penny. I would highly, highly recommend you hire her to coordinate your special day. She is responsive, her attention to details is impeccable and she'll go the extra mile to make your special day…even more extra special.

Neetam J.

Married on 04/17/2022

Penny was a great wedding coordinator! She was very patient, efficient and responsible.

We hired Penny, as our wedding coordinator and that was the best decision we have ever made. She did her job very well with so much patience. She is very organized and efficient. She attended our guests with great respect and she was there throughout the event to make sure everything is going well and smooth. I recommend people to hire Penny if you want your event to be successful, so you can keep everlasting memories!


Sharda J.

Married on 04/17/2022

Overall experience was excellent

We are from Boston and Bride's family is from Virginia. I am glad we selected this venue for our Son's wedding. Overall experience with the management was very pleasant. We met once day before the wedding with Penny and she puts us in a ease of stress recording all the step. Thank you Penny!!!

P J

Married on 04/17/2022

Penny and Foxchase are amazing

The Foxchase venue was gorgeous, but the real star of the show (besides my Wife) was Penny - she was professional throughout the whole process and really got everything moving smoothly. Without Penny, we wouldn't have had such an amazing experience. This is going to be a lifelong memory and it went so smoothly all because of Penny. Penny has tons of years in experience and she knows exactly how to organized everything and keep things moving along.

Thank you Penny! You're the best!

John

Married on 01/21/2022

Best wedding coordinator

So many good things I can write about Penny, she was very helpful and detailed. I couldn't be more grateful for her expertise, and patience with us. I would definitely recommend her to anyone, Thank you Penny for everything!!

Jessica

Married on 01/01/2022

Dream Wedding!

We had our absolute dream wedding on 1/1/22. It could not have been a more perfect day despite COVID trying to ruin it! We will be forever grateful to Penny who was our month of coordinator at Poplar Springs. She guided us through many stressors with kindness and professionalism. She was always prompt in answering my millions of questions and was always so calm and collected! We have had countless guests tell us that it was the best wedding they've ever been to!!!! We will forever be grateful to Penny for all the ways in which she supported us and turned our winter wedding dreams into a reality!!

Tien B.

Married on 10/02/2021

Penny is amazing!

Penny was a dream to work with. She knows all the details of weddings and comes prepared with recommendations. She's very responsive and works with you to make your dream wedding come true! During the day of the wedding, everything went so smoothly we were shocked that nothing went wrong. We were incredibly impressed by the kindness, service, flexibility, and professionalism she showed.

Tamara S.

Married on 10/02/2021

Stress free, excellent wedding coordinator services

I found about Penny's services through my venue Foxchase Manor. I hired her as my 30 day wedding coordinator but she went above and beyond, and we kept in close communication throughout the whole wedding planning process. I LOVED working with her and cannot recommend her enough. My wedding was postponed twice due to the pandemic, and each time Penny was there to reassure me things would be fine. She is very detail oriented and had wonderful ideas that were positive additions to the wedding. She has a lot of experience and it is clear she knew what she was doing! Everything was well-executed on the day of the wedding. She is extremely approachable, patient, and understanding. I felt extremely comfortable with her. I would recommend her to anyone that is needing wedding coordinator services.

Wendy

Married on 09/25/2021

One of a kind coordinator!

Due to the pandemic we postponed our wedding twice and Penny was there ready to help! Throughout the whole process Penny was fast at answering our questions, provided guidance and genuinely cared about us. Penny will forever have a special place in our hearts and we are very happy we got her as our coordinator for our big day. Penny went above and beyond all our expectations and we highly recommend her to anyone planning a wedding or a special event.
Are you interested?
Send a message