95 Reviews
Recommended by 98% of couples
Quality of service

4.9 out of 5 rating

Average response time

4.9 out of 5 rating

Professionalism

4.9 out of 5 rating

Value

4.9 out of 5 rating

Flexibility

4.9 out of 5 rating
8 User photos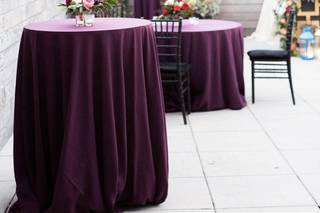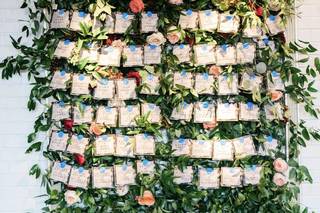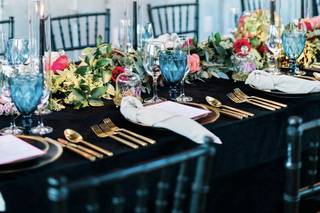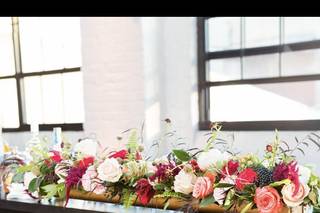 + 4

photos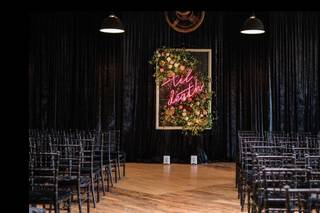 Amber D.

Married on 04/04/2021

Eventi Floral & Events is Extraordinary!

If you're looking for your dream wedding, Diana and Lynn Aaron from Eventi Floral & Events are your gals. Their creativity and attention to detail is truly unmatched. They know their stuff! Even if you're a little unsure about things, they will always be right by your side to give advice. My husband and I are still blown away by how they crafted our dreams into a reality. So, if you don't think you need a wedding planner, THINK AGAIN! And especially don't blink on hiring Eventi Floral & Events.

Susie D.

Married on 10/20/2018

Gave me my dream wedding!

I honestly can't imagine going through this process without having Diana by our side. She was there for literally every move we made and advised us in the best way possible. She allowed us to have our own ideas but would try to herd us in the right direction gently when we had some not so great ideas. We had such peace of mind as the result of working with her. Not only is Diana great but her staff is amazing as well. I cannot overemphasize how much easier things were with Diana involved. It was well worth the money. Thanks again Diana!

Photos by Marie Violet Photogtaphy

+ 4

photos

Melissa

Married on 09/29/2018

I honestly don't even know where to begin when trying to review or rate my experience with Diana and her team at Eventi; the rating they deserve cannot be measured in stars because it exceeds the scale; they deserve all the stars (and then some).
Over Matt and I's long engagement (about 20 months) Diana and I communicated regularly. There was no question too small or too silly; she was available, informative and always happy to answer and chat through anything I brought up. Through all of the emails, meetings, and calls Diana never lost her sense of pure enthusiasm for our day. When I was stressing over little things she brought me back and helped me to rein in any worry or stress that came to mind. This was all before the wedding, yes, all 20 months of planning. The weeks leading up to the wedding Diana not only checked in with me via email but there were little texts and sometimes phone calls just to chat and make sure I was doing ok; she made me feel like a part of her family, not just a client.
On the day of the wedding, I cannot describe how amazing Diana and her team, especially LynnAaron, were. They made everything run so incredibly smooth and so flawless. They all went way WAY above and beyond the call of duty to help me, Matt, my wedding party, family and guests.
Diana took my jumbled half-baked idea of what I wanted our wedding to be and turned it into a literal dream; I am still in awe to this day. She transformed our venue in a way that I cannot do justice in just a review.
I not only recommend Diana, but I would go as far as insisting that you use her as your wedding planner. Her talent, creativity and sincere and genuine personality cannot be matched. Booking Eventi allowed Matt and I to have literally the best day ever. We not only walked away with that amazing feeling but also some insanely amazing friends in Diana and LynnAaron. Don't miss the opportunity to have these incredibly talented and creative people in your life!

Are you interested?

Send a message

Kara

Married on 08/04/2018

I have used Eventi for both of my daughters weddings. They are extremely professional, fun and easy to work with. Their guidance and creativity made our weddings true fairytales!! I would highly recommend using them.

Shameka

Married on 09/23/2017

We had the pleasure of having Eventi plan our wedding in Sept. 2017!!!! Diana and LynnAaron are simply amazing :) The day couldn't of happened without them (seriously!) From the beginning to the end, they were professional and helped us through the process step by step, recommended amazing vendors, came up with the best ideas, and created incredible designs. We all know that planning a wedding comes with stress, but it was seriously a load off our shoulders knowing that are planners had everything taken care of. Our vision for our wedding day was carried out to a "T"! Its also a plus that they are super friendly and easy to communicate with. I highly recommend Eventi!!!!!! They deserve 10 stars!

Miranda

Married on 09/16/2017

I couldn't be happier with the process and results of working with Diana.
Diana was a joy to work with from the start. She is fun and energetic, always realistic, will do anything she can to make your dreams a reality, and is supportive in every way.
I had some very undeveloped ideas about my wedding and I did not have a clear vision. I am also quite opinionated, so I can imagine this was not an easy combination. Diana worked with my taste and budget, my mom's ideas, and her own creative genius to create a wedding that was exactly what we all wanted but could never have imagined. Diana's design for my wedding walked a a perfect line and said all of the things we wanted it to say: elegant but fun, bright but tasteful, unique but universally beautiful, opulent but not showy. Diana is a magician when it comes to flowers. The flowers were such an important element to me and they ended up being one of my favorite things about the wedding. The arrangements were stunning, creative, and lush.
Diana and her staff, especially LynnAaron, were so much fun to work with. They made everything run smoothly, went above and beyond the call of duty to help me, the wedding party, guests, and were such bright lights during the entire process.
I wouldn't only recommend Diana as a wedding planner, I would say that if you're getting married and you don't hire Diana, you're missing an opportunity to realize your wedding dreams, work with a talented and creative team, and make an incredible friend.

Jackie

Married on 06/17/2017

Eventi made all my wedding dreams come true!

We decided to get married at a brand new venue, and construction was not complete until ~ 2 months before our wedding date. Given we did not know exactly how the venue would turn out, when it was complete, there were small concerns about the finished product. Diana and LynnAaron made the space look romantic/ whimsical/ and GORGEOUS even with some of the constraints of the space. I cannot stress enough how every little detail worked and made the entire night so special. We got so many amazing compliments from all our guests and it was all because of Diana and LynnAaron. They took an idea that was in my head and turned it into a real life product. Even when I wanted one thing, and they suggested something slightly different, I am happy I went with some of their suggestions over mine because I have no regrets about how everything looked the day of. They do a great job respecting your wishes, while still inserting their opinion and ideas in a non- aggressive or offensive way.

Everyone says you are so stressed the weeks leading up to the wedding, but the only stress I felt was self-inflicted. Eventi took care of all the coordination, timelines, vendors behind the scenes and I felt calm and relaxed the week of the wedding. I truly felt like Eventi were not only my wedding planners, but my therapists throughout the whole process as well!

I cannot recommend them enough!

Lily

Married on 06/10/2017

We worked with Diana and LynnAaron at Eventi for the home-stretch planning and day-of wedding coordinating, and they were amazing. It was great to know we could relax and enjoy ourselves, and they definitely saved the day behind the scenes. We were so glad to have them there!

Victoria

Married on 06/10/2017

I CANNOT say enough good things about Diana! I told her frequently that I fell in love with her faster than I did with my fiancé! She is worth every single penny. We had an intimate wedding in Baltimore at the George Peabody Library, and it could not have been more perfect. I wanted a garden inside the Library and that is exactly what Diana gave me. She made all of my wedding dreams come true! Diana's attention to detail and her ability to understand what I wanted was out of this world. She truly is a dream. If I could do it all over again, I would choose Diana every time. The only disappointment now is that I don't have an excuse to see her as often! Diana was the best decision that I made about my wedding (other than my groom :-) )

Amanda

Married on 04/29/2017

LynnAaron was extremely helpful in planning my wedding, keeping me on track with timelines, and making sure I always stayed on budget. I'm extremely thankful to have had her help not only through the whole planning process but also on the day of my wedding. She understood my vision from our very first meeting and did everything to help me achieve my dream wedding. My experience with Eventi Floral & Events went so well that my sister is also using Event/LynnAaron to plan her wedding for this December.

We cannot thank Diana & LynnAaron enough for putting together our perfect wedding day! So many of our guests have told us that it was the best wedding they have ever attended. Diana gave us the absolute best DJ and caterer recommendations. She was willing to work with many of the ideas I had and completely executed on them. She also found the perfect ceremony backdrop for us and did all of our beautiful florals. For day-of execution, they get a 5/5. However, during the planning phase, there were definitely some challenges (large guest count, we live out of the country) and frustrations (some problems with a vendor and most notably a venue recommendation which had us scrambling at one point to find a new wedding location because I wanted a specific date for our wedding) but at the end of the day, it all came together and Diana and her team delivered so that's all that matters! Thanks again Eventi!!!

If anyone tells you that your wedding day will be perfect and go off without a hitch, don't believe them. Every wedding has its imperfections, ridiculous guests and, occasionally, some drama. A good wedding planner helps you make good decisions on vendors, provides expertise and shelters you from all those hiccups. Diana and her team are so much more than that. They are artists and magicians. They took my unorganized and whimsical dreams and turned it into a reality. They advised me on the BEST vendors for the price - our food, our music, our flowers and our stationary were impeccable. They helped find ways to maximize our budget, they surprised us with details at every step and they were optimistic and cheerful every day. Hands down, best investment we made. My husband, family and I got to actually enjoy the party because Diana took care of everything.

Kimberli

Married on 06/24/2016

I cannot say enough about how wonderful our experience working with LynnAaron was!
I was a very hands on bride and she was completely supportive of that. She was so helpful in bringing my ideas to life and helped me fill in the gaps where i needed when it came to the planning. I wanted a wedding that felt personal and thoughtful- therefore I brought in a lot of different details- some on my own and some from different vendors. Once the month of the wedding arrived- i did not have to do anything! She was in 100% contact with all of my vendors and made an efficient timeline for day of so that everything ran smoothly.
As a wedding gift to me- my husband built me a custom bookcase (replica of one i saw at a vintage rental house when we were shopping for rentals). He called LA the week of the wedding and told her what he had been working on and that he wanted to have it displayed at the wedding as a surprise for me. She didn't even blink- made it all work with ease. It couldn't have been a more special touch that we were both so thankful to have there.
Aside from that she was just a great personality to have around in the midst of planning and celebration. She has a great attitude and always made me feel at ease. I would highly recommend LA to anyone getting married! She was an angel!


Hannah

Married on 06/11/2016

My husband and I worked with Diana and LynnAaron for our out of state wedding this summer. We were blown away with their work! Our wedding was truly magical. Planning an out of state wedding is incredibly difficult, but with their help, our wedding came together flawlessly. My husband and I shared with Diana and LynnAaron what we were thinking of for our wedding and then gave them control of the reins. It was the best decision we made! There was absolutely no stress on our wedding day, and you could tell that every single detail was thoughtful and beautiful. I highly recommend them to be your wedding planner. They will exceed your expectations!!

Brittany

Married on 06/04/2016

Diana is the absolute best when its comes to wedding planning. Frankly I can't imagine pulling my wedding off without her. Her attention to detail, connections with vendors, and suggestions for a flawless event our worth every penny. I consider myself a particular person and wanted to be very involved in the wedding planning process. Diana was so easy to work with and always accommodated what was important to me. When I came to Diana I had a vision to transform a carriage house in to a beautiful romantic wedding space with chandeliers, peonies, farm tables, calligraphy the whole nine yards. Diana truly turned my wedding in to a fairytale and I could have never done it with out her!


Nick

Married on 02/27/2016

Diana is an absolutely excellent wedding planner, and my wife and I had an amazing experience with both Diana and her assistant, LynnAaron! Diana's practice immediately stood out in our initial research, and our interviews with prospective planners only reinforced how much of a no-brainer it was to go with Diana! Our biggest trepidation was the price of a wedding planner, but after hearing from Diana, and later experiencing for ourselves, just how well-regarded she is with all of her preferred vendors, our worries were assuaged. Diana is very responsive via email, and she and LynnAaron were extremely diligent and detail-oriented, providing us with a checklist of items to accomplish by month, and working with us to craft and develop our vision for the best wedding imaginable. We met with them in person a few times as well, with very specific goals that were accomplished at each meeting. She did a wonderful job of keeping us (well, mostly me) calm throughout the planning process. Our venue proved somewhat challenging to coordinate our plans and requirements with, but Diana handled that relationship very deftly and without issue. They were with us every step of the way leading up to, and on, our big day. She even does florals, and ours were spectacular! She is the absolute best, and we couldn't recommend her more!

Bryn

Married on 10/10/2015

Diana and her team (especially LynnAaron, who we worked very closely with) did an absolutely incredible job. At every turn, they offered very thoughtful and creative ideas, including the overall wedding aesthetic, reception design, vendor selection, etc. We truly couldn't have had a more beautiful, organized, and stress-free wedding, all thanks to Diana and her team. Leading up to the wedding, Diana was extremely responsive to emails/calls and was flexible in taking site visits, scheduling in-person meetings, or calls/video conferencing. She brought many unique ideas to our wedding design, which really shows how creative her team is. And one thing I love most about Eventi Weddings is that each of their wedding designs is different, which goes to show how well they listen to each individual bride/groom and truly make their dreams come true. As a bride, working with her team made the wedding day so stress-free; they had many staff members onsite and were there at every turn to help with anything that came up. They also did a great job shuffling my husband and I to each scheduled event to make sure everything stayed on time, which can be difficult at any wedding. We love Diana and her team and would recommend her to everyone!!

Rachel

Married on 09/26/2015

I cannot praise Diana, LynnAaron and the rest of the Eventi staff enough!

My family and I are originally from Maryland, but my fiancé (now husband!) and I now live in his home town in Arkansas. It became evident rather quickly how difficult it was going to be to plan a wedding in Maryland while living in Arkansas. That's where Eventi Planning saved the day!

Diana did an amazing job taking the vague idea we had for our wedding and turning it into a reality. With only a few trips to Maryland and lots of emails she was able to accomplish everything with such ease, professionalism and accuracy for what we had envisioned, without the stress!

Since our wedding I have had so many of our guests comment on how beautiful it was overall, how pretty the table and flower arrangements looked, how delicious the food tasted, and the list goes on. My favorite comment was from a college friend that stated "this is exactly what I imagined your wedding to look like" - which tells me Diana hit the nail on the head with her design plan for our wedding, because I certainly cannot take the credit!

We cannot thank Eventi Planning enough for making our day everything we imagined and more! We honestly could not have been happier with their amazing work!


Kate

Married on 09/19/2015

I want to send a BIG thank you to Diana and LynnAaron for all their help to plan and execute my wedding. My wedding day was more than anything I had dreamt or hoped for. Every details was accounted for and thoroughly thought through. Day of EVERYTHING went smoothly and beautiful!! I had no worries or things to 'deal with' during my wedding because LynnAaron had it all covered. I feel very blessed to have worked with Diana and LynnAaron! I can say without a doubt, I would have never been able to pull off/ survive planning my wedding without their help! My wedding was the best day of my life so far!! Thank you again Diana and LynnAaron!! - Kate Smith

Eventi helped us achieve our vision of a fun, nontraditional wedding that still looked AMAZING! They took all of our ideas and transformed them into a day that was more than we could have imagined. Every guest that attended our wedding still talks about it, and we have heard many say it was the best wedding they have ever been to. This success can be attributed to Eventi's expert advice about the best vendors in town, as well as their ability to run the potentially stressful process smoothly, from the pre-planning to the actual day of the wedding. My husband and I would highly recommend Eventi!

Elisabeth

Married on 06/26/2015

With me being new to Maryland and my husband (then fiancé) extremely busy with work, we decided hiring someone to help guide us through the planning process would be best. I was a little nervous about the process because I have a very OCD personality and relinquishing control to someone else wasn't easy..... that was until I spoke to and met Diana. Diana and the entire Eventi team were absolutely wonderful and even upon our first meeting, we knew that they were a great fit for not only our personalities but, also our overall vision for the wedding. We were still heavily involved in all of the decisions, but Diana managed to make it feel so effortless and non-stressful, which as a bride, was extremely important to me. The team beautifully captured who we are and got every detail perfect on the day of. I think every bride goes into it expecting the day of will have some sort of issues or not-so-perfect moments, but we can honestly say that we never had that experience and had the most amazing day ever... so much so, we wish we could have a "groundhog day" episode of our wedding day over and over again. That feeling of perfection wouldn't have been possible had we not chosen to utilize Diana and her team.

Rachel

Married on 05/24/2015

My fiance and I were unsure about whether we wanted to hire a planner at first, that was until we met Diana. She was so professional and in one meeting with her, I knew my vision of my perfect wedding would be made a reality. Between her amazing contacts in the wedding industry and the ability to make even the seemingly worst situation seem 10x better, she made our wedding planning experience so easy and enjoyable. Our wedding was beautiful and so much fun, and I know that that is due mostly to Diana's efforts. Her team is also amazing, LynnAaron was there every step of the way and really out did herself on the day of our wedding, making sure everything was taken care of and that we wanted for nothing. I am so glad we decided to go with a wedding planner, and I'm even happier that that planner was Diana.

Beth

Married on 05/16/2015

Words cannot describe how glad I am that I worked with Eventi by Diana Venditto. I am in the medical profession and work long hours and was stressed just thinking about planning a wedding with no free time. I was instantly relieved after I met with Diana - I felt like she knew exactly what I needed and "got me". She was completely flexible with my crazy schedule and was able to schedule all in person meetings within my work constraints and the majority of things I was able to do via email which was wonderful for me. She has wonderful relationships with a variety of vendors and even went the extra mile to contact a vendor I personally requested who was difficult to reach. Her creative process is fascinating and she created the most beautiful wedding design for me. Diana and her team are extremely organized and every detail was handled and executed perfectly. They truly kept the wedding process STRESS FREE. I cannot tell you all the amazing compliments I have received after the wedding and it is all because of Eventi - every beautiful detail was appreciated by my guests. Everyone commented throughout the wedding weekend how relaxed and calm I looked and my reply was that it was easy, because I had Eventi by Diana!

Elizabeth

Married on 04/25/2015

Diana helped us plan our wedding when we were married in the spring of 2015. She did an absolutely amazing job interpreting our vision and style and she helped keep me on track for making all of the necessary decisions despite the fact that I lived out of state and traveled full time for my job. Diana and her team were respectful of our budget, detail oriented and very creative. We also hired them to provide the vast majority of the flowers for our wedding and reception and they were stunning!

Kelly

Married on 04/18/2015

We hired Eventi last year to plan our wedding, which just took place 4/18/15 and it was the best decision we could have made. Diana took the stress out of planning so we could actually enjoy the process and she was a pleasure to work with. Its clear she is knowledgeable and well-established in the wedding planning community and all of the vendors she referred us to were an absolute perfect fit for us. She left me with complete control but also offered her ideas and suggestions, which I really appreciated. Our wedding ceremony was classic and traditional but, our reception was a trip "down the rabbit hole" straight into Wonderland for a Mad Tea Party, complete with mismatched china, giant flowers, neon mushrooms, and a hookah! It was so awesome and a great surprise for our guests. Diana and her team literally made our wedding a dream come true and I would highly recommend Eventi for planning any event.

Are you interested?
Send a message